Looking for something a bit different? You've never had pre-rolls like these. Seriously, they're as dank as it gets.
Some seasoned stoners may argue that rolling your own joints is a pretty important part of smoking weed. The ritual of rolling one up, which can range anywhere from a basic joint to a full-on piece of art, is typically learned early on and then honed to perfection over time. But, there's nothing wrong with letting someone else do the work for you.
And pre-rolls do exactly that.
With the explosive growth of the pre-roll popularity, these joints have evolved to deliver an enhanced on the most basic of weed-smoking practices. Perfect any time of day – from your morning Wake 'n' Bake to your nightcap toke, pre-rolls are convenient ways to enjoy your cannabis.
And Sticky Budz remains at the top, with their classic (just flower) and enhanced (flower + sugar wax) pre-rolls. The following list is made up of staff picks, favorites of World of Weed's staff, and brings the most unique joints found in Washington from our shelves to your hands.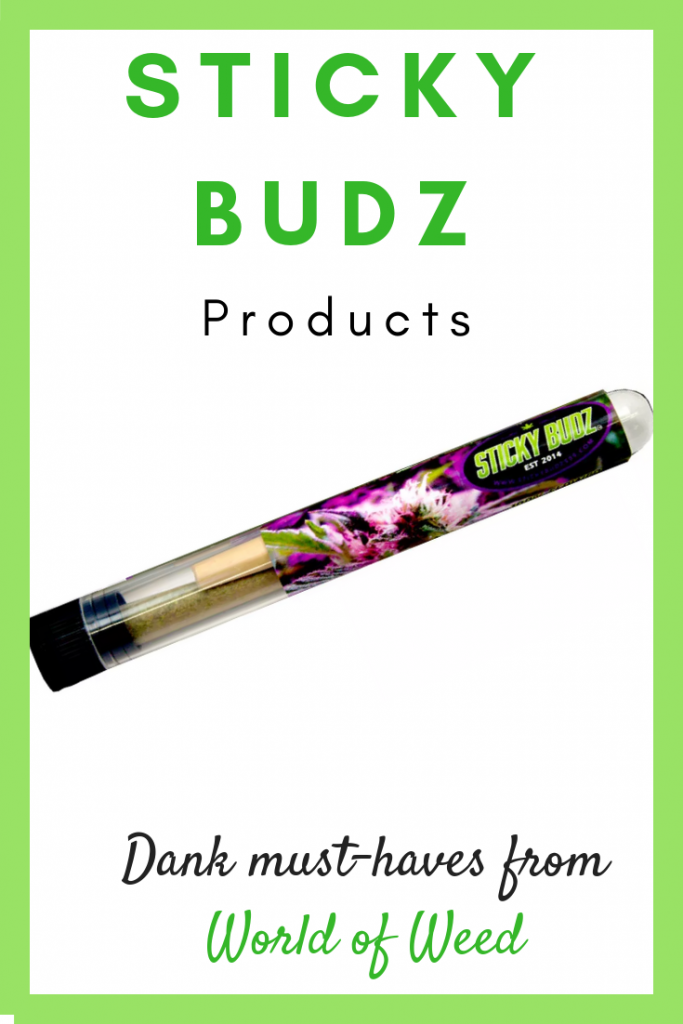 Sticky Budz Products
Classic Pre-Rolls
Champagne Kush – THC 15.61%, Indica
Champagne Kush got its name from the exotic champagne aroma and flavor profiles, which come from genetics that give this joint a slight pink coloration.
This Sticky Budz Champagne Kush joint has subtle grape undertones and a lingering, musky diesel aroma and flavor reminiscent of champagne. Even though it's only got 15.61% THC, the Champagne Kush pre-roll is sure to surprise you with its bubbly effects and relaxing social high.
PRICE: $15 (7 pk – 3.50g)
GG#4 – THC 17.24% / CBD 0.10% , Sativa Hybrid
Gorilla Glue #4 is one of those popular strains you've probably heard people raving about. It's got a strong diesel aroma with notes of chocolate and sweet, earthy coffee undertones. Smoke this Sticky Budz joint, and you'll get a chill, full-body high that melts you down into the couch while you get an uplifting, buzzing cerebral high.
PRICE: $15 (7 pk – 3.50g)
Marionberry Kush – 22.80% THC, Hybrid
A delicious hybrid cross of Raspberry Kush and Space Queen that puts off a full spectrum of fruity flavors. The aroma is smooth, sweet, and earthy with a sour twist. The perfect combination of effects on the entirety of the cannabis spectrum. Expect these Sticky Budz joints to provide mellow euphoria joined with full-body relaxation.
PRICE: $15 (7 pk – 3.50g)
Shangri-La – THC 16.23% / CBD 0.20%, Sativa Hybrid
Much like the mythical utopia of the same name, Shangri-La is a sativa hybrid that's guaranteed to take you to your own personal paradise. A few hits off this joint, and you'll be floating in your own peaceful, mental world that's all about relaxation and bliss while also being uplifted and energized.
As potent as it is delicious, this Shangri-La joint from Sticky Budz boasts a savory combination of grape, berry, mango, and citrus flavors. As unique as the name suggests, this is one unforgettable joint.
PRICE: $15 (7 pk – 3.50g)
Trifecta Pre-Rolls
9LB Hammer – THC 36.50% / CBD 0.60%, Indica
Trifecta pre-rolls are rolled with natural terpene-infused flowers, dipped in sugar wax, and rolled in honeycomb. This indica-dominant hybrid Sticky Budz trifecta joint has a piney, fruity aroma and provides heavy-handed effects. Great for deep relaxation and sedation.
PRICE: $13 (2 pk – 1g)
Gelato #1 – THC 36.78% / CBD 0.45%, Indica Hybrid
Gelato is an indica-dominant cross of Sunset Sherbet and Thin Mint GSC. These Sticky Budz trifecta joints produce strong cerebral sensations that lift your mood. Full-body effects creep up, so you feel relaxed and at ease.
PRICE: $13 (2 pk – 1g)
God's Gift – THC 35.63%, Indica
Sticky Budz trifecta pre-rolls are rolled with natural terpene infused flowers, dipped in sugar wax, and then rolled in honeycomb.
God's Gift is a cross of Granddaddy Purple and OG Kush with a strong berry scent and citrus tones. This heavy indica-dominant strain is perfect before lying down for a nap or the end of the night.
PRICE: $13 (2 pk – 1g)
Huckleberry – THC 34.85% / CBD 0.57%, Hybrid
Huckleberry gives you a boost of energy and provides feelings of euphoria. This Sticky Budz hybrid trifecta joint will help you focus, boost productivity, and relax all at once. It's got a savory, delicious berry -grape flavor and aroma that lingers in the room and on the palette.
PRICE: $13 (2 pk – 1g)
LA Chz – THC 35.93%, Hybrid
These Sticky Budz trifecta joints are rolled with natural terpene infused flowers, dipped in sugar wax, and rolled in honeycomb. This is an indica-dominant cross of LA Confidential and Cheese. It has strong sedative effects and is best before bed or a night in.
PRICE: $13 (2 pk – 1g)
Mango Kush – THC 35.87%, Indica
This Mango Kush Sticky Budz joint is made with an Indica-dominant hybrid from Mango & Hindu Kush. The fragrance is amazing sweet & tropical. Happy is the word most used for the high, euphoric, energetic, yet it maintains a mellow vibe.
PRICE: $13 (2 pk – 1g)
Raw Dog – THC 41.47% / CBD 0.14%, Hybrid
As the genealogical union of a pair of indica dominant cultivars, these Raw Dawg Sticky Budz trifecta pre-rolls deliver a tremendous relaxation that endures the massive influx of euphoria. Sustained heavy body highs coincide with a slightly drowsy daze. Gooey brilliant green nuggets are adorned with intermittent golden orange hairs and drenched in a shimmering coating of trichrome. A heavy bouquet of skunky pine intertwines a citrusy sweetness accentuated by an absurdly pleasant chemical fragrance.
PRICE: $13 (2 pk – 1g)
Acapulco Gold – THC 36.13% / CBD 3.20%, Sativa Hybrid
Acapulco Gold is basically the caviar of the cannabis world, and this Sticky Budz trifecta definitely lives up to the standards. It's got a roasted toffee-almond flavor and aroma that makes it one of the most unique and flavorful strains out there. This trifecta pre-roll offers the best of both world – – the uplifting, euphoric effects of the sativa genetics paired with the relaxing, melting effects of the indica side. This is one trifecta joint that packs a serious punch with each hit you take.
PRICE: $13 (2 pk – 1g)
Dr. Who – THC 43.22% /
CBD 0.11%, Hybrid
Looking for something to get those creative juices flowing?
These Dr. Who Sticky Budz trifecta pre-rolls are the perfect choice for those seeking inspiration or those who want a little help in thinking outside the box.
Take a trip through space and time with this Dr. Who joint, a potent indica pre-roll that delivers swift relaxation and heightened creativity without too much sedation or body melt. This is a great option for any time of day, and comes with sweet and tangy aromas of grape and pineapple.
PRICE: $13 (2 pk – 1g)
Sugar Wax & Honeycomb Wax
Puna Cookies – THC 68.73% / CBD 0.20%, Indica Hybrid
This Sticky Budz wax is available in both sugar wax and honeycomb wax, and is an indica-dominant hybrid strain promotes positive vibes and inspires creativity. Puna Cookies tends to slowly induce heavy sedative-like effects, making it an ideal late-night choice. Enjoy sweet, herbal flavors.
PRICE: $21 (1g)
Dutch Treat – THC 69.42%, Sativa Hybrid
This sativa hybrid sugar wax from Sticky Budz offers an instant head high that's closely followed by a full-body buzz that is somewhere in the middle of being a comfortable sedation and an intense couch-lock. With 69.42% THC, Dutch Treat is a potent strain for sure, with a strong aroma of sweet blueberries and eucalyptus, paired with sweet-earthy flavors that linger on the tongue.
PRICE: $21 (1g)
Cookie Puss – THC 63.09% / CBD 0.15%, Hybrid
The Sticky Budz Cookie Puss sugar wax boasts sweet aromas of pine and citrus, paired with earthy, sweet-lime flavors. This potent cross of Cat Piss x Cookies offers a strong cerebral buzz with a blissful euphoria and relaxation.
PRICE: $21 (1g)
OG Cookies – THC 68.83%, Indica Hybrid
OG Kush with Girl Scout Cookies come together to bring you OG Cookies sugar wax from Sticky Budz. Enjoys an aroma of sweet berries and grapes as you relax into a state of euphoria.
PRICE: $21 (1g)
High-Biscus
This balanced hybrid comes from a cross of Purple Corinto and Puna Budder. Enjoy as blissful euphoria washes over you. Expect an overall calming experience from High-Biscus Sticky Budz sugar wax.
PRICE: $21 (1g)

---
Disclaimer: Marijuana has intoxicating effects and may be habit-forming. Smoking is hazardous to your health. There may be health risks associated with consumption of Marijuana. Marijuana, in any form, should not be used by individuals that are pregnant or breastfeeding. Marijuana is intended for use only by adults 21 and older. Keep out of reach of children. Marijuana can impair concentration, coordination, and judgment. Do not operate a vehicle or machinery under the influence of this drug. This product may be unlawful outside of Washington State.