Rolling a joint or blunt is often considered to be a stoner rite of passage. If you smoke weed, you probably know how to roll a joint.
But, it can be tricky to get the hang of it. There are numerous ways to roll a joint, from basic to artistic and complex. Whichever way you choose to go about it, just make sure it burns smoothly and evenly.
To help you learn how to roll a joint, we've prepared a tutorial for beginner smokers, giving you an easy-to-follow, step-by-step guide.
Tutorial: How-to-Roll-a-Joint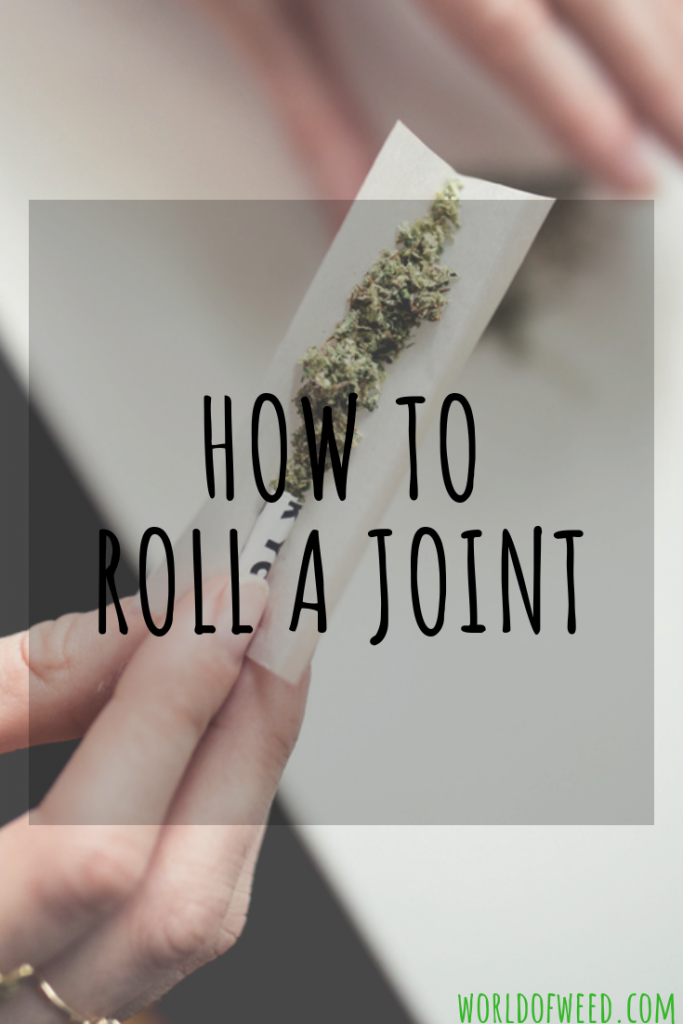 Step 1: Gather supplies
First things first: Gather up your supplies.
You'll need:
→ The weed you're smoking
→ Rolling papers
→ A crutch / filter (optional)
→ Grinder
→ A pen, pencil, or something similar
Step 2: Grind your weed
The first part of learning how to roll a joint is the grinding of the weed. Just putting some full buds in the papers and trying to roll it up and smoke it is a surefire way to fail. It just won't work.
So, grind up your weed! If you don't have a grinder, you can use your fingers or some scissors. But, a grinder will keep your fingers from getting all sticky. It also makes your joint less lumpy, which prevents "canoeing" in your joint. That's when a joint is burnt unevenly, only on one side. This makes the blunt look like a canoe.
Step 3: Add the weed to your papers
Once you've ground up the weed, it's time to start rolling that joint. Take one of your rolling papers, and hold it so the crease is at the bottom, like a taco shell.
Hold the paper at one end, and spread your weed evenly across that crease. If you're using a crutch / filter, put it at the end and hold onto it with your thumb while you fill up the rest of the paper with your weed.
Step 4: Shape the joint
Once you've got a full paper, it's time to shape the joint. Pinch the paper between your fingertips and gently roll it back and forth to pack down the weed into the joint shape. If you want a cone, put more weed at the end and less at the tip.
Step 5: Roll it up
Time for the main part of the how to roll a joint tutorial: The rolling.
You want to roll up a tight, smooth joint that burns evenly. To do this, keep your fingers in the back on the joint, with your thumbs at the front. Slowly and gently roll the paper back and forth, over and over, with your thumb and forefingers until all the weed is smoothed out.
Once it's nice and smooth, tuck the non-glue side of the paper underneath, on up to the back, and then roll it. Lightly lick the glue to seal the joint.
Step 6: Pack and twist
The end of your joint is likely a bit lose, so you want to pack it down. Take the tip of the pen / pencil / other object, and use it to pack the weed down into the joint.
When you've got the weed packed down tight, twist the tip of the joint shut to prevent weed from falling out.

Congrats!
Now you know how to roll a joint!
Congrats! You've just learned how to roll a joint. Don't beat yourself up if it takes a lot of practice before you get it down.

If you still find yourself frustrated and just can't quite get it, you can always pick up some pre-rolled joints.
How do you like to roll joints? Let us know down in the comments.
---
Disclaimer: Marijuana has intoxicating effects and may be habit-forming. Smoking is hazardous to your health. There may be health risks associated with consumption of Marijuana. Marijuana, in any form, should not be used by individuals that are pregnant or breastfeeding. Marijuana is intended for use only by adults 21 and older. Keep out of reach of children. Marijuana can impair concentration, coordination, and judgment. Do not operate a vehicle or machinery under the influence of this drug. This product may be unlawful outside of Washington State.