There are tons of ways to consume cannabis. You can go to dispensaries and stock up to host weed tastings, smoke solo, or have a casual smoke sesh with friends. Yet another way is to play some fun weed games instead of just sitting and zoning out in front of the television as you pass the bong.

We rounded up the best weed games, both complex and simple, to enjoy during your next smoke sesh. These will test your knowledge and grow your love of cannabis.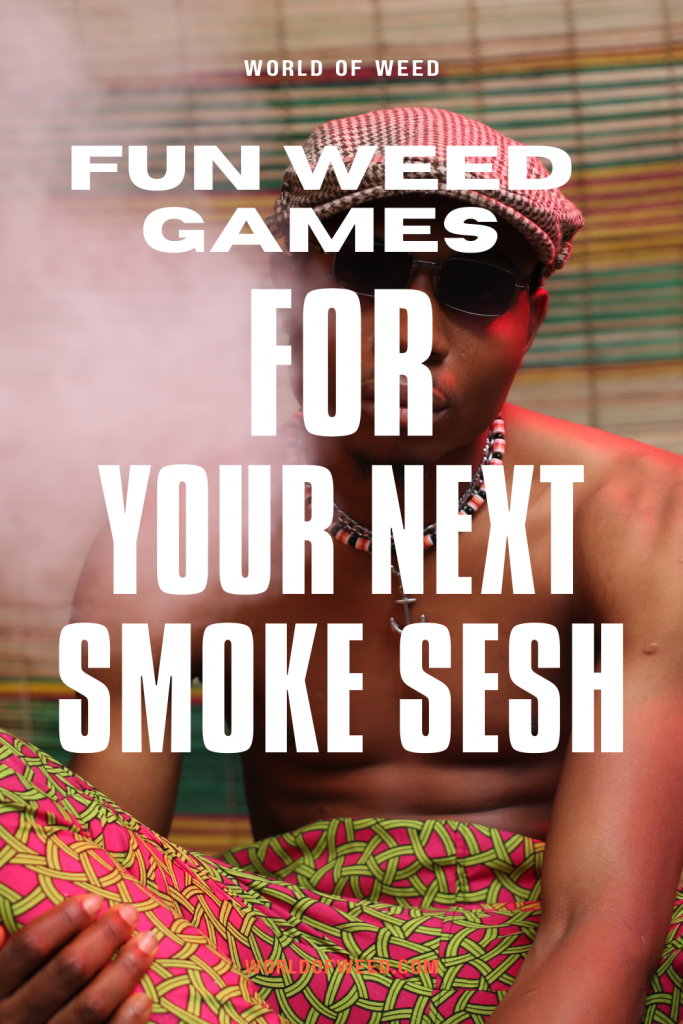 The Best Weed Games to Play During Your Next Sesh
Weed Tasting Games
1. Weed Options

This game is based on the Wine Options game, credited to the late author Len Evans. This game is famous in New Zealand and Australia, and a stoner twist makes it perfect for a smoke sesh.

This game will teach you how to identify different strains in terms of type (sativa, indica, or hybrid), terpene profile, and more based on the taste, aroma, and effects. You get to increase your knowledge and get stoned at the same time; this is why it's one of the best weed games. If you're going to play during a sesh with several people, you can decide how many strains to sample, number of rounds, how many questions, and number of players.

INSTRUCTIONS

Players smoke four to five strains. They don't know what the strain is, and they have to guess the name after analyzing the taste, aroma, effects, and appearance.
Questions will be asked about each strain, starting from general questions like the most prominent colors to more complicated questions like the terpenes present. The players get three to four options for each question in a multiple-choice format, with only one answer being correct.
Players write their answers on an index card or piece of paper and then present them to the host after being told to do so. Whoever has the right answer proceeds to the next round of questions. If not, that player is out for the rest of the game. The last player to remain wins.
2. What's the Price?

Can you guess what a strain costs just by smoking it? This is one of those weed games that challenges how well you price weed based on the taste, aroma, effects, appearance, and brand. After all, some strains are amazing but come at a low price.

You may be surprised at how much price varies based on characteristics, cannabinoid content, and brand. It can also introduce you to new products that you can add to your stash.

This will help you during your next dispensary trip as you choose the best strain that suits your preferences and your bank account.

INSTRUCTIONS

Line up an array of several strains or cannabis products with significantly different price points. Then, put the product into a clear container so the players are unable to see the label, jar, or anything else that may give them a hint – especially if they are already familiar with the product.
Have each player consume the product and discuss it before writing their estimates on their paper.
After the cannabis is sampled, the host will reveal the answers. The player with the most correct (or closest) answers wins.
Wine Guessing Games
3. Pufftionary

One of the most popular games around is Pictionary. If you take that concept and apply it to cannabis, you get Pufftionary! You can decide how many rounds to play and arrange the rounds according to the difficulty level. 

A major cannabis enthusiast, grower, or someone who works in the industry would have a distinct advantage while playing this game. But, it's a chance for anyone to learn more about the types of cannabis, its effects, and more. 

Plus, you get to smoke while playing!

INSTRUCTIONS

Pair off into teams of two, with one person guessing and one drawing. 
The host writes a weed-related word, term, or product on a card. One member from each team picks a card and attempts to draw the word, term, or product on a piece of paper or card. 
The other player guesses what the word is by looking at their partner's drawing. The team that gets the word correct first earns a point. The team with the most points wins. 
4. Weed Categories

Just as the name implies, this is a weed game about categories with a cannabis theme. Paper and pens are needed, and you decide how many rounds to play for each of the given categories.

Each round for the same category should have different letters, with five being ideal. After doing this, move on to the next class, like indicas. Letters may or may not be repeated for each category.

INSTRUCTIONS

Players create a table with five columns on a piece of paper and decide on the categories to play. They could choose cannabis types like indica, sativa, and hybrid. 
There should be letters of the alphabet written on a different piece of paper, and players choose one letter for each round at random. For example, the letter B was selected for the Hybrid round. So, players write a hybrid that starts with the letter B, such as Berry OG. 
Each round has a time limit of one minute for each letter. Players reveal their answers when the minute is up. 
The player who is the only one with a correct answer gets one point. If the answer is shared with any other player, each gets half a point. Players who answer incorrectly do not score any points. 
For the following round, choose a different letter for the same category, which in this example is hybrids. The person who received the most points wins the game at the end of the last round. 
Questions About Playing Weed Games During a Sesh
1. What type of preparation is needed to play weed games?
Have a comfortable seating area. You want your friends to be chill and comfortable as they play these weed games. You will end up quite stoned, so having a cozy vibe is a must. 
Gather supplies ahead of time. You need bongs or dab rigs, alcohol wipes and swabs, weed (of course), paper or index cards, and writing utensils. 
Know the game. Before you decide to play these weed games, memorize the instructions so you can come up with different strategies and methods for winning. You can't take a test without studying! 
Follow the rules. Don't allow cheating; that isn't cool. Make sure everyone listens to and understands the instructions of these weed games before you play during your smoke sesh. 
Have fun and get stoned. This is a game, plain and simple. It's also a weed game. This means the point is to have fun and get as lit as possible while exercising your cannabis knowledge. Have a good time, above all.
2. Which foods pair best with cannabis for playing weed games?
You know the munchies are going to hit when playing these weed games, and they will likely hit hard. Assuming you offer snacks for your guests during this smoke sesh, these foods pair great with a variety of strains:

Cheese and crackers
Mangoes
Pizza
Chips and dip
Beef jerky
Sandwiches
Pastries
Take the food part one step further by adding beverages. But, not just any beverages – cannabis sodas!

3. How do you make these weed games even more fun?
The more people that play, the more fun these weed games will be. But, if the weed game works best with a limited number of players, consider taking turns to play.

Instead of just inviting people over for the smoke sesh, take the time to improve the setting and create an atmosphere with the vibe you want.

Finally, ask each of the players to donate a prize. Nothing drives incentive more than winning a cannabis-related reward at the end of the game. 

Final Thoughts
You could choose to spend a smoke sesh getting as high as humanly possible with your friends. Or, you could create lasting memories, flex your knowledge of cannabis, and give your brain a workout by playing these weed games during your next smoke sesh.

Which of these weed games sparked your interest the most? Let us know in the comments.

Don't forget to browse our menu to see which products you're going to use for your weed games! 

---
Disclaimer: Marijuana has intoxicating effects and may be habit-forming. Smoking is hazardous to your health. There may be health risks associated with consumption of Marijuana. Marijuana, in any form, should not be used by individuals that are pregnant or breastfeeding. Marijuana is intended for use only by adults 21 and older. Keep out of reach of children. Marijuana can impair concentration, coordination, and judgment. Do not operate a vehicle or machinery under the influence of this drug. This product may be unlawful outside of Washington State.