There are days when staying positive and sanguine can feel about as easy as nailing jello to a tree. Perhaps it was a stressful day at work, a fight with your partner, or even just one of those off days. Whatever the case, there are things you can do to quickly boost your mood.

It's hardly surprising that sour moods can sneak up on us so frequently. A bad mood can be brought on by anything from not getting enough likes on an Instagram post to feeling guilty about forgetting someone's birthday. Humans are sensitive, and it's not unusual for seemingly trivial things to bring down our mood.

Furthermore, while some of our innate happiness is pre-determined by genetics and environment, research shows a portion can be controlled throughout our daily thoughts and behaviors. Essentially, the way you think and your activities can affect your limbic system, which is a group of interconnected structures deep in the brain. It is the region of the brain that controls behavioral and emotional responses.

By being able to change moods by altering your thoughts and actions, there are a number of proactive things you can do when you start to feel your mood drop.

If you're trying to feel uplifted and get out of a funk, try these seven happiness hacks to boost your mood in under 10 minutes.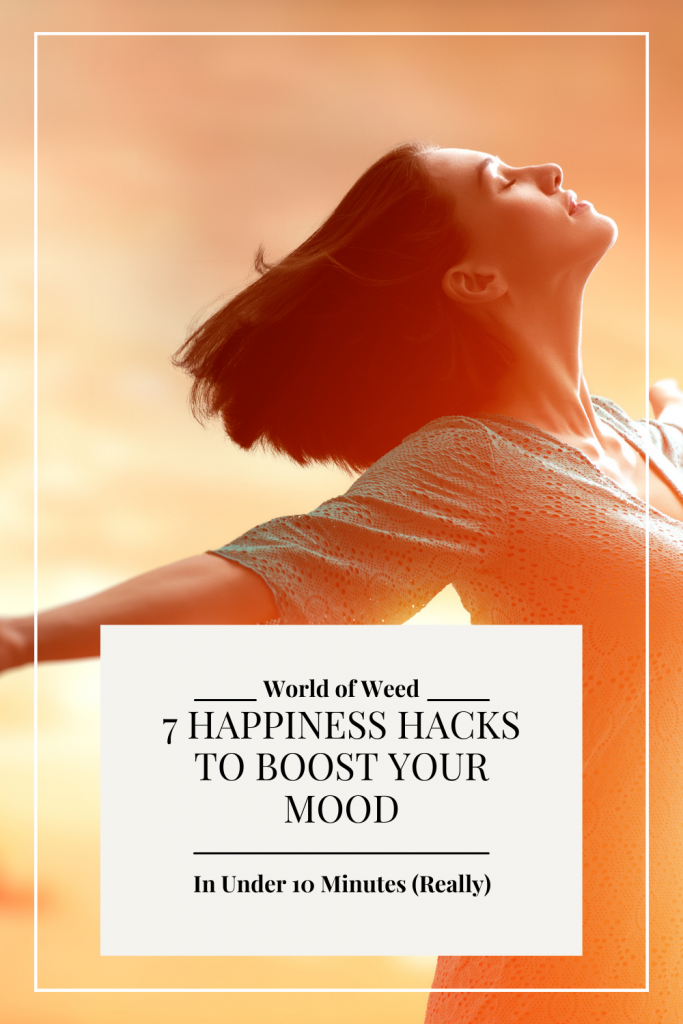 7 Ways to (Almost) Instantly Boost Your Mood
1. Get moving, but at your own pace
Intense workout? Yoga? Dancing around the room in your underwear? You do you.

Physical activity promotes wellness and studies show that even a single exercise session can greatly alleviate depression.

Research suggests that exercise is more effective when you choose the style, the pace, and intensity (moderate is ideal), as opposed to following a prescribed and strict regimen. If you exercise in a way you find enjoyable, you will be more likely to get moving when you start to feel down.

To boost your mood, consider doing some uplifting activities. Bonus points if they're something you can do with others. Dancing, hiking (don't forget the joints!), and cycling with a friend all encourage interaction, which is known to facilitate happiness.

To immediately lift your mood, take a walk outside. According to the Anxiety and Depression Association of America, even just a little, 10-minute walk outside can be as effective for reducing anxiety and depression as a 45-minute workout. Listen to upbeat, cheerful music as you walk and perhaps even use an app to track your time and number of steps.
2. Take in some brain nutrients
Your moods are heavily influenced by neurotransmitters such as serotonin, dopamine, and norepinephrine. A shortage or imbalance of these chemicals is often a key factor in depression, restlessness, and negative thinking.

Nutrients in the food we eat are the building blocks for neurotransmitters, which means the food you eat has a significant effect on the way you feel. Additionally, snacking on sugary treats (such as cookies or candy) creates fluctuations in your blood sugar, which can lead to you feeling irritable, anxious, and worried.

Boost your mood in under ten minutes by consuming whole-foods rich in brain nutrients such as B vitamins, protein, zinc, magnesium, omega 3 fats, and vitamin E. Ditch the junk food (edibles totally don't count!) and instead opt for some vegetables, fruit, nuts, seeds, and hummus. Protein and fat slow the absorption of sugar, so if you do eat some sweets then do so in small portions after a balanced meal. This will help reduce the interruption to your serenity and uplifted mood.
3. Smoke an uplifting strain (or several)
One of the benefits of cannabis is that it can assist with some symptoms of different mood disorders, such as depression, but with a long-lasting impact.

Depression is highly responsive to the consumption of certain strains. 

While cannabis can also assist in reducing the impact of some symptoms (e.g., fatigue, insomnia, lack of appetite, and disinterest in favorite activities, etc.), it also relieves the depression itself.

The use of cannabis, combined with regular therapy, is a powerful aid for those who frequently have low moods.

Some of the best strains to boost your mood are:

Northern Lights: Northern Lights is one of the most popular indica strains, but helping to boost your mood is one of its forgotten properties. This strain has a profound ability to calm the mind and body, resulting in total relaxation and even sedation. This effect is ideal for those who are experiencing mania. This indica will work, allowing the consumer to sleep deeply and awake the next morning feeling refreshed and rejuvenated. It is also ideal for insomnia and lack of appetite from having a low mood. The high from Northern Lights also brings on intense euphoria, perfect for when you need to quickly boost your mood. 
Green Crack: Green Crack is not suitable for all types of moods, as it can increase anxiety and paranoia. However, this strain is excellent for those who are depressed and have trouble functioning throughout the day. As the name implies, this strain is extremely energizing, meaning the fatigue and need to sleep fly right out the window. Green Crack is often motivating for those who need to boost their mood. Wake and bake with this strain to start your day off on an energetic, euphoric note. 
Lamb's Breath: A potent and powerhouse sativa with vibrant green nugs, Lamb's Breath is the epitome of a feel-good strain, one that is perfect for lifting your mood and relieving stress. It is the perfect strain to boost your mood, leaving you energized, euphoric, and optimistic. 
4. Journal about your emotions
Identifying and labeling your emotions elicits clarity and eases that vague sense of "feeling off" and edginess that you may be experiencing. Raw emotions, like anger, are easy to identify. It's the more subtle discomfort we tend to push past. Left untreated, though, those low-grade emotions gather power. Specifically naming the way you feel puts you back in control, rather than being run by emotion.

Next time you need to boost your mood, take a moment to journal about what you're feeling. Are you anxious? Worried? Sad? Nostalgic? Write it down in your journal to loosen these emotions' grip on your calm.

5. Ground yourself
No, we don't mean to restrict yourself to staying home.

To boost your mood and find equanimity quickly, ditch the shoes and walk barefoot across the grass. Connecting your body to the earth is a practice called "grounding", and it has been shown to promote blissful tranquility and relieve depression. Studies show that even short grounding sessions can relieve depression and uplift one's mood.

For a nearly instantaneous mood enhancement, walk barefoot on natural surfaces, such as grass, earth, stone, or sand for 10 minutes.
6. Put on some tunes
According to a 2013 study, listening to music improves self-awareness, social relatedness, and mood regulation. For an instant way to boost your mood, listen to some upbeat or calming music. Try to not think about the fact you're attempting to change your mood while listening, and instead just allow yourself to become immersed in the music. When you're feeling down, turn the music up. To get started, here are some songs about weed.
7. Give yourself a day to unplug
Tuning out the rest of the world and reconnecting with yourself will promote a positive mindset. One study showed that a four-day retreat consisting of meditation, journaling, and other wellness activities drastically decreased depression and anxiety in the participants, in addition to improving happiness. Even just an hour of unplugging can reset a restless mind and boost your mood.

Take a mid-day retreat at home: Power down the laptop, turn off your phone, and shut off the television. Instead of being plugged in, try seshing solo as you journal, go for a nature walk, dance, meditate, or create something.

Studies show that even just a few minutes of mindful meditation activities such as these activate the parasympathetic nervous system. Over time, this creates quantifiable, structural alterations in the regions of the brain associated with general well-being. Deep breathing also recharges the nervous system, calming and relaxing both the mind and body as you boost your mood. 

Need some pointers?

Try the activities listed in this post on self-care for stoners.
For more ways to boost your mood using cannabis, come visit us here at World of Weed to find the most uplifting strains that will turn your mood around. 

---
Disclaimer: Marijuana has intoxicating effects and may be habit-forming. Smoking is hazardous to your health. There may be health risks associated with consumption of Marijuana. Marijuana, in any form, should not be used by individuals that are pregnant or breastfeeding. Marijuana is intended for use only by adults 21 and older. Keep out of reach of children. Marijuana can impair concentration, coordination, and judgment. Do not operate a vehicle or machinery under the influence of this drug. This product may be unlawful outside of Washington State.