Training your weed palate really is a lot like what you're thinking: Hours and lots of jars dedicated to tasting strains. Part mental and part physical, training your weed palate is about pacing yourself, being consistent, and remaining dedicated. It's not just for budtenders, growers, or connoisseurs. No, weed palate training is for anyone who enjoys a nice smoke sesh.

The truth of a jar of weed is when you sit down and smoke eighth after eighth, just to what happens. Rather than having an experience bound by strict stipulations, the only requirement is a healthy desire to smoke weed.

Here are our surefire tips for training your weed palate.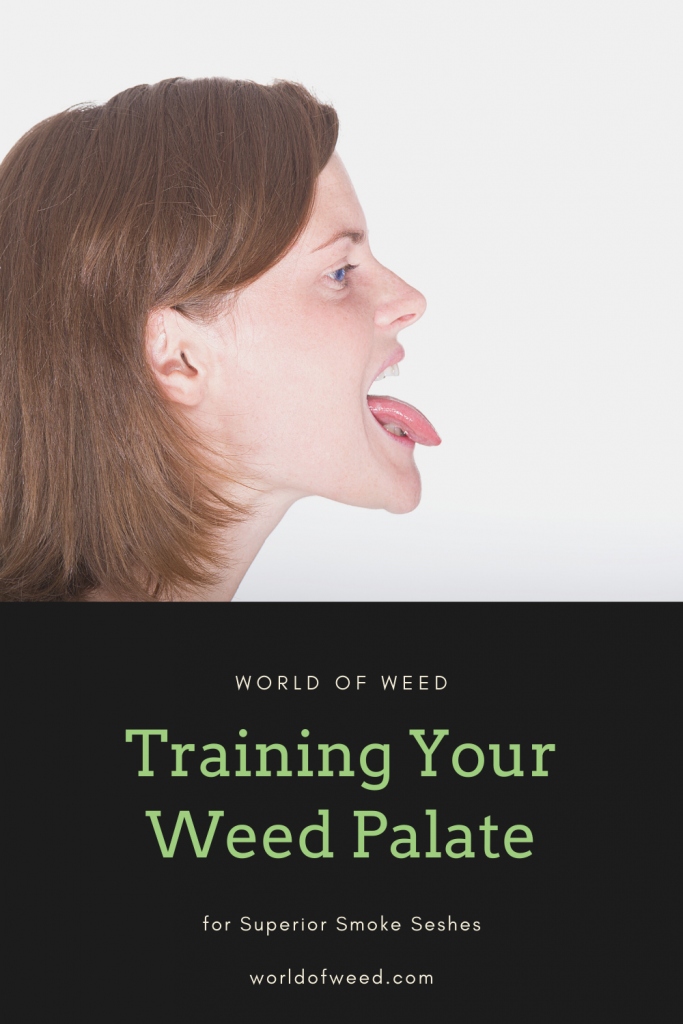 How to Train Your Weed Palate for the Best Smoke Seshes
When it comes to weed, it can take a long time to become acquainted with the different strains by appearance, aroma, taste, effects, and other characteristics.

Given that your palate is comprised of taste buds, olfactory senses, and nerves that spark memories related to aromas, the first step to developing your palate is to focus on your sensual experiences with weed. 

1. Establish a Daily Practice
Fully understanding and identifying the nuances of different types, strains, and producers requires daily practice. The biggest weed connoisseurs have spent thousands of hours in hours-long smoke sessions to solidify their gut feelings about each strain. But, anyone can learn these skills, whether with experienced cannabis smokers or on their own.

Not everyone has time to smoke on a daily basis, of course. We do suggest weed lovers dedicate at least a few hours weekly and/or monthly to hang out with good people and great strains.

Pick a few strains from the same family, producer, or variety (Indica, Sativa, and hybrid), sample them all, and then talk about your experiences. Do this regularly until it becomes part of your daily life. After consistently enjoying weed without pressure, the palate becomes more sophisticated. Flavors become familiar, and instinct evolves into intuition.

Eventually, weed tasting becomes a mindfulness practice, almost meditative. By the third or fourth bowl you know exactly what you are tasting like you know the color of your hair. The key is to continue to taste and smoke, and hanging out with great friends is an excellent reason to expand the selection of strains and the effects they provide.

2. Pace Yourself
While you should be establishing a daily or consistent weed tasting practice for training your weed palate, you should also take care to pace yourself. This isn't a race.

Coaching your weed palate becomes difficult when you haphazardly burn through jars of weed. Smoking on six different strains at a time won't give your palate mastery, but likely just a bit of confusion and cottonmouth.

Didn't say it wouldn't be fun though!

Just as it takes time to learn any skill like singing, fencing, or dancing, the evolution of the weed palate takes time. The most important thing for a true weed lover to do is to savor every puff. Don't just smoke like a chimney because there are several layers of flavor to uncover in every toke.

For instance, be mindful of the tastes, aromas, and effects you experience in every individual puff you take. Soon, you will discover how the taste differs from jar to jar, even if it's the same strain. Simply put, slow down to enhance your weed senses.
3. Take in the Appearance & Aroma First
Weed isn't like a cigar you just cut and spark up, straight from the box.

The first three steps to getting started with weed are:

Step 1: Look at its trichomes, coloration, and density
Step 2: Smell the aroma
Step 3: Taste the weed

If you stray from this order, it's easy to miss out on the color, blanket of trichomes, and aroma of the nugs you're burning. For example, if you do a blind tasting of the light-bodied Lemon Funk without smelling the funk, it's easy to mistake it for Lemon Haze.

4. Practice Visualizing and Separating
Now that you're aware of how important seeing the weed is to the tasting process, it's time to close your eyes and let your mind visualize the multi-layered scented and flavors of the strains. Sometimes, you don't get the full experience when smoking with your eyes open.

For example, you may think of lemons and fields of yellow with Super Lemon Smac or relaxing in the summer sun with a bowl of cool grapes after smoking Grape Ape. On the other hand, you may be distracted by your friend, the chirping birds, or the barking dog next door when your eyes are open.

Moreover, research states closing your eyes helps the brain visualize and remember experiences more accurately. Thus, meditative concentration plays a big role in separating the tastes of different strains.
5. Identify the Terps
While recognizing the tasting notes of Jack Herer is important if you're a sativa lover, you don't need to learn them in a minute, day, or even a week. Take your time with weed. Stoners often get confused when strains they expect to taste like x taste like y instead, so they give up early after those contradictory results. After that, they just smoke to get high and chalk it up as "weed is weed."

In short, you don't need to nail down the flavor that Leafly highlights for Dutch Treat. Instead, look for other flavors and notes you naturally recognize.

While it's useful to remember the tastes and aromas of strains to be a master weed connoisseur, there are different factors that change the tastes of each batch, regardless of strain. Keep in mind, it's these subtle taste differences that contribute largely to a strain's unforgettable experience.
6. Don't Worry About Straight Memorization
The weed palate is a complex experiential combination of four of your five senses: Sight, smell, taste, and feel. To those, weed adds another dimension: Experience. It starts out simply, as you open a jar of weed to see how and why you like it. 
Memorization is the least important factor here. Most important is tasting and more tasting to train the palate to recognize flavors and connect those flavors to certain effects from specific strains. When it comes to weed tasting, this bolsters confidence and natural instincts.
Guessing the strains can lead to missing the big picture. Instead, it's about developing a gut feeling, because your first impression is often the most accurate one.
The key is to pick out the primary flavors in each wine and connect them to the effects on a consistent basis, making your mind better able to identify them. Additionally, keep a weed journal to start recording the dominant tasting notes you pick out in several strains to help your brain compartmentalize and recall different flavors and effects.

7. Compare and Contrast
Open two semi-related strains at the same time. Compare and contrast simultaneously to help you discover subtleties to what you enjoy and don't prefer. Otherwise, if you have a top-shelf strain tonight and another the following, it's going to be hard to say which one you really liked best.
Also, get collective. Try different strains from the same producer and compare them to the same strains from another producer. What are the differences? How similar are they?
Experienced stoner or beginner toker, training your weed palate is less about becoming an expert at blindly identifying strains and prattling off their genetics, and more about self-understanding and preferences. Cannabis isn't meant to just be smoked and tasted, but to be experienced and enjoyed.
Training Your Weed Palate
Hard work and consistency (oh, darn. That means lots of smoking) is the key to developing a weed palate that discerns Dutchberry from Marionberry. You need to slowly distinguish the strain tasting notes, look, and aroma of the buds before Smoking them. Additionally, visualize and separate out the terpene profiles by closing your eyes.

Most importantly, pace yourself and take your time to identify strains without setting any deadlines for yourself. You should take a closer look at the appearance of the nugs to train your memory to remember certain tastes and effects during a blind weed tasting. 

Browse our menu to get started!

---
Disclaimer: Marijuana has intoxicating effects and may be habit-forming. Smoking is hazardous to your health. There may be health risks associated with consumption of Marijuana. Marijuana, in any form, should not be used by individuals that are pregnant or breastfeeding. Marijuana is intended for use only by adults 21 and older. Keep out of reach of children. Marijuana can impair concentration, coordination, and judgment. Do not operate a vehicle or machinery under the influence of this drug. This product may be unlawful outside of Washington State.