The stockings were hung on the chimney with care, in hopes delicious weed soon would be there. You don't want to disappoint that special stoner in your life, do you? Of course not! That's why these pocket-sized treasures are sure to make your favorite stoner very happy this coming Christmas morning.
You may have already made a list of stoner gift ideas, but don't forget about the stocking stuffers! Check out these awesome stoner gifts, for just $5 and under.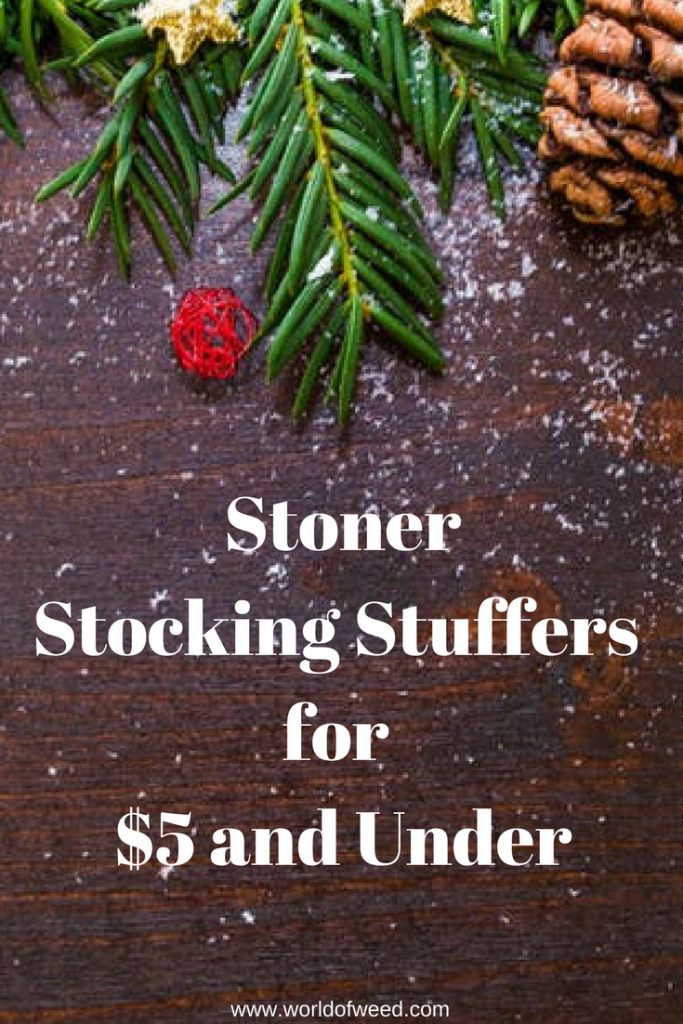 Gorilla Glue #4 Joint by Blacksmith Farms
Gorilla Glue #4 is a highly potent hybrid that offers a strong mental euphoria and overall full-body relaxation. As the high grows, you sink further down into the couch and become "glued" into your seat.
It's a rather pungent joint, as Gorilla Glue #4 has resin-covered buds with earthy and sour-diesel aromas. This comes from Chem's Sister, Sour Dubb, and Chocolate Diesel, the parent strains.
Not only is it strong, but this strain has taken place in both the Michigan and Los Angeles 2014 Cannabis Cups, in addition to the High Times Jamaica World Cup. It's a highly popular strain, and cannabis connoisseurs will go to great lengths to track down some Gorilla Glue #4. And you're blessing your favorite stoner with this wonderful gift from Blacksmith Farms.
Aside from being small and easy to hide inside of a stocking, it's contained within itself. The joint has a plastic tube and it's a pre-rolled joint. That special stoner can just pop that tube open, slide the joint out, light up, and smoke their way through Christmas morning.
It's also super cheap! One joint is just $4.00, so you can load up on them and REALLY surprise that special stoner in your life.
Or…you know…yourself.
Peanut Butter Cookie by Journeyman
This tasty, crunchy cookie by Journeyman has been made with infused butter, bringing you the strongest hit possible. Simply dip your cookie in a glass of milk, crumble it on your ice cream, or make a pie crust. Whatever you want to do with them, they're always going to be ridiculously delicious.
You know those warm, gooey peanut butter cookies your grandma used to make? These aren't your grandma's cookies, but they sure are close! They've just got a little something extra – 10mg of THC per serving.

Dip your cookie in milk, sit back and relax in your chair, and bite into that sweet, sweet cookie. Your senses come alive as they pick up on the peanut butter, on the sugar. They're alive but, soon, the head high takes over. You're uplifted and creative, ready to get stuff done.
It's a great choice for any stoner in your life, or even for yourself! We don't judge.
We've got these for just $5 each, so feel free to grab a bunch and really stuff that stocking full!
What's YOUR favorite stoner stocking stuffer? Let us know in the comments below!
Disclaimer: Marijuana has intoxicating effects and may be habit-forming. Smoking is hazardous to your health. There may be health risks associated with consumption of Marijuana. Marijuana, in any form, should not be used by individuals that are pregnant or breastfeeding. Marijuana is intended for use only by adults 21 and older. Keep out of reach of children. Marijuana can impair concentration, coordination, and judgment. Do not operate a vehicle or machinery under the influence of this drug. This product may be unlawful outside of Washington State.