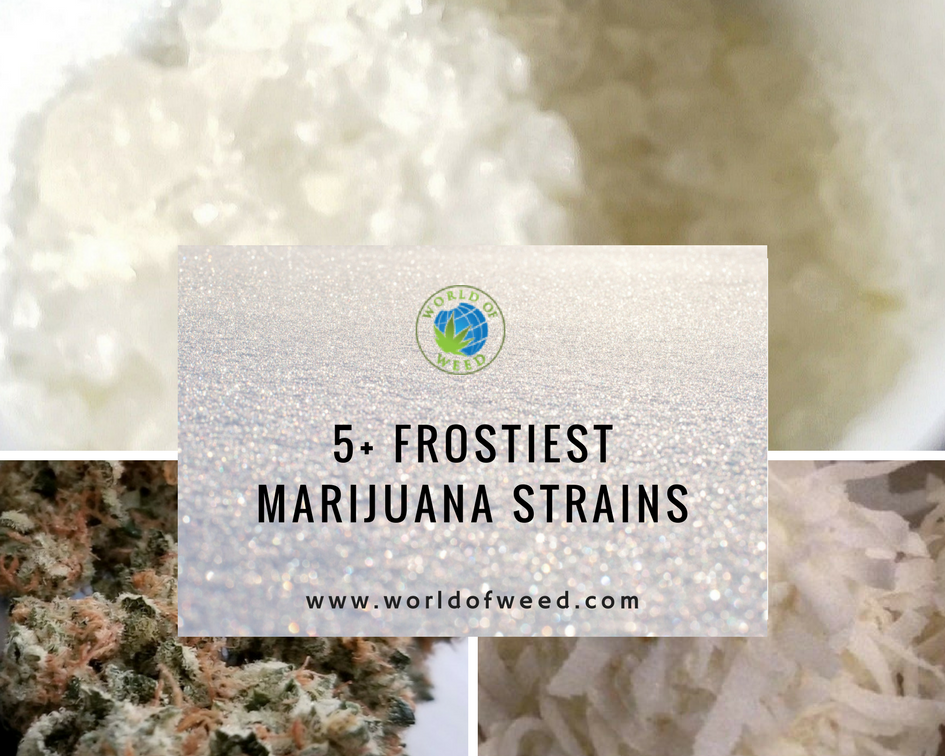 Forget mingling around and chatting. A holiday cannabis lineup this good means everyone will be flying off into space in no time. And with this list of the top five frostiest marijuana strains for a sparkling winter, who can blame them? Just don't forget the snacks!
Top 5 Frostiest Marijuana Strains to Try This Holiday Season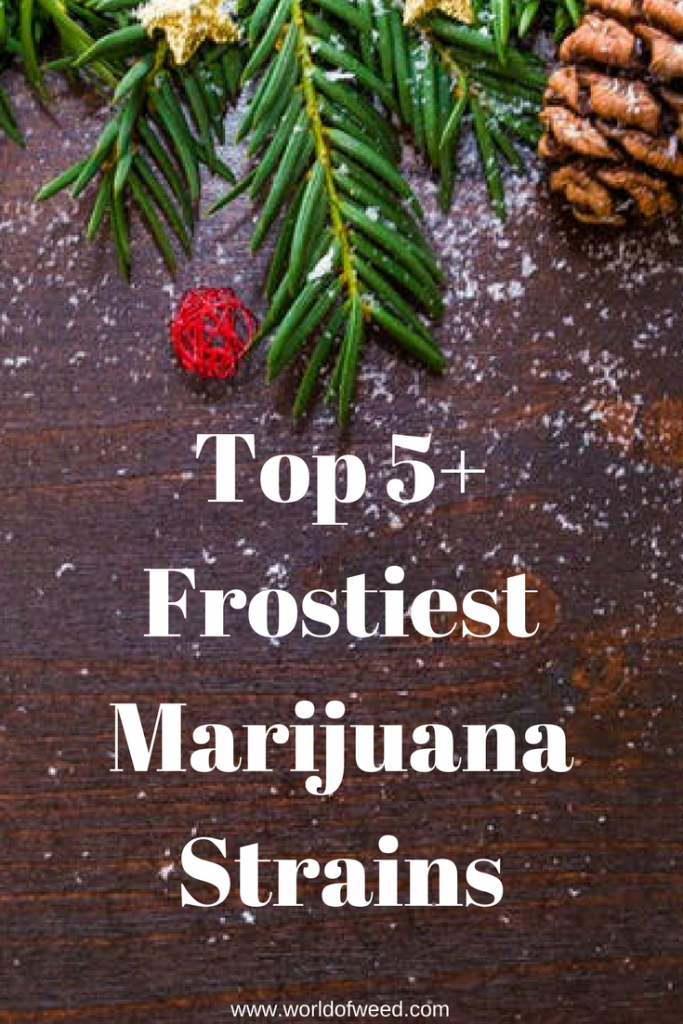 1: White Skywalker by THSea
The buds of White Skywalker tend to really stand out among the others in a display case. The buds are usually dense nugs of roughly medium size, with loudly vivid-green with subtle dark orange, sepia, and purple hues. The snowy trichomes are certainly hard to miss, offsetting the rich amber hairs that cover each nug.
White Skywalker has a THC of 22.7% and produces a very strong body relaxation, followed by a creative and euphoric head high. But, if you're going to be enjoying this strain while opening presents, be sure to have some snacks on hand! White Skywalker is one you can't help but smoke again and again.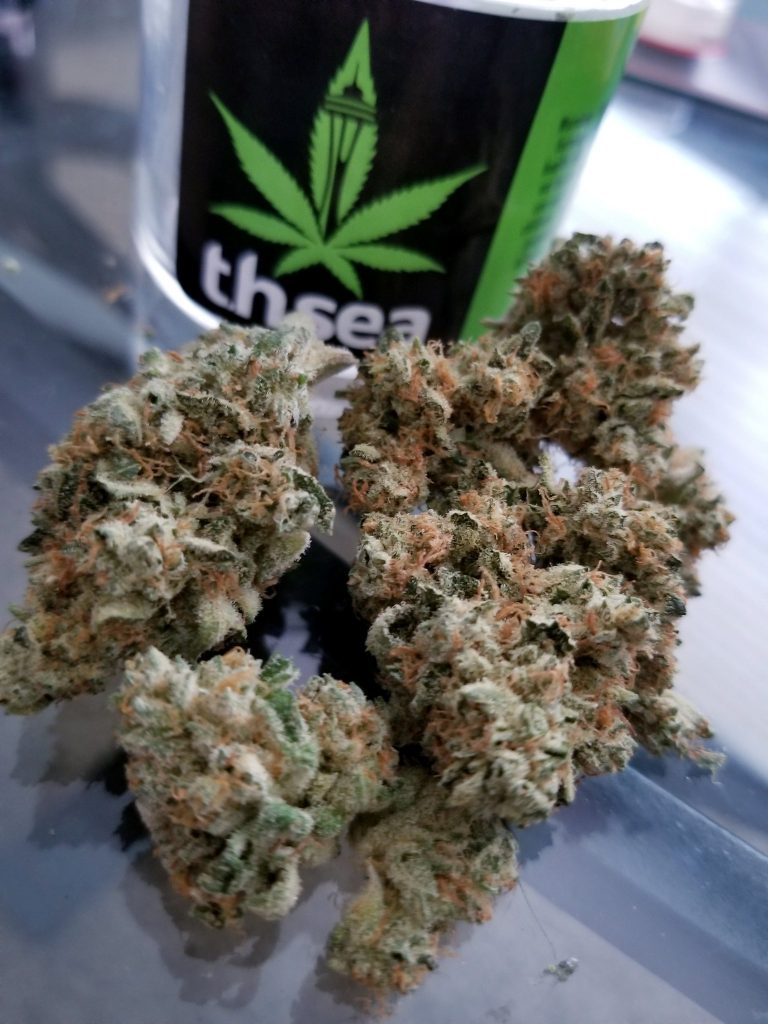 2: Subzero by Army of Dankness
Subzero is a brilliant strain created by Army of Dankness, made by cross Pink Biscuit with Bandersnatch. The buds are pungent and sharp in aroma, yet hold a flavor that is almost exactly like the smell of leather. These aromatic buds also have a sort of exotic beauty to them that is far too hard to ignore. These heavy, dense buds have forest-green leaves clung to by amber pistils that create remarkable contrast to the royal purple streaks within the buds.
In addition to being named for a Mortal Kombat character, this strain also has some chilly connotations to it! As one of the frostiest marijuana strains around, Subzero is sure to help you have your own winter wonderland right from the comfort of your couch. The soft coating of milky-white trichomes give Subzero a sticky feeling – – Just like when you touch ice. Subzero is a highly frosty strain that looks every bit as rich as it tastes.
3: Ghost OG Cookies by Creekside Cannabis
While the Dickens novel didn't really cast ghosts in a positive light, these Ghost OG Cookies are definitely type of ghosts you want to hang out with. Ranking high on our list of the frostiest marijuana strains, Ghost OG Cookies by Creekside Cannabis are delicious, aromatic, and incredibly potent (THC of 19.91%).
These buds are fluffy and dense, with strong olive-green coloring. Amber hairs frame the leaves, giving vivid contrast to the green of the nugs. But, it's that dense coating of crystal trichomes that catch the light and have earned Ghost OG Cookies its spot as one of the frostiest marijuana strains to try this holiday season.
4: Dat Cookie Dough by Hang Roots
Dat Cookie Dough has a full appearance, with a thick coating of soft, glistening crystals. It has more of an amber coloring, and carries a sweet scent that's almost minty. But, that flavor is sweet enough for it to be immediately obvious how this strain earned its name, yet balanced by ambrosial notes of mint and orange. This one of the sweeter strains, perfect for holiday treats.

A true wintery choice, Dat Cookie Dough is one of the frostiest marijuana strains around. The only problem is, you'll end up eating all of the real cookies before Santa can have any. Just don't forget the milk!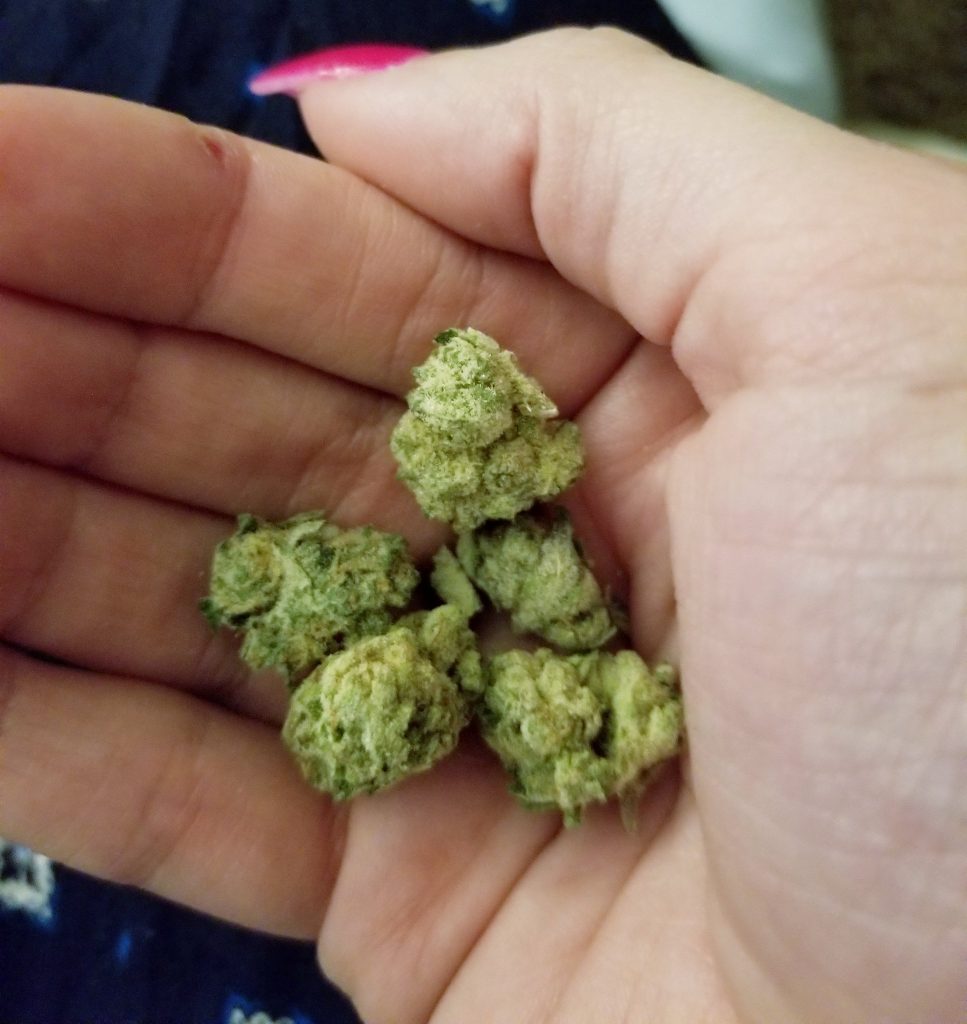 5: Mystery Cookies by Pilot Farms
Named for its ambiguous genetics (presumably), Mystery Cookies by Pilot Farms is a heavy-hitting, super potent strain. Take a few hits and you'll definitely be floating through space in no time.
The high hits you almost immediately, bringing on a euphoric rush that seems to give you a bit of energy, but then you try to stand up and realize you can't do much of anything. As your mood continues to improve, you'll sink down into the couch into a full-body sedation. Considering it has a THC level of 27.12%, it's definitely not surprising!
Santa can have his cookies, and you'll be over here enjoying yours. Mystery Cookies is definitely on the list of frostiest marijuana strains. However, it'll take an extremely experienced detective to solve this mystery!
Bonus 1: Wizard Stones
While definitely not for newer smokers, Wizard Stones are the magical crystals that are going to add some frosty sparkle to your holiday season.
THCA is the precursor to everyone's favorite, THC. When THCA is isolated while still in its acidic form, THCA restructures itself into tiny, translucent-white crystals. When these THCA crystals are dropped onto the hot dab nail, they decarboxylate into the potent THC that gets you high.
Wizard Stones are those pure, isolated-cannabinoid THCA chrystalline that will have you going on your own magical winter journey.
Bonus 2: Honu Coconut Snowballs
Does your winter wonderland fantasy come with decadent chocolates, savored around a cozy fire? Then discover Honu and grab a dreamy moment that's all yours. When you bite into the Honu Coconut Snowball's delicate shell of sweetened, raw coconut shavings, the irresistibly soft white chocolate center melts slowly in your mouth, covering all of your senses in white chocolate. With 10 mg of THC per Snowball, these are sure to take you away to a winter wonderland where soft chocolate dreams become real.
** Oleum will be in the store today (Fri), Dec. 15th, from 3 pm – 7 pm. Be sure to stop by and pick up some Wizard Stones!**
What would be at the top of YOUR list of the frostiest marijuana strains? Let us know in the comments below!
Disclaimer: Marijuana has intoxicating effects and may be habit-forming. Smoking is hazardous to your health. There may be health risks associated with consumption of Marijuana. Marijuana, in any form, should not be used by individuals that are pregnant or breastfeeding. Marijuana is intended for use only by adults 21 and older. Keep out of reach of children. Marijuana can impair concentration, coordination, and judgment. Do not operate a vehicle or machinery under the influence of this drug. This product may be unlawful outside of Washington State.