Hang Roots Dat Cookie Dough Flower

We've all grown up being told to not eat cookie dough, but they didn't say anything about smoking it!
Hang Roots' Dat Cookie Dough, if you're 21 and up, is definitely one you're not going to want to miss.
In fact, you'll be hard-pressed to find a cannabis enthusiast who doesn't enjoy this beautiful, tasty strain. Dat Cookie Dough has a full body appearance, with soft crystals that offset an amber coloring with a bit of a sweet scent, supported by a hint of a minty aroma. The flavor is sweet enough to live up to the name, balanced by savory notes of mint and little orange. To those looking to try the sweeter side of cannabis, this would be a great starter option.
With its high potency, this strain offers both a head high and a body high, relaxing your muscles and releasing tension and anxiety.
Imagine lighting this up, and then laying back on your comfy bed, exhaling all of the stress and worries of the day.
That's why we're proud to offer 1g packages and 3.5g jars of this amazing hybrid flower.
Marijuana connoisseurs will love the minty, sweet flavors of this strain!
What type of flower is Hang Roots Dat Cookie Dough?

This gorgeous flower is a Sativa dominant hybrid of OG Kush and Durban Poison.
It has an incredibly high THC content of 25.3%, a THCA content of 27.2%, and a CBD of 0.1%.
Take a couple of hits, and you'll be floating among the clouds.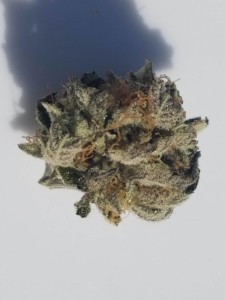 What are the effects of Hang Roots Dat Cookie Dough?

The effects are immediate, starting with a full body relaxation that melts into a floaty head high.
If you're looking to get those creative juices flowing, this is the strain you're going to want. It's a heady high, boosting creativity and general hilarity. This strain also has a pleasant analgesic quality to it that many users find helps bring out the flavors of the bud – which is absolutely delicious!
How long do the effects of Hang Roots Dat Cookie Dough last?

Make sure you've got some tasty snacks nearby, because even just three hits of this will last for around 1 – 2 hours…and the munchies are no joke!
The happy, light mood will last just as long – perfect way to kick off your day, enjoy with friends, or relax after a long day of work.
The effects and amount of time they last may vary from person to person.
How much does Hang Roots Dat Cookie Dough cost?

It really does just keep getting better and better!
We've got this strain available in a gram for just $14 and 3.5 grams for $40.
What are other people saying about Hang Roots Dat Cookie Dough?

The answer: Lots of things!
Check out some of these cannabis enthusiast comments:
"There's some orange flavor in there that I just LOVE!" – Karen E.
She gave this 5/5 stars.
"Just took a couple hits, and I was way high for about an hour. It's a happy high, and it turned my mood around when I had a bad day." – Brian W.
He gave this 5/5 stars.
"Oh, my gosh! That smells REALLY good! It tastes like cookies, too! Love this one." – June K.
She gave this 4.5/5 stars – she thought it hit a little harsh for her taste.
"It's full of crystals, which I love. As a photographer, I really love the appearance this one has. It's beautiful, but the taste and the high are seriously phenomenal. I think I've found a new favorite!" – Aaron S.
He gave this 5/5 stars.
These people loved it, and we know you will too. So come see us and treat yourself to some Cookie Dough!