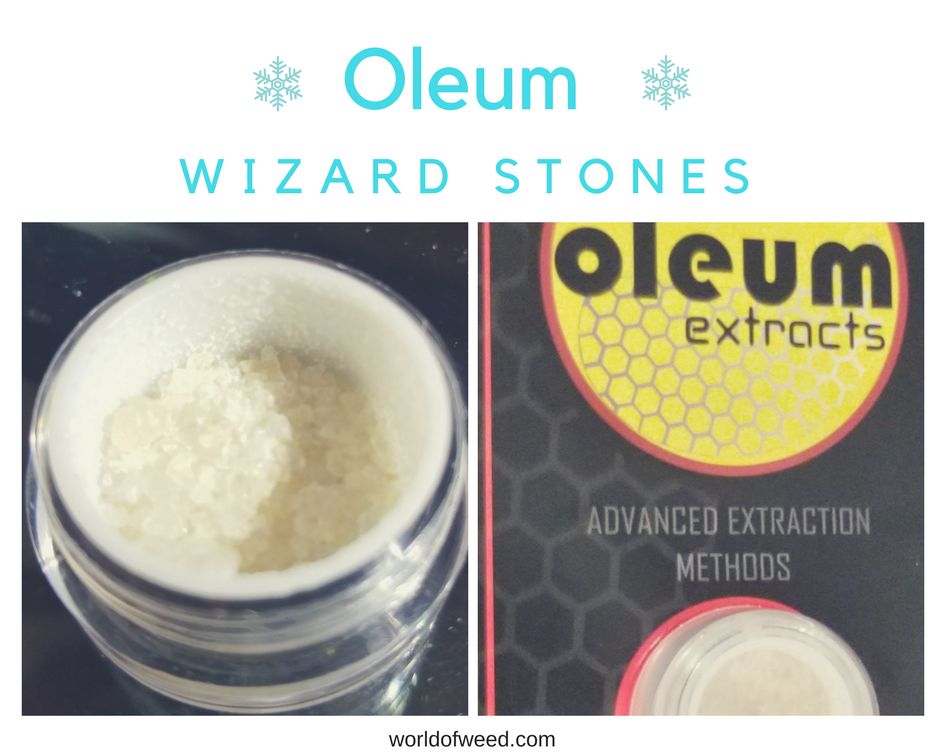 Oleum THCA Chrystalline (Wizard Stones)
THCA is the precursor to everyone's favorite, THC. When THCA is isolated while still in its acidic form, THCA restructures itself into tiny, translucent-white crystals. When these THCA crystals are dropped onto the hot dab nail, they decarboxylate into the potent THC that gets you high.
Wizard Stones from Oleum contain no terpenes or other cannabinoids, so it's a smooth hit with very little flavor behind it. If you dab at hotter temperatures than you normally would, it's likely to afford an even stronger hit. A word of caution: This isn't for the newbie or the casual stoner. THCA Chrystalline is incredibly potent!
[ New to dabbing? Check out this post: Dabbing 101: How to Take a Dab ]
Look into the fascinating world of cannabis extraction by check out this video Oleum did. They cover the process, as well as different types of extracts available for you to try:
These beautiful THCA Chrystalline Wizard Stones take several weeks to grow into the beautiful crystals you see them as. Combine that uniqueness with their insane potency, and it's easy to see why these are some of the most popular products on the market!
Effects of THCA Chrystalline (Wizard Stones)

These THCA Chrystalline Wizard Stones have 97.90% THC-A, 86.59% cannabinoids, and 86.59% THC.
It's not a joke: These Wizard Stones are potent!
The effects may not hit you immediately, but Wizard Stones aren't exactly creepers either. You'll start to feel the effects pretty quickly, starting with a cerebral high that melts into a content body relaxation.
One or two hits may not put you in the couch, but you'll definitely be stoned. The uplifting, hyper high makes this perfect for daytime or nighttime use. The body relaxation is more of a content one, like you just left a spa.
Perfect for laughing away the afternoon with friends, relaxing after work, or winding down before bed. Whatever your needs, Wizard Stones are sure to meet them!
Oleum Wizard Stones Reviews
Oleum's THCA Chrystalline Wizard Stones are huge hit with our customers, and we're pretty sure you're going to love them too.
Check out some of the things they had to say about these Wizard Stones:
"Oh, man! Wizard Stones are seriously awesome. They're totally worth the price, they're really strong, and that little container lasts for-EVER!" – Daniel S.
"Buy it. Buy it. Buy it. That's all I can say. Wizard Stones are an absolute MUST for any cannabis enthusiast, even if you're just a stoner who wants to chill out for the day. It doesn't get much better than Oleum Wizard Stones, I'll tell you that much." – Jerika R.
"These are SUPER strong. I could only take two dabs before I had to stay sitting down. Definitely strong, and most definitely something everyone has to try." – Rachel E.
"It doesn't get any better than Wizard Stones, for sure. I only needed a couple of dabs and I was GOOD for a couple of hours. The amount you get really goes a long way, because they're so tiny but still SO strong. Totally worth getting." – Dimitri Y.
"I wasn't really one for dabs, but these are way awesome. I loved these!" – Dylan R.
"I don't do dabs, but I did sprinkle some on top of my bowl of Green Crack. That sent me flying through the atmosphere! I only put two on there, but I was STONED. The munchies are pretty serious, too." – Amethyst P.
Try Oleum Wizard Stones for yourself!
Ready to take the plunge and try these powerful Wizard Stones for yourself?
We've got them available for:
$75 – 0.5g
$120 – 1g
Dab some with your rig (be sure to check out our glass), sprinkle some in a joint / blunt, or add some to the top of your bowl. Whichever way you choose to enjoy it, Wizard Stones will teleport you to the magical world of cannabis extracts!
Have you tried the amazing Wizard Stones? Tell us what you thought in the comments!
** Oleum will be in the store on Friday, December 15th, from 3 pm – 7 pm. Be sure to stop by and pick up some Wizard Stones! **
Disclaimer: Marijuana has intoxicating effects and may be habit-forming. Smoking is hazardous to your health. There may be health risks associated with consumption of Marijuana. Marijuana, in any form, should not be used by individuals that are pregnant or breastfeeding. Marijuana is intended for use only by adults 21 and older. Keep out of reach of children. Marijuana can impair concentration, coordination, and judgment. Do not operate a vehicle or machinery under the influence of this drug. This product may be unlawful outside of Washington State.