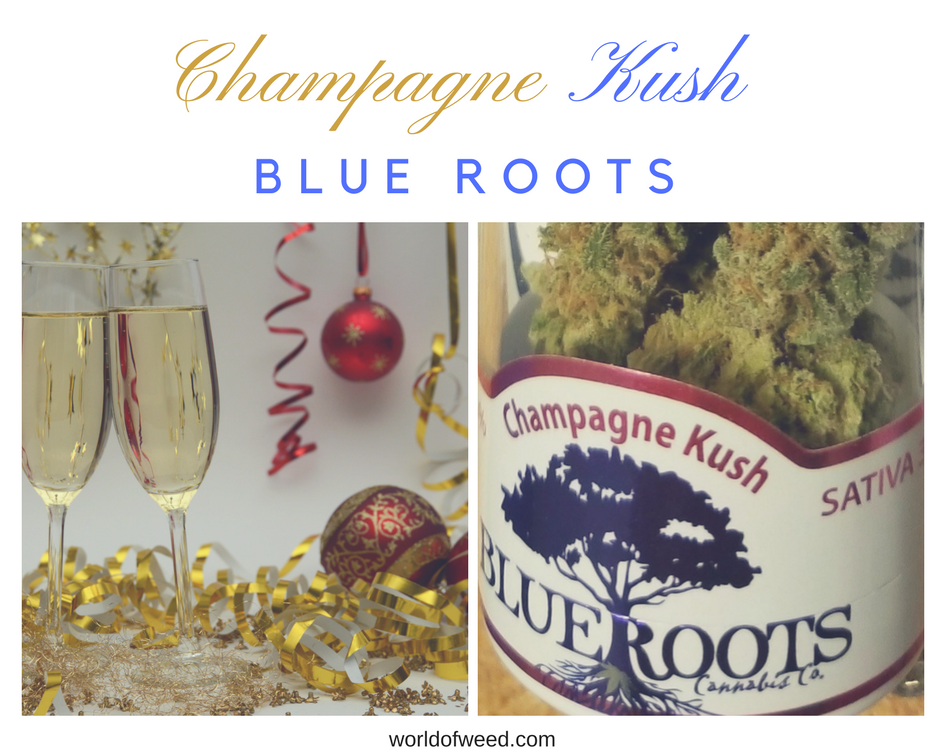 Champagne Kush Flower
What better way to ring in the new year than with a bubbly bong of Champagne Kush at a fun stoner New Year's Eve party? Let's leave the glasses and hangovers to the other guys.
Champagne Kush by Blue Roots comes from Burmese Kush x Hash Plant, and is an indica-dominant hybrid (70% indica, 30% sativa) that, though not super high in THC, packs quite the secret punch. It's a lot like champagne in that way, though that's not how the strain got its name.
In fact, Champagne Kush got its name from the exotic, champagne-eseque aroma and flavor profiles. Take a few hits, though, and you'll notice there are also subtle grape undertones and this subtle, yet lingering, musky diesel aroma and flavor.
Champagne Kush holds a totally unique flavor that certainly lives up to its decadent name.
Not only is Champagne Kush a savory, exquisite strain that is perfect for any New Year celebration, but it's also stunning. In fact, it's almost too beautiful to smoke! The buds are light and airy, though dense and long. Those unique buds are an olive-green with long, wispy orange tendrils and a sparkling dusting of crystals.
If you wanted to crack open something sparkling this New Year, Champagne Kush buds are exactly what you're looking for!
Champagne Kush Strain Effects
While Champagne Kush by Blue Roots is an indica-dominant hybrid, the sativa effects definitely come through with each and every hit. It may only have 15.01% THC, but it surprises you with its bubbly effects and relaxing social high.
Light some up, and you'll immediately notice a boost in your mood, with a euphoric body high. It's a relaxing social high, just like if you were partying the night away with a glass of bubbly in fancy cocktail.
Not one for dancing and feeling those sativa effects? That's cool. Pick a spot, chill out, and just let the indica effects wash all your stress away. All of the stress and bad stuff just gets pushed right out of you as you exhale. Inhale the good stuff, exhale the bad stuff.
Champagne Kush is all about celebrating new beginnings. It's the perfect strain for toasting a new year, and new memories, with some great friends.
Note: Cottonmouth, insane munchies, and bloodshot eyes are extremely common effects with this strain.
Champagne Kush Strain Reviews
Champagne Kush has massively continued to grow in popularity, popping up in areas all along the West Coast, Arizona, and New Mexico. Blue Roots cannabis strains are popular among our customers, and Champagne Kush is hardly an exception.
Check out what some of them had to say about Champagne Kush by Blue Roots:
"It's definitely got an interesting flavor, and definitely reminds me of a berry champagne. It's a delicious way to enjoy something that gives you some fun effects, without having to worry about dealing with a hangover the next morning. I'm so buying more of this!!"
Ginia R.
"This is seriously bomb weed. Smoke this. Buy this. Worship this. This strain is hella good."
James V.
"I love how pretty the buds are, and how long they are. They don't end up all crumbled at the bottom of the jar, which I love. Blue Roots has some awesome jars. Definitely reminds me of champagne, but like in a berry or grape way. Sparkling grape juice, almost. It's yummy, and I'm for sure going to be buying some more of this."
Karen L.
"I love that musky flavor that it has. It's like an aftertaste, but it's definitely there. I love that, and it adds a unique flavor combination that I certainly haven't smoked before. These buds look seriously nice, too. Love this. I need more Champagne Kush by Blue Roots for sure."
Livvy R.
Champagne Kush Strain Pricing

We've got Champagne Kush waiting for you in our store, so come get your bubbly on! We've got it available for:
$13 for 1g

$40 for 3.5g
$140 for 15g
Plus, you know we've got our supremely awesome Daily Deals going on, too. Don't miss out!
Have you ever tried Champagne Kush? Tell us about it down below!
Disclaimer: Marijuana has intoxicating effects and may be habit-forming. Smoking is hazardous to your health. There may be health risks associated with consumption of Marijuana. Marijuana, in any form, should not be used by individuals that are pregnant or breastfeeding. Marijuana is intended for use only by adults 21 and older. Keep out of reach of children. Marijuana can impair concentration, coordination, and judgment. Do not operate a vehicle or machinery under the influence of this drug. This product may be unlawful outside of Washington State.