Scary Stoner Halloween Stories Guaranteed to Freak You Out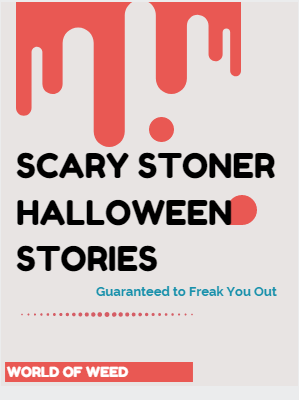 We here at World of Weed are working hard to ensure you have the dankest, spookiest stoner Halloween possible this year. So far, we've covered:
Now, it's time to cover spooky stories to tell with your friends. Roll up some blunts, pack those bongs, gather up your friends, and huddle around the fire pit. It's time for some scary stoner Halloween stories that are guaranteed to freak you OUT!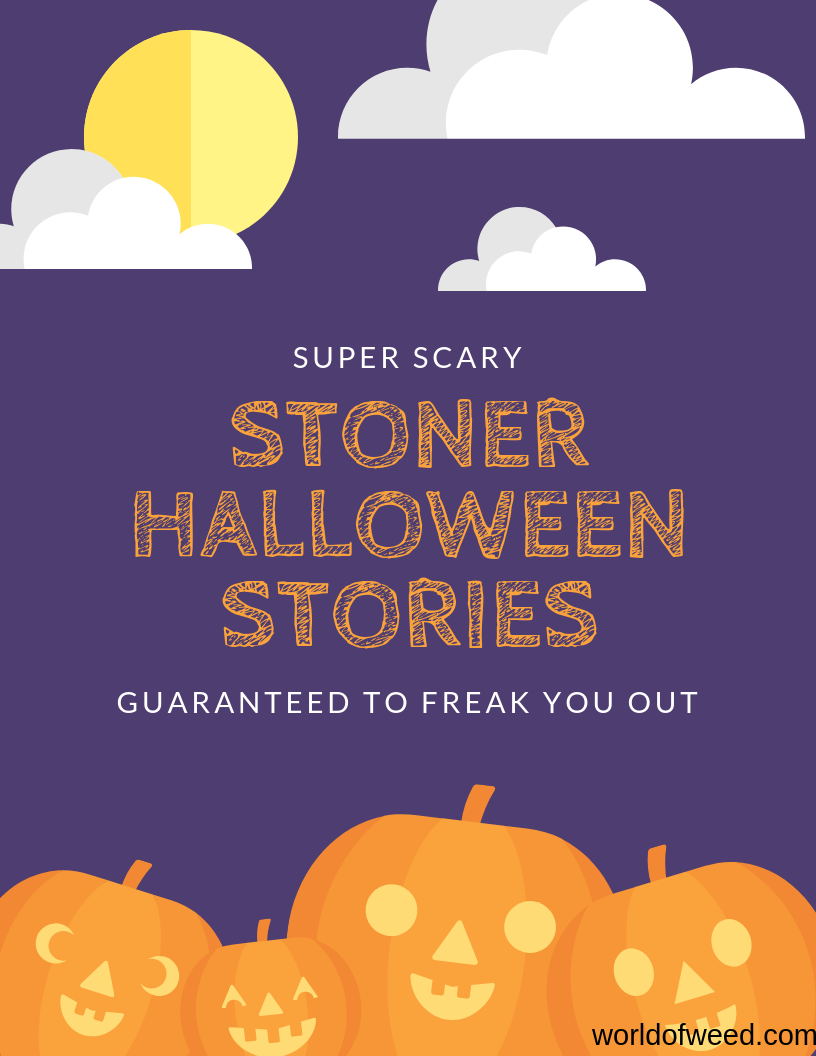 The Weed Was Too Loud
I was listening to music and smoking for awhile, just chilling out after a particularly bad day. Well, I put on one of my favorite songs, took a fat dab. . . and then a couple more. . . and then just zoned out and got all stoned.
I didn't notice the song end. The weed was so loud, I was listening to silence for about twenty minutes before I realized there was no music playing.
The dabs were just that good – – or horrifically strong?
The Day the Dab Rig Died
I'd bought this amazing electric dab rig and fancy nail. I stocked up with plenty of delicious, diamonds of dabs, and I invited over my friends for a dank sesh. We plug it in and wait.
And wait.
And we keep waiting. And waiting. And then…we realized. It had died. The dab rig was dead. The had tons of globby dankness, and the dab rig just wouldn't heat, no matter what we did.
We couldn't dab.
The Long Road to Nowhere
I stood on the moving sidewalk, baked as hell, for about twenty minutes before I realized it wasn't working.
Yes, there were a lot of people around.
A Long Drop
I was on a tight budget that month, but I saved enough to get a good amount of top shelf, potent, sticky as hell weed from World of Weed. I got it home, the anticipation building the whole way.
I get it open, basking in the indescribably beautiful aroma. I grind and grind and grind it up. I set the grinder on my knee, the lid resting "just enough" on it.

And then. . . I sneezed.
And then the whole grinder dropped to the carpet. The weed spilled out. All of it.
My cat rolled in it.
I cried.
Drier Than the Sahara
I thought I still had about an eighth.
I was wrong.
For some reason, none of the shops around me were open. I was low on gas, and couldn't travel all that far anyway.
I make some calls, and the plug rolls through.
Now, I know better than to just fork over a few hundred without looking at the bag. But, for some reason – – well, it's a horror story for a reason.
He leaves. I open the bag, and. . . it's OREGANO.
Not only am I dry, but he made a fool out of me AND I'm out $300. Definitely more of a trick than a treat!
Wow, those were SCARY!
What's your most chilling stoner Halloween horror story?
Share it with us down in the comments!
---
Disclaimer: Marijuana has intoxicating effects and may be habit-forming. Smoking is hazardous to your health. There may be health risks associated with consumption of Marijuana. Marijuana, in any form, should not be used by individuals that are pregnant or breastfeeding. Marijuana is intended for use only by adults 21 and older. Keep out of reach of children. Marijuana can impair concentration, coordination, and judgment. Do not operate a vehicle or machinery under the influence of this drug. This product may be unlawful outside of Washington State.