The spookiest day of the year is just around the corner, which means it's time to start planning your night of Halloween treats, snacks, and festivities. Plus, of course, all the weed you could possibly need.
If you're looking for ways to turn your Halloween into HalloWEED this year, then this guide is for you.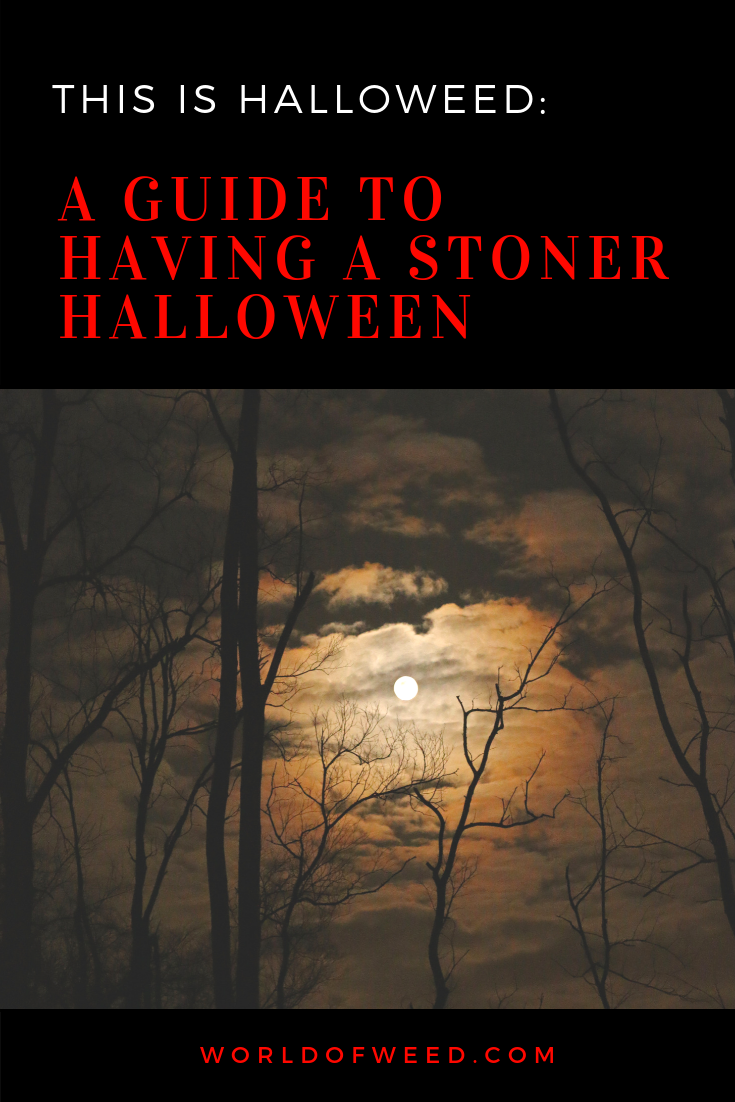 HIGHlarious Stoner Halloween Costumes
You can't celebrate Halloween without costumes. You certainly can't have a HalloWEED without stoner Halloween costumes!
We put together a list of some of the best HIGHlarious stoner Halloween costume ideas last year, with everything from a blunt to Mary Jane. Here are a few of our favorite stoner Halloween costume ideas for this year:
Stoner Duos:

Going for a couple costume, or trying to coordinate with your friend? There are plenty of great stoner duos out there that would make for some super dank costumes. Cheech and Chong is always a classic, or you could go a bit more obscure with Bluntman and Chronic.
FBI Agent:

Dress up like the best law enforcement around with a Federal Blunt Inspector costume. Put on your most serious face, and get to inspecting those blunts!
Baker:

What stoner DOESN'T want to get baked for Halloween? Put on an apron adorned with pot leaves, carry a rolling pin, and go as an "infused baker." As an added bonus, you could have some edibles available to hand out to your guests or fellow partygoers.
Pumpkin Bong
Pumpkin carving is one of the main Halloween activities, but it can get a little old doing the same thing year after year.
This year, switch things up by making a pumpkin bong!
It may sound a bit complicated, but pumpkin bongs are quick and easy to make, and are completely environmentally friendly. Can't go wrong with that, right?
All you need is a pumpkin, a drill bit, a downstem piece, and some super dank weed. If you don't happen to have a drill, you can use a screwdriver, skewer, or knife.
Step 1: Carve out a round hole that goes through to the center of the pumpkin. It's best to start with a smaller hole, so you can ensure your downstem will fit in there as tightly and securely as possible.
Step 2: Make the carb by drilling another small hole into the side of the pumpkin. This hole should also go through to the center of the pumpkin.
Step 3: Now, it's time to create the mouthpiece. Bore another small hole into the opposite side of the pumpkin, going at a 45-degree angle that comes together in the middle of the pumpkin.
Step 4: Put your downstem in, pack your bowl, and blaze on that pumpkin bong!
Spooky-Fun Stoner Halloween Events
One of the best parts of Halloween – -and HalloWEED – – is spending a night out celebrating the spookiest of nights with great friends and some of that fire bud.
This year, add these stoner Halloween events to your calendar:
This super dank stoner Halloween show at Kremwerk has all sorts of spooky, stonerific, drag queen fun hosted by Cucci Binaca.
You can't have a fun HalloWEED night without some of that topshelf cannabis! We're offering 20% OFF all products in the store! Stock up for your stoner Halloween night the right way – – with some fire weed.
Get Your Spooky On!
Halloween is one of the best holidays for stoners. You get to dress up in fun costumes, there's plenty of delicious snacks for when those munchies hit, and you get to smoke with your friends. Now that you've got some idea of what to wear, what to do, and what fun activities to have – – like that pumpkin bong! – – it's time to plan your party.
If you're having edibles, remember the effects can be delayed for up to 2 hours, and be sure to never drive while under the influence of anything.
But, above all, follow these tips, carve that pumpkin bong, and smoke some of that super dank bud with your friends. After all, it's HalloWEED!
What are your plans for this year's Halloween? Share them with us in the comments below!
---
Disclaimer: Marijuana has intoxicating effects and may be habit-forming. Smoking is hazardous to your health. There may be health risks associated with consumption of Marijuana. Marijuana, in any form, should not be used by individuals that are pregnant or breastfeeding. Marijuana is intended for use only by adults 21 and older. Keep out of reach of children. Marijuana can impair concentration, coordination, and judgment. Do not operate a vehicle or machinery under the influence of this drug. This product may be unlawful outside of Washington State.