Halloween is the official start of the Autumn and Winter holidays – – the food holidays.
Between a spooky stoner Halloween party and hilarious stoner Halloween costumes, there are countless ways to smoke out with friends. But, any truly amazing stoner Halloween needs food.
You've got plenty of options for regular food everywhere, but the real treats are the Halloween edibles!
Whether your guests are into chocolate, gummies, or something in between, here are 6 Halloween edibles that are sure to bring out the inner kid in you and your friends:
06 Best Halloween Edibles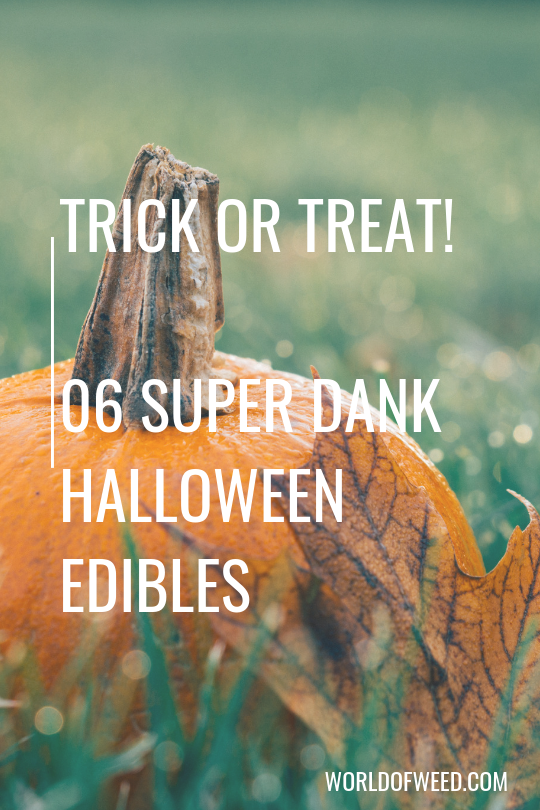 1. Journeyman Berry Fruit Jellies
Fruit chews are one of the most popular types of candy out there, and these Journeyman Berry Fruit Jellies certainly don't disappoint!
Made with fresh fruit puree and distillate infusion for savory taste and a strong THC kick, these fruit jellies are bursting with strawberry flavor.
While not strain-specific, these BERRY delicious jellies are true hybrids in every sense of the word, and offer the perfect blend of effects from the entirety of the cannabis spectrum. Pop one or two of these, and you can expect to have a blissful euphoria coupled with a full-body relaxation.
These are the perfect treat after a long night of stoner Halloween fun!
We've got Journeyman Berry Fruit Jellies (20mg THC) for $7 / 2-pk. Come grab yours today!
2. Journeyman Green Apple Weed Tarts
You don't have to worry about any evil witches poisoning these apples!
These Journeyman Green Apple Weed Tarts are bite-sized chewy candies with long-lasting green apple flavor that tastes just like the real thing!
You can expect a slow onset of effects with these, but you'll be feeling euphoric calm before you know it. Unwind and satisfy your sweet tooth all at once!
Come get your Journeyman Green Apple Weed Tarts today for just $7 for a pack of two.
3. Lush Hawaiian Mixed Chews
Not everything about Halloween has to be spooky!
Pretend you're taking a little tropical vacation with these Lush Hawaiian Mixed Fruit Chews. Soft and chewy, these jelly gummies come in Luscious Passion Fruit, Orange, and Guava flavors.
As an added bonus, these are totally gluten-free and were made without any animal products whatsoever.
Go tropical with these super dank Halloween edibles for just $30 for a 10-pack of 100mg THC chews.
4. Nasty Jack's Malt Balls
Take your stoner Halloween to a whole new level of chocolate dankness with these indulgent Nasty Jack's milk chocolate malted balls, infused with cannabis butter / oil. If you're craving chocolate on Halloween night (who isn't?) these are exactly what you're looking for.
These chocolate malt balls offer both cheerful and rejuvenating cerebral effects, coupled with a full-body relaxation that will have you feeling goooood in no time.
Pick up some Nasty Jack's Malt Balls 100mg THC today, for $29 for 10-pack!
5. SPOT Milk Chocolate
These indulgent milk chocolate bars contain 10 mg THC and are some of the most super dank Halloween edibles around.
With uplifting, euphoric mental highs and relaxing body highs, these SPOT Milk Chocolate bars are the Halloween edibles you didn't even know you needed in your life.
Plus. . .
SPOT also has some THC fruit chews of their own, for those who want a more tropical Halloween treat.
Get ready for Halloween with these SPOT Milk Chocolate Bars for only $30 for a 10-pack!
6. 4.20 Dark Chocolate Hazelnut Bar 10 MG
Evergreen Herbal's 4.20 chocolate bars are the perfect Halloween edible to make your night a bit more dank.
This seamless blend of dark chocolate and creamy hazelnut is an indulgence for the senses with each and every bite, while the cannabis keeps you lifted.
Ingredients: Dark Chocolate (72% cacao beans, pure cane sugar, cocoa butter, lecithin, natural vanilla flavor), Nuts, hazelnuts or Filberts, and Cannabis Oil
We've got these heady hazelnut bars of deliciousness available for $7 / bar.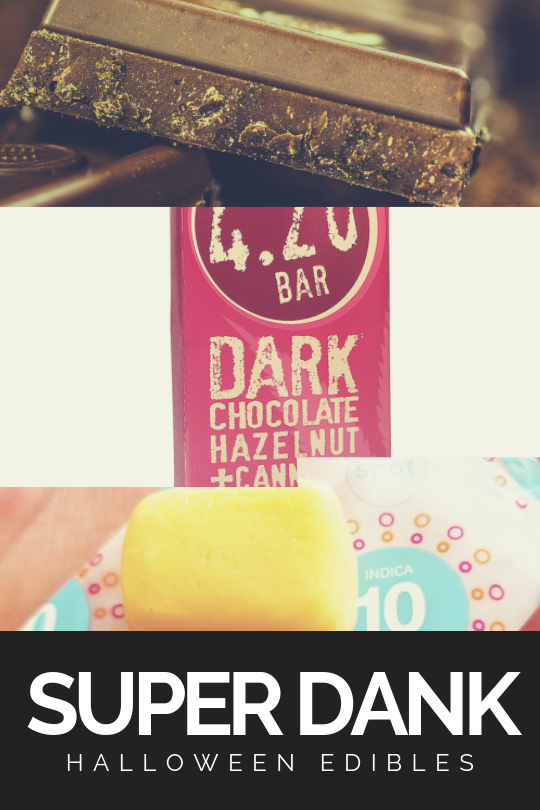 What are your favorite Halloween edibles?
Let us know in the comments, and be sure to ORDER THEM ONLINE to save some time!
---
Disclaimer: Marijuana has intoxicating effects and may be habit-forming. Smoking is hazardous to your health. There may be health risks associated with consumption of Marijuana. Marijuana, in any form, should not be used by individuals that are pregnant or breastfeeding. Marijuana is intended for use only by adults 21 and older. Keep out of reach of children. Marijuana can impair concentration, coordination, and judgment. Do not operate a vehicle or machinery under the influence of this drug. This product may be unlawful outside of Washington State.