Hang Roots Root Rocks: The Cannabis Connoisseur's Dream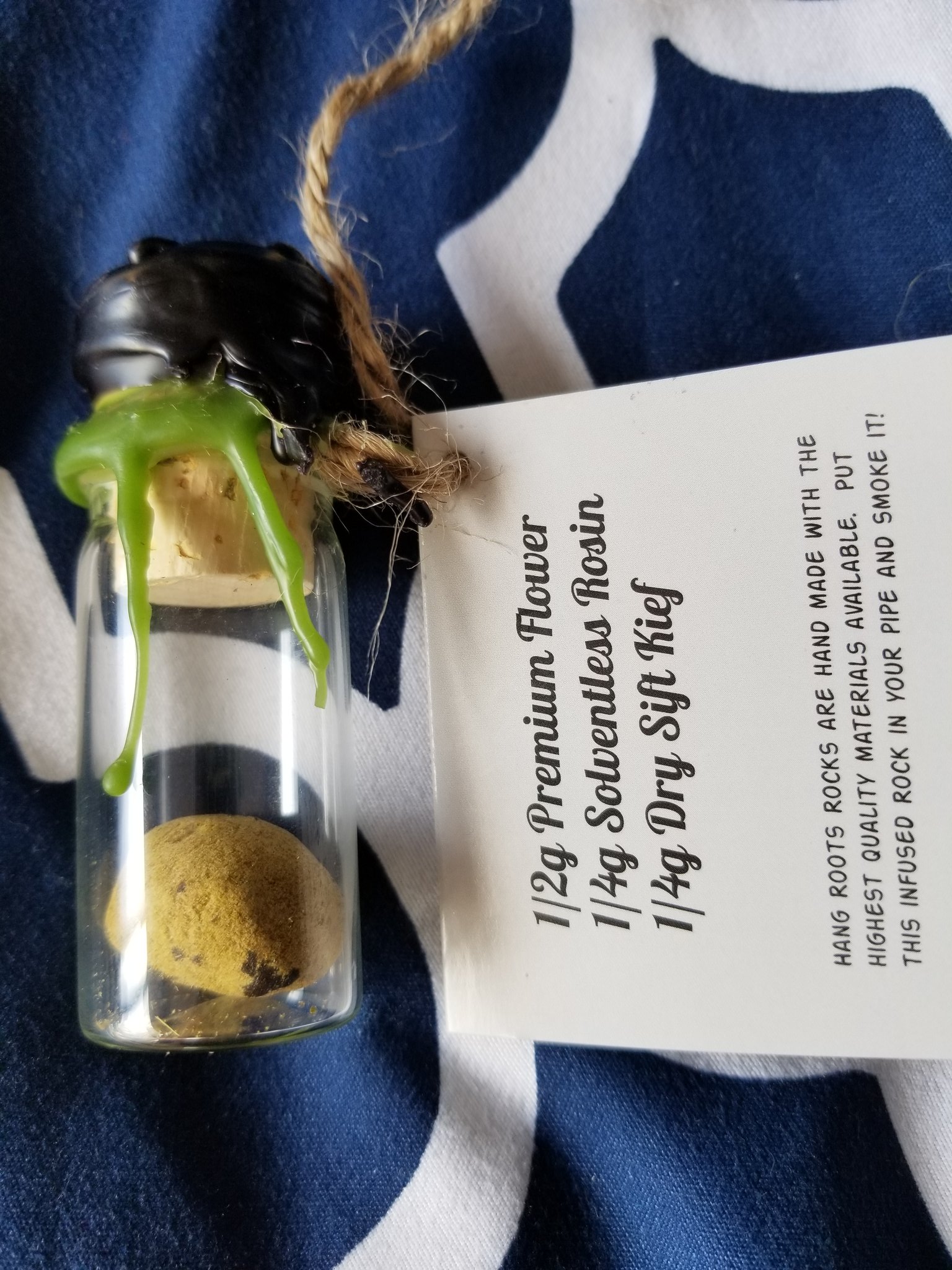 A large rock made from flower that has been rolled in oil and then rolled in kief, Hang Roots Root Rocks is most definitely every marijuana enthusiast's dream come true.
Root Rocks, also known as Moon Rocks, are fast becoming one the most popular trends in the cannabis community, combining the best of all three main types of cannabis. In this case, delicious Pez nugs are drenched in Zach's Kush rosin and then rolled in fresh Orange Kush kief.
It's every bit as incredible and ambrosial as it sounds.
By dipping the nugs in concentrate and then rolling them in kief, the effects of the cannabis is supercharged, bringing it to a high THC level of 37.5% in total, making it a bit too strong for new cannabis users.
Hang Roots Root Rocks, or Moon Rocks, have an undeniable sweetness to them from the Pez, with a bit of an earthy-nutty flavor from the rosin. The aroma is pleasant, with a slightly spicy overtone with notes of fresh soil and a bit of citrus. The Root Rocks buds are round and smooth, with dark flashes of rosin showing through the bright dusting of kief.
What kind of cannabis are Hang Roots Root Rocks?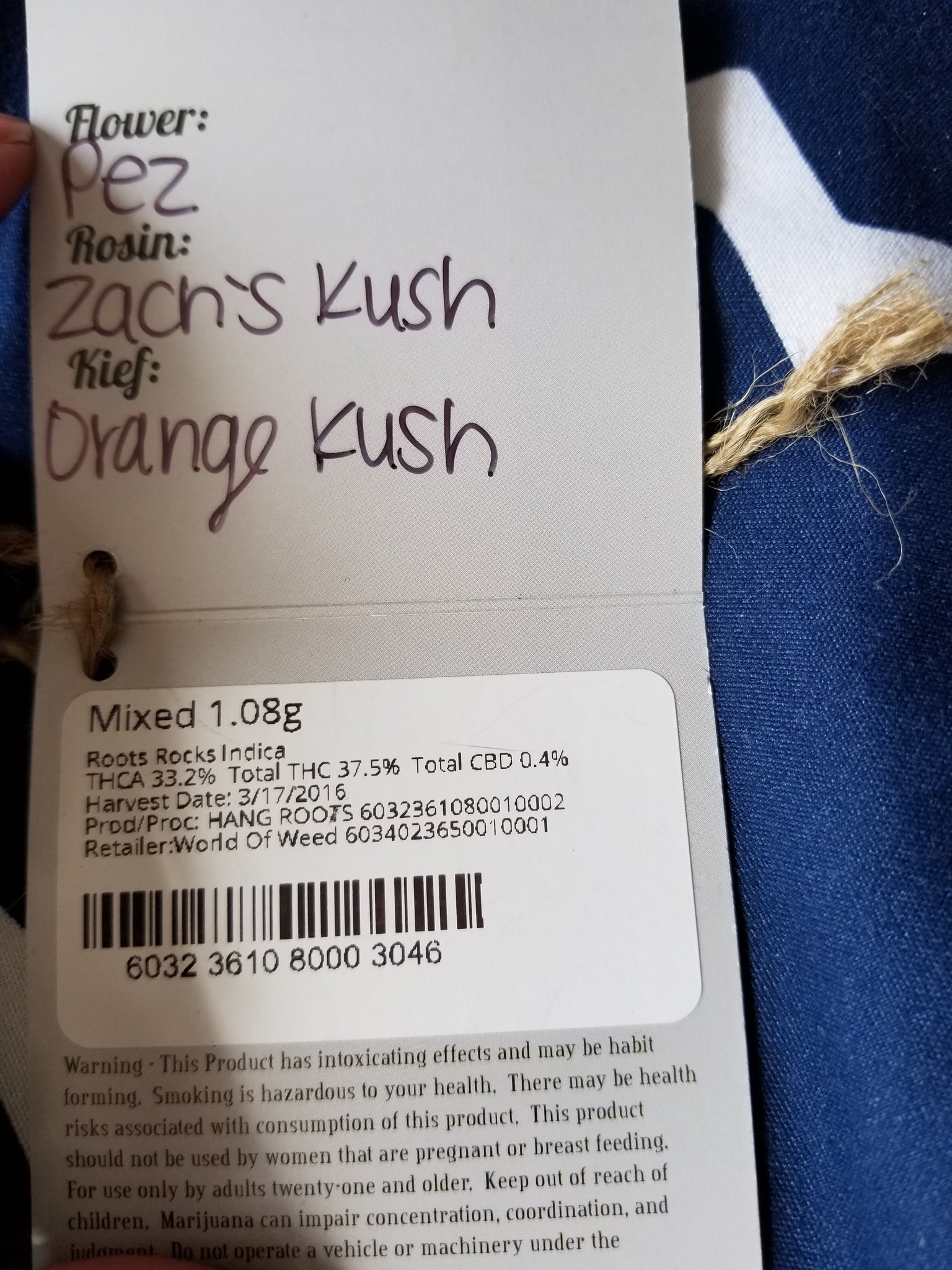 This strong indica consists of:
½ g Pez flower
¼ g Zach's Kush solvent rosin
¼ g Orange Kush dry sift kief
It has a THCA of 33.2%, THC of 37.5%, and CBD of 0.4%.
What are the effects of Hang Roots Root Rocks?
With a super potent total THC level of 37.5%, these Root Rocks (Moon Rocks) hit you hard, and they hit you fast.
Take one hit, and you get a rush of a cerebral high, followed by a hazy body sedation and definite euphoria. You'll sink back into the couch with total relaxation, but your mind will float away on a cloud of happiness.
The high lasts quite awhile and, when not enjoyed in a social setting, can leave you couch-locked and will have you drifting off into a deep and peaceful slumber before you know it.
What are reviews of Hang Roots Root Rocks?
Hang Roots Root Rocks, AKA Moon Rocks, continue to grow in popularity and demand:
"This is REALLY strong! It gets you high right away and, if you're hanging out with friends, will have you laughing until you cry." – Karen S.
She gave this 5/5 stars

"It was a delectable treat that was well worth the price. It was pretty amazing." – Travail L.
He gave this 5/5 stars

"Definitely worth the price, and the packaging is stunning. Almost a shame to open it." – Lexi G.

She gave this 5/5 stars

"Oh, man. That was GOOD. It's a strong high, definitely not for newbies. Delicious mix of sweet and earthy flavors. Well worth the price. I'm buying more." – Jason N.

He gave this 7/5 stars
Come try Hang Roots Root Rocks, AKA Moon Rocks!
Hang Roots Root Rocks, also called Moon Rocks, are a beautiful combination of all the best types of cannabis, with an unforgettable flavor and blissful high.
Come on and in and pick up some for yourself for $45 for 1 g. We've also got Hang Roots Dat Cookie Dough flower – a definite must-try for any cannabis enthusiast.
Have you given Hang Roots Root Rocks, AKA Moon Rocks a go? Tell us all about in the comments below!