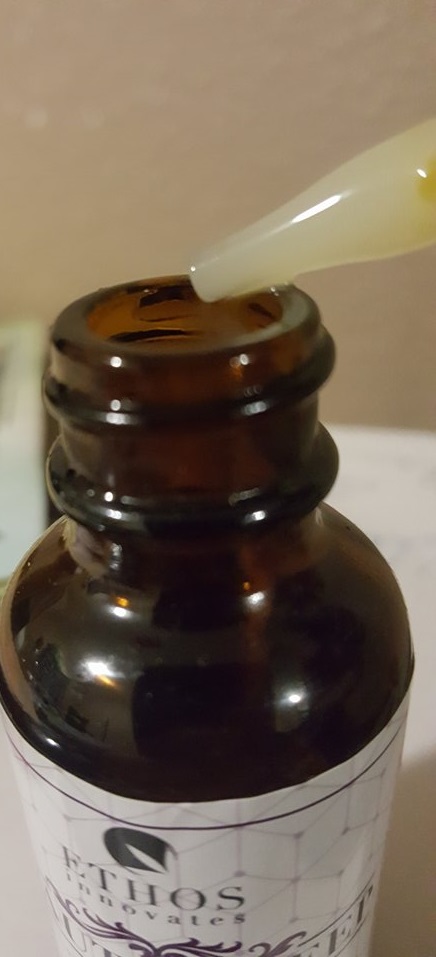 This sun-grown, pesticide-free, full-flower extract, water-based tincture is both delicious and relaxing.
Ethos manufacturers start out with naturally sun-grown cannabis. Rather than making their extracts from waste material like others do, Ethos use extracts from the whole plant to create the tinctures their customers love.
They don't add in any chemicals, but rather a blend of CO2 and RSO extracts in order to create a pure cannabis oil, complete with complex cannabinoid and terpene profiles – which means each drop tastes as natural and earthy as can be.
It has a slightly watery consistency, but is thick and white in appearance. It smells like cannabis, and has an earthy taste that immediately grabs the attention of your taste buds with the first drop.
If you're looking for a great way to relax before bed, put 1-2 drops of this under your tongue (or in a drink) and let it sit there for about 30 seconds. You'll start drifting off into a restful sleep in no time!
What are the effects of Ethos Beauty Sleep Tincture?
It only takes one to two drops before you start feeling the invigorating effects of this beverage concentrate.
Containing 80 MG of THC and 40 MG of CBD, this CBN water tincture starts with a full-body sedation from the top of your head and works its way down to your toes. Once your body is becoming more and more relaxed, your mind will follow suit and calm down.
You'll find yourself drifting off into a restful, peaceful sleep in very little time at all.
Some users notice some strong aphrodisiac effects after only 2 drops.
How much does Ethos Beauty Sleep Tincture cost?
We believe in making cannabis affordable, especially when it comes to sleep remedies.
That's why we offer a bottle of Beauty Sleep CBN Water Tincture by Ethos for just $36!
What are people saying about Ethos Beauty Sleep Tincture?
This one's a HUGE hit with cannabis enthusiasts!
"It definitely has some aphrodisiac qualities to it, which I didn't expect. Love the taste. Love the effects. Gave me a deep sleep." – Jamie L.
She gave this 5/5 stars

"Not a big fan of the flavor on its own, but it's just fine in water or juice. Helped me BIG TIME with my Insomnia. I was out like a light after about an hour, which NEVER happens for me! I highly recommend this." – Derek S.
He gave this 4/5 stars

"I absolutely love this. Seriously. I need to get a whole bottle for myself. Loved the natural taste. Loved how quickly I was relaxed. Loved the deep sleep it brings. One thing to mention, though: It has some…aphrodisiac…effects." – Karen L.
She gave this 5/5 stars

"This stuff is GREAT! I fell into a super deep sleep, didn't have nightmares, and woke up refreshed. And the price is definitely fair for how great this stuff is." – Samantha J.
She gave this 5/5 stars
You've heard it from them, but now it's time for YOU to try it.
Head on down to our shop on Portland Ave. and pick up a bottle of Ethos Beauty Sleep tincture for yourself!
Disclaimer: Marijuana has intoxicating effects and may be habit-forming. Smoking is hazardous to your health. There may be health risks associated with consumption of Marijuana. Marijuana, in any form, should not be used by individuals that are pregnant or breastfeeding. Marijuana is intended for use only by adults 21 and older. Keep out of reach of children. Marijuana can impair concentration, coordination, and judgment. Do not operate a vehicle or machinery under the influence of this drug. This product may be unlawful outside of Washington State.