Don't stress; World of Weed has you covered with this tutorial for a CBD facial steam. 
Short of undergoing professional extraction, pampering your skin to a CBD facial steam is probably the best thing you can do for your pores and overall skin health.
You've probably noticed that most professional skin extractions begin with facial steaming. But, not everyone has the money to shell out for regular treatments from a professional spa. Every now and then, you want to skip the esthetician's rate and create your own at-home spa experience using what you already have – and a few cannabis products you can pick up from your favorite Tacoma dispensary. 
A CBD facial steam may loosen dirt, debris, and impacted oil in your pores. It also may allow the products you apply after the steam to better penetrate the layers of skin. And then, as if that wasn't enough, there's always the Instagram-worthy, post-CBD-steam glow. 
We recommend consulting a physician if you have pre-existing skin conditions before trying CBD products on your skin. Furthermore, it's best to test a small patch of skin with these products to see if you experience any adverse reactions before adding these products to your face.
Keep reading to learn how to safely do a pampering CBD facial steam at home.

What is a CBD Facial Steam?
The benefits of a CBD facial steam include soothing irritated or inflamed facial skin that has been negatively affected by too much exposure to the sun or environmental conditions. A CBD facial steam can also reduce redness, blemishes, and the appearance of dark spots. 
The process of facial steaming is easy and can be done at home within ten minutes with ingredients you most likely already have at home!
A CBD facial steam is one of the easiest and most inexpensive facial treatments you can do, right in the comfort of your own home. After all, you can't hit the bong while you're waiting for a face mask to work when you're at the spa – but you certainly can at home.
Not only will your face feel cleansed and renewed, but it also has a moisturizing effect to give you a stunning glow. If you haven't tried a CBD facial steam yet, then you're in for a real treat!
Modern facial steaming dates back to the early 1900s, when Jeanette Scale invented the first tabletop facial steamer. However, steaming as a way of cleansing the body and relaxing goes as far back as Ancient Greece and Rome. 
Among the ancient Greeks and Romans, cleanliness was considered a way to pay homage to the deities. Mineral and clay baths were used to detoxify the body, with herbs and flowers added to relax the muscles and soothe the nerves, in addition to the aromatherapy benefits (you can thank terpenes for that!)
Other cultures used steaming as part of their religious rituals to cleanse the body and spirit. Chiefly, the Mayans and Native Americans.
These cultures were certainly onto something!
A CBD facial steam is exactly what it sounds like: Steam with CBD applied to the face.
The temperatures used in steam facials reach around 110 degrees Fahrenheit, which causes you to sweat. By doing so, you purify your skin – the body's largest organ. 
A CBD facial steam is ideal for many skin types, particularly oily or acne-prone skin. The CBD facial steam improves blood circulation to the face, allowing the pores to open. This unclogs whiteheads, blackheads, and other impacted debris.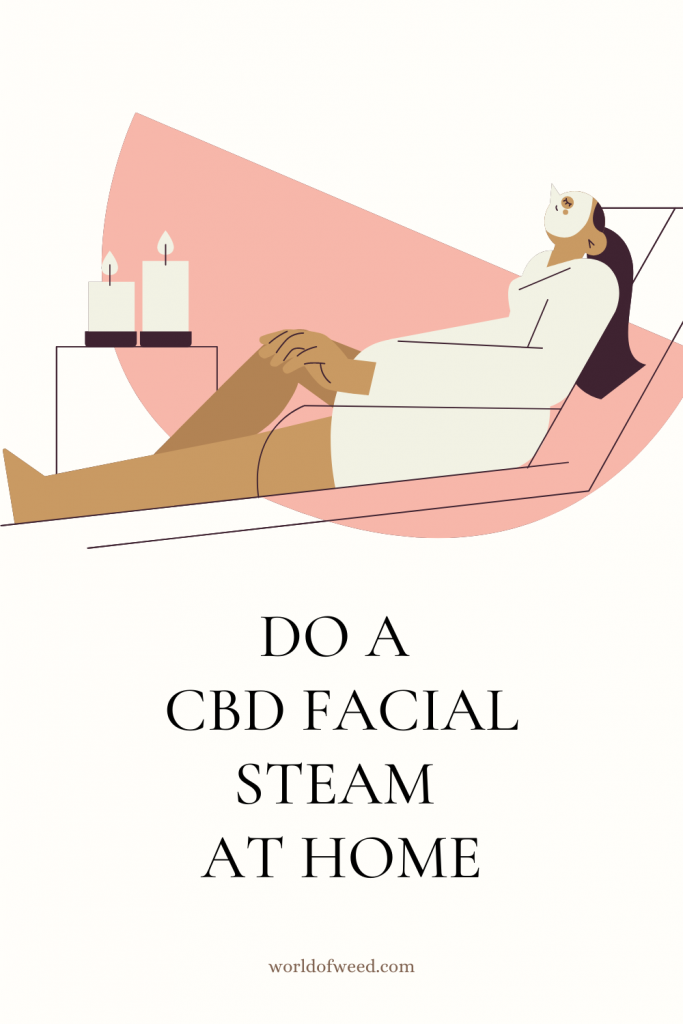 5 CBD Facial Steam Benefits
There are numerous benefits to doing a CBD facial steam compared to other facial treatments, such as lotions or scrubs. A CBD facial steam is simple, affordable, and easy to do yourself. It is also a treatment you can easily incorporate into your existing skincare routine.
Benefits of a CBD facial steam include:
Clears up acne
Detoxes the skin
Fights aging skin
Deep cleanses
Prevents dry skin
Soothes irritation
Reduces inflammation
Lessens the appearance of blemishes and dark spots
How to Do a CBD Facial Steam at Home
Think back to the last time you luxuriated in a spa treatment. The facial probably began with the skin being cleansed with a hot, damp cloth or a steaming mist. This is because facial steaming is one of the most effective ways to remove dirt, debris, and oil from pores.
The same effect can be achieved at home with a simple, DIY CBD facial steam. All you need is hot water, a bowl or pot, a towel, CBD oil, CBD topical, and (optional) essential oils. 
CBD Facial Steam Tips:
Steaming your face with CBD is an excellent way to get healthy skin. If you're a facial steaming beginner, the following tips will help you get started. Remember to position your head directly over the bowl or pot so the steam covers your whole face.
Check the water temperature. It should be simmering, but not boiling.
SLOWLY approach the steam to make sure you don't burn your face. Professionals recommend 18 inches to start and get no closer than 12 inches.
Carefully choose the ingredients: Herbs, flowers, and essential oils all enhance the facial experience and help target specific skin issues.
Step-by-Step Guide to Doing a CBD Facial Steam at Home
With just a few common items, you can easily do a CBD facial steaming at home. Follow these steps to experience a luxurious, relaxing, spa-like wellness treatment.
1: Cleanse your skin
Start your CBD facial steam by thoroughly cleansing your skin. This should, of course, be done gently. Use a gentle soap to cleanse the skin in circular motions with tepid water. Cleanse your forehead, nose, chin, and cheeks with soap. Once your face is clean, rinse with warm water. Dab your face dry with a clean towel and you're ready for the next step. 
2: Exfoliate
Just as with any type of facial, you need to exfoliate to make the process effective. This will remove unwanted dirt and debris from your face. Of course, while you can use any exfoliant, we're going to suggest a DIY CBD sugar scrub.
Here's how to make it:
Ingredients:
Making the CBD Sugar Scrub
Combine all ingredients into one bowl:
Mix ½ cup oatmeal with ¼ cup honey, ¼ cup olive oil, and 4ml of the CBD tincture. Mix it all together thoroughly until well combined. Store in an airtight, 8oz jar. No refrigeration is necessary. 
Splash tepid water on your face and gently apply the CBD scrub. Massage the scrub into your skin in gentle, circular movements, avoiding the eyes. Completely cover your face. Allow the CBD scrub to absorb into your skin for three minutes.
Completely rinse off the scrub with warm water. Dab your face dry with a clean, dry towel. Now that you're cleansed, it's time to do the CBD facial steam!
Enjoy a rejuvenating CBD facial steam before applying a moisturizing topical.
Step 1: Fill a large bowl with hot water
Add in two droppers of CBD tincture. If adding essential oils, two drops of lavender or peppermint are great for extra refreshing and calming effects.
Step 2: Hold your head over the water.
Drape a towel over your head, forming a tent over the bowl with the towel. Hold the position for five minutes, allowing the steam to absorb into your skin. 
Step 3: Remove the towel
Pat your face dry with a towel and move on to the next steps.
It's time to enjoy a luxurious CBD topical facial massage!
Isn't this at-home CBD spa experience so refreshing? Well, now for the best part. It's time to enjoy a soothing CBD topical face mask. Use Green Revolution Solace Topical CBD:THC for an easy and effective mask.
Place a quarter-sized dollop into your hands. Smooth evenly over your face and let the cannabinoids do their thing! Close your eyes. Relax. Luxuriate. Leave on for ten minutes and then rinse off with warm water. 

All Finished
Now that your CBD facial steam is complete, how do you feel?
Hopefully, you feel like a million dollars. Please comment below and let us know how you enjoyed your CBD facial steam. We hope that bringing the CBD spa to your home allows you to better relax and pamper yourself in the comfort of your own space. 

---
Disclaimer: Marijuana has intoxicating effects and may be habit-forming. Smoking is hazardous to your health. There may be health risks associated with consumption of Marijuana. Marijuana, in any form, should not be used by individuals that are pregnant or breastfeeding. Marijuana is intended for use only by adults 21 and older. Keep out of reach of children. Marijuana can impair concentration, coordination, and judgment. Do not operate a vehicle or machinery under the influence of this drug. This product may be unlawful outside of Washington State.