You know the feeling:
Opening up a fresh bag of bud, sticking your nose in there, closing your eyes, and inhaling.
That soothing scent of cannabis, the one that calms the mind and body. Whether it's some sweet Blueberry Chemdawg or the more herbally Cornbread Bubba there's something present in all the strains that gives them their distinctive aromas and flavors.
Terpenes are what you smell when you breathe in the scent of your flower, and knowing why they're important will only enrich your experience, whether you're smoking recreationally or medicinally.
What are Terpenes?
Cannabis terpenes are aromatic oils secreted by the same glands that produce cannabinoids like the well-known ThC and CBD. These aromatic oils are what give each of the strains their distinctive flavors and aromas, such as berry, pine, and citrus.
Just like other flowers, cannabis produces terpenes for adaptation and survival, repelling the harmful predators and attracting beneficial pollinators. The development of these terpenes is affected by multiple factors, including the weather, the climate, the plant's age and maturation, fertilizers used, type of soil, and the sun's position.
There are more the 100 different identified cannabis terpenes, with each strain leaning toward a specific, unique terpene profile. This is why Blueberry and its phenotypes have the strong scent of blueberries, while Skunk No. 1 offspring will inherit sour skunkiness.
The diversity of the cannabis flavors and aromas is mind-blowing on its own, but the most intriguing aspect of terpenes is the way they interact with the cannabinoids and other cannabis compounds. Exerts have started to discover the pivotal role terpenes play in making each strain unique in effects, as well as the aromas and flavors.
Each of the 100+ terpenes are associated with their own unique effects and characteristics. The effects of these terpenes may likely alter the presence of cannabinoids and compounds found within the plant in a phenomenon called "the entourage effect."
Terpenes can add depth to the cannabis world, from horticultural art to cannabis connoisseurship, on to medical use. Terpenes likely offer additional therapeutic value as they interact with the body's endocannabinoid receptors and interaction with the strain's cannabinoids.
The Most Common Cannabis Terpenes and What They Do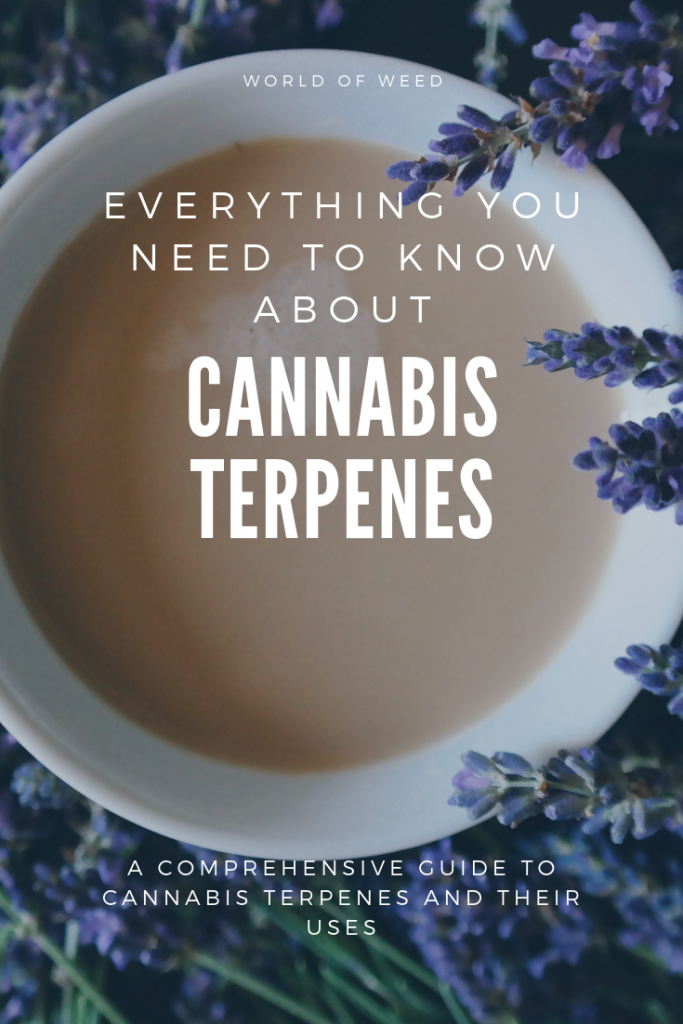 As previously mentioned, there are more than 100 known terpenes found in just ONE single cannabis flower.
Here are the most common cannabis terpenes and their uses.
1. Myrcene
Myrcene is usually the most abundant of the cannabis terpenes, and is what gives some strains the aromas of cloves and hops. This terpene has been thoroughly studied, with results showing Myrcene causes sedative and analgesic effects, as well as has the potential to reduce inflammation. This terpene can be used as an alternative to pain medication, such as aspirin or ibuprofen. While effective for pain relief, Myrcene can increase anxiety and should be avoided by those with high anxiety.
2. Limonene
Limonene is a terpene that's abundant in the rinds of citrus fruits, and gives strains their lemony-citrus flavors and scents. Studies show this terpene is effective in preventing the spread of cancer, managing and reducing stress and depression, and reducing inflammation. Additionally, Limonene also acts as an effective treatment for asthma and gastrointestinal issues because of its anti-inflammatory properties.
3. Linalool
Linalool is a sedative-like terpene that's also abundant in lavender plants. In addition to providing effective anxiety relief, this terpene can also reduce inflammation and pain, and help manage / prevent seizures.
4. Alpha-pinene and Beta-pinene
Alpha-pinene and Beta-pinene are both present in cannabis, and usually in equal amounts. Pinene is what's called a "bicyclic monoterpene", in that it's a single chemical compound that encompasses both alpha- and beta- pinene. Pinene is the most common terpene found in nature, and is used to improve breathing, reduce inflammation, improve memory, and kill bacteria. It's most notably used as a bronchodilator, helping to improve the flow of air to the lungs.
5. Caryophyllene
Caryophyllene is unlike any of the other terpenes, and is considered to be one of the most important. This terpene is able to activate CB2 receptors throughout the entire body — something the other terpenes can't do. This unique ability makes this terpene very similar to CBD because it's able to eliminate full-body pain, reduce inflammation, and reduce stress. Additional research shows Caryophyllene can also serve as a neuroprotectant and antifungal.
6. Alpha-bisabolol
Also known as bisabolol and levomenol, Alpha-bisabolol holds a lovely floral scent that's also found in chamomile flower. Although this terpene is mostly used in cosmetics, it has plenty of medicinal benefits, such as effective treatment of certain wounds and bacterial infections. It's also an analgesic and reduces irritation.
7. Cineole (Eucalyptol)
Cineole, also known as Eucalyptol) is the most abundant terpne of the eucalyptus tree, and is what gives certain strains a distinct minty, cool scent. This terpene can be used to slow bacteria and fungus growth, as well as the progress of Alzheimer's.
8. Humulene
If you've got that spicy kush, you can thank Humulene. This was the very first terpene found within hops, and it gives strains an earthy, woodsy scent with strong spicy tones. Research shows Humulene to be an anti-proliferative that prevents that growth of cancerous cells. Additionally, this terpene can be used to suppress appetite, reduce inflammation, fight pain, and treat bacterial infections.
9. Delta 3 Carene
Most notably found in aromatic plants like rosemary, basil, cedar, and bell peppers, Delta 3 Carene carries a sweet aroma that smells just like cypress tree. This terpene improves memory and heals broken bones, and proves effective treatment for those with osteoporosis, arthritis, and fibromyalgia.
10. Trans-nerolido
Most notably found in sweet-citrus in jasmine, lemongrass, and tea tree oil, Trans-nerolido gives strains a scent that lies somewhere between rose, citrus, and applies. It's usually described as citrus, floral, or woodsy. This terpene is mostly used for its antifungal, antiparasitic, antioxidant, anticancer, and antimicrobial characteristics.
The Essential Cannabis Terpenes
There's no doubting the importance of terpenes to all plants, but especially cannabis. From sweet to woodsy to sour and herbally, terpenes give each strain their unique scents and flavors, enhancing your cannabis experience.

Which of the most popular cannabis terpenes is your favorite?
Share with us down in the comments!
---
Disclaimer: Marijuana has intoxicating effects and may be habit-forming. Smoking is hazardous to your health. There may be health risks associated with consumption of Marijuana. Marijuana, in any form, should not be used by individuals that are pregnant or breastfeeding. Marijuana is intended for use only by adults 21 and older. Keep out of reach of children. Marijuana can impair concentration, coordination, and judgment. Do not operate a vehicle or machinery under the influence of this drug. This product may be unlawful outside of Washington State