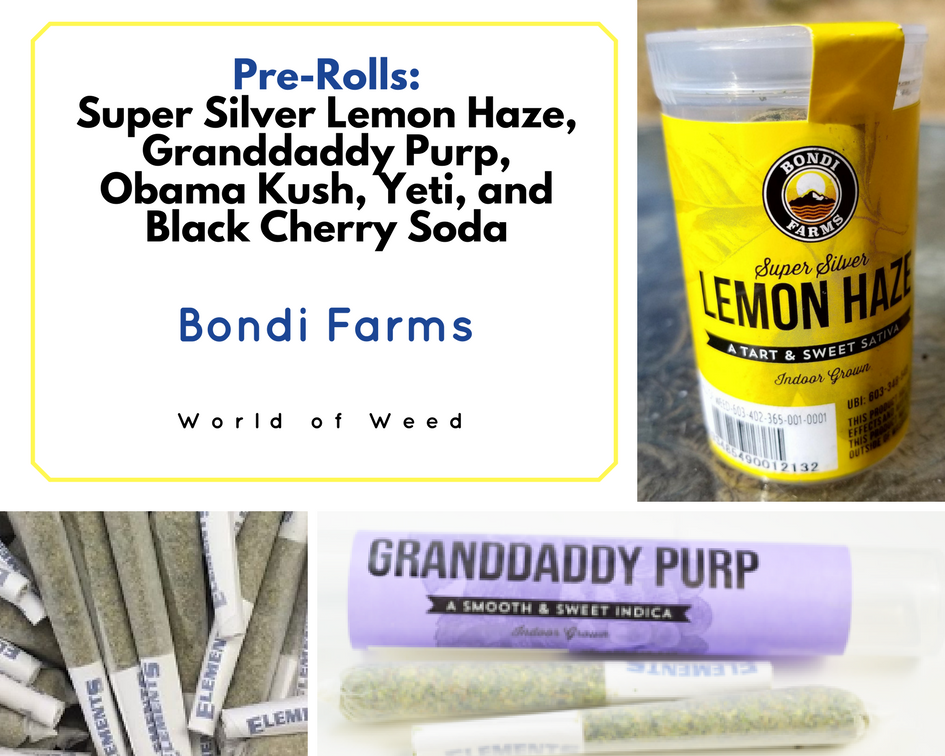 The way cannabis users consume marijuana has evolved significantly over recent decades, but one of the biggest, and perhaps most important, changes is pre-rolls.
If you suck at rolling, or just want a more convenient way to smoke some weed, pre-rolls are everything you didn't know you were missing. Instead of spending F O R E V E R trying to roll your own joints over and over again – – and eventually giving up in frustration and just grabbing your trusty bong – – your weed comes already rolled up.
All you've got to do is light it.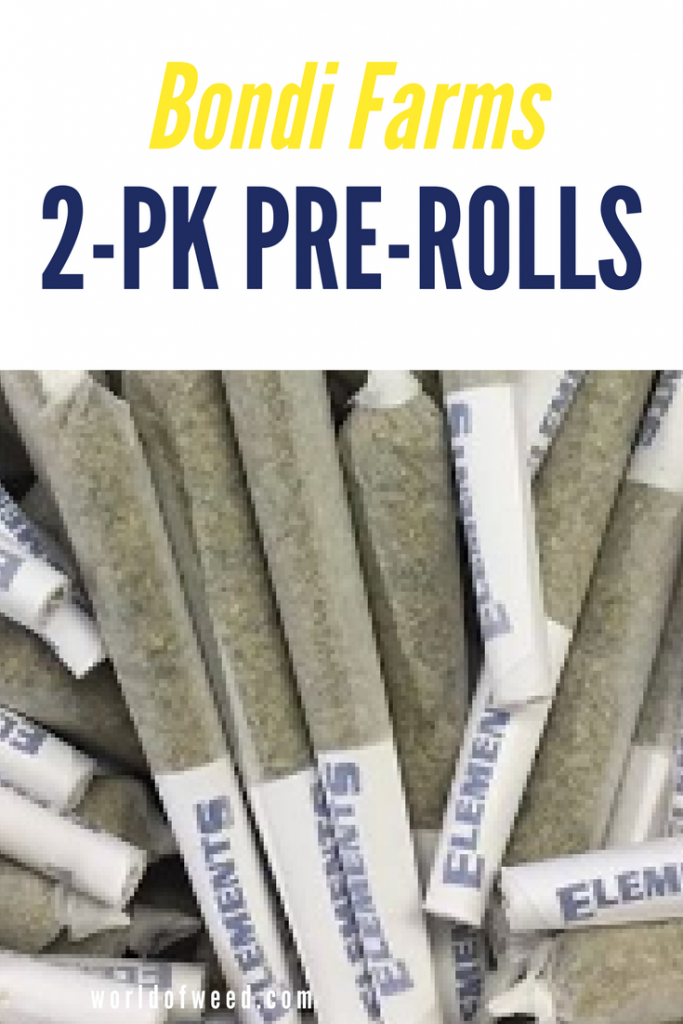 Why Pre-Rolls?
Pre-Rolls make life easier
Pre-rolls make it incredibly convenient to consume cannabis while on the go. They tend to come individually rolled in a tube of 1 or 2 joints, while others come in packs like cigarettes do, so they're easy to just toss into a backpack, purse, or a pocket.
You don't have to worry about bringing a grinder, finding a flat spot, and having to pack a bowl or roll up a joint. All the work is done for you!
Bondi Farms packages their pre-rolls in a plastic tubes, so you don't have to worry much about crushing them if they're in a bag while you're out and about. Additionally, the thick plastic conceals the smell for added discretion.
Easy, right?
Flower in a Bondi pre-roll is of top-notch quality
Quality is basically everything.
Think about the first couple of times you had a joint. Chances are, they were rolled with cheap, leftover shake that was dry and burned too fast. Well, not anymore. The days of poor quality pre-rolls are over.
Bondi Farms joints are rolled with premium cannabis and tightly sealed, so you don't have to choose between convenience and quality.
These individual pre-rolls are a great way to try out different top-shelf strains without having to buy a whole eighth. If you're dying to try some top-shelf strains, like Granddaddy Purp and Obama Kush, you can just buy a Bondi Farms pre-roll (pack of 2) at a mere fraction of the cost.
Try out all these great strains at the same time, without making your wallet cry.
A discreet way to smoke
Pre-rolls aren't just convenient; they also look stylish and hip. Bondi Farms joints come in slim, plastic tubes that easily slip into a pocket. The pre-rolls themselves are neatly tapered and smooth, adding to the discretion factor. These pre-rolls make it easy to have a quick smoke session before you run into do your grocery shopping or entertain the in-laws.
Numerous options at great value
Another reason Bondi Farms pre-rolls are so great is that they're super affordable. For $35, you can get five packs of two pre-rolls, such as Super Silver Lemon Haze, Black Cherry Soda, Obama Kush, Granddaddy Purp, and Yeti. That's 10 grams for $35!
You can mix and match your strains to find a price that works best for you. Once you've found that, all you have to do is buy 'em and light 'em.
Check out these great strains from Bondi Farms. They're pre-rolls you'll never forget.
Bondi Farms Pre-Rolls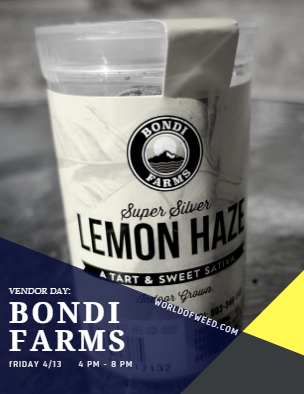 Super Silver Lemon Haze
CLASSIFICATION: Sativa
THC: 25.54%
LINEAGE: Lemon Skunk x Super Silver Haze
FLAVOR: Sweet, but sharp, citrus; very lemony
AROMA: Fresh lemons, with some earthy-spice
EFFECTS: Uplifting, euphoric, energizing, and creative
CUSTOMER REVIEWS:
"It smells like lemon pledge, but mostly just lemony. It's pretty sweet, which complements the sharp citrus flavors. Reminds me of lemon bars."
"It's all the citrus flavor of eating lemons, but without the sour pucker. LOVE this!"
"I'd been wanting to try this one for a bit now. I originally tried it from a different brand and, well, I was SO not a fan. But, this Super Silver Lemon Haze pre-roll from Bondi is super good. Love the effects, and love how much energy it gave me. I finally tackled the garage, so the hubby will be a fan of it, too!"
PRICE:
Super Silver Lemon Haze Pre-Roll by Bondi Farms is just $7 for a 2-pk.
Granddaddy Purp
CLASSIFICATION: Indica
THC: 21.70%
LINEAGE: Purple Urkle x Big Bud
FLAVOR: Grape + Earthy-Pine + Sweet
One of the biggest things that sets Granddaddy Purp apart from other strains is the distinct, signature flavor. The flavors linger on the tongue for a much longer time than with most other strains, something that only adds to the relaxation factor.
AROMA: Berry + Grape + Sweet
EFFECTS: This is one potent strain, with effects being felt as both body and head highs. You'll immediately notice a massive feeling of relaxation just take over your body, while the cerebral euphoria improves your mood and helps you forget your stresses.
CUSTOMER REVIEWS:
"I really like how smooth the smoke is, because I can smoke all day without hacking and coughing and burning my throat. It's got a super fruity smell and taste. I'm kinda in love!"
"Nice, smooth, and easy to smoke."
"Brings on some definite happy feelings and relaxed body high. If you're looking for a pick-me-up on a day that doesn't require you to be moving around and energetic, this is a good choice."
"I'm really glad I gave this one a try. It's SO smooth, and I love the fruity taste and smell. I'm getting more ASAP."
PRICE:
The Granddaddy Purp Pre-Roll by Bondi Farms is just $7 for a 2-pk.
Yeti
CLASSIFICATION: Indica
THC: 25.15%
LINEAGE: Unknown
FLAVOR: Yeti is a rich, creamy combination of lemon and earthy-pine, with strong undertones of diesel.
AROMA: Earthy + Lemon
EFFECTS: Yeti brings about a fairly moderate cerebral, euphoric high with a powerful body high that promotes relaxation and sleep, making it the perfect strain for a calm, lazy day. It does stimulate appetite, so have snacks close at hand.
CUSTOMER REVIEWS:
"This pre-roll was really easy to smoke, and it hits you like a ton of bricks. SUPER potent!"
"This has smooth smoke, full flavors, and lingering aroma that I wish would just stick around. It smells so good! The Yeti pre-roll is REALLY relaxing, so don't smoke it before you have something important to do."
PRICE:
The Yeti pre-rolls is just $7 for a pack of 2.
Obama Kush
CLASSIFICATION: Indica
THC: 21.39%
FLAVOR: Sweet + Earthy + Wood + Grape + Berry
Obama Kush as flavor that is unlike any other strain of marijuana you will ever have. It's earthy and sweet, with a light wood undertone and subtle notes of grape and berry. The smoke tastes smooth and clean, something that's hard to find when smoking weed.
AROMA: Pungent and sweet, with piney undertones and earthy-spice
EFFECTS: The high from this strain lasts for an upwards of two hours, and is a top shelf high. Not only is the high as smooth as the smoke, but it also brings on a cerebral euphoria and full-body relaxation. Productivity is heightened in terms of focus, but the body just wants to chill. It's a good one.
CUSTOMER REVIEWS:
"This strain was amazing!! I have horrible back pain, and this one alleviated it and gave me the best relief I've had in YEARS. I could go on and on. Simply put: Buy this!"
"I'm stocking up this coming Friday. This is, by far, the best pre-roll I've smoked in a long time. And I smoke A LOT of weed. Plus, that price is outstanding!"
"Tastes great, smells great, and has a super long-lasting high. Oh, and you get two of them for just seven bucks. What more could you want? Obama Kush is AH-MAZING."
PRICE:
Come get a 2-pk of Obama Kush pre-rolls for only $7!
Come try some for yourself!
With Bondi Farms pre-rolls, you're not stuck having to decide between something that's really good or something that's really convenient. With a wide variety of flavors, and only the highest quality of flower, Bondi Farms pre-rolls make smoking easier, more affordable, and faster.
Not only do we have Bondi Farms pre-rolls for just $7 for a 2-pk, but the Bondi Farms Vendor Day on Friday 4/13, from 4pm to 8pm, means getting 20% OFF all Bondi Farms pre-rolls and other cannabis products.
What's your favorite Bondi Farms pre-roll? Let us know down in the comments!
---
---
Disclaimer: Marijuana has intoxicating effects and may be habit-forming. Smoking is hazardous to your health. There may be health risks associated with consumption of Marijuana. Marijuana, in any form, should not be used by individuals that are pregnant or breastfeeding. Marijuana is intended for use only by adults 21 and older. Keep out of reach of children. Marijuana can impair concentration, coordination, and judgment. Do not operate a vehicle or machinery under the influence of this drug. This product may be unlawful outside of Washington State.