Meet the Vendor: Bondi Farms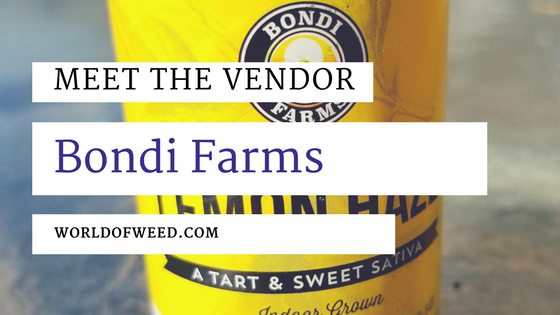 About Bondi Farms
Bondi Farms got its name from the famous Bondi Beach, located in Australia. The name reminds us of a place where relaxation and leisurely activity are just a regular part of day-to-day life.
As a company, they always try to make every day at work feel just as relaxing and fun as a day at the beach!
That uplifted morale definitely comes through in the delicious products Bondi Farms produces.
The Bondi Farms Warehouse: Where the Magic Happens
The Bondi Farms magic happens in a 21,000-square-foot warehouse nestled in Longview, WA.
Their growers all have years of extensive experience with cannabis cultivation, and they use the latest in state-of-the-art equipment and processes for production of the highest quality cannabis flower possible.
In fact, each room operates on a closed loop system wherein the air gets recycled through the HVAC system in the building.
By doing so, the Bondi Farms team is able to block the outside air and keep it from coming inside. This prevents mold, mildew, and other contaminants that try to come in from the outside.
By utilizing a closed loop system like that, the Bondi Farms team of experts are able to critically control the temperature and humidity in every single one of the separate grow rooms.
It's essential that conditions are constantly (and accurately) monitored to ensure the plants have a consistent and beneficial environment in which to thrive. The closed loop method makes this possible.
Additionally, the Bondi Farms team also creates their own CO2 levels in the grow rooms, aiding the plants in their absorption of nutrients, just as they would be doing in nature. However, the setup used means the CO2 levels Bondi Farms creates also benefits the plants' overall health.
All of the Bondi Farms cannabis plants are watered by hand. They use only purified water that is transferred into giant, 400-gallon tanks. Within these tanks, the PH levels are adjusted and any necessary nutrients the plants are missing (or simply need to have) are added in for feeding.
The Bondi Farms Process
Each of the Bondi Farms cannabis plants start out as clippings taken from other in-house mother plants. The clippings start their journey in a hydroponic system for about 2 to 3 weeks, until the roots begin to sprout.
Once that happens, those clippings get transferred into pots with nutritious, treated soil, and then put in the vegetative room.
Once they are in that room, they stay under a time-controlled light system that gives them 18 hours of light and 6 hours of darkness each day. This continues for 4 to 8 weeks, depending on the strain.
Next, once the plants are ready to start flowering, they get transferred into large, 7-gallon pots that give the plants room for growth. Once they are in their new pots, the potted pot plants (ha ha ha) get moved into the Bondi Farms flowering rooms.
Once they in there, the plants are given 12 hours of light under High Pressure Sodium (HPS) lights, and 12 hours of darkness, each day.
The plants are constantly manicured during this flowering stage, allowing the plants to maintain proper circulation and for reduction of moisture. The plants will stay in this environment for 8 to 10 weeks, depending on the strain.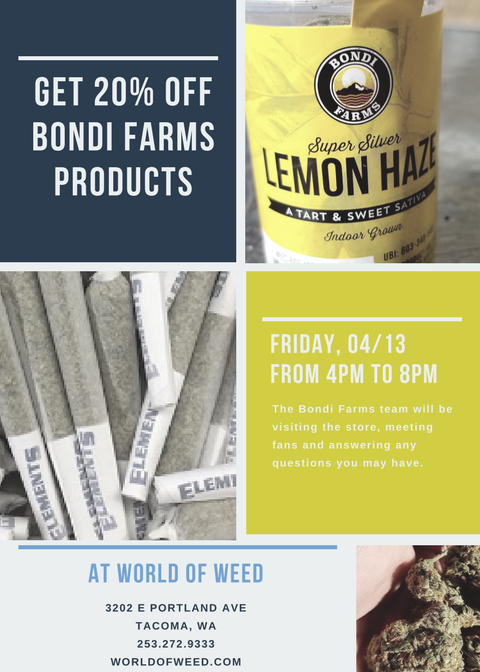 Once the plants have completed the flowering stage, they are trimmed by hand and then start the drying process. Trimmed, freshly harvested cannabis receives 7 to 10 days of air drying time in carefully controlled rooms.
Finally, once the cannabis is dry, Bondi Farms cures it for an additional 7 to 14 days.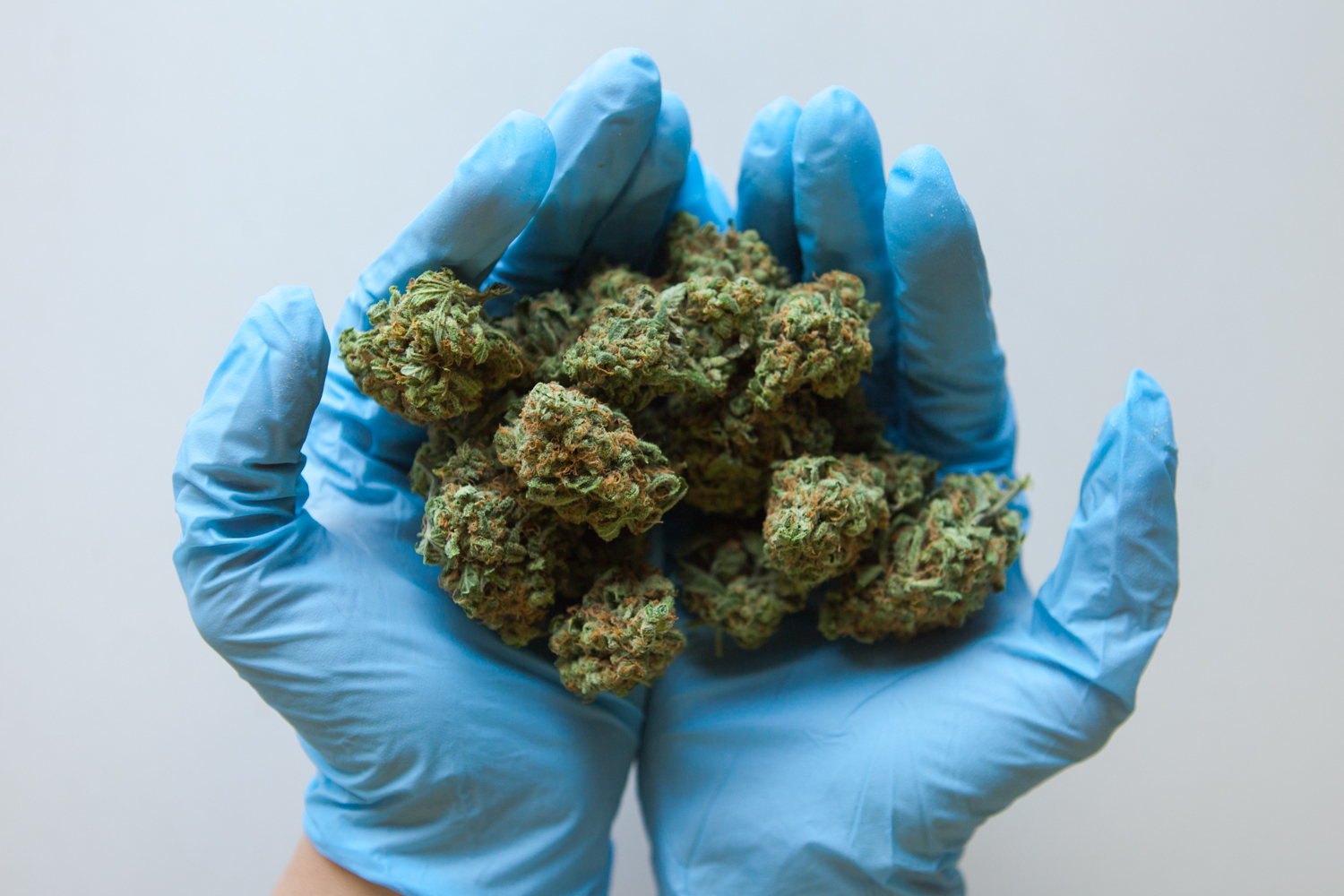 Once the product is harvested, trimmed, and cured, its gets yet another final trim.
Finally, it gets sent off to a Washington State cannabis testing facility. The rest of that harvest is properly and carefully stored in an environment-controlled room(s) until it makes the trip out to the Bondi Farms stockists.
The Bondi Farms team packages all of the orders as they are received, and even conducts an additional quality check – – Just to ensure each order is of the freshest and finest quality possible.
Bondi Farms Products
Bondi Farms produces some of the finest quality cannabis in Washington State, and offers flower and pre-rolls.
Bondi Farms Flower
Bondi Farms Pre-Rolls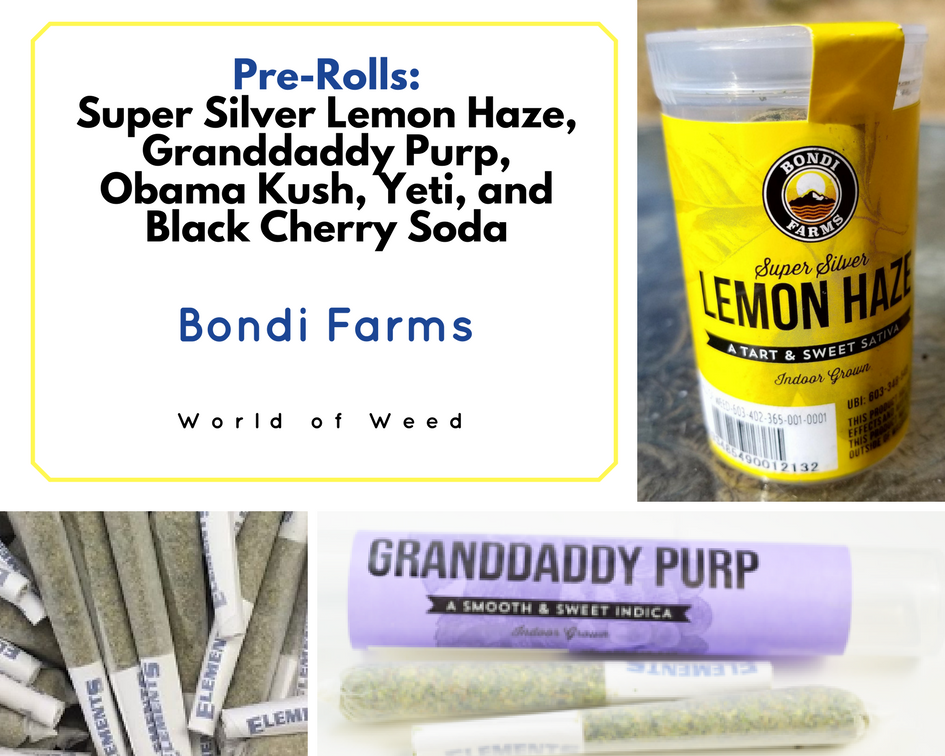 Read all about the amazing (and super potent) Bondi Farms strains in the latest blog post, all about Bondi Farms pre-rolls!
Bondi Farms Vendor Day!
Don't miss out on today's Bondi Farms Vendor Day!
Not only will part of the Bondi Farms team be visiting the shop from 4pm to 8pm, but they'll also be bringing some products that are just far too good to pass up.
But, don't stress about price. All Bondi Farms products are 20% OFF for the Bondi Farms Vendor Day.
So, be sure to stop by and stock up on your favorite strains. (Don't forget the 2-pk pre-rolls for only $7!)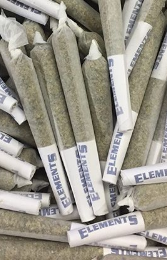 What's your favorite Bondi Farms product? Let us know down in the comments!
Disclaimer: Marijuana has intoxicating effects and may be habit-forming. Smoking is hazardous to your health. There may be health risks associated with consumption of Marijuana. Marijuana, in any form, should not be used by individuals that are pregnant or breastfeeding. Marijuana is intended for use only by adults 21 and older. Keep out of reach of children. Marijuana can impair concentration, coordination, and judgment. Do not operate a vehicle or machinery under the influence of this drug. This product may be unlawful outside of Washington State.