Washington Recreational Marijuana Laws
Washington made recreational marijuana legal. However, that doesn't mean people can go around doing whatever they want.
There are still notable restrictions on the possession and use of marijuana. Furthermore, there are some issues where lawmakers are still figuring out how certain aspects of the Washington recreational marijuana laws should be implemented.
While Washington's State's Initiative 502 (I-502), the one that made recreational weed legal, was voted in back in November 2012, it does not preempt federal law. Rather, the law allows people to produce a licensed, regulated system of marijuana production and distribution. In fact, it is a lot like the state's liquor control laws.
This means, much like with liquor, the production, distribution, sale, possession, and use of marijuana is still against the US federal law. Which means you can be prosecuted for it. In addition to the laws not being very green, most employers are also still against the use of marijuana and require drug tests.
To make sure you're able to toke without breaking the law, here are four main Washington recreational marijuana laws every stoner should know. Well, assuming they want to avoid seeing the backseat of a police car.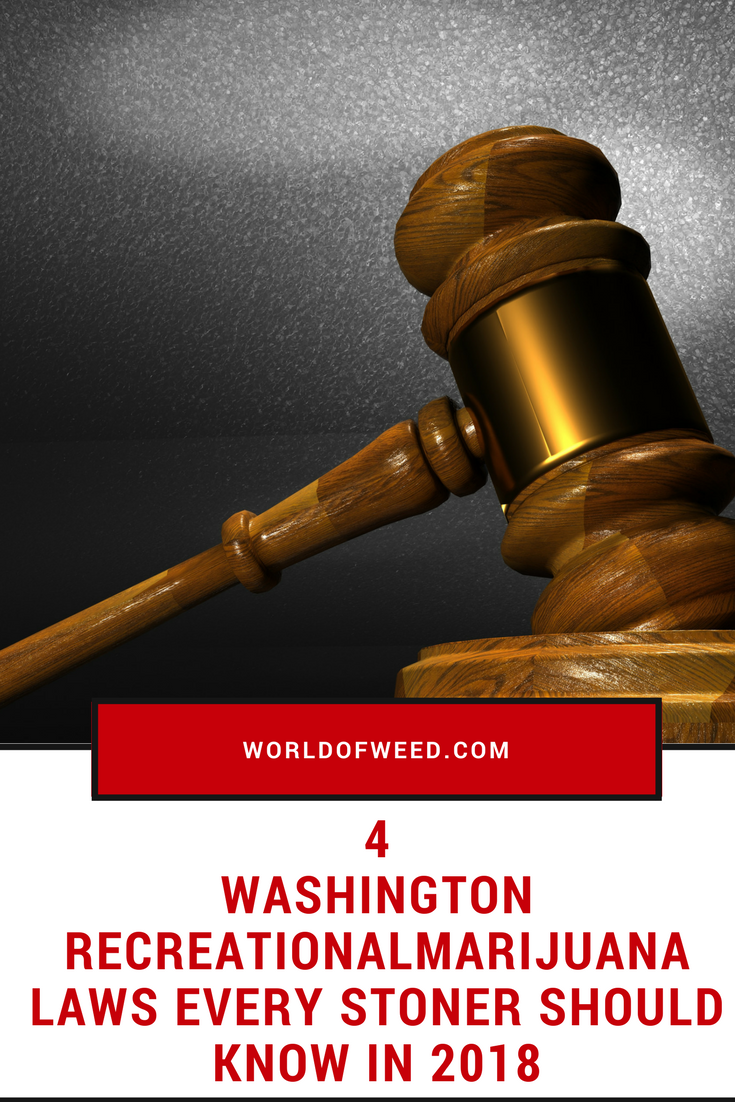 1. Legal Purchasing Laws
Your friends may have some fire weed, but you can't legally buy it from them.
Marijuana and related products can only be purchased in a licensed retail marijuana shop. These kinds of stores don't sell anything other than marijuana and marijuana products / accessories. They also don't give samples, and you can't consume any weed while you're on the premises. They are also not allowed to open containers in the store.
Unlike other places, like liquor shops and convenience stores, are able to sell multiple things along with their alcohol. Marijuana retailers – usually called "dispensaries" – are the only retailers licensed for marijuana use. That licensing also stops them from selling anything else. Just pot and things related to pot.
Likewise, there are some ways to find a licensed Washington State retail marijuana shop:
Leafly Store Finder – Gives users an interactive map that shows where all the current dispensaries are located. In addition, they've also got detailed and accurate information about all of the different strains available in these stores. If you're a newer stoner, this is a great introduction.
Issued Marijuana Retail Licensing – The Washington State Liquor and Cannabis board has a list of all the marijuana license applicants, including the names, addresses, and contact information of both active and pending retailers. If you've got doubts about someone, you're going to want to check that out.
As can be seen, the I-502 made it legal for adults to smoke and use marijuana, but there are still plenty of limitations. The following restrictions are related to the purchasing of marijuana:
Age Limit – Marijuana can only be bought, used, and /or possessed by adults age 21 and older.
Purchasing Limits – Adults age 21 and older are allowed to buy up to 1 ounce of usable marijuana ("bud"), 16 grams of solid edibles, 72 ounces of liquid edibles, and 7 grams of extracts / concentrates. This marijuana may only be bought from a state-licensed recreational marijuana retailer. A valid photo ID is required for entry, as well as for purchase. Absolutely nobody under the age of 21 can be on the store premises. Most marijuana retailers also only accept cash as form of payment.
2. Driving and Travel
It's illegal to take marijuana out of the state. It's also illegal to drive high or stoned if you have 5 ng /ml THC in your blood. They draw the blood at a police station or medical facility. In that regard, research says it can take 3 hours for some people to drop below that limit after consuming marijuana. However, it can also take longer depending on variables like gender and weight. For instance, some people may still be impaired even below that amount. To be safe, it's best to wait 5 hours after smoking and even longer if you ate edibles. Because they need to be digested, they can actually stay in your stomach for longer than five hours. You can have THC in your blood (especially if you smoke daily), but still not be impaired. As a result, it's best to remain aware that this law exists and that they can test you if they suspect you are driving under the influence.
3. Public Use
It's illegal to use marijuana in view of the public. So, if they can see you and you can see them, you can't light up. Which also means you can't be so impaired that it adversely affects the public.
Safety – It's important to know the different marijuana products you are consuming and using, and how to do so safely. While nobody in the history of the world has ever been recorded as dying from marijuana, you can become highly impaired. If you've ever had one too many hits of a heavy indica, you know this feeling. In order to create a resource for Washington citizens, the Liquor and Cannabis Board teamed up with industry partners and produced "Marijuana Use in Washington State, An Adult Consumer's Guide." Because of this guide, consumers are able to better understand the differences between the kinds of marijuana available in dispensaries, as well as the laws governing the use of that marijuana.

Additional information about marijuana, including what the THC levels actually mean, checkout LearnAboutMarijuanaWA.org
4. Storage of Marijuana
The primary objective of the marijuana storage laws is to prevent accidental ingestion by children, as well as to keep kids from using it. In fact, the Washington Poison Center has seen a spike in accidental poisonings.
While children are at risk, so are animals. Veterinarians have also seen a greater number of pets becoming ill as a result of the accidental ingestion of marijuana.
To that end, following proper marijuana storage guidelines and laws – and common sense – will help you avoid these issues. Here are three ways to ensure your weed is stored safely and in a way that won't get you in trouble:
Keep marijuana in original packaging, clearly labeled as containing marijuana. Some brands, like Bubba Kush, come in resealable bags. Other brands come in airtight plastic or glass jars, like Dat Cookie Dough. Regardless of what your marijuana is packaged in, double check it's clearly labeled and will not be in reach of children, underage individuals, or animals.
Store your marijuana bud, edibles, and extracts in child-resistant containers, which are then kept in a locked cabinet and / out of reach of children.
Avoid consuming edibles in front of children and pets, as these marijuana products often look just like food. Also, they usually smell delicious!
In the event your child does accidentally ingest marijuana-infused products, or if you are concerned about the health and safety of yourself or someone else, call the Washington Poison Center at 1-800-222-1222. Furthermore, all calls are confidential and guidance is provided by an expert. If the symptoms appear to be severe, call 911 or go to the emergency room.
Stay Informed of Washington Recreational Marijuana Laws
As an adult age 21 or older, it is imperative that you stay informed and know the Washington recreational marijuana laws and the federal marijuana laws.
This guide, and the resources listed, will help ensure you're smoking out in a way that adheres to the regulations and laws in place for recreational marijuana.
Be sure to
share this post

to help others stay informed of the latest Washington recreational marijuana laws!

Disclaimer: This content was not written by a legal professional and, as such, is not to be taken as legal advice in any way. Marijuana has intoxicating effects and may be habit-forming. Smoking is hazardous to your health. There may be health risks associated with consumption of Marijuana. Marijuana, in any form, should not be used by individuals that are pregnant or breastfeeding. Marijuana is intended for use only by adults 21 and older. Keep out of reach of children. Marijuana can impair concentration, coordination, and judgment. Do not operate a vehicle or machinery under the influence of this drug. This product may be unlawful outside of Washington State.