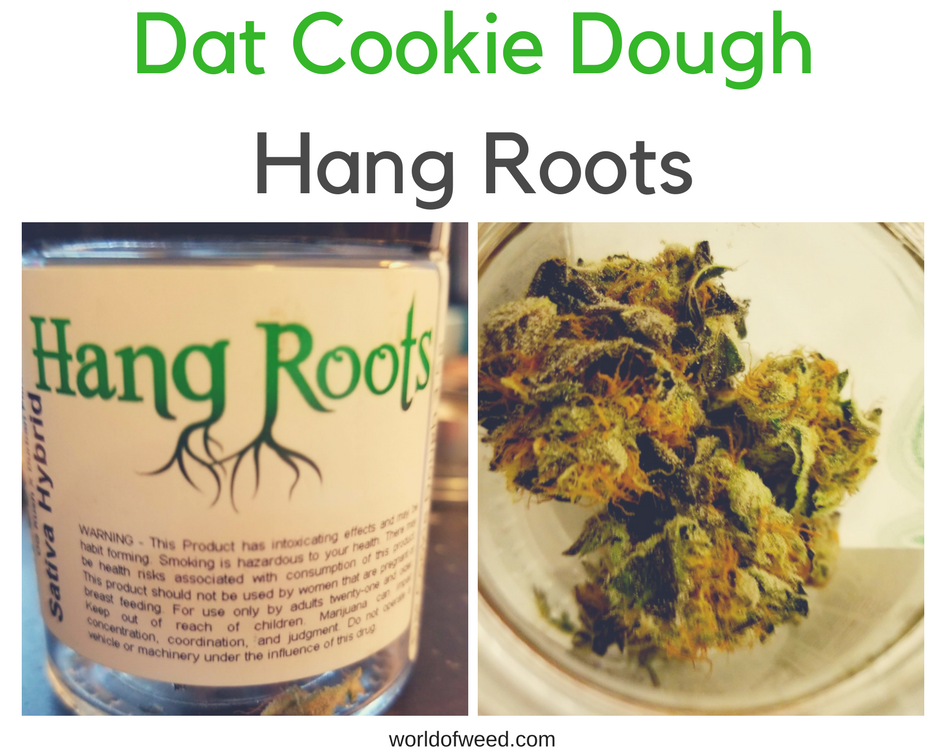 Dat Cookie Dough (3.5g) by Hang Roots
Dat Cookie Dough, also known as Girl Scout Cookies, is a cross between OG Kush x Durban Poison. This delicious strain from Hang Roots is a sativa-dominant hybrid that carries a hard-to-miss sweet and earthy aroma, with some subtle spicy notes.
Light a bowl, and you'll immediately notice that sweet-earthy aroma also carries into the taste as well, with some light aftertaste of nutmeg or cinnamon. The flavor profiles are clearly pronounced, and also strong, in the Dat Cookie Dough strain, something it has in common with its sugary aroma.
It may not look like the cookie dough you snuck in the kitchen when you were little, but it certainly looks just as sweet. Twisting calyxes are cocooned in royal purple and olive green leaves, with tufts of thick cinnamon-colored hairs all throughout. The thick coating of trichomes is prominently displayed on each and every nug, with beautifully translucent, bulbous globes blanketing the flowers with the crystal magnificence for which they are known.
There's nothing quite like handmade cookies; just one look and it's clear this isn't your average, run-of-the-mill cookie dough. No, this Cookies strain is delightfully both sugary and earthy, spicy and satisfying.
Dat Cookie Dough by Hang Roots is everything sweet marijuana strains should be.
Effects of Dat Cookie Dough
Dat Cookie Dough is certainly an eye-catching strain, but the high is the grand finale.
First of all, Dat Cookie Dough is bred from Durban Poison x OG Kush, which means you've got the offspring of a sativa hybrid and an indica dominant – – meaning Dat Cookie Dough is the best of both worlds.
Next, from the sativa side, you've got the cerebral or mental highs such as euphoria, creativity, giddiness, and long conversations with friends about aliens and the fact pizza is a round food that gets put into a square box and eaten over a round plate.
Finally, from the indica side, you have a "body high" – – physically put into a calm, trance-like state.
So, when you bring these two sides together, it becomes clear Dat Cookie Dough is a well-rounded, versatile experience that offers something for everyone. You'll get that creative, mentally-stimulating head high along with physical relaxation and overall sense of calm. At slightly over 14% THC concentration, this is one strain experienced smokers may very well underestimate.
Therefore, while may not have a super high THC concentration, Dat Cookie Dough packs plenty of punch with what it has.
Most noteworthy is the energetic euphoria of a head high you get first, with some slight tingling that spreads from the crown of your head. As your cerebral high grows, the relaxing physical high will kick in. While it does depend on the individual and how much you smoke, the high from Dat Cookie Dough lasts for a couple of hours. Also, it DEFINITELY brings on some serious munchies – – even if you just ate a huge meal.
Dat Cookie Dough Strain Reviews

Most of all, we aren't the only ones who love Dat Cookie Dough by Hang Roots! Check out what some of our happy customers had to say about this strain:
"I washed my hands after smoking Dat Cookie Dough, because it is just so sticky! The strain is incredibly frosty, so much as to have me in awe. I just kept staring at it and also trying to take as many pictures as possible. Because it's almost too pretty to smoke! The purple leaves are really dark and obvious, and it's just absolutely beautiful. As for the high…I drew myself as a centaur and left my reading glasses in the freezer. Yeah, it's THAT good."
– Dave R.

"It's sweet and spicy, almost like oatmeal cookies. I'm totally in love with Dat Cookie Dough and it's also SO my new favorite strain! Plus, the price is outstanding."
– Rachel K.
"Oooh, I am in LOVE! This strain is beyond delicious. I thought it probably wouldn't do much with only a 14% or so THC value. But, it hits you smack in the forehead with the first toke. I'm coming back for more!"
– George V.

"Hella sticky! Delicious! SUPER strong! 10 / 10 would recommend."
– Erin H.
Price of Dat Cookie Dough (3.5g) by Hang Roots
Furthermore, we know great weed should come at great prices. So, don't stress. We've got Dat Cookie Dough by Hang Roots available in:
$35
3.5g
$9
2 pk. of 1g pre-rolls
*** COME MEET HANG ROOTS! ***
FRIDAY 1/19 FROM 4PM TO 8PM
Have done any baking with Dat Cookie Dough lately? Let us know how much you liked in the comments below!
Disclaimer: Marijuana has intoxicating effects and may be habit-forming. Smoking is hazardous to your health. There may be health risks associated with consumption of Marijuana. Marijuana, in any form, should not be used by individuals that are pregnant or breastfeeding. Marijuana is intended for use only by adults 21 and older. Keep out of reach of children. Marijuana can impair concentration, coordination, and judgment. Do not operate a vehicle or machinery under the influence of this drug. This product may be unlawful outside of Washington State.