With Valentine's Day just around the corner, you're probably racking your brain for the most romantic idea possible – – something that will really melt the heart of your stoner sweetie.
Planning a romantic stoner Valentine's Day can be stressful. Do you go all-out with a fancy stoner getaway or should you just keep things chill with the usual box of chocolates? Should you get a card??
Fortunately, if your other half is a stoner, there are plenty of cannabis-themed ideas that are sure to put a smile on their face this Valentine's Day. Whether your partner wants to try some new type of edible, or is looking for a pipe that's actually chic and feminine, there are lots of stoner Valentine's Day ideas and gifts available.
We've gone ahead and rounded up 30 of them for you. Because we love you.
30 Romantic Stoner Valentine's Day Ideas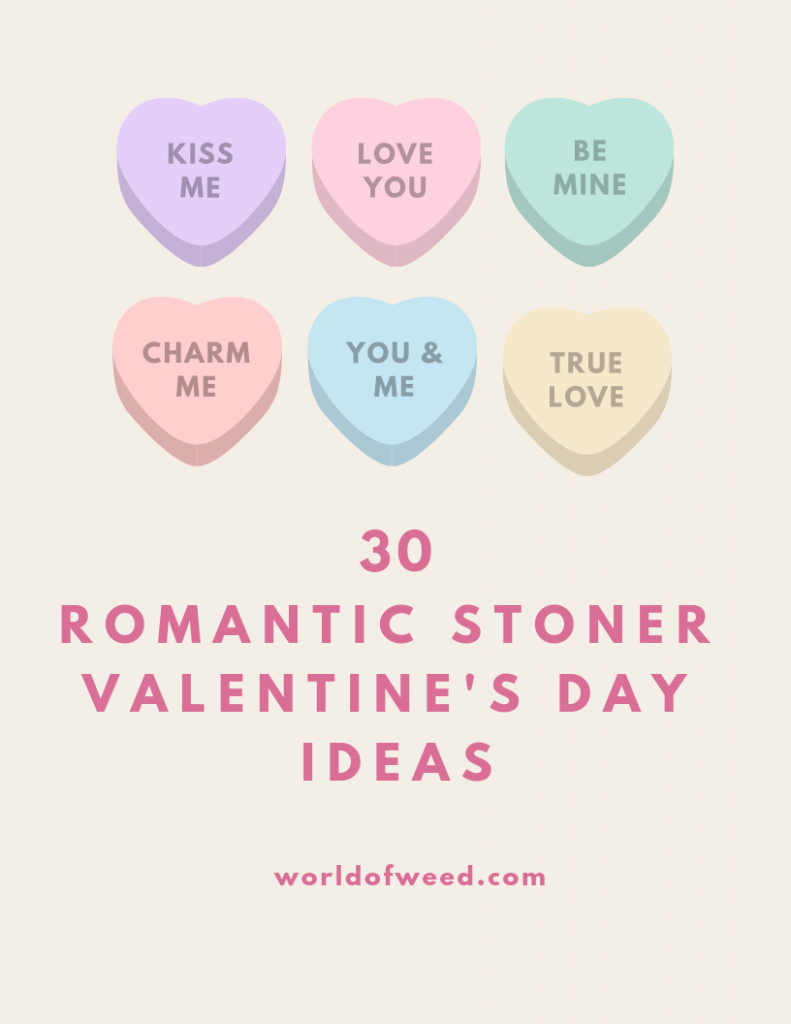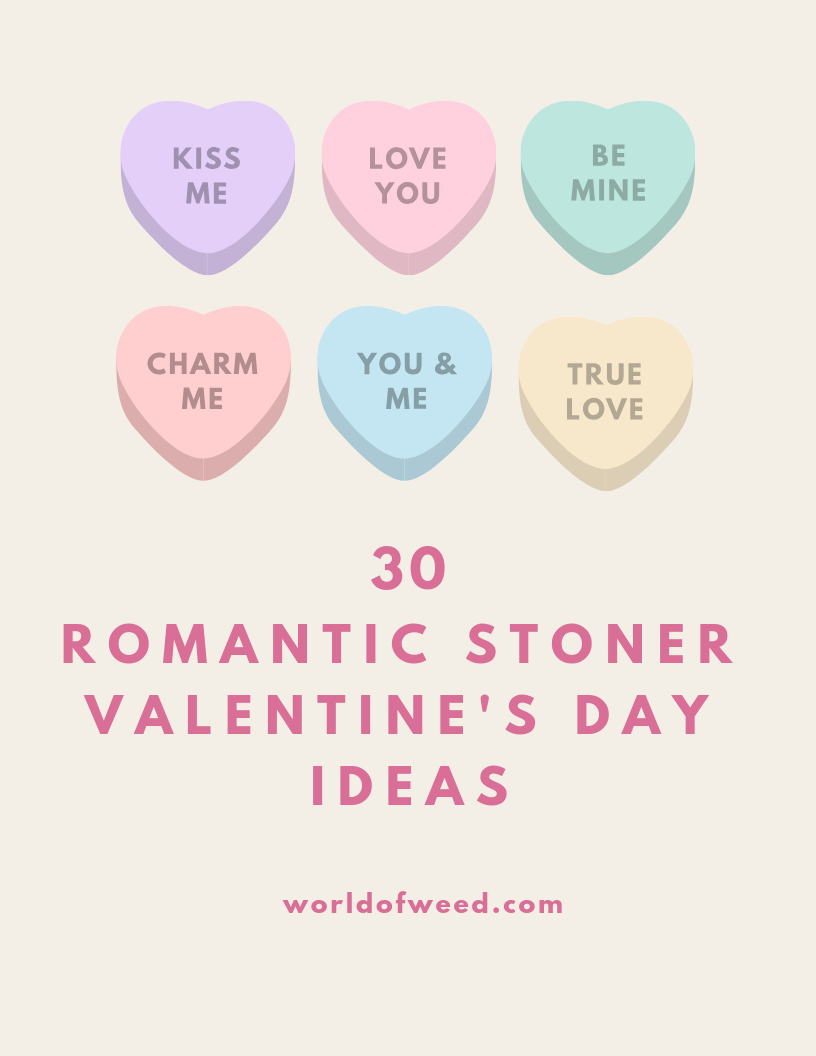 01. Visit a restaurant on your partner's bucket list
Most people have at least one restaurant they've been dying to try, and your stoner cutie is likely to be no exception. Make a reservation in advance, so you can surprise your stoner sweetie with some blunts and reservations.
02. Go to the movies
Going to the movies is a classic Valentine's Day date night for a reason – – it's fun, it's simple, and everyone walks away with a smile on their face. This year, take some edibles with you and head to the theater with your partner to see a movie that will spark up some romance. Or, you know, something hilarious that you can both laugh at and make some great memories.
03. Send her flowers
Valentine's Day is the time to let your love-struck, gushy heart guide you. Go big with romantic gestures, such as flowers. Many women love getting a surprise bouquet (especially if you remembered what she likes) delivered to her work, so she can brag about her sweetie. But, this year, we're not talking about just any flowers.
Now, we're talking about sending her a bouquet of flower.
A weed bouquet.
04. See a comedy show
Marilyn Monroe once talked about laughter being the key to a woman's heart, so why not take your stoner sweetie to see a comedy show? Buy some tickets to the Tacoma Comedy Club, smoke her out with some fat dabs, and then laugh your head off for a couple of hours.
05. Bake something sweet
Sure, women love a man who cooks.
But, a man who bakes? Come on now.
This year, bake some delicious edibles for your stoner bae and deliver them in a cute Valentine's Day basket.
We suggest following this super simple recipe for CBD sugar cookies, and decorating them for Valentine's Day. Use cute Valentine's Day cookie cutters to bake fun-shaped cookies that are sure to make her smile.
06. Make it all about her
The longer a couple has been together, the more they get used to annual events like Valentine's Day. They get comfortable with everything from date nights to romance. You already know what your partner loves, so now it's time to just take things up a notch for V-Day.
For your romantic stoner Valentine's Day celebration, you should cook a medicated meal at home. Then, focus on making the whole evening all about her. This could mean anything from drawing up a luxurious bubble bath for the two of you, giving her a massage with some CBD-THC lotion, or feeding her some infused chocolates while she relaxes.
Make her feel like a queen for a romantic stoner Valentine's Day.
07. Pop a bottle
. . . of an infused beverage!
There's no denying the romantic, festive feeling that bubbly champagne gives. But, carbonated cannabis-infused beverages can be just as fun – – minus the hangover!
Pour it into a nice glass to sip with your partner while binge-watching your favorite Netflix shows.
Sometimes, simple and cozy go a long way toward making a romantic stoner Valentine's Day.
08. Play Hooky
Now, tell us you haven't always wanted to do this.
Call out for the day. Spend it with your significant other, just smoking out all day long and doing whatever you feel like. Go to a museum, do a fun puzzle, go for a drive, or just cuddle and smoke on the couch.
We suggest: Check out one of the restaurants listed as the Top 5 Places to Eat in Tacoma When Stoned .
09. Write a love letter
The pen has always been mighty, and now is the time to use it. In today's digital-focused world, a handwritten love note will really stand out and be treasured. Get some weed Valentine's Day cards and tell your stoner bae how much you love them.
10. Recreate your first date
This is probably one of the most romantic stoner Valentine's Days ideas out there. Relive one of your best days as a couple by recreating your first date – – but bring some joints to celebrate!
11. Go for a romantic walk
If you and your significant other are busy people, then perhaps a romantic stoner Valentine's Day for you would be a little more low-key. You may not get a whole lot of time to relax and enjoy a fine dinner, but Valentine's Day is still the perfect chance to make a simple gesture, such as taking her for a romantic stroll.
Bring some pre-rolls and end the evening on a high note. (get it?)
12. Have a sunset picnic
Tacoma sunsets can sometimes get taken for granted, despite their breathtaking, vibrant beauty. Spend some time watching Valentine's Day turn into Valentine's Night with that special stoner in your life for a moment of THC-fueled romance. Pack up a blanket and a little picnic basket filled with edibles, regular snacks, pre-rolls, and water. Just don't forget to make sure you both bring jackets!
13. Focus on the meaning
For this year's romantic stoner Valentine's Day, focus on the deeper meaning of the holiday – – not just the gifts part of everything. While your wife is out doing something else, recreate a bit of that wedding day magic. Set out your wedding photos, get a smaller version of your wedding cake, get her a bouquet of the same flowers, get some premium top shelf cannabis flower, and clean the bong up all nice and shiny. Not only is the attention to such important detail going to make her say "I do" all over again, but she'll love that you thought to get as baked as that cake with her.
14. Scavenger hunt
There are plenty of romantic stoner Valentine's Day ideas that don't break the bank – – but will still totally melt their hearts. One of the easiest is to get a couple packs of pre-rolls and a bunch of rose petals from your local florist. Then, make a scavenger hunt trail around the apartment, full of all the reasons your stoner sweetie is so amazing, smart, sexy, and wonderful. Put the "clues" around the house, with rose petals as the path and a joint with a little note at each spot. Remember, this holiday is all about showing your significant other how much you love them. So, don't be afraid to really show off your love for your partner!
15. Leave it to chance
This one is fun for everyone involved! Get a few packs of pre-rolls, and label each one with an idea. Put them in a container, gently mix them up, and then pick one. Follow the V-Day idea on the joint, and smoke it with your Valentine.
16. 12 Days of Valentines
Who says Valentine's Day absolutely has to be celebrated on just one day?? Give your stoner sweetie twelve whole days of romance, with a little something special each day. Build anticipation by starting out small, such as with some edibles and build up to something big, like a new bong or engraved stash box.
17. Head to the museum
For those of you with significant others that are into the high arts, a stoned museum trip is the perfect option for a romantic stoner Valentine's Day. Just don't forget to tell them they're the most beautiful thing in there!
18. Beach campfire
Roll up some blunts or joints, pack up some blankets and what you need for a little campfire, and head on down to the beach. Given how cold it's been, it's best if you've got a cozy VW van or something similar.
19. Carriage ride
Now, this may very well seem WAYYYYY over the top.
But. . . It's Valentine's Day we're talking about here.
What list of super romantic stoner Valentine's Day ideas would be complete without a horse-drawn carriage ride through a local park? Now, THAT'S some fairytale romance that's bound to sweep your stoner girl off her feet!
Be sure to bring a blanket for cuddling, some joints for smoking, and some hot chocolate for sipping.
20. Romantic rooftop rendezvous
If you have a place that allows access to the roof, set up a romantic evening up there. Enjoy a dreamy dinner and some bong hits under the stars with your stoner sweetheart – – just don't forget the lighter!
21. Ballroom blaze
The element of surprise is an important one with a lot of the most romantic stoner Valentine's Day ideas. In this case, that surprise requires a lot of planning and effort on your part.
Start taking lessons a few months in advance, and then take your lady out for a romantic night of premium, enhanced joints, fine dining, and ballroom dancing.
22. Dab tasting date
When it comes to romantic stoner Valentine's Day ideas, dab tasting is definitely of the "sweep you off your feet" types – – if your sweetie is a BIG stoner.
Create a romantic stoner date night by picking up several grams of different types of concentrates for a super special Valentine's test-tasting!
23. Breakfast in bed
Dinner is definitely expensive, especially if you're trying to go somewhere nice on a big night like Valentine's Day. So, why not whip up your own romantic meal right at home – – and make it an extra romantic breakfast date?
Remember that element of surprise? Who wouldn't be swept off their feet by a delicious breakfast and bowls of topshelf green served to them in bed?
24. Pack a cute lunch
Valentine's Day is all day, which means dinner isn't the only meal that should be focused on. Lunch is getting left out over there!
For a cute, inexpensive, romantic stoner Valentine's Day idea, try packing your partner an adorable lunch with their favorite foods, extra desserts, cute love notes, and a couple edibles or pre-rolls.
25. DIY paint night
You don't have to like sipping wine to enjoy a paint night!
Pick up some canvas, choose a painting tutorial to follow on YouTube, and paint a masterpiece together while passing the bong back and forth.
26. Tourist in your town
Think about it: When was the last time you went out and really explored your city? Not only does this not have to cost a ton, but it can also be an incredibly romantic stoner Valentine's Day idea!
Tacoma has A LOT to offer, some of which you may have never even seen before! You and your stoner Valentine can spend this romantic day walking around, taking pictures, wandering through local parks, and finding new places. Just be sure to bring plenty of joints and edibles along!
27. Build a fort
Girls love a guy that can have fun, and what's better than being able to mix fun in with your romance?
Channel that inner child in you by creating a fun Valentine's Day fort! This little date night doesn't take much planning, yet it's still one of the most romantic stoner Valentine's Day ideas on the list. Simply grab some blankets, maybe some white christmas lights for mood lighting, and some pillows. Build a cozy fort together, then snuggle up and smoke out.
28. Fancy French picnic – – indoors
If you don't have a whole lot of time to plan out a romantic stoner Valentine's Day date, check out this awesome idea. Run to the store, and pick up a tasty baguette, some fine cheeses, some red and white grapes, and some cannabis-infused beverages. Then, put together a French-themed picnic right there in your living room!
Bonus: Project an image of Paris on the wall, or have it on the T.V.,, to make it feel like you're sitting right there in the most romantic city in the world!
29. Stargazing
Picture a clear, cool night, bundled up and cuddling with your other half, gazing up at the stars, passing a fire joint back and forth. Now, is that a romantic night, or what?
30. At-home S'mores for two
If you've got a fireplace, this is a great romantic stoner Valentine's Day idea! Have a little S'more party as you roast the yummy stacks of gooey deliciousness over the fire with your stoner bae – – while hitting the bong, of course!
BONUS: Use cannabis-infused chocolate to make the S'mores even better!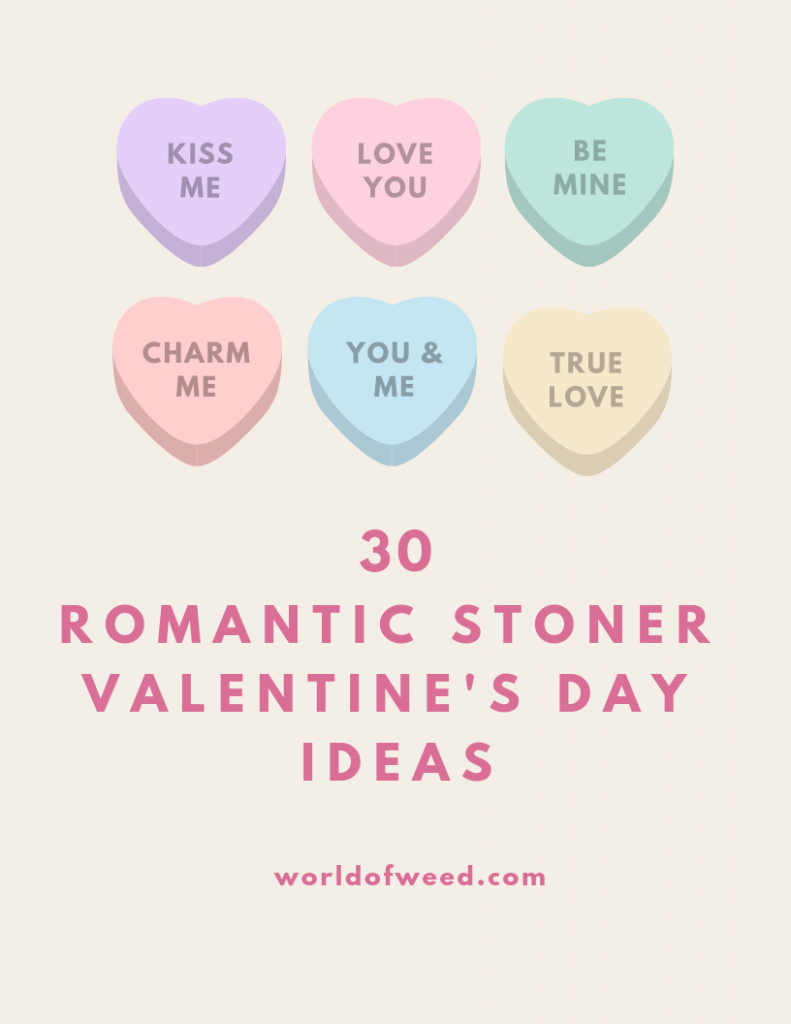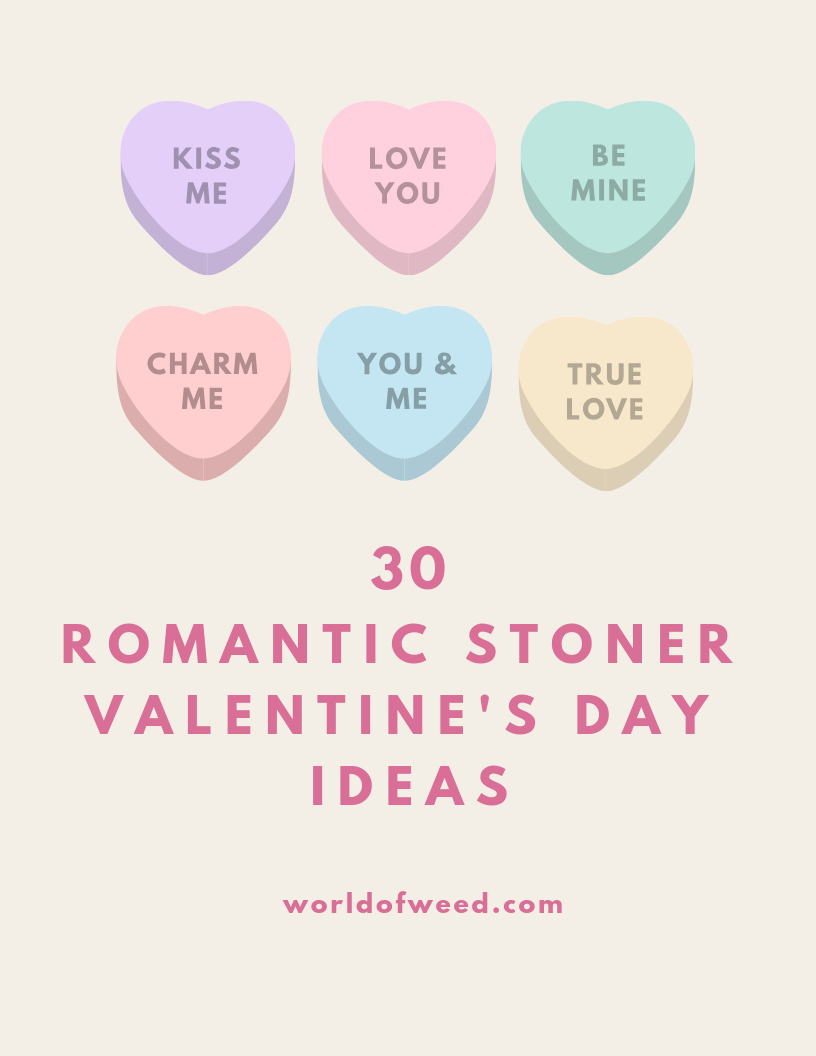 ---
Disclaimer: Marijuana has intoxicating effects and may be habit-forming. Smoking is hazardous to your health. There may be health risks associated with consumption of Marijuana. Marijuana, in any form, should not be used by individuals that are pregnant or breastfeeding. Marijuana is intended for use only by adults 21 and older. Keep out of reach of children. Marijuana can impair concentration, coordination, and judgment. Do not operate a vehicle or machinery under the influence of this drug. This product may be unlawful outside of Washington State.