CBD Christmas Sugar Cookies Recipe
Eating Christmas cookies is always a favorite holiday pastime, and baking them is usually just as a fun. Whether you're baking the cookies for yourself, for friends and family, or just for Santa, Christmas sugar cookies are a staple of the holidays.
First off, sugar cookies are just plain delicious, being made of mainly butter and sugar. And, when those munchies hit, it can be pretty tough to eat just one…or even just ten.
Sugar cookies are also super easy to make, especially this CBD Christmas sugar cookies recipe, which uses your favorite CBD oil/tincture. (We recommend the Green Revolution 2:1 CBD / THC Water Tincture with 100mg THC and 200mg CBD!)
The other ingredients are basic kitchen staples you probably already have in your pantry or refrigerator, just waiting to be baked into delicious cookies! There is a bit of chilling time and baking time before you can enjoy these super easy CBD Christmas Sugar Cookies, but that just gives you time for an extra smoke sesh between baking.
Finally, you can frost these with whatever frosting your heart (and taste buds!) desire, and are positively bursting with holiday cheer when cut into fun Christmas shapes.
Delicious, easy to bake, and cannabis infused . . .What more could you want in a Christmas cookie??
Here's the recipe, so you can guarantee you're on Santa's "Nice" list this year by leaving these out with a frosty glass of milk: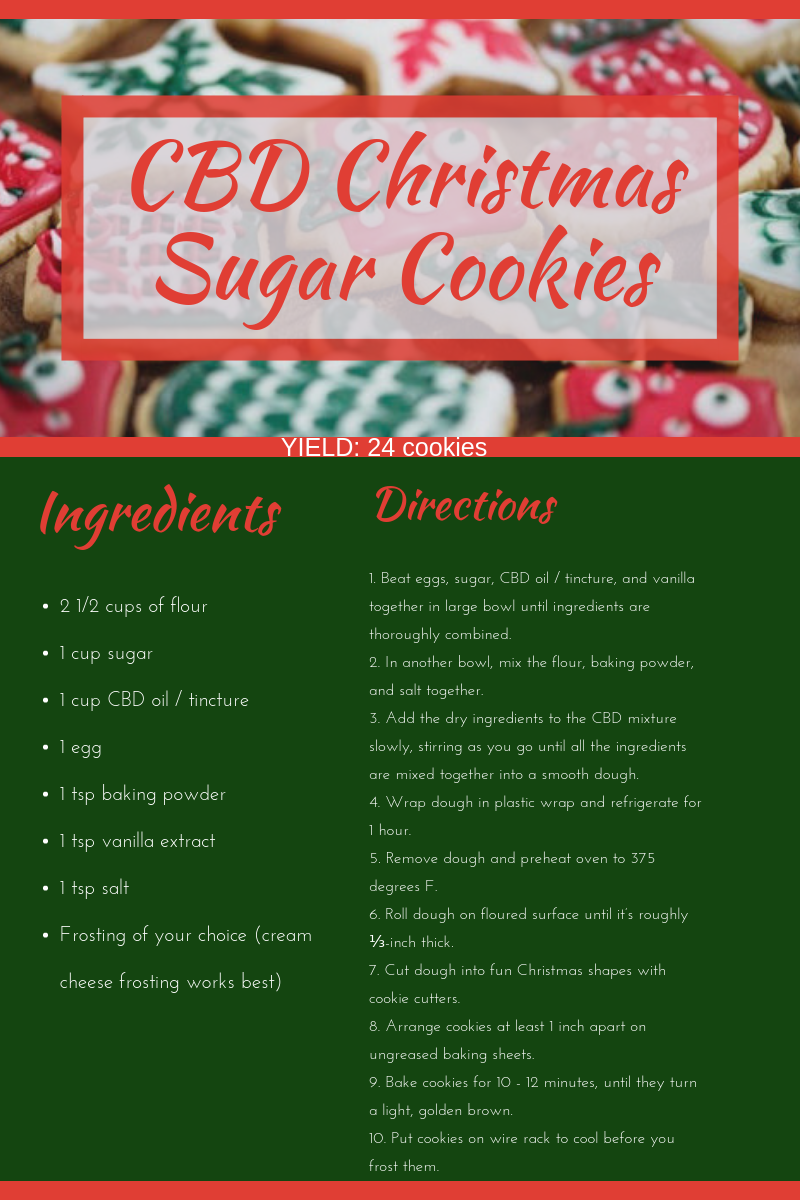 Are you making these CBD Christmas Sugar Cookies this year?
Tell us all about it down in the comments!
---
Disclaimer: Marijuana has intoxicating effects and may be habit-forming. Smoking is hazardous to your health. There may be health risks associated with consumption of Marijuana. Marijuana, in any form, should not be used by individuals that are pregnant or breastfeeding. Marijuana is intended for use only by adults 21 and older. Keep out of reach of children. Marijuana can impair concentration, coordination, and judgment. Do not operate a vehicle or machinery under the influence of this drug. This product may be unlawful outside of Washington State.