If you're ready to bounce back, smoke sativa. If you're full of remorse, try a hybrid. Need to just calm down? Go for an indica.
Breakups really suck. They require a fat bowl of some serious dank. So, if you're going to smoke about it, you may as well do it the right way! Here are 10 classic breakup scenarios and the best strains for them.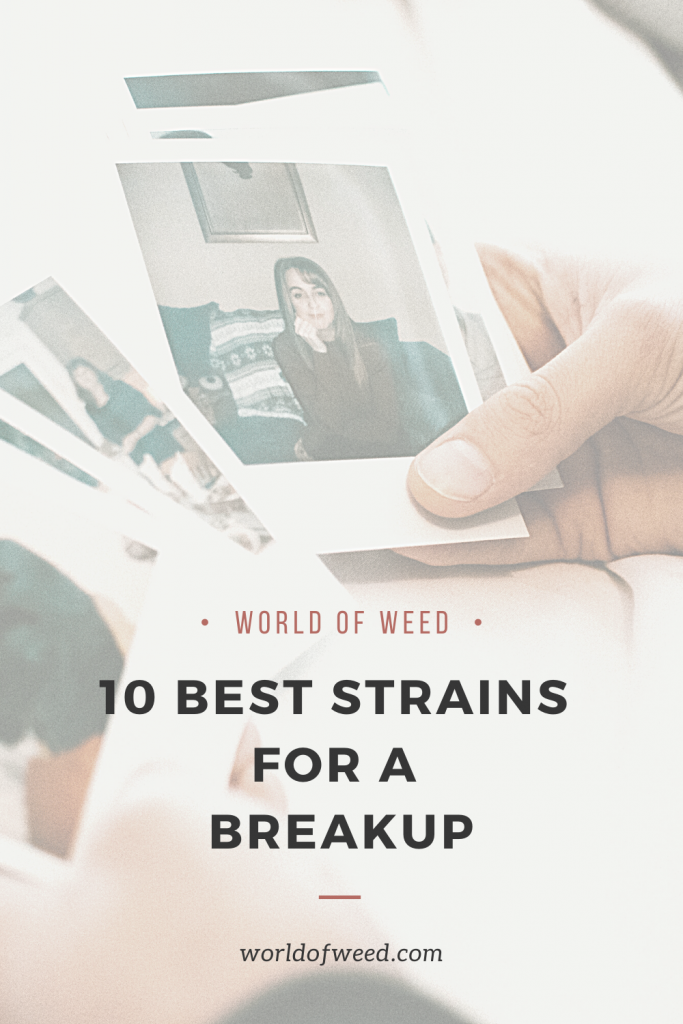 10 Best Strains for a Breakup
1. They Cheated
Unfortunately, this is the most popular reason for a breakup. That's why it calls for the most popular strain we have, ironically called Wedding Cake. Being cheated on is rough, but this smooth indica hybrid will remind you there are better days ahead.
Can't decide if you want to feel uplifted or relaxed? This strain will make you feel both, with some sweetness you could use right now. Stick with Wedding Cake; it'll never cheat on you.
2. Bad Behaviors
Sometimes, people just do things we can't stand to live with. Whether it's smoking cigarettes, using drugs, or never cleaning their bongs, there are just certain deal-breakers for all of us. When that happens, and you have to call it quits, it's time to smoke some Grape Ape.
With strong grape flavors and a relaxing body high, this is the ideal indica for when you need to destress and release tension.
3. Long Distance
You both decided to try the long distance thing, except things just didn't work out. You may feel as though the world is conspiring against you, and that life is very unfair. It is hard to lose a relationship, especially when it's not over something either of you did. Allen Wrench is the delicious sativa you'll need to gain clarification on the issue and figure out why the distance was too much for your relationship to handle.
4. Not Enough Communication
When it comes to relationships, silence is never going to be golden. The more you communicate with your partner, the better you feel and the stronger your relationship becomes. Communication is right up there with honesty for the most important aspects of a relationship. Without good communication, you cannot have a good relationship. So, sit down over a bowl of Dutchberry and talk it out.
This strain causes a euphoric, giggly high that lends itself well to social situations. If you need to get into a good mood to talk about something heavy, this is the strain.
5. Age Difference
This is a tough breakup, because it's not necessarily something you did. Everyone matures at different rates. Sometimes, you grow faster than your partner, and sometimes it works the other way. Let your inner child shine, cry it out, and smoke some Sour Patch Kids. This sativa hybrid comes from a cross of two sour strains, Sour Diesel and Sour Kush. It lifts your mood and relaxes your body. Pack a bowl.
6. They're Too Clingy
Everyone needs to be able to have their own space and some time to themselves. When your partner becomes too clingy, you can start to feel suffocated and feel the need for a breakup in favor of some time apart. But, this doesn't mean you won't get back together later. So, for now, spend some time relaxing with the sedating Pug's Breath.
This cross of Mendo Breath and OG Kush Breath will let you breathe easy and take the edge off. Sweet-smelling and calming, this strain creates a positive mindset and gives you the break you so desperately need right now.
7. Wouldn't Commit
It can be tough when your partner won't commit to you or define the relationship. With hookup culture being so prevalent these days, this is a common reason for a breakup. Not everyone knows what they want, and if your partner didn't know what they wanted before you broke it off, it can be hard to move on. That's where the ambitious and energizing Jack Herer comes in. This will give you the motivation to focus on yourself – and maybe throw a party you don't invite them to.
8. They're Too Busy
Too busy? Puh-lease. People make time for what they prioritize. If they put you as a priority, they would spend more time with you. Plain and simple. Purple Cadillac is going to get you through this. You may feel like you want to reach out to your bae, but what you need to do is let go – and this strain will help.
This strain is complicated, just like your relationship. It's a delicate and flowery strain that offers intensive body effects and complete and total relaxation. Expect flavors of sweet berries and earthy undertones to ground you and remind you that you don't need anyone else.
9. They Didn't Give a Reason
It's unfair, but it happens. One day, everything is fine. The next day, your partner has decided they don't want to be with you anymore. It came out of the blue and slapped you in the face. With euphoric and uplifting effects, not to mention 18.41-22.41% THC, Lamb's Breath is going to turn your frown upside down.
So, they broke up with you. They clearly didn't know they had something great, and you can feel better bumping music and smoking this potent sativa.
10. They Stopped Loving You
This doesn't just happen, you know. There must be a reason. But, if this is the excuse they gave you, it can be incredibly hard. Drown your sorrows in chocolate, but not the usual way. Go for some Chocolate Marshmallows from Creekside Cannabis. This rich and decadent hybrid offers delicious flavors and aromas mixed with euphoria and a hazy, dreamy calm. It will help you through this.
Getting Over a Breakup With Weed
When your partner is weed, you don't have to worry about it not loving you anymore. It's always there to lift you up and relax you when you're feeling some type of way about a breakup. Turn on some music, smoke a bowl, and you'll be moving on before you know it.
Want to know why weed is the best partner you'll ever have? Find out right here.
---
Disclaimer: Marijuana has intoxicating effects and may be habit-forming. Smoking is hazardous to your health. There may be health risks associated with consumption of Marijuana. Marijuana, in any form, should not be used by individuals that are pregnant or breastfeeding. Marijuana is intended for use only by adults 21 and older. Keep out of reach of children. Marijuana can impair concentration, coordination, and judgment. Do not operate a vehicle or machinery under the influence of this drug. This product may be unlawful outside of Washington State.