Out of all the things better than having a romantic partner in your life, weed truly takes the cake. It's hardly surprising we'd rather snuggle up on the couch with a big bag of Lemon Haze after a long day, but here are just a few reminders as to why. Keep reading to learn why weed is the best partner you'll ever have.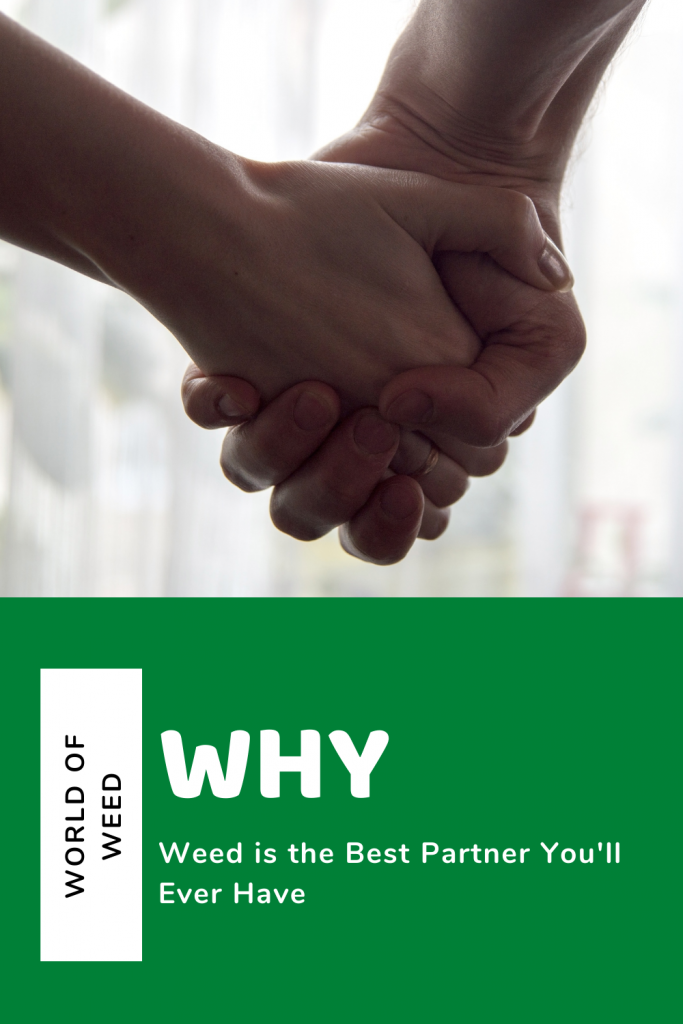 Reasons Weed is the Best Partner
1. Weed always makes you happy.
Go ahead and think back to the last time you smoked a bowl. Maybe it was after a particularly long day of work, or perhaps you just wanted a pick-me-up.
Regardless of why you smoked, I bet those first few puffs made you super happy. Euphoric even.
The only goal that weed has is to make you happy. There are no secret ulterior motives, no desire to just get you into bed.
When was the last time your date made you feel like that?
2. Weed has so much variety, you won't get bored.
There are at least 779 cannabis strains available for your enjoyment.
Last night, you had some Grape Ape. That was great and was exactly what you needed.
But, today is a new day and you really want something energizing – maybe even stronger than coffee! Fortunately for you, there are hundreds of different strains to try. You'll never have to settle for one and grow bored.
Green Crack today, maybe some Girl Scout Cookies tomorrow. The possibilities are nearly endless.
3. Relationships can be stressful, but weed is the opposite
Between the spats, the nagging, different schedules, and the general stress that comes with being committed to another person, relationships can really stress you out. But, weed? Weed will never stress you out. It calms you down – especially a good indica – and is really there for you when you need to reflect and sort things out. Weed is there for you and only you. Basically, weed is the best partner.
4. Weed is always there for you when you have a bad day — or month!
Did you step in dog poo this week? Did you lose out on a big promotion at work? Are your favorite clothes not fitting right anymore?
No matter what is going on, weed is always there for you when you need it most. No problem is too small or trivial when it comes to weed. The herb only exists to listen, to reassure you, and to make you as euphoric as possible during this heavy time. Herb helps you destress, calm down, and not feel pent up anger or disappointment.
Perhaps the last person you dated thought things were not that big of a deal when you complained about them. Weed will never do that.
5. Weed doesn't care what you look like.
Don't want to put on makeup today? Don't feel like shaving? Weed doesn't care. Weed is just there for you to make you happy, and it doesn't care at all about what you look like. If you want to sit around in pajamas and smoke all day, your weed will happily help you do so without judgment.
6. It's not weird if you share weed.
One of the reasons weed is the best partner is that you can share it without it being weird. Smoking weed can definitely be a social activity, and it's usually more fun to sesh with friends than solo. Weed can be shared, and it won't be awkward.
7. Weed supports your junk food habits.
Weed doesn't care how many Breakfast Jacks or Whoppers you choose to eat. Weed fuels the munchies, and it supports you on your fast-food-eating endeavors. Plus, weed usually helps you come up with some creative culinary delights.
8. Weed doesn't get jealous.
Your weed isn't going to get jealous if you opt for something else, such as a glass of bubbly. If you hang out with other guys or other women, your partner may get jealous and it can lead to an argument. That's not the case with weed. In fact, weed encourages you to be social and seek interaction with others – especially those strains that make you want to talk about aliens.
9. Weed is both the outdoors and indoors type.
Regardless of whether you're active and love the outdoors or are more of a homebody, weed is the best partner for you. It's both the indoors and outdoors type, so there's something for everyone. You can sesh inside or take it out into nature. It also grows both indoors and outdoors, which leads to even more variety.
10. Weed will never decide it doesn't love you anymore.
It's very true. Weed is as loyal as they get, and it will never tell you it doesn't love you anymore. With weed, you know you'll have the best partner and best relationship for years to come – perhaps even for life!
We love you, weed. Don't ever change.
Ready to buy some weed?
---
Disclaimer: Marijuana has intoxicating effects and may be habit-forming. Smoking is hazardous to your health. There may be health risks associated with consumption of Marijuana. Marijuana, in any form, should not be used by individuals that are pregnant or breastfeeding. Marijuana is intended for use only by adults 21 and older. Keep out of reach of children. Marijuana can impair concentration, coordination, and judgment. Do not operate a vehicle or machinery under the influence of this drug. This product may be unlawful outside of Washington State.