In theory, managing your stash should be pretty simple. Just figure out how much you smoke, and then ration that so you don't smoke it all at before your next paycheck.
Unfortunately, it's not always that straightforward. There's the unexpected stressful emergency that you need to smoke about, the sesh you got invited to, that wake and bake you really want, and that beautiful bud staring at you from inside the jars, just begging to be smoked. Not to mention those dabs sitting there, waiting.
The truth is, rationing your weed can be one of the most difficult aspects of being a stoner. But, if you follow these tips, you can make your weed last longer.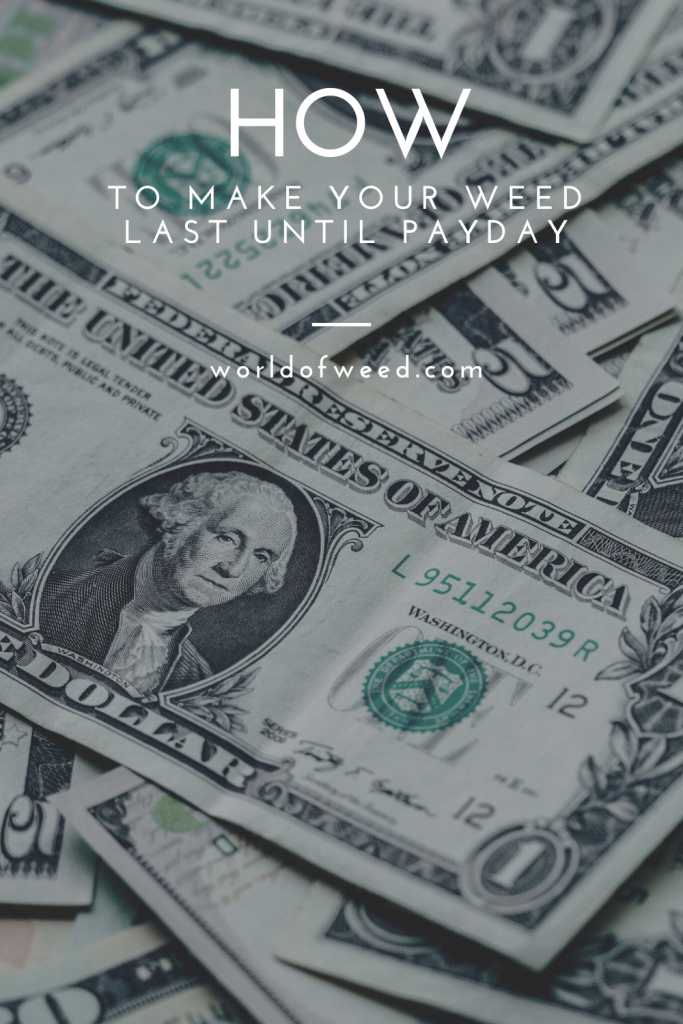 10 Tips on How to Make Your Weed Last Longer
Look at what you have left until payday
The first step in making your weed last until payday is to figure out how much you've got left. Take a look at your stash and count how many grams of flower and dabs you have, how many carts, and how many edibles. Now, count how many days it is until payday.
Set yourself a daily smoking allowance
Once you've looked at your stash and know how much you have left, it's time to plan. Think about how much you can smoke each day leading up to payday. For example, if you have an eighth left, figure out how many bowls you can get out of that. Then, spread that number out among the number of days left until payday. This will give you a daily smoking limit to stick to.
Store your stash in smaller jars
Ideally, you want to store your weed in multiple jars, as opposed to just one big jar. The reason for this is that as you use your weed, you create more airspace within the jar. This can oxidize your stash, which breaks it down. Separating out your stash into smaller jars creates less airspace, so your nugs will stay fresh for a period of longer time. This also helps you ration your supply and keep an close eye on how much you are actually smoking.
Smoke less often
Come on. Do you really need to have a wake and bake session this morning, when you just had one yesterday? Doing so can be fun, sure, but it also puts a dent in your stash. If you tend to be an all-day smoker, see which part of the day you can skip toking.
Make some edibles
This may sound like the opposite of what you want to do when trying to make your weed last longer, because of the amount of weed required, but you can get higher for a longer period of time. A high from smoking usually only lasts about an hour, maybe two. Edibles, on the other hand, keep you high for three to four hours, and sometimes even longer.
Smoke your roaches
Sure, they taste nasty. But, they get the job done. And, when it comes to making your weed last longer, roaches are incredibly helpful. You'll smoke the rest of them, instead of dipping into your stash of fresh flower.
Look for deals
If you know you can only get a certain amount of weed to last until your next paycheck, look around for the best dispensary deals. Check out the dispensaries around you, or your favorite Tacoma dispensary, and browse their deals.
Instead of splurging on top shelf product, go for something in the mid-range price. You may not get quite as high, but you'll save money and can get enough to make it stretch until you next get paid.
Vape instead of smoke
The amount of THC you consume determines how high you get, and how long that high will last. Concentrates are very potent, especially compared to dried flower. While flower has a maximum THC concentration of around 35%, concentrates can go up to 90% THC.
Vape carts fall somewhere between dried flower and concentrates. While they tend to have high concentrations of THC, they deliver smaller, more precise hits. This simple dosing allows more control over the high, but it also means your supply will last longer.
The effects from a vape pen can last a couple of hours before tapering off. At this point, you just take another couple of puffs and you're golden again.
Vaping carts will help you make your flower stash last longer.
Corner your bowls
As any stoner knows, when bud is at stake, every bit counts. Cornering your bowl helps distribute the flower in your bowl throughout the sesh, conserving your herb and ensuring you get the most out of each bowl.
Don't get greedy
Do you really need to pack your biggest bowl as full as possible? Sure, it may look great for photos and video on social media, but it's not necessary. Try smoking smaller bowls or taking smaller dabs to make your weed last longer. This will also lower your tolerance, so you will be able to get higher off less.
I Need to Make My Weed Last Longer. What Do I Do?
If you tend to run dry between paydays, setting yourself a daily smoking allowance can help you make your weed last longer. It can also help you spot opportunities to save money on your smoke. If you're trying to stretch your stash until your next paycheck, follow these tips.
Did payday hit? Browse our menu!
---
Disclaimer: Marijuana has intoxicating effects and may be habit-forming. Smoking is hazardous to your health. There may be health risks associated with consumption of Marijuana. Marijuana, in any form, should not be used by individuals that are pregnant or breastfeeding. Marijuana is intended for use only by adults 21 and older. Keep out of reach of children. Marijuana can impair concentration, coordination, and judgment. Do not operate a vehicle or machinery under the influence of this drug. This product may be unlawful outside of Washington State.