Washington is known for being cool, rainy, and green. But, lush pine trees and thriving lawns aren't the only green people think of when they think about Washington.
They also think about weed.
And, sure. There are plenty of laws and regulations in place (and strictly enforced), but Washington does have a pretty relaxed attitude when it comes to cannabis.
Think about it:
Go to pretty much any street in Tacoma, and you'll be within walking distance of at least five dispensaries. They're tucked in among all the other businesses, just sitting there in plain sight of the public. There are billboards and other signage advertising big-name dispensaries, and clever bumper stickers promoting smaller shops.
Virtually every block and every city in Washington seems to be full of access to pot shops and dispensaries.
Washington Dispensaries
First, it's important to remember that, while recreational and medical marijuana is legal in Washington, there is still a long list of Washington recreational marijuana laws that are (very) strictly enforced. When it comes to the big picture of cannabis legalization, that list is really only a little snippet, but it's also the most crucial information you are going to need to know as a Washington stoner.
This list of laws also includes taking your weed across state lines. Now, as sweet as it may sound to bring home a souvenir or take some bud with you on a road trip, it's actually illegal.
So, you know, don't do it.
Once you've read up on the Washington recreational marijuana laws, it's time learn all about buying weed from a dispensary in Washington.
We here at World of Weed (Tacoma's #1 Pot Shop) have put together this brief guide for new stoner, full of tips, facts, and tricks to help you along your stoner journey when buying weed from a dispensary in Washington for the first time.
Washington has been full of legal recreational and medical marijuana since 2012. That's a long time and, with those laws in place and such a large array of marijuana retailers to for the public to choose from, figuring out exactly how to go about buying weed from a dispensary in Washington is actually MUCH easier than you'd think.
It all sounds a lot more complicated than it is.
This super green state has always had some pretty liberal laws when it comes to cannabis so, if you're a new stoner looking to buy some weed from a dispensary for the first time, Washington is going to be one of your best options.
So, settle in, give this New Stoner's Guide a read, and then come on down to the shop. We'll help you out.
Buying Weed From a
Dispensary in Washington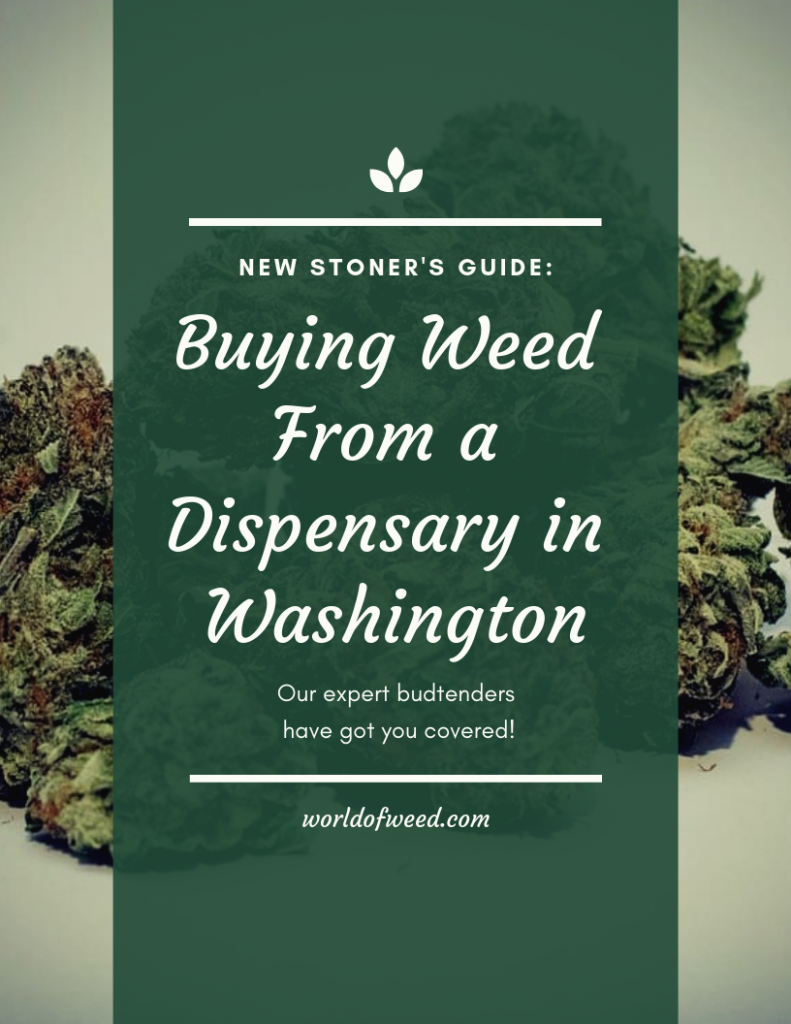 Find a Local Dispensary
Note: In order to purchase weed from a dispensary in Washington or any legal U.S. state, you must be 21+ years of age and have a valid ID.
Finding the right Washington or dispensary pot shop that best fits your personal preferences and needs takes a bit more time and research than a quick Google search for "dispensaries near me."
But, you can get a leg up by using cannabis directories to find the dispensaries that are closest to you.
These directories and store locator tools give you a much more targeted map of all the pot shops and dispensaries that are close to you. Those directories, like Leafly, also have reviews and details for each of the stores that are listed, so you can get a feel for what other customers thought of the place, how they liked the products, and what type of inventory the stores currently have available.
Look through the different shops in your area, and take a look at their websites and social media. Read the reviews and their inventory.
Take note of the shops that stand out most to you.
Brush Up On Your Weed 101
Once you've found the shop you most want to check out, you've got a few different options.
And, they don't have to be standalone options.
When buying weed from a dispensary in Washington for the first time, you can:
> Just walk into the dispensary and trust the budtender's expertise for recommendations and new stoner advice.
> Give the dispensary's online menu a read, and pick out some products that sound most appealing to you. Then, do a bit of research (try the dispensary's blog) on the products to find out whether or not you really would like them.
> Ask your friends what you should get, and then head to the dispensary on your list to see if they've got those products – – and maybe try a few other things while you're there.
You can do just one of these things, or go ahead and do all of these things. If you just look at the dispensary's online menu selections, you may find it overwhelming and a little intimidating. After all, there can be A LOT of choices, depending on the dispensary.
If you do a little research on the different products (again, the dispensary's blog will likely have different product / strain features that will give you helpful information), then you can figure out which of them would likely best fit your needs and preferences. Then, when you do go in and speak to the budtender at the shop, they'll have more information to go off when making suggestions and recommendations. This would include the effects, flavors / aromas, whether it's your absolute first time smoking or not, your THC tolerance, and your lifestyle preferences.
This is a great way to learn more about the most popular flower strains all the Washington stoners are enjoying. Now, you'll know what's up when you go sesh! Be sure to learn how to roll a joint, too.
We'll save the edibles for another day. That's a whole different ball game.
If you are a new stoner, there are (fortunately!) answers to virtually every possible question you may have about marijuana and buying weed from a dispensary in Washington.
Some of these include:
If you want more information on those topics, or have other questions, you can certainly bring them up to the budtender at your new favorite Washington dispensary. But, do keep in mind the fact these shops get busy pretty quickly. It may feel a little rushed or overwhelmed at times as you try to listen to what the budtender is saying, look at everything, and make a decision all at once.
So, save time and stress by getting the basics of Weed 101 down, check out their online menu, and read through the blog on their site before going in. You'll have a much better experience doing things this way when buying weed from a dispensary in Washington for the first time.
Know What You're Looking For
Take the time to figure out what you're looking for before you go shopping, just like you would with any other store. Not only will this save time, but will make your experience that much better.
Once you've determined where you're shopping and learned the basics of weed 101, such as the differences between indica and sativa, it's time to figure out what you're going to buy from the dispensary.
For example:
Flower:

Do you want to smoke or vape your weed?
Concentrates:

Are you going to try dabs? Adding some to your bowl of flower? Or maybe you want to try out one of those awesome THC vape pens / batteries?
Pre-Rolls:

Want to smoke some joints, but don't know how to roll?
Edibles:

Delicious, potent as hell, discreet, and long-lasting. Just be careful with the delayed high on these!
Other:

Ever try topicals? What about edible joint glue?
With these questions and categories in mind, it's important to remember each strain and product offers a completely unique, individual experience.
When you're buying weed from a dispensary in Washington for the first time, there is undoubtedly going to be some confusion and plenty of things you don't know.
And that's 100% okay!
Mix and match different types of products, brands, and strains until you find what works best for you – – and what you like the most.
What Can You Expect When Buying Weed From a Dispensary in Washington?
Those above tips will teach you how to go about buying weed from a Washington dispensary, but they don't really give you a true feel for what you can expect after walking through those doors.
But, don't worry. We've gotchu.
Even though weed is legal in Washington, you may still have that, "Oh, crap! I'm doing something wrong!" type of feeling. And that can make it especially difficult to go into the dispensary, talk to the budtender and ask questions, and buy the weed.
So, to make things way easier on you, we've included this next section that's all about what you can expect when buying weed from a dispensary in Washington.
Here are some things you can expect:
#1: You WILL Be Carded
Regardless of whether you're buying recreational or medical weed, you're going to need to show valid ID at the door. Some dispensaries will check your ID at the counter as well.
If you have a medical marijuana card, make sure it's still valid and is in your name. You will need to show that along with your ID when you purchase medical cannabis.
Have your ID out and ready as you walk up to the door of the dispensary to make things easier and run more smoothly.
#2: Reading the Online Menu First Saves Time
Buying weed from a dispensary in Washington – especially for the first time – will be a million times easier and less stressful if you do your homework first. Read the online menu of the dispensary, and find names that particularly interesting or tasty. Do you want an indica, sativa, or hybrid? Flower or concentrates? Pre-rolls, or things to roll your own? Want to try out some edibles? What about topicals?
Whichever cannabis products stand out to you, jot down. Dig around online and see what other people have to say about that particular product and brand. Is it from a popular producer / processor? Does that brand have any online presence and social following?
Find the best strains and products that for your needs and preferences – – including: budget, THC / CBD concentrations, effects, flavor / aroma profiles, and your tolerance and experience.
It may sound tedious, but doing this really does make a big difference when buying weed from a dispensary in Washington — especially for the first time.
#3: You Will Probably Have to Wait a Bit
Once you walk in and show your ID to the security at the door, you may end up waiting a little bit before a budtender is free and available to help you out.
But, don't let that discourage you!
That little wait is a great time to look over the menu, signs for daily specials, and all the fire in the display cases. Not to mention any beautiful glass pieces they may have!
Do you have a bong or pipe to go with that weed? Now is a great time to look at the different glass they have and get your first piece!
#4: Budtenders Encourage You to Ask Questions
Doing so helps your budtender figure out the best products and strains to fit your budget, lifestyle, and taste preferences. Whether you've memorized the menu or have absolutely no clue what you're doing, the best way to get acquainted with your local dispensary to ask questions and advice from the budtenders.
Find out what their favorite strains are, or what strains would give you the effects you want most, like pain relief or a fun and giggly high. Want something really chill and sedating? Ask!
Tell them it's your first time buying weed from a dispensary in Washington, and let them help you out. If you don't know something, it's totally okay to ask!
After all, how else will you learn?
There are no lame questions, and your budtender has already heard them all anyway.
#5: You'll Need Plenty of Cash
Not all stores accept cards, for one, so you'll probably want to take out some cash before heading to the dispensary. Check out their website to make sure before you go in.
And weed isn't always cheap. If it is, you may not be super thrilled with it. The topshelf, best quality products are going to be more expensive, just like with other stores and other types of products.
#6: You Don't HAVE to Buy Anything
If you change your mind about that 86.53% THC GG #1 BHO, that's totally understandable.
Did the budtender just really rub you the wrong way? That's alright.
Did you just want to look, but aren't ready to buy anything yet? That's okay!
There is absolutely ZERO PRESSURE to buy anything, especially if you're new to cannabis and not sure what you're buying. Plus, returns are illegal.
You also don't have to buy whatever the budtender recommends. If they suggest something that doesn't spark your interest, it's alright to say, "No, thank you."
There's no pressure to buy anything. Not even a lighter.
#7: Reviews are HIGHly Appreciated
In fact, some dispensaries offer discounts on your next purchase in exchange for an honest review.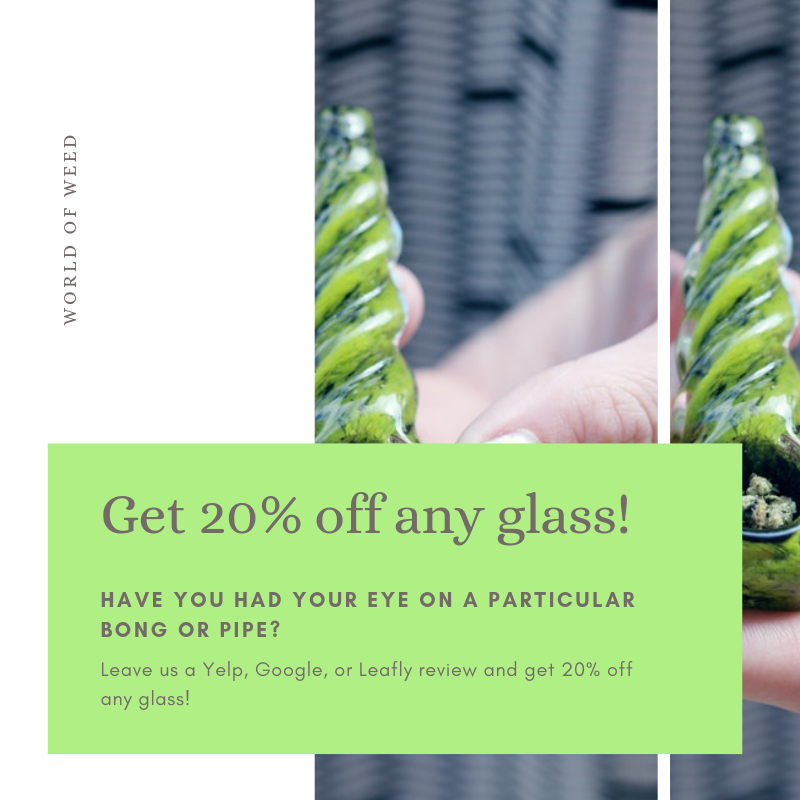 Once you've successfully gone about buying weed from a dispensary in Washington, take a moment to reflect back on your experience, what you thought of the dispensary, and how you would rate the level of customer service you received.
During your dispensary visit:
Did you feel out of place, rushed, or unwelcome?

Was the overall feel of the place awkward, sketchy, or intimidating?

Was the budtender super knowledgeable and helpful?

Did they help you find the right products for you and your needs?

Were they informed about their store's products and brands?

How was the product's quality?
Answer these questions and more in a review of the dispensary, so that the shop can receive feedback it can then use to improve.
Want more help buying weed from a dispensary in Washington?
Come visit us here at World of Weed, and we'll help you out!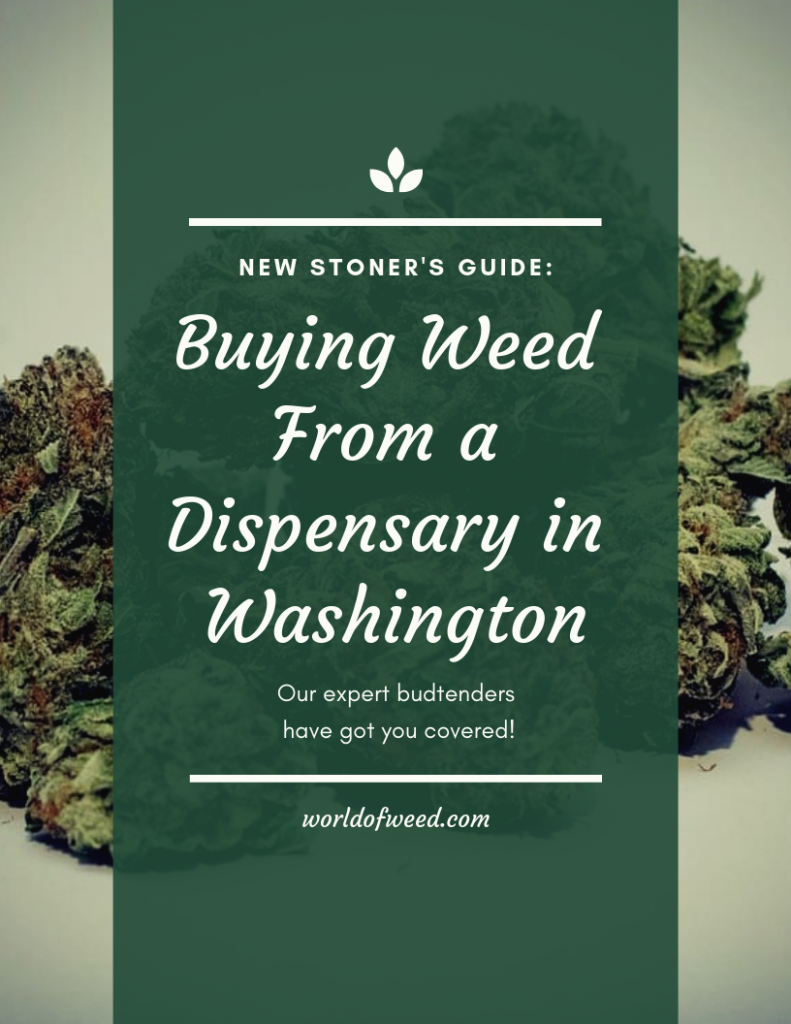 ---
Disclaimer: Marijuana has intoxicating effects and may be habit-forming. Smoking is hazardous to your health. There may be health risks associated with consumption of Marijuana. Marijuana, in any form, should not be used by individuals that are pregnant or breastfeeding. Marijuana is intended for use only by adults 21 and older. Keep out of reach of children. Marijuana can impair concentration, coordination, and judgment. Do not operate a vehicle or machinery under the influence of this drug. This product may be unlawful outside of Washington State.