Good Teams Do Good Vibes Make
Take a hit off one of From the Soil Farms' pre-rolls, or maybe take a fat bong rip of one of their delicious flower strains. No matter how you consume FTS Farms products, you're enjoying something that comes from a team that counts its blessings and feels truly blessed to provide you with that weed?
You're enjoying cannabis from a producer / processor team that genuinely cares. And, it comes through with each and every hit.
The From the Soil team strives to bring their enthusiasm and knowledge of cannabis cultivation, harvest, and mature flower to Washington i502 stores – – – and to cannabis lovers like you.
The entire company culture and philosophy is centered around the sage words of the Dalai Lama…
"The roots of all goodness lie in the soil of appreciation"
Deep appreciation for the cannabis plant, and this one sentence, serve as the entire foundation for the From the Soil family. They work hard to bring their love and passion for cannabis and their community with every hit, puff, toke, dab, and taste customers like you enjoy.
And, there's no shortage of mind-blowing and mouth-watering FTS Farms products for you to love.
Must-Have From the Soil Products
We've got 20% OFF From the Soil products going on today, so now's your chance to try some of these great strains!
In fact, let's just go ahead take a look at some of the amazing FTS products we've got waiting for you:
Blue Cookies by FTS $12 (1g) ; $35 (3.5g) 21.3% THC
Blue Cookies is an indica dominant hybrid with a sweet berry flavor and a sweet-earthy aroma. Cerebral euphoric high, strong relaxation and sedation for the body high. Perfect after an exhausting day, or when you just want to chill out.
El Chapo by FTS $12 (1g) ; $35 (3.5g)
25.4% THC
Named after the mysterious and WANTED leader of the most powerful of Mexico's drug cartels. This strain, El Chapo, is an intriguing indica hybrid created by the insanely potent cross of Faceoff OG x SFV OG, and then crossed once more with a phenotype of OG Kush to add an "OG". It's as infamous as the mobster it was named after, and remains an undisputed heavyweight strain.
El Chapo prerolls by FTS $29 ( 8-Pack)
24.5% THC
Hells Fire joints by FTS $30 (8-Pack)
25.0% THC
Hells Fire OG is a California hybrid strain that crosses Rascal's OG Kush x SFV OG Kush to create this powerful, flavorful, and beautiful strain. Indica dominant, this strain is excellent for physical relaxation, while bringing on a euphoric calm with the mental high. Oh, and it's SUPER delicious.
To: You
From: The Soil
From the Soil is a handcrafted cannabis collective and family of growers who are always focused on their goals to:
Cultivate
the finest marijuana strains in the entire world, starting by introducing them to this beautiful Washington state.
Grow
the single most probiotic natural cannabis that Washington has laid eyes on, all while growing the plants in "living soil."
HANDCRAFT
Premium smokeable and concentrate cannabis products for the buying public that is of legal age, with no exceptions.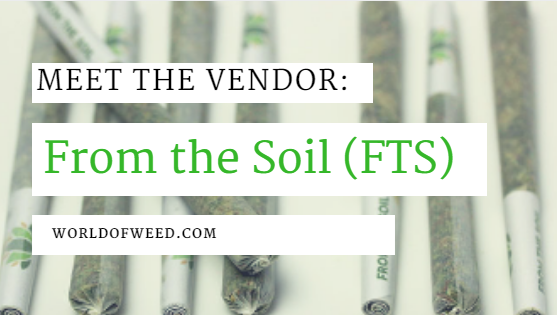 ---
Which From the Soil products do you like best? Let us know down in the comments, and don't forget about the
VENDOR DAY 5/4 –> 3pm to 8pm –> 20% OFF FTS products
---
---
Disclaimer: Marijuana has intoxicating effects and may be habit-forming. Smoking is hazardous to your health. There may be health risks associated with consumption of Marijuana. Marijuana, in any form, should not be used by individuals that are pregnant or breastfeeding. Marijuana is intended for use only by adults 21 and older. Keep out of reach of children. Marijuana can impair concentration, coordination, and judgment. Do not operate a vehicle or machinery under the influence of this drug. This product may be unlawful outside of Washington State