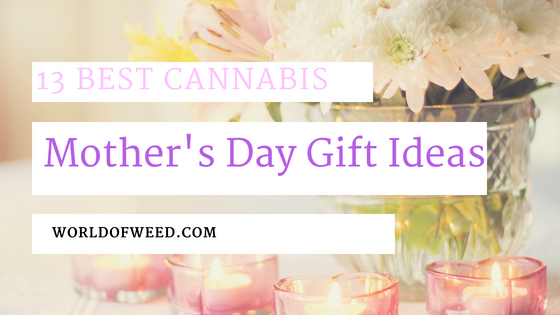 Mother's Day is just around the corner and, let's be real here, the usual gift of flowers and a card is played out. It's become the expected present, and that takes a lot of the fun out of giving Mom presents. Flowers are great, but your mom deserves the best flower around – – Cannabis!
We've put together a guide of the 13 best cannabis Mother's Day gift ideas ro 2018. These selections of gifts are guaranteed to put a smile on your mom's face – – even if she said she didn't want anything.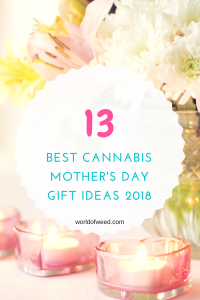 13 Best Cannabis Mother's Day Gift Ideas
1. SPOT Indica Strawberry, Orange Cream Mixed Fruit Chews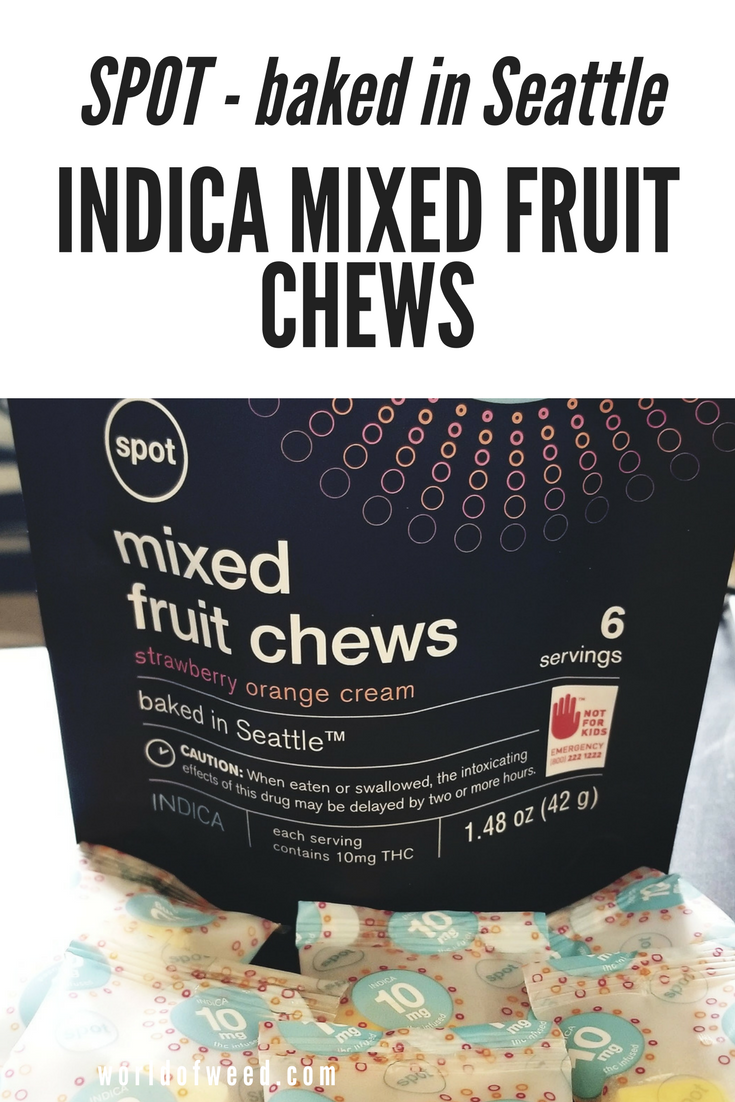 With this bag of mouth-wateringly delicious fruit chews from SPOT (botanicaSEATTLE), Mom can enjoy something as sweet as she is. Not only are these savory sweets produced by the largest cannabis chocolatier and bakery in all of Washington, but they're produced from scratch, using natural ingredients and timeless recipes. With sativa, indica, hybrid, or CBD options, SPOT's edibles have everything your mom needs to relax and chill out like the queen of the house she is. Handmade in Seattle, these delicious SPOT Indica Strawberry, Orange Cream Mixed Fruit Chews come in packages of 5mg, 10mg, and 10mg CBD.
Get these for your mom; we bet they'll really hit the SPOT!

PRICE: 6 X 10MG for $30.00
2. IndigoPro Vape Pen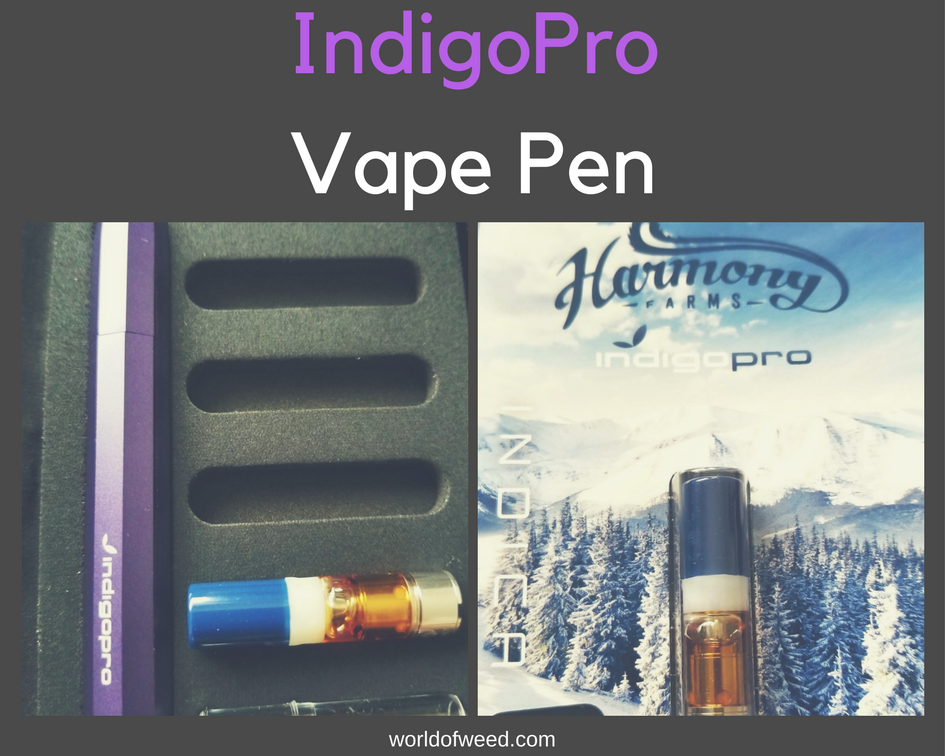 Durable. Discreet. Compact. Leak-proof. Convenient. Affordable. What more could Mom want?
Many of today's cannabis consumers want something that's discreet, convenient, and easy to use without hassle. And that includes Mom.
We recommend the IndigoPro Vape Pen, giving your mom the gift of the purest cannabis nectar available: CO2-extracted from The Farm's premium cannabis in Boulder, CO. There are plenty of flavored oils to choose from, so your mom can mix and match.
Each of the flavored oils comes in a magnetic cartridge that just drops right into the pen and is ready to be enjoyed right away. All flavors are equally delicious, potent, and affordable.
As if that wasn't already great enough, the pen (about the size of a writing pen) comes in a discreet, plain black, zippered carrying case with slots for the oil cartridges, pen, and USB charging cable.
PRICE: The IndigoPro Vape Pen and all of the cartridges are $40 each.
3. Ethos Innovates Tinctures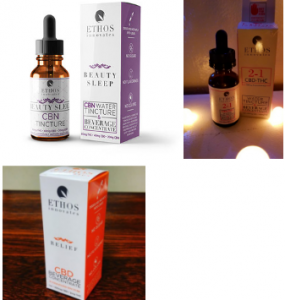 Ethos Innovates relief tinctures are perfect for taking the edge off your mood, without getting high or stoned. Alcohol-free; water-based tinctures like these can be taken sublingually (under the tongue) or stirred into your mom's favorite beverage.
These offer a wonderful way to enjoy cannabis beverages, perhaps Cannabis coffee with breakfast in bed on Mother's Day?
The Ethos Innovates tinctures are sugar-free, syrup-free, and filler-free. They're made with naturally sun-grown, full-flower cannabis extracts that give your mom the most reliable, consistent, and delicious experience possible — regardless of which tincture she's enjoying.
The Ethos Innovates 2:1 Tincture promotes well-being, improves your mood, and helps provide relief for a whole list of ailments and disorders. It's the gift that truly does keep on giving.
The Ethos Innovates Beauty Sleep CBN Tincture is best before bed, and gives your mom the gift of a rejuvenating night's sleep.
PRICE: Ethos Innovates 2:1 Tincture is $54 (1oz) ; Beauty Sleep CBN Tincture is $36; Relief Tincture 250mg is $60
4. Flex-All 420 topical by Agrijuana
Your mom's aches and pains are about to meet their match with this potent Flex-All 420 topical by Agrijuana. This cream harnesses the healing benefits of 100% pure CO2 extract & quality CBD, with salt durable cream, menthol, and camphor added for good measure and extra strength to soothe pains and promote overall full-body relaxation.
PRICE: $45 (2.8% THC, 4.2% CBD)
5. Gorilla Glue by Good Earth
Gorilla Glue is a balanced hybrid that will give your mom the best of both worlds, sativa and indica. This strain packs a powerful punch that makes your mind feel all full of glue, even with its euphoric and uplifting cerebral high. The body high is super sedative, and it's definitely one your mom needs after a stressful week. The flavor and aromas are pungent diesel, but the aroma has a mocha-coffee undertone that's absolutely delicious. We've got the Good Earth popcorn buds, making the Gorilla Glue experience even more convenient.
PRICE:
Gorilla Glue #1 "Popcorn" is $75 for 14g (26.3% THC)
Gorilla Glue #1 is $10 for 1g, $30 for 3.5g, & $110 for 14g (25.4% THC)
Gorilla Glue #1 Preroll 1g is $8 for a 2-pack (27.5% THC)
6. Beautiful Glass Pieces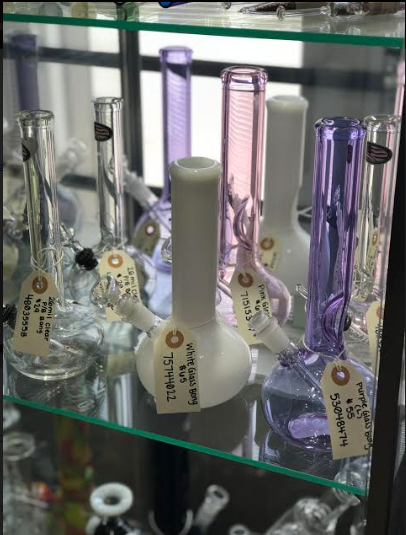 Give your mom something really special this Mother's Day – – Get her a new glass bong, bubbler, or pipe. We've got plenty of designs, functions, and appearances to choose from, so there's virtually guaranteed to be something on our shelves that she'll love. Each piece has its own price tag, making shopping for a Mother's Day bong as easy as smoking out of it will be.
7. A Cannabis Mother's Day Gift Basket
Treat your mom like the queen she is with a beautiful, hand-selected gift basket. Gather up the materials for a basket with a theme that fits your mom the best. For example, maybe she likes bright colors and sunflowers.
Once you've got your basket together, it's time to fill it with all sorts of treats your cannabis-loving mom with be thrilled to get. Some ideas include:
Pre-rolls

Assortments

Edibles

Flowers

That should give you plenty of great ideas to start with! Add in some thoughtful little extras, like some pretty lighters, rolling papers, and a grinder, as part of the final touches.
8. KushKard's Mother's Day Cards
These gorgeous KushKards have slots for pre-rolls. Give her something to smoke now, and slip in a gift certificate or cash to spend at her absolute favorite Tacoma dispensary. We'll be sure to say "hi" when we see her!
9. Oleum THCA Chrystalline Wizard Stones
Make your mom's day extra magical with THCA Wizard Stones! THCA is the precursor to the beloved THC. When THCA gets isolated while it's still in its acidic structure, the THCA rearranges itself into tiny, translucent-white crystals that sparkle in the light like a whole container of tiny diamonds.
If your mom likes dabs, she's sure to love these! When the THCA crystals are dropped onto the hot nail, the crystals decarboxylate into the magically potent THC that gets you high.
Oleum Wizard Stones have no terpenes or any other cannabinoids, so it's just a smooth hit without much flavor to it. Smooth, potent vapor that will give your mom a fantastical Mother's Day gift she's sure to remember forever.
Just have your mom dab some with her rig (be sure to check out our beautiful glass pieces!), sprinkle some in a joint / blunt, or add some to the top of your bong / pipe bowl. Whichever way your mom chooses to enjoy them, the Oleum Wizard Stones will transport your mom straight into the magical world of cannabis extracts!
PRICE: $75 (0.5g) OR $120 (1g) → 97.90% THCA , 86.59% THC
10. A Luxurious Summer Robe
The temperature is definitely getting warmer, which can sometimes make it too cold without the plush robe or too hot with it on. Fortunately, you can get your mom the perfect robe for these muggy summer months.
The Natori Shangri-La Robe is made from a modal blend jersey fabric, giving it in unbelievably soft fabric that stays pleasantly cool on the skin. Your mom can have her morning coffee, and lounge in complete comfort as she smokes out on her special day.
One of the best cannabis mother's day gift ideas around, these robes come in a wide array of colors and sizes, with an elegant fit that your mom is sure to love. The pockets are soft and deep enough to hold a couple of pre-rolls, a lighter, or even a blunt and grinder.
PRICE: $98.00
11. CBD Gumdrops by Lord Jones
Does your mom need something to help her de-stress and take the edge off? For the stressed out, busy mom, these Lord Jones' CBD Gumdrops are the king of chill pills. Each delicious gumdrop has 20mg of CBD, and is produced from simple ingredients, such as natural fruit flavoring, gelatin, sugar, and citric acid. CBD gumdrops aren't going to get your mom "high", but they're certainly the holy grail of relaxing candies.
PRICE: $45.00 for 9 gumdrops with 20mg CBD each
12. Stash Containers
If your mom's stash gets too much air while it's being stored, the degradation process will be accelerated in reaction to the cannabinoids really not being too thrilled with oxygen exposure. Then again, not enough air adversely affects the humidity of the container. This is especially true if the buds weren't totally dry before being stored.
Make sure your mom's stash stays safe with these special, air-tight stash containers from Herb Preserve.
PRICE: $14.00 → ¼ oz container
$18.00 → ½ oz container
$22.00 → 1 ounce container
13. Marijuana Leaf Earrings
When all else fails, you can always count on some beautiful jewelry as being a wonderful Mother's Day gift idea. But, for the cannabis-loving mom, these hypoallergenic 925 sterling silver Marijuana leaf earrings are even better.
PRICE: $8.00
Which of these 13 best Cannabis Mother's Day gift ideas are you picking out for your mom? Let us know down in the comments!