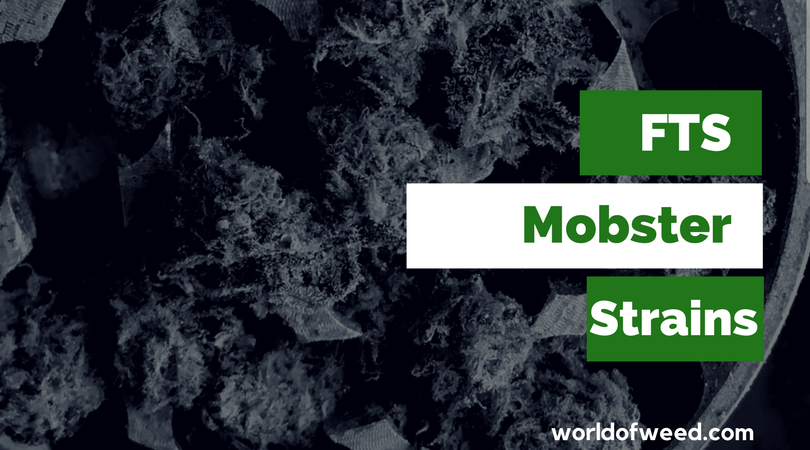 El Chapo by From The Soil (FTS)
Indica hybrid → 70% indica / 30% sativa
THC: 19% -23%
What is El Chapo by From The Soil?
El Chapo is an indica hybrid that came to be through a cross of Face Off OG x SFV OG x OG Kush. With a list of parent strains like that, there's no doubting the power that strain is packin'.
With a powerful THC concentration that ranges from 19-23% THC and swift sedative effectives, El Chapo paves the way for a potent high that leaves you wanting more.
Take a couple of hits, and you'll immediately get an uplifting boost to your overall mood. After you enjoy this blissful chill for awhile, the El Chapo strain drops you down into complete sedation. As your mind grows heavy, this sedation will run down your body like cool water.
El Chapo is a fantastic choice for nighttime smoking, and it's these sedative effects that also give this strain its high popularity.
Flavors & Aromas of El Chapo Strain
The El Chapo strain has a sweet lemony flavor that is accented by fresh, flowery citrus and kush. Bring the bottle of nugs up to your nose, and inhale the scent of sweet-lemon, and pine, with strong notes of fresh earth. A fragrant floral aroma overtone that is nearly candy-like makes this one hard to ignore.
Appearance of El Chapo Strain
The El Chapo strain has buds that are distinctly compact, round, and jade nugs with long, tendrils of striking orange hairs and a shimmering coat of crystal trichomes.
El Chapo Strain Reviews → FTS
"All I can say is: Take a couple hits of the El Chapo strain, and there's no way you'll be digging out of prison! It's great for a full night's rest, and I don't get much of that. It also tastes really good!" – James E.
"Instantly, I was feeling the effects from it. I was physically relaxed, but mentally felt uplifted and rejuvenated." – Rachel L.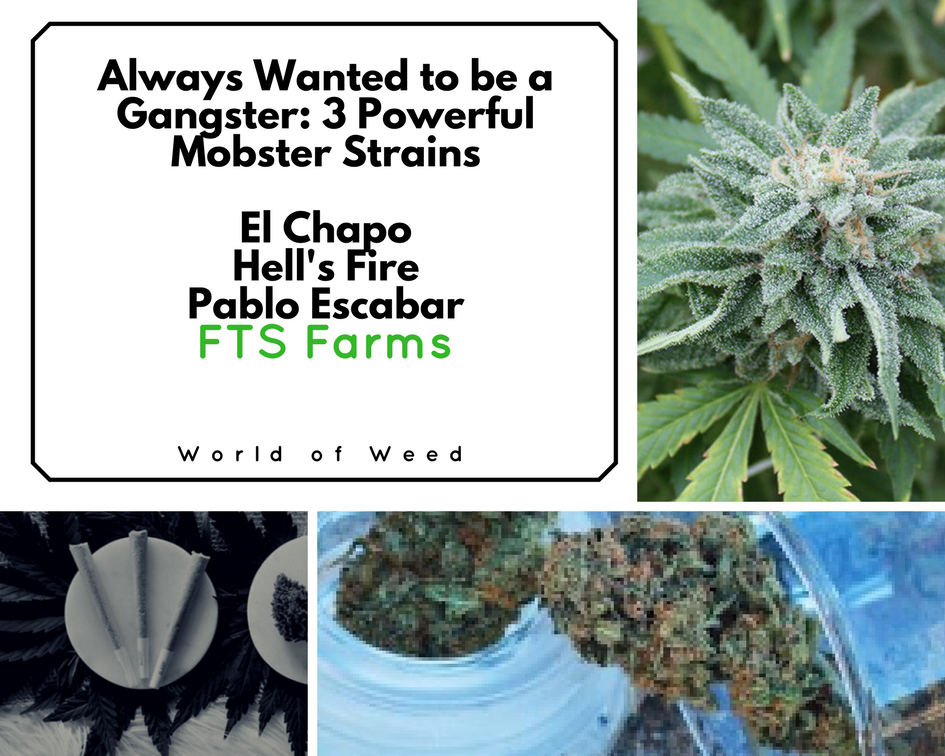 The Rest of the Mob: Hells Fire and Pablo Escobar
What better way to kick off a journey into the great Stoned Unknown than with a powerful strain like El Chapo?
This is that big, jade-green stain with flavors of sweet and lemon, with a little pine thrown in for good measure. If you're looking for a strain with velvety, smooth smoke, El Chapo is definitely the right strain for you. It's perfect for chillin' out on your own, but it would also welcome an invitation to a small smoke circle.
If you like the heavier, more powerful strains, then your next go-to strain should be El Chapo from FTS. They also have lots of other strains you're virtually guaranteed to love!
Such as . . .
---
Hell's Fire Strain by FTS
THC: 25% ⇒ 30% sativa & 70% indica
We've got Hell's Fire pre-rolls waiting for you at $30 for an 8-pack!



All About Hell's Fire by FTS
Hell's Fire is a potent California hybrid that crosses Rascal's OG Kush x SFV OG Kush. Yet another powerfully euphoric, dense and robust strain is added to the OG family line.
This strain is the perfect option for those looking for a stronger sedative of a strain. Just as the OG lineage carries, Hell's Fire has a distinct aroma of fresh, earthy spice and lemon diesel. The flavors are just as fresh, with a stronger earthy-lemon taste.
Price of Hell's Fire by FTS
Add a whole new level of convenience and daring travel with an 8-pack of pre-rolls for $30.
---
Pablo Escobar by From The Soil
We've Pablo Escobar by From The Soil for $12 for 1g & $35 for 3.5g!
THC: 14% ⇒ 50% sativa & 50% indica

All About Pablo Escobar by FTS
With a balanced combination of both indica and sativa effects, but this potent strain has a THC content of 14% – – A misleading concentration level, considering how much of a punch the Pablo Escobar strain is packing.
With a pungent aroma and flavors of sweet berry and diesel, with strong earthy undertones, there's no way you'll be able to resist the charms of the dark and indulgent Pablo Escobar strain. Every bit as beautiful as it is delicious, the Pablo Escobar strain has dense buds splashed with purple and blue hues that peek through a thick coating of crystal trichomes and curling tendrils deep amber-orange .
Price of Pablo Escobar by FTS
We know killer weed should come at killer prices. So, we've got Pablo Escobar from FTS for just $12(1g) and $35(3.5g). Come on in and grab yours!!
Final Thoughts
These strains may not be anywhere near as intimidating as, say, Tony Soprano, but they are just as powerful. These hybrids will keep you balanced, so you don't end up kissing rings and asking for risky favors from the mob boss.
The question is:
Which of these "Mobster" strains is your favorite?
Let us know down in the comments!
---
Disclaimer: Marijuana has intoxicating effects and may be habit-forming. Smoking is hazardous to your health. There may be health risks associated with consumption of Marijuana. Marijuana, in any form, should not be used by individuals that are pregnant or breastfeeding. Marijuana is intended for use only by adults 21 and older. Keep out of reach of children. Marijuana can impair concentration, coordination, and judgment. Do not operate a vehicle or machinery under the influence of this drug. This product may be unlawful outside of Washington State