Edibles are having their time in the spotlight right now, but flower still reigns king within the cannabis community. With dispensaries throughout so many states and there being at least 779 different strains of cannabis, there's an ever-growing variety of flower to be had.

That being said, not every cultivation center or lab facility operates the same way. This is why it's imperative to take into account the company's reputation and the lab testing results. No results are available? Don't consume.

There is an old myth that has stayed in constant circulation for decades, stating that the color of the cannabis ash denotes quality.

Unfortunately, that is just not correct.

Sure, everyone wants to consume only clean cannabis, but looking at your cannabis ash isn't one of the ways to ensure this. If smoking flower has ever resulted in a headache, nausea, sore lungs, or an irritated throat, it's highly possible there are leftover contaminants in your flower. But, you cannot tell that by just looking at the ash.

In this post, we'll cover everything you need to know about the white vs dark cannabis ash myth.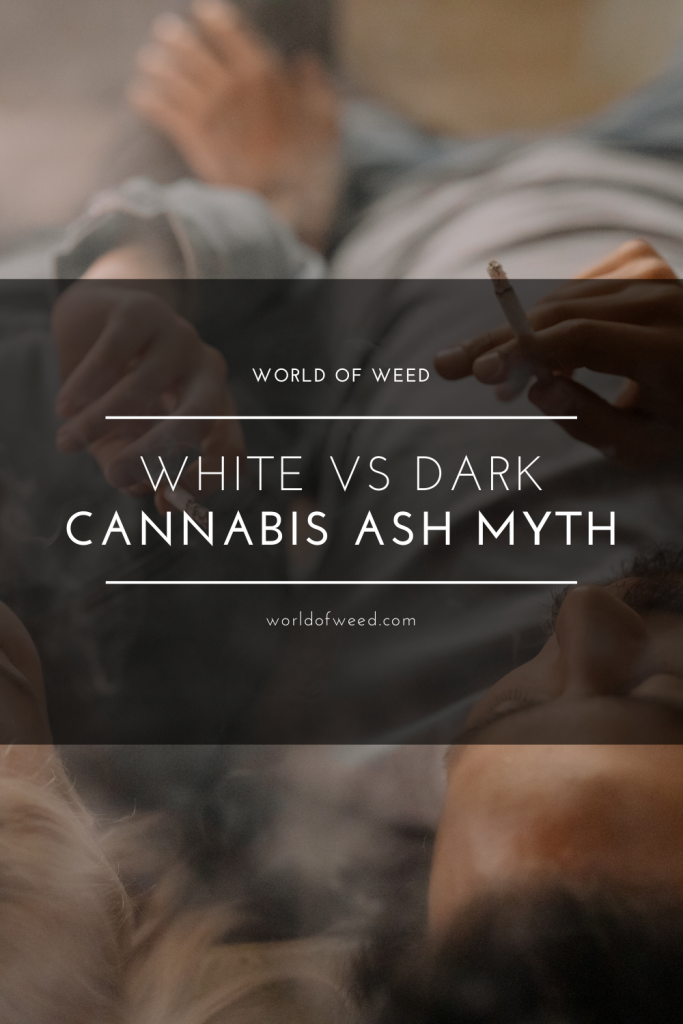 The White vs Dark Cannabis Ash Myth
Many people believing in the white vs dark cannabis ash myth are under the impression that when the ash is light grey or white when you smoke it, then you are consuming cannabis of high quality. If, on the other hand, the ash is dark, then the cannabis is considered inferior, impure, and likely full of chemicals.

Now, let's take a look at why this could be the standing belief with so many stoners. 

The Assumed Quality of White Ash
There is a reason behind the white vs dark cannabis ash myth and why so many people believe white ash is cleaner than dark ash. The argument, as it stands, is that properly flushed and cured flower is pure and natural which results in it burning white or light grey.

In contrast, they believe flower that has not been properly flushed contains any amount of harmful contaminants, which is why the ash burns dark.

Because believers of the white vs dark cannabis ash myth feel flushing and curing directly correlate to the color of the cannabis ash, it's important we go over those two terms. 

What is cannabis plant flushing?
"Flushing" is a general horticulture term, but cannabis plant flushing is in a category of its own. In a nutshell, cannabis plant flushing is the process of watering the plant with plain water, in the final few weeks prior to harvesting.

The purpose of this is to flush out all of the nutrients, fertilizers, and other chemicals that were used during cultivation. Doing this is said to result in high-quality, healthy cannabis. However, not all cultivators choose to flush their plants. In fact, some cultivators believe that flushing before the harvest could be harmful to the plant. Others have also stated that their cannabis flower burned with white ash without any cannabis plant flushing taking place.

This suggests that the white vs dark cannabis ash does not directly correlate to cannabis plant flushing.
What is cannabis curing?
Now that we've gone over cannabis plant flushing and the effect (or lack thereof) it may have on the white vs dark cannabis ash myth, let's move on to cannabis curing.

Cannabis curing is the process of preserving the cannabis after the harvest, keeping it out of contact with bacteria, and preventing it from degradation by utilizing proper cannabis storage methods. The process of cannabis curing generally involves sloughing off excess compounds, leaving behind the terpenes and cannabinoids. 

People often confuse curing with drying, but they are two distinctly different processes. When drying cannabis, the cultivator removes moisture only from the surface layers of the plant material. Cannabis curing, in contrast, removes moisture from the interior of the flower, thereby controlling the process of decomposition, keeping the terpenes and cannabinoids intact.

Those who firmly back the white vs dark cannabis ash myth state that, when cured properly, cannabis will burn with white ash.
The effects of cannabis curing and flushing
It is not entirely clear whether or not cannabis curing and cannabis flushing truly do affect the white vs dark cannabis ash, but it is still important to perform these processes — and thoroughly. As a consumer, it is important to purchase from trusted cultivators (like our vendors), who have proven records of producing quality cannabis flower.
A Look at How Combustion Affects Cannabis Ash
Combustion plays a pivotal role in the color of cannabis ash, and it can actually be the true reason behind why your ash is either burning white or dark.

When combustion takes place at high temperatures, organic material (like cannabis) is properly burnt, resulting in a low nitrogen concentration and, thus, white ash.

When combustion takes place at low temperatures, on the other hand, the organic compounds are not properly burnt, resulting in the production of dark ash.

With that in mind, white vs dark cannabis ash has little (if anything) to do with the quality of the cannabis, but rather the temperature of the combustion of the flower.
Busting the White vs Dark Cannabis Ash Myth
The ash myth has been around for decades and is one that doesn't seem to be going anywhere. But, while you cannot actually determine the quality of cannabis just through the color of the ash as it burns, there are other indicators to look for. 

Indications of quality cannabis flower include: 

Aroma: Cannabis that contains strong terpenes has a very robust scent.
Trichomes: An abundance of clear or white trichomes indicates a high presence of cannabinoids
Texture: The buds should be dry to the touch, but not so dry they crumble in your hands. If they are overly fluffy and soft, however, there is too much moisture present in the buds.
Do you follow the white vs dark cannabis ash myth? Share your thoughts in the comments. 

---
Disclaimer: Marijuana has intoxicating effects and may be habit-forming. Smoking is hazardous to your health. There may be health risks associated with consumption of Marijuana. Marijuana, in any form, should not be used by individuals that are pregnant or breastfeeding. Marijuana is intended for use only by adults 21 and older. Keep out of reach of children. Marijuana can impair concentration, coordination, and judgment. Do not operate a vehicle or machinery under the influence of this drug. This product may be unlawful outside of Washington State.