Vintage Northern Lights Joint by Kiona
Vintage Northern Lights is Kiona's phenotype of the classic 1980s indica, a strain known for its resinous buds, delicious flavor, fast flowering, and durability during its growth.
Kiona's been around since back in 2014, offering premium cannabis produced by all-natural, sun-grown techniques that bring together traditional and modern production methods. All of their strains are produced with minimal environmental impact and a focus on the preservation of the distinctive highs and flavors that come from their lineages.
If you're looking for a delicious indica that offers deep body relaxation, long-lasting sedative effects, and an overall sense of calm and well-being, this Vintage Northern Lights joint is exactly what you should be lighting.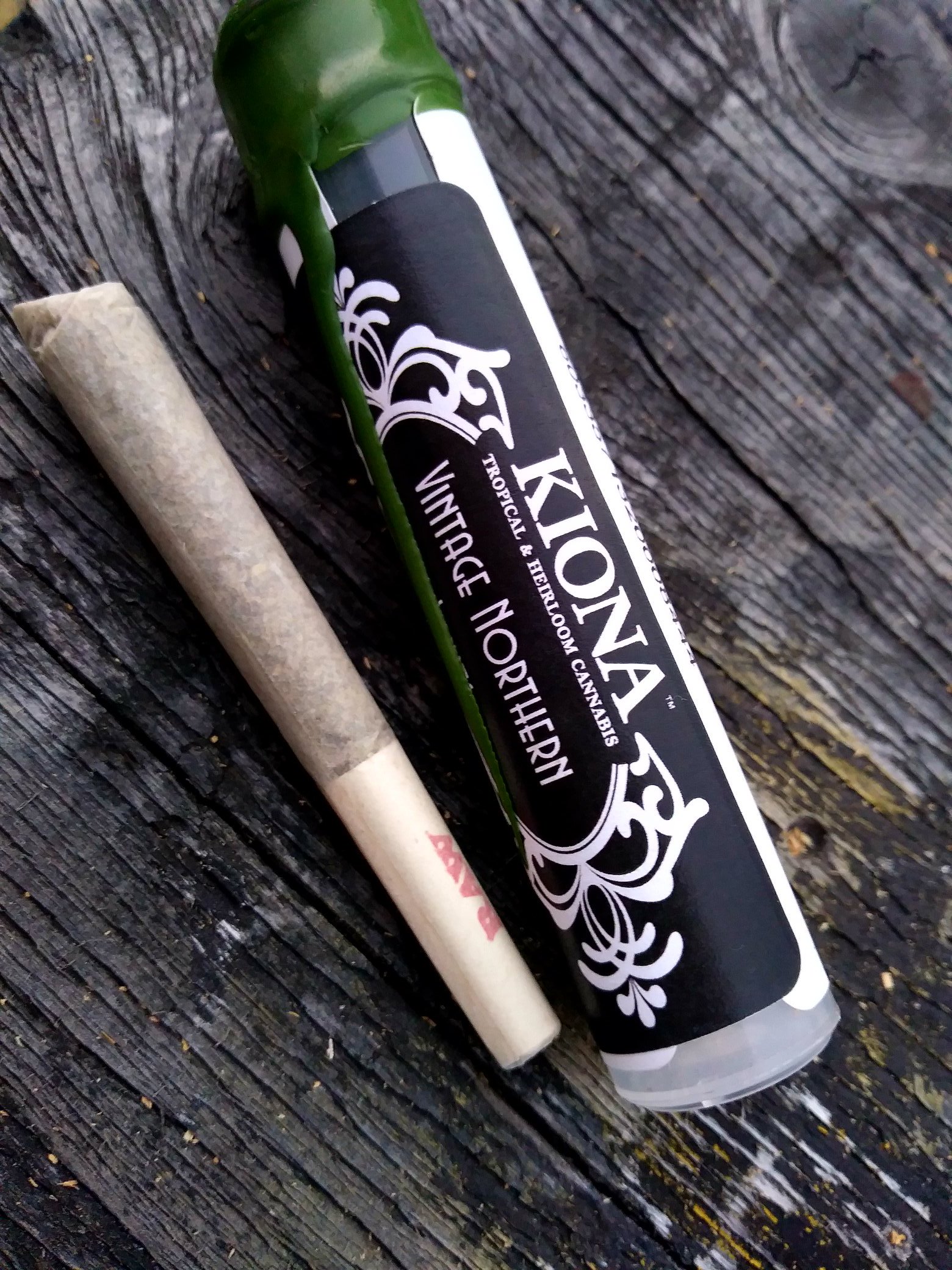 Taste and Smell of Vintage Northern Lights
When rolled into a joint, the aroma of the Vintage Northern Lights has a musky citrus quality to it, with strong notes of pine and eucalyptus.
Light this one up, and you'll immediately get a taste of that slightly sweet, citrusy flavor hinted at by the aroma. This is quickly followed by a buttery juniper taste that leaves a subtle pine aftertaste in your mouth. The smoke is smooth and full, which definitely plays a role in the fast-hitting effects of this strain.
Effects of Vintage Northern Lights
Many joints tend to hit quickly, but the effects of Vintage Northern Lights come on faster than most other strains do with its THC level of 20.54%.
Take a hit, and you'll immediately get a strong sense of euphoria and strong cerebral effects.
Have a few more tokes, and you'll start feeling this indica's distinctively strong body high take over. Settle back into the couch and enjoy the pleasant, comforting sense of overall well-being and pure happiness. It's perfect for relaxing your muscles and for getting a strong sense of calm.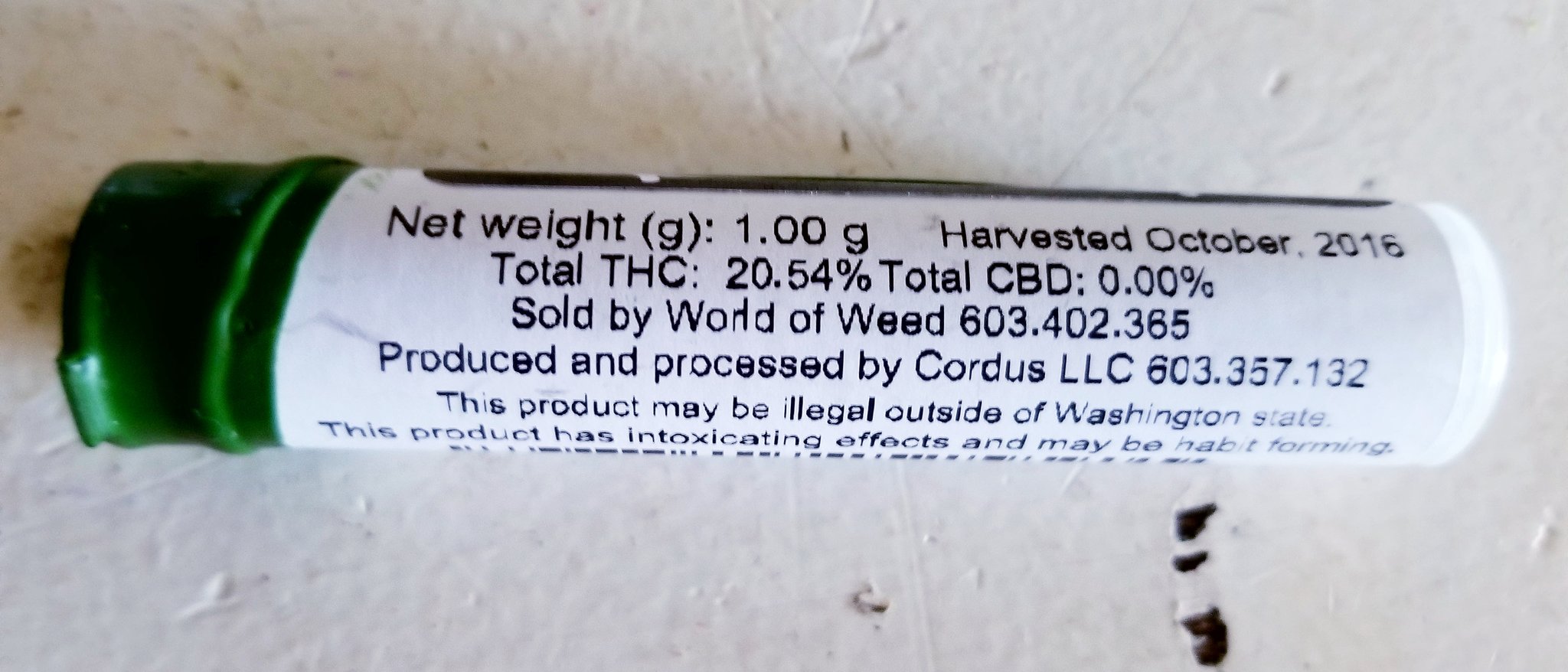 Vintage Northern Lights Strain Reviews
Kiona's take on the legendary Northern Lights strain has been met with rave reviews and a fiercely loyal fanbase.
Check out what some of these people had to say about this Vintage Northern Lights joint:
"This is SO good! It's kinda sweet, but not too sweet. It has that juniper berry taste, but it's not overwhelming. I feel so relaxed right now, and I'm definitely happy. It's a great mood booster!" – Sarah W.

"Oh, wow. This one's so good! I love this. It's definitely delicious and has that earthy taste that I really like when I smoke. I've only had one hit, and I can already feel my anxiety going away. Definitely like this one." – Karen S.

"I don't usually like joints, but this one's amazing!" – Mandee K.

"My only question is: When can we go get more of these?" – Dave R.

"This one hits pretty fast, but it's pleasant. There's a definite head high, but it's not overwhelming and doesn't give me that spinning feel like some stronger joints do. It has the body high of an indica, but the mental high of a sativa. I really like this one." – Lisa F.
They liked it, and now you will too. Head on down to our shop and pick up some of these Vintage Northern Lights joints today!
Have you smoked Vintage Northern Lights by Kiona? Let us know what you thought of these joints down there in the comments below!
Disclaimer: Marijuana has intoxicating effects and may be habit-forming. Smoking is hazardous to your health. There may be health risks associated with consumption of Marijuana. Marijuana, in any form, should not be used by individuals that are pregnant or breastfeeding. Marijuana is intended for use only by adults 21 and older. Keep out of reach of children. Marijuana can impair concentration, coordination, and judgment. Do not operate a vehicle or machinery under the influence of this drug. This product may be unlawful outside of Washington State.