CBD oil has been flowing into thousands of different beauty products these days – it's even in toothpaste!
With CBD's calming, antioxidant, and anti-inflammatory properties, it's hardly surprising that this cannabinoid is coming into our wellness routines in waves. Now, as if it didn't do enough already, CBD oil may actually be what your irritated, inflamed skin needs to fight an acne breakout.
While there is still a whole lot of research that needs to be done in order to best determine how to most effectively go about using CBD oil for acne, there is an ever-expanding mountain of anecdotal evidence showing using CBD oil for acne does, in fact, work.
It works very well, actually.
Keep reading to learn all about using CBD oil for acne as part of your daily skincare routine.
Save the infographic below for future reference when considering using CBD oil for acne!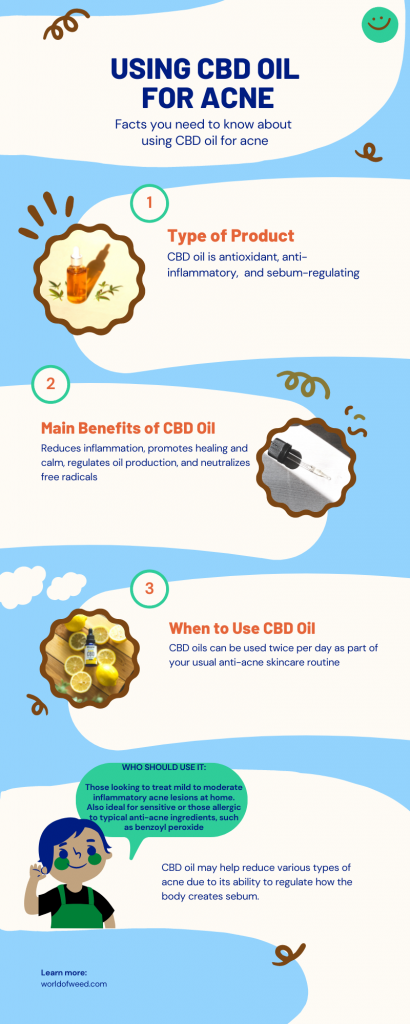 What Exactly is CBD Oil?

CBD oil is created by extracting cannabidiol (CBD) from the cannabis plant and diluting it in a carrier oil, such as MCT oil (coconut oil) or hemp seed oil. CBD is in a wide variety of skincare and wellness products both online and in stores (including us, your favorite Tacoma dispensary), and includes supplements, bath products, beverages, and food items.
CBD popularity only continues to build momentum in the wellness world, with myriad studies supporting the idea that CBD oil may alleviate the symptoms of a wide variety of conditions and illnesses, such as chronic pain, anxiety, and insomnia.
But, does CBD oil for acne actually work?
When it comes to the root cause of the acne flare-up – a combination of the overabundance of bacteria, oil, and dry skin cells becoming trapped in the pores of your skin – CBD oil appears to be the most effective, well-rounded solution.
CBD holds anti-inflammatory and antioxidant properties, in addition to reducing sebum production and being antimicrobial. All of which make CBD oil for acne an ideal solution. In fact, a 2007 study showed using CBD oil on the skin may inhibit the overproduction of skin cells, thereby eliminating a primary cause of acne.
The list of benefits of using CBD oil for acne starts there.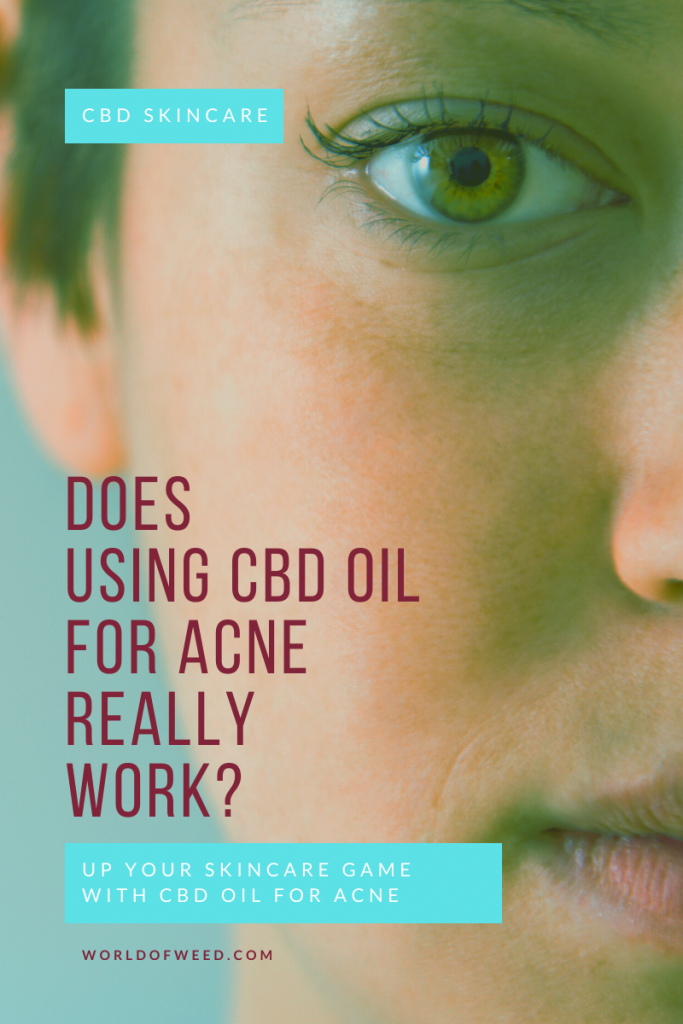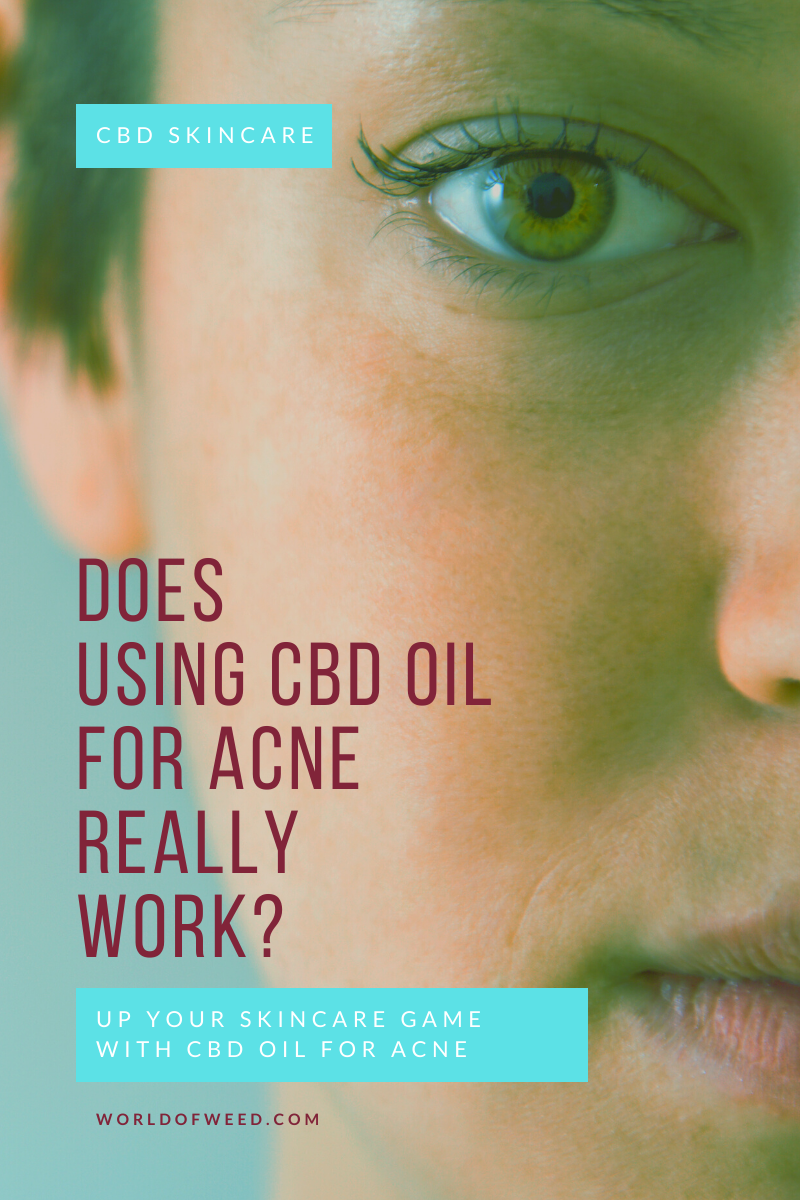 Benefits of Using CBD Oil for Acne
Evidence suggests CBD oil may be incredibly helpful for treating acne. What that really means tends to differ a bit by each case, depending on the type of acne you have and the cause.
CBD oil may help reduce the redness and inflammation of various types of acne, due to the inherent ability to regulate the body's sebum production. Sebum is an oily, wax-like substance produced by the skin.
Acne is the most common skin condition within the U.S., annually affecting up to 50 million individuals. With such a high occurrence rate, the majority of people will deal with acne to some degree at some point in their lives. This could be occasionally or chronically.
Sebum plays an important role in protecting your skin from the environment. However, it can get mixed with a whole host of debris – sloughed skin cells, dirt, moisture from the breath of other individuals, and other pollutants – and become trapped within one of your skin's tiny pores. This clogged up pore becomes inflamed and irritated, eventually becoming acne.
There are many reasons for this, from the excess of sebum and hormonal imbalances to genetics and medications. Other factors, such as diet, stress, and medication can also increase the severity of the acne.
A 2014 study observed the effects of the cannabinoid on human sebocytes, the cells that produce sebum. The study concluded that CBD prevented these cells from producing too much of the oily substance.
The study also showed using CBD oil for acne triggers an anti-inflammatory response in the skin cells and prevents the inflammatory cytokines from activating. These trigger acne, so cutting down the amount of them can help prevent acne flare-ups.
But, you know sebum isn't the only cause of acne.
A 2016 study of cannabis spotlighted CBD's antibacterial and antifungal effects, which can help reduce infection from dirt and other debris becoming clogged in the skin's pores.
These studies, and more, have shown time and time again that using CBD oil for acne is highly effective.
Benefits of using CBD oil for acne include:
Reduces inflammation: CBD oil soothes irritation from acne, most noticeably reducing redness, size of the breakout, and pain.
Regulates skin oil production: One of the most helpful things for CBD was the discovery that it is sebostatic, meaning it cuts oil production within the skin. The skin has its own endocannabinoid system, meaning there are active cannabinoids in the skin, binding to the endocannabinoid receptors, and signaling for certain physiological responses to either happen or not happen. This includes lipogenic action, thereby regulating sebum production.
Is an antioxidant: Using CBD oil for acne is effective due in large part to being packed full of potent antioxidants that provide the skin with protection from free radicals that stem from environmental damage. These antioxidants help repair the skin, improving the texture and tone over time.
Ideal for all skin types: Rather than being a localized spot treatment, CBD oil can help manage the overall skin issues that contribute to acne breakouts. Because it's naturally a gentle, natural, and anti-inflammatory product, CBD oil for acne works well for all skin types.
How to Use CBD Oil for Acne
When it comes to actually using CBD oil for acne, now that you know it's effective, you likely find yourself wondering: How do you use it?
The evidence in support of CBD as an acne treatment is purely topical. Use of CBD oil was topically tested, whereas oral and smoking methods of consumption have not been evaluated for the treatment of acne.
Fortunately, there's no shortage of topical CBD products. One of the most popular CBD products for acne is just CBD oil. Oils remain in the limelight of skincare, as they are effective and ideal for virtually every skin type (depending on the product's formulation). CBD oil is an easy thing to incorporate into a skincare regimen, is unlikely to adversely interact with your existing skincare products, and has multiple benefits.

Where to Buy CBD Oil for Acne in Tacoma
While there are plenty of places to buy CBD oil in Washington, buying from a reputable dispensary is going to be your safest bet.
As the widespread popularity of CBD products continues to grow, more and more companies are trying to cash in. Some of these companies advertise CBD oil for acne that contains things like metals and pesticides – things you definitely don't want to be putting on your skin! Many others don't even contain very much CBD at all.
Here are a few tips to help you find the best CBD oil for acne in Tacoma:
CBD brands are everywhere in Tacoma, so narrow your search to those carried by trusted dispensaries.
Read the COA. Any reputable CBD brand will have an available Certificate of Analysis for their CBD oil. The COA should be easily found on the brand's website.
Ask questions. A trusted Tacoma dispensary's budtenders should be knowledgeable about their CBD products, including the CBD oils. If they are unsure or won't help you learn, either look it up for yourself or find a different source.
Look for organic: CBD produced through organic processes is most likely going to be higher quality in terms of taste, effectiveness, and safety.
There are several ways to extract CBD from an industrial hemp plant. But, CBD oil produced through CO2 extraction (no heat or solvents involved) retains the majority of the plant's beneficial compounds. This method produces more consistent results in comparison to other extraction methods, such as via ethanol.
If you follow these steps, you'll be able to find a quality CBD oil for acne in no time.
Were you thrown off by the word "oil' up there? Yeah, we understand.
Perhaps that's because the concept of putting oil on acne-prone skin seems a bit counterproductive. But, we're here to let you know that using CBD oil for acne does, in fact, work, while giving you healthy, glowing skin you just can't believe.
So, to prove it to you – and let you know you've run out of excuses for not living that CBD oil life – we told you what exactly CBD oil is, how to use CBD oil for acne, and the benefits of CBD oil. Now, it's up to you to try it out.

---
Disclaimer: Marijuana has intoxicating effects and may be habit-forming. Smoking is hazardous to your health. There may be health risks associated with consumption of Marijuana. Marijuana, in any form, should not be used by individuals that are pregnant or breastfeeding. Marijuana is intended for use only by adults 21 and older. Keep out of reach of children. Marijuana can impair concentration, coordination, and judgment. Do not operate a vehicle or machinery under the influence of this drug. This product may be unlawful outside of Washington State.