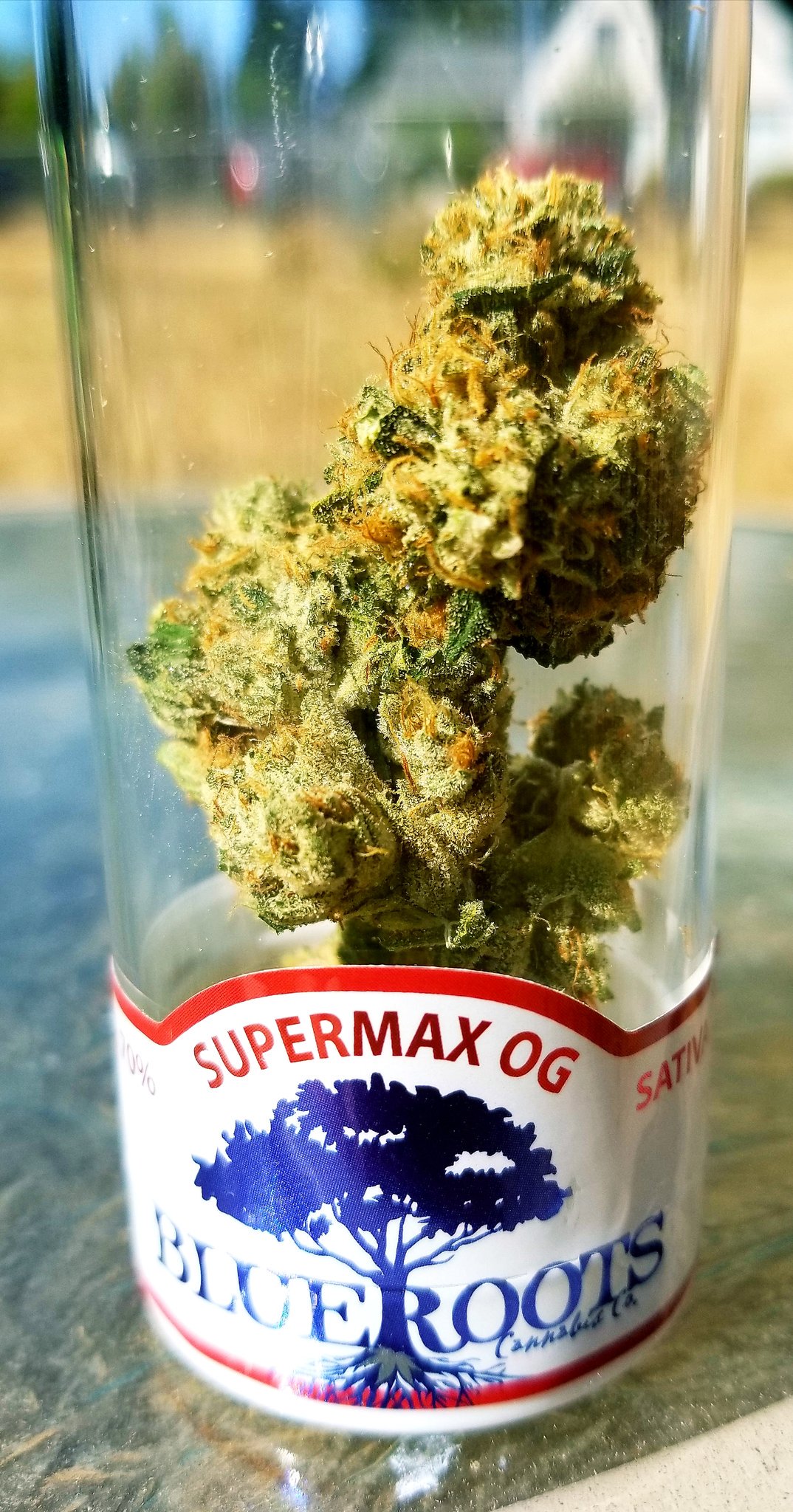 Supermax OG (Flower)
Supermax OG is an indica-dominant hybrid that was created by crossing the legendary OG Kush X Superman OG. As an OG strain, Supermax OG is highly sought after for its fast-acting effects and its distinct flavor. Take a hit, and you'll bathe your taste buds in the super dank, slightly lemony flavor with subtle notes of sweet spices. The aroma reminds you of a bag of fresh coffee beans, with its earthy-pine overtones that are the perfect complement to Supermax OG's spicy flavor.
Supermax OG is every bit as beautiful as it is delicious. Its buds are dense, oversized, and lumpy, with a vivid emerald-green coloration that is offset by bright, orange hairs. A thick glaze of glittering trichomes tops it off, leaving your hands sticky and leaving you wanting more.
With over 60 years of cultivation experience, Blue Roots offers only the best strains possible – something that really come through with their Supermax OG strain. This hybrid offers everything cannabis enthusiasts want, including fast-hitting effects and an intense body sedation.
Effects of Supermax OG by Blue Roots
Supermax OG is not only beautiful and delicious, but it's also insanely potent. With a THC level of 23.1%, this strain's high will hit you hard and fast, and will continue to build for about an hour to two hours, depending on your hits.
Small or big hits, you'll be soaring through the clouds with an intense euphoria and overall sense of complete happiness. As the high builds, you'll feel a rush of energy wash over that eventually gives way to a melty, strong full-body relaxation. However, this strain doesn't have the couch-lock that is commonly associated with indica-dominant hybrids. In fact, it's the perfect choice for hanging out with friends and socializing.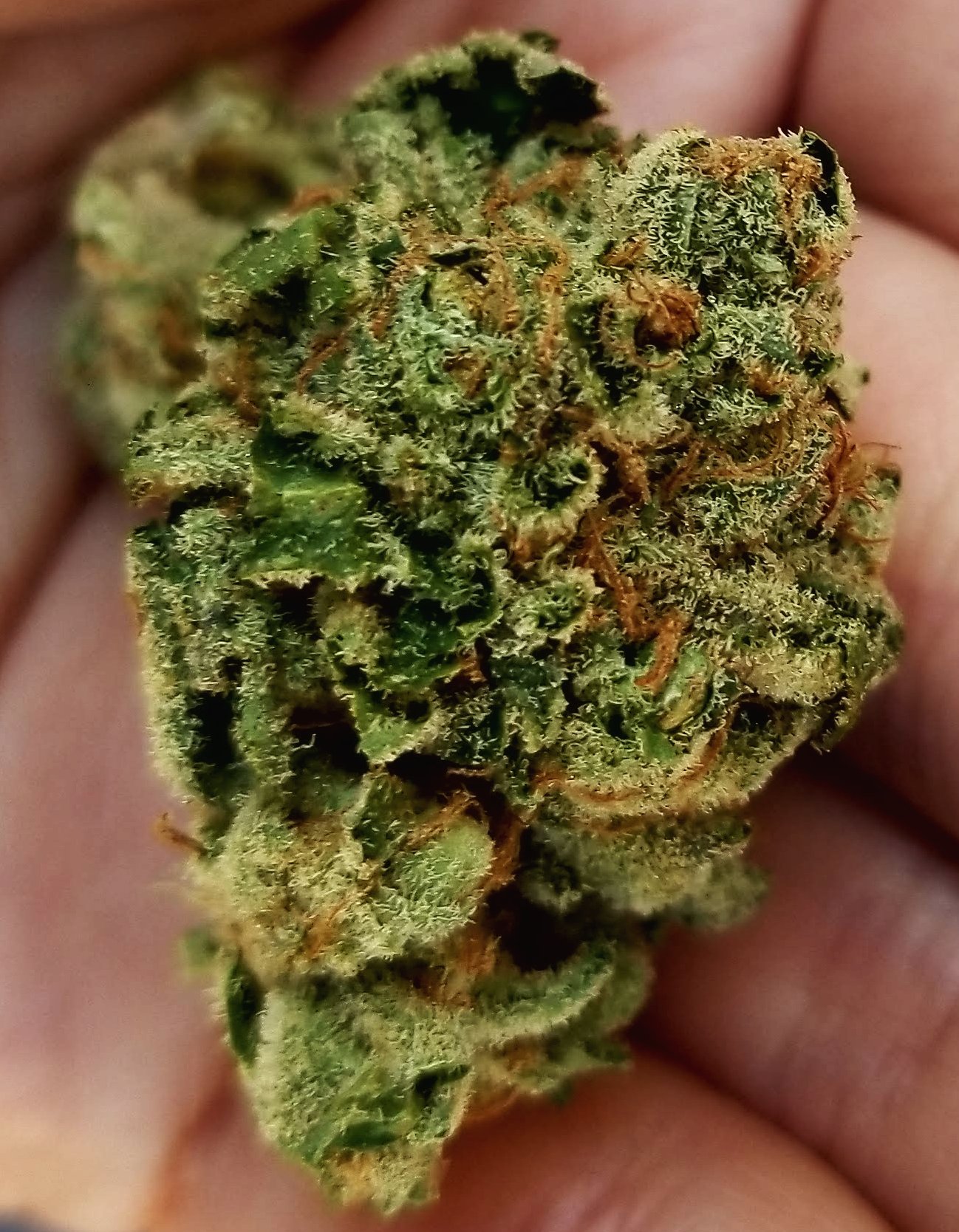 Gather up some friends, pack this into a bowl, and you'll all be laughing the day away. It's truly the perfect socializing, chill-out strain.
Supermax OG Strain Reviews
With its euphoric, relaxing effects, it's hardly surprising that Supermax OG is one of our most sought-after strains. Blue Roots and their strains have some pretty serious fans, and they only have good things to say about this strain:
" It's not as harsh as I was expecting it to be, especially considering how frosted these nugs are. It's absolutely delicious, with an earthy flavor that puts the SUPER in Supermax OG!" – George B.

"I really don't think I can ever get tired of this. Delicious, dank, and incredibly strong. I definitely love this one. The high lasts for a long time, but doesn't make you unfocused or give that groggy 'stony' feeling that other OG strains do." – Dylan G.

"I'm totally in love with Supermax OG! It's so good, and really gets you stoned. It's one of the strains that makes you laugh and talk about aliens, and it's definitely one everyone needs to have." – Katelyn L.

"Honestly, I don't know how to describe it. It's perfect. Absolutely perfect." – John M.

"Oh, wow. It has that freshly turned soil smell, and tastes like earth and pine. There's some spice to it, which I love. It seriously lives up to the OG lineage." – Ashley T.

"Supermax OG is incredible. It's super potent and gets you really stoned. But, I didn't get that couch-lock (which I hate), and the munchies weren't all that bad. As a health nut, that's a big thing for me." – Maddie K.
Price of Supermax OG by Blue Roots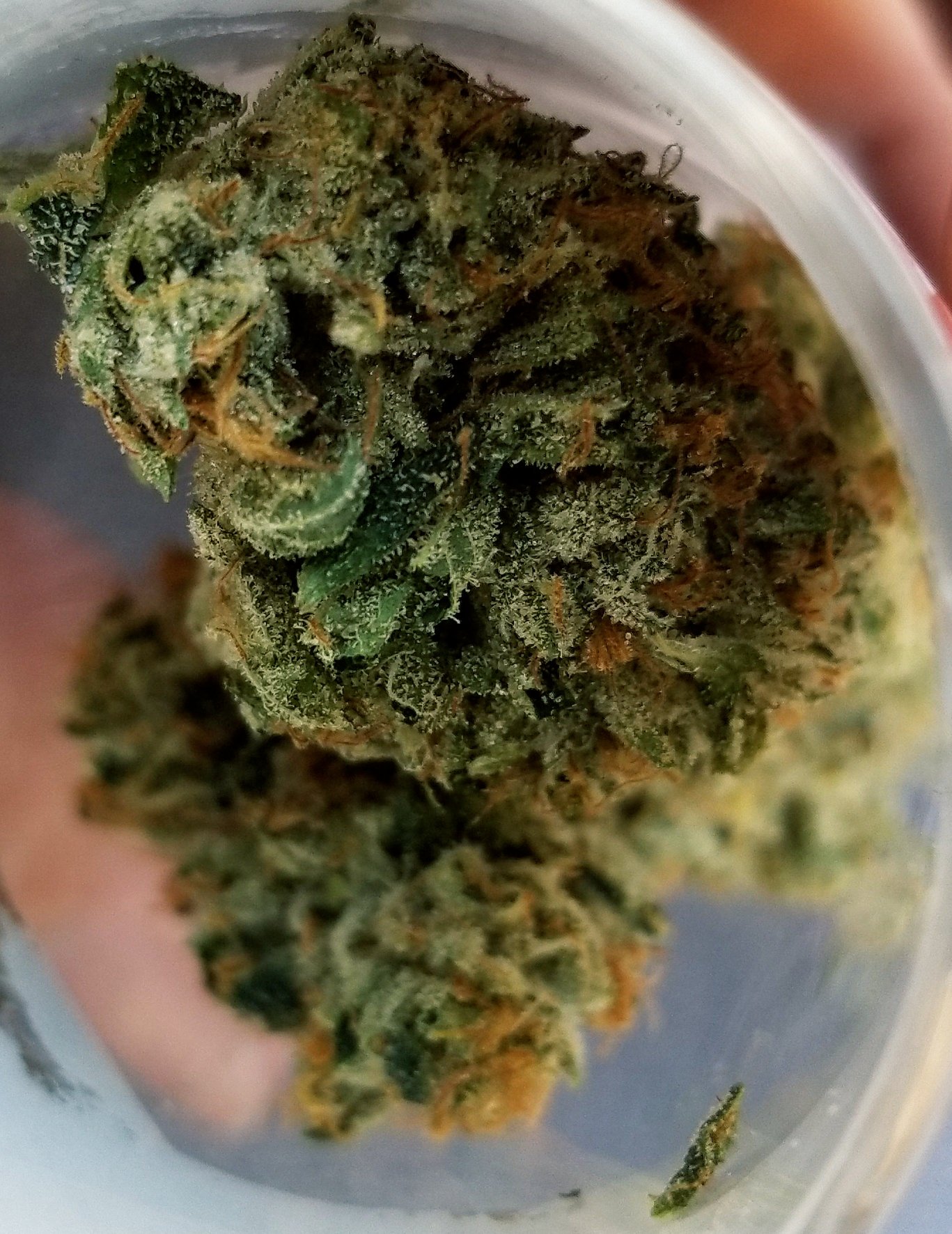 In addition to offering daily, must-have deals, we at World of Weed keep our prices affordable. It shouldn't be difficult to get your hands on premium bud, and we've definitely got you covered on that front.
Supermax OG is available in our shop for:
$13 for 1 g
$34 for 3.5 g
$130 for 14 g
What are you waiting for? Come on into the shop and try some for yourself!
What did YOU think of Supermax OG by Blue Roots? Share your experience in the comments below!
** Blue Roots will be visiting the store from 4pm to 8pm on Friday, September 29th. Be sure to stop by the shop and let them know how much you love their strains! **
Disclaimer: Marijuana has intoxicating effects and may be habit-forming. Smoking is hazardous to your health. There may be health risks associated with consumption of Marijuana. Marijuana, in any form, should not be used by individuals that are pregnant or breastfeeding. Marijuana is intended for use only by adults 21 and older. Keep out of reach of children. Marijuana can impair concentration, coordination, and judgment. Do not operate a vehicle or machinery under the influence of this drug. This product may be unlawful outside of Washington State.