We asked customers to share their sweetest memories of getting smoking with Mom. Have a poignant story of your own? Leave it down in the comments for a chance to have your story published in an upcoming World of Weed blog post.
Short, Sweet Stories About Smoking With Mom (That Will Totally Make You Want to Blaze With Yours)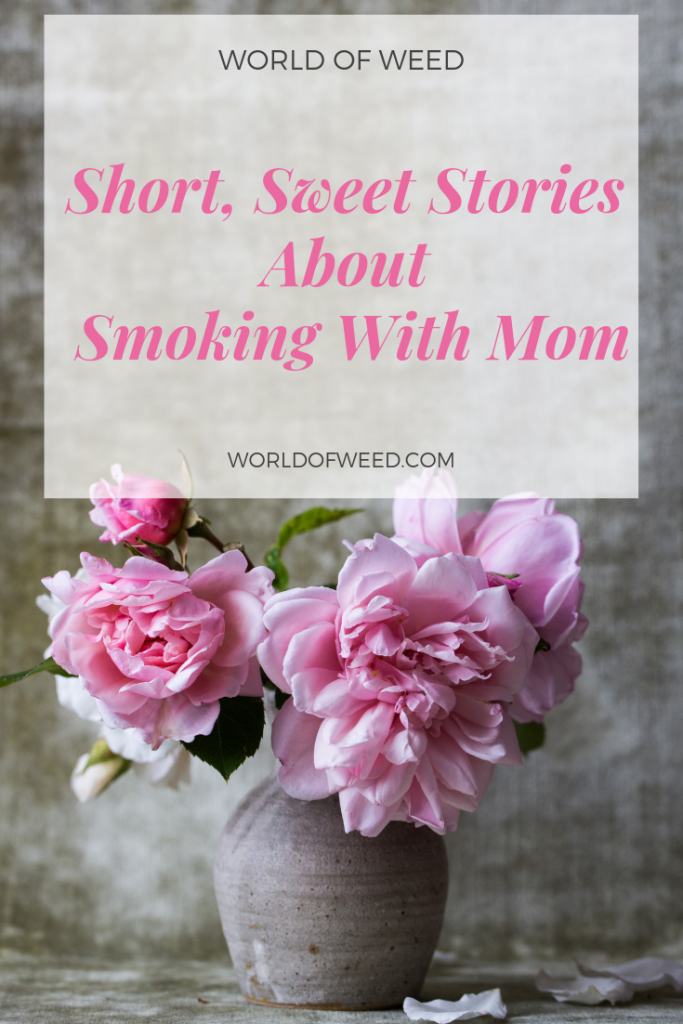 Stay Up
by Emily W.
He broke my heart. It was the day before my birthday, and he broke my heart. I sat on the couch, learning how hard it is to hit the bong while crying. I passed it to my mother sobbing, "What am I gonna do now?" Sitting next to me, she handed me a piece of advice I still carry close to my heart and use daily: "Stay up." You can't change a situation. Bad things happen. We get hurt. But, we can always do one thing to get us through it: Smoke. I live by these words. Have a crappy day and you're just mad at the whole world? Stop, breathe, and stay up. When you're up, there's no negativity.
To Mom, on Mother's Day
by Jackie M.
Back in the 70s, mother made a Mother's Day card for her mom (my grandma) that had a fat joint that looked pretty old, with a note that said: "To Mom, on Mother's Day – – Enjoy the joint! Love you." Recently, while I was helping my mother clean out her attic, we came across this gem of a card. After this discovery, I learned my mother and my grandparents were huge stoners back in the day. Know what we did next? We smoke that joint from the 70s together, and bonded over some good ol' Mary Jane.
Well, That Was Unexpected
by Derek G.
It finally came, that day I'd been worried about from the moment I started smoking pot at 14. I was 16, and that day finally came. I had seen it coming, but there was nothing I could do. I didn't have time to hide my weed and bong, not to mention all the smoke. My mom came home early, and I was busted. But, she walked in and just started laughing. I was so confused 'cause, like, there's no way she could have been high already. So, what was up? Turns out, she'd had a hard day at work and had been missing the days when she smoked pot. So, she joined me down on the floor and took the bong. She packed a new bowl and cleared it in one hit like a pro. I never got in the trouble, I got to smoke with my mom, and we went out to dinner when the munchies took over. It was great!
My Best Idea
by Gina R.
It may seem weird, but I freaking love smoking with my mom. She's hilarious and a ton of fun to get stoned with. One time, we had a light go out in an overhead lamp. As I was screwing in the new one, she suddenly burst out laughing. "Wait! Wait! Let me stand under it." She stood under it, and had me screw it in. When it lit up, she said, "This is when I think about you. My best idea!" And then she proceeded to laugh so hard, she farted. Which, of course, just made us both laugh until we cried. She's great.
Do you have a story about smoking with Mom?
Share it with us down in the comments!
---
---
Disclaimer: Marijuana has intoxicating effects and may be habit-forming. Smoking is hazardous to your health. There may be health risks associated with consumption of Marijuana. Marijuana, in any form, should not be used by individuals that are pregnant or breastfeeding. Marijuana is intended for use only by adults 21 and older. Keep out of reach of children. Marijuana can impair concentration, coordination, and judgment. Do not operate a vehicle or machinery under the influence of this drug. This product may be unlawful outside of Washington State.