Celebrate the spring season with one or more of these six sweet marijuana strains that make the most of fruity and dessert flavors.
Whether you're all about the chocolate, or tend to prefer berry flavors, these sweet marijuana strains are perfect for seshing on a spring afternoon.
There are so many delicious strains to choose from in this sweet marijuana strains roundup – – all from Cannavore. Take a look at these savory strains, ready for your next sesh.
6 Sweet Marijuana Strains From Cannavore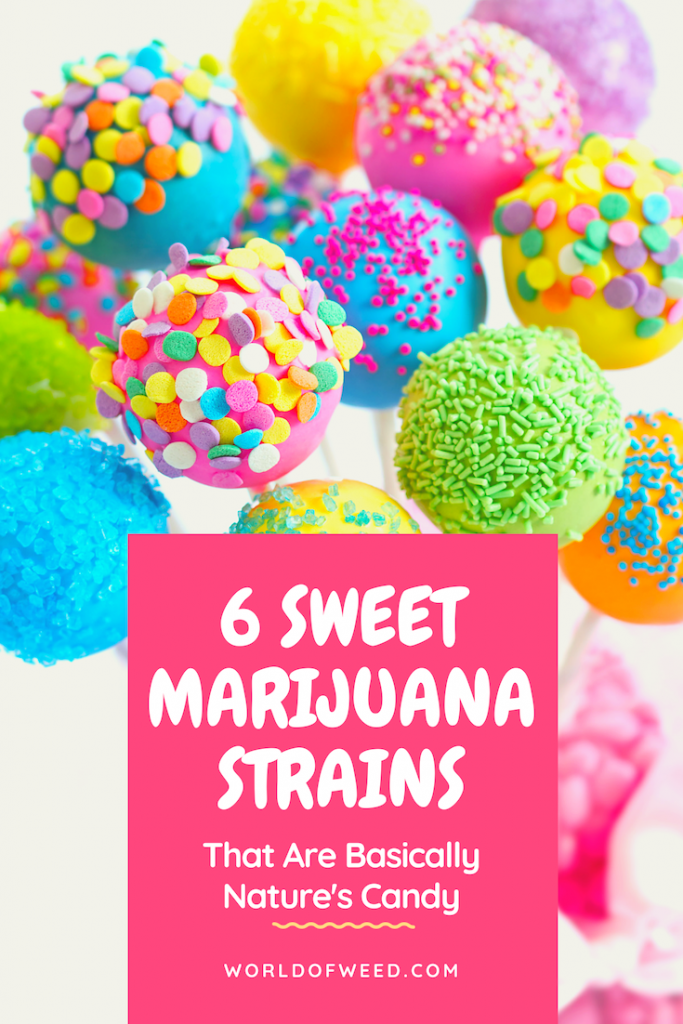 Blackberry Dream
Sativa Hybrid ; THC 20.82% , CBD 0.1%
Blackberry Dream is a sweet sativa hybrid created from the crossing of Super Silver Haze x Kimbo Kush. With its multifaceted effects and unique high, the Blackberry Dream strain is a great choice for beginner and seasoned smokers alike.
The Blackberry Dream strain is one that stands out just as much visually as it does by aroma and flavor. The buds of this strain are notably huge, with a rounder shape and structure that looks more indica than sativa. Small leaves tightly twist toward the center, their yellow-green color standing out next to the vividly orange pistils. These large nugs are coated in a thick dusting of trichomes, making them super sticky.
Just like its name suggests, Blackberry Dream smells like sweet-tart berries with undertones of skunky citrus. Take a hit, and you'll enjoy a fruity, sweet smoke that lingers on the palette.
This strain hits you immediately, unlike many of the creeper strains. Uplifting, euphoric, and energizing, the sativa traits are clear in Blackberry Dream. After a bit, the cerebral high is paired with a mellow body relaxation. While this one won't put you to sleep, it will help you physically relax while keeping uplifted and full of energy. This is a great strain for seshing with friends.
Captain's Cake
Indica Hybrid; THC 20.38% , CBD 0.1%
This indica hybrid is one powerhouse of a strain, boasting a THC level of 20.38%. Captain's Cake is a must-have for any list of sweet marijuana strains, created through crossing Girl Scout Cookies x Fire Alien OG. This potent combination yields flower that tastes just as sweet and delicious as it smells. The buds have a sweet, toffee-nut flavor with sugar cookie and vanilla undertones, offset by a citrusy exhale. The aroma is a bit different than the flavor, with a sour-earthy scent with strong overtones of lemon and berries.
The fluffy, dense buds of Captain's Cake are bright green, paired with wispy, vibrantly orange hairs and a sparkling layer of golden trichomes. Take a couple hits of this beautiful bud, and you'll immediately start to feel the relaxation wash over you. From your head on down to your toes, your body and mind relax and calm with each hit you take. Be sure to enjoy this one at night, or you'll go right to sleep in the middle of the day!
Cookies n Cream
Hybrid ; THC 20% ; CBD 0.06%
Cookies n Cream is a balanced, sweet hybrid created by crossing Starfighter and a Girl Scout Cookies phenotype. Being such a balanced hybrid, this strain offers the best of both worlds when it comes to effects and has a THC composition of a staggering 20%.
One of the best sweet marijuana strains out there, Cookies n Cream tastes and smells just like dessert — with a nutty, vanilla flavor and sugar cookie aroma. At the back of the flavor, there's a hint of herbal-sourness that comes from the Starfighter genetics. Overall, it's sweet and delicious – – and will have you wanting real cookies ASAP!
The Cookies n Cream strain is more of a creeper, with effects that build gradually. Starting with a lightheaded floatiness, a full-body relaxation washes over you as you become more mentally focused, uplifted, and rejuvenated. This is a great social strain, perfect for seshing with friends, as well as for an afternoon pick-me-up.
Marshmellow
Indica Hybrid ; THC 22.47% , CBD 0.1%
Born from the crossing of OG Kush x a mystery strain, Marshmellow is an indica hybrid that packs quite the punch with its impressive THC concentration of 22.47%.
Just as the name suggests, the Marshmellow is one of the sweet marijuana strains you absolutely have to try this spring. It has a sweet candy flavor, accented by some fruitiness and hints of honey. It smells just as sweet, with a sweetly pungent marshmallow scent that hangs around in the room. If you're trying to get the smell of weed out of the house, this isn't going to be your friend.
Marshmellow is definitely a hybrid, with an emphasis on the "mellow" part of its name. The first few hits will have you in a hazy, yet euphoric and uplifted mindset. From there, the high spreads throughout your body, relaxing all of your limbs and melting away stress and tension.
For most people, smoking Marshmellow tends to end in a nice nap and a snack. So, while this isn't the best choice for a social sesh, it's a great strain for unwinding solo after a grueling day.
Orange Pop
Sativa Hybrid ; THC 21.12% , CBD 0.1%
Orange Pop is a uniquely Cannavore strain that's quickly become a customer favorite with its dank, earthy aroma and sharp citrus flavor. One of the best sweet marijuana strains in Washington, Orange Pop offers a powerfully uplifting cerebral high that has you floating through a blissful, hazy daze. A creative, energetic, and uplifting strain, Orange Pop makes for a great Wake and Bake strain or one to smoke while working on something creative.
Rainbow Cookies
Sativa Hybrid ; THC 22.91% , CBD 0.1%
Rainbow Cookies, also commonly called "Sherbet Cookies", is a sativa hybrid, created by crossing Platinum Cookies x Sunset Sherbet – – making it a sister strain of the classic Gelato.
Definitely one of the sweeter marijuana strains around, Rainbow Cookies has an incredibly sweet, delicious flavor and uplifting effects. The bud tastes like sweet citrus fruit and fresh berries, with bold notes of vanilla-nuttiness. It smells just as good as it tastes, giving off a super sweet, citrus-berry aroma with floral notes.
Take a few hits of this sweet marijuana strain, with its high THC content of 22.91%, and your mind will start to soar as the creative juices get going and you get a boost of euphoric energy. Your body may be calm, but you're ready to create something – – or, at the very least, have an awesome smoke sesh.
Which of these sweet marijuana strains have you had?
Share your experience down in the comments!
---
Disclaimer: Marijuana has intoxicating effects and may be habit-forming. Smoking is hazardous to your health. There may be health risks associated with consumption of Marijuana. Marijuana, in any form, should not be used by individuals that are pregnant or breastfeeding. Marijuana is intended for use only by adults 21 and older. Keep out of reach of children. Marijuana can impair concentration, coordination, and judgment. Do not operate a vehicle or machinery under the influence of this drug. This product may be unlawful outside of Washington State.