Compared to the rest of the country, Washington has its own distinctly unique marijuana landscape. A legalized state since 2012, Washington has championed some of the finest, strongest marijuana strains. And you're about to discover some of them.
Here are five of the strongest marijuana strains in Washington – – cannabis enthusiasts and Washington stoners, have you tried any of these insanely potent strains?
5 Strongest Marijuana Strains in Washington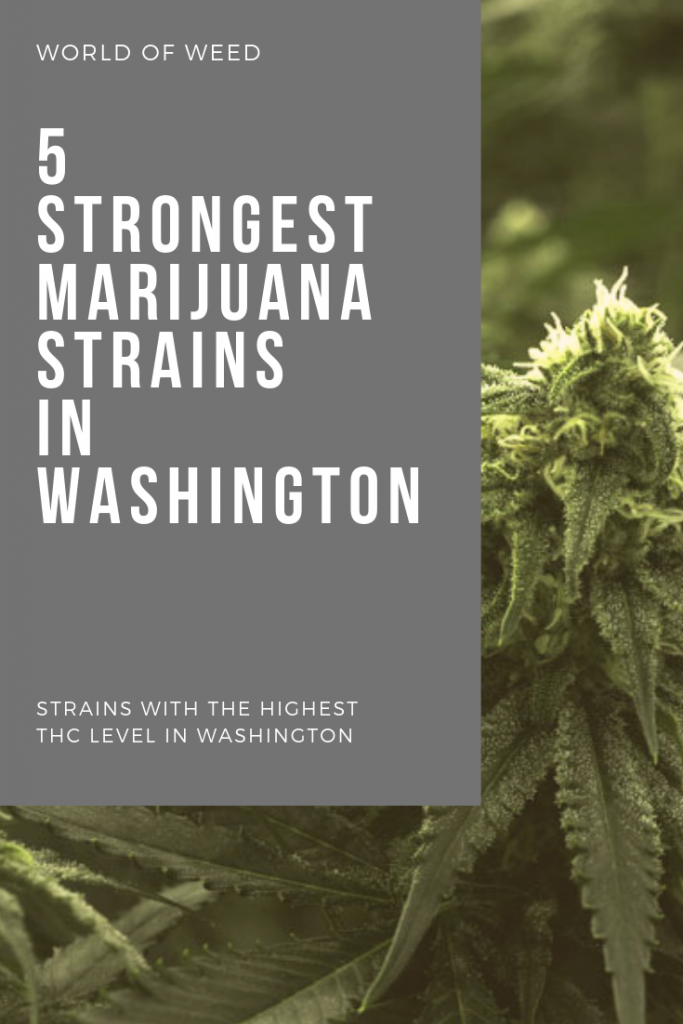 1. Pineapple Kush
Pineapple Kush is one of those rare strains that's hard to forget, boasting a THC level of 28% and sweet, tropical-pineapple flavors and aromas. Take a hit of this strain, and get an instant rush of euphoria and an uplifted mood, paired with mental relaxation. The body high is definitely one that will bring on some strong couch-lock and super powerful munchies that will demand to be satiated.
While this strongest of the marijuana strains in Washington is an indica dominant that's best enjoyed at night, this won't be one that will put you to sleep. Uplifting and relaxing, this is a great strain for unwinding at the end of the day or for seshing with friends.
2. GG #1
GG#1 is a popular favorite among Washington stoners, sought after for its intensely powerful and super sedating high. With its earthy and pungent aroma, GG#1 is not only one the strongest marijuana strains in Washington, but it's also one of the tastiest. With flavors and aromas of a freshly brewed mocha, GG#1 is a sweeter strain, but with bold sour notes that linger on the tongue long after you've finished your sesh.
With a THC level of 27%, GG#1 is a potent indica with a powerful, long-lasting high. Take a hit of this strain, and you'll immediately blast your brain with a euphoric sense of calm and relaxation, with sedating body effects that make this the perfect choice for relaxing after a tough day.
3. Purple Cadillac
A flowery indica, Purple Cadillac is one of the strongest marijuana strains in Washington and boasts a THC concentration of 26.27%. This strain will leaving you feeling as blissfully relaxed as if you just got a deep massage. Relaxing and blissful, Purple Cadillac is one of the sedating strains that is sure to put you right to sleep.
4. Maui Wowie
One of the strongest marijuana strains in Washington, Maui Wowie is a sativa dominant strain that is so thickly frosted with trichomes, it glitters like it's made of diamonds. Carrying aromas and flavors of citrus and pine, with notes of pineapple, the tropical Maui Wowie offers intense euphoria and an energizing, uplifting buzz that acts at the perfect pick-me-up.
Boasting a THC level of 25.14%, this sativa is an energizing strain that outperforms coffee and makes for a great Wake and Bake.
5. Trainwreck
Trainwreck is a powerful sativa hybrid that confers an intense, long-lasting cerebral high that will boost your mood, leaving you with plenty of energy. But, oddly enough, Trainwreck also displays the majority of its indica effects as well – – bringing on a warm, full-body relaxation buzz.
In addition to its striking effects and high THC level of 24.62%, the strain also has a striking appearance. Trainwreck's dense buds are covered with notably thin leaves and are full of resin. Snap open a bud, and a strong citrusy aroma will wash over you, totally different from the strain's peppery flavors.
This hybrid gives the best of both worlds, born from a powerful mix of sativa Thai, indica Afghani, and sativa Mexican. Leaning far more toward the sativa side than indica, this is the perfect strain for getting a boost of productivity, lifting your mood, and starting your day off with an energizing Wake and Bake.
Have you had any of these five strongest marijuana strains in Washington?
---
Disclaimer: Marijuana has intoxicating effects and may be habit-forming. Smoking is hazardous to your health. There may be health risks associated with consumption of Marijuana. Marijuana, in any form, should not be used by individuals that are pregnant or breastfeeding. Marijuana is intended for use only by adults 21 and older. Keep out of reach of children. Marijuana can impair concentration, coordination, and judgment. Do not operate a vehicle or machinery under the influence of this drug. This product may be unlawful outside of Washington State.