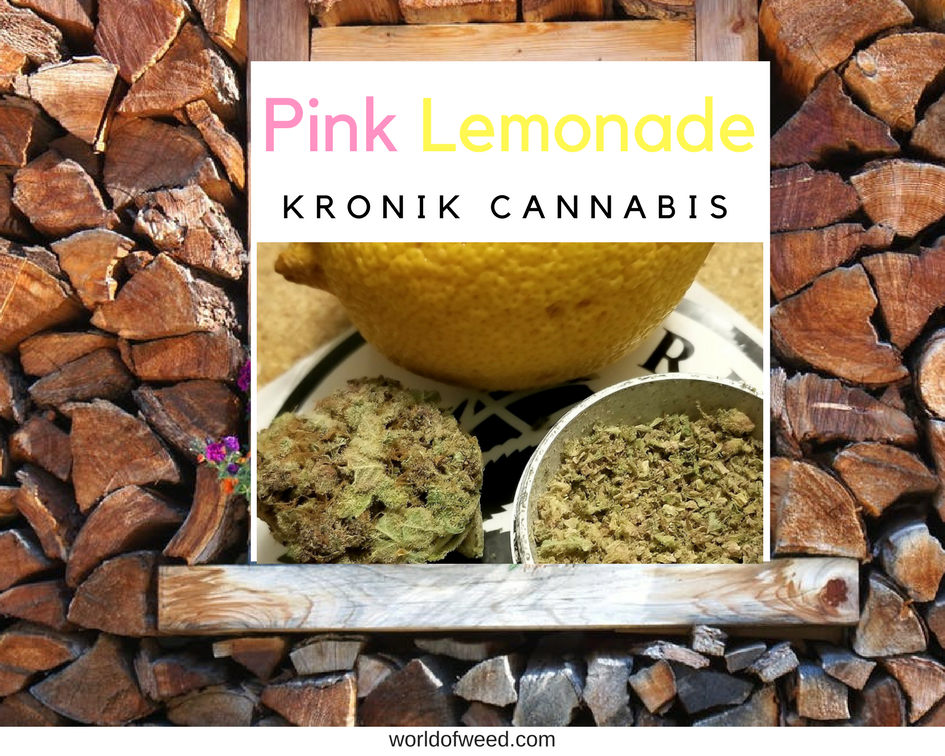 Pink Lemonade (Flower) by Kronik Cannabis
You've rung in the new year, enjoyed some Champagne Kush, and said a big GOODBYE to all the worries of 2017. So, now it's time to welcome Spring!
What better way to celebrate the the days getting longer, and the sky getting clearer, than with a refreshing Pink Lemonade?
We've got some…but it's nothing like what Momma used to make.
Pink Lemonade by Kronik Cannabis is an indica-dominant hybrid that functions so much like a sativa that it may as well just be one. This complicated strain blessed us all with its existence when someone crossed Purple Kush x Lemon Skunk x Some Unknown Strain. Even though the Pink Lemonade strain has an ambiguous heritage, it's one absolutely delicious strain that has caught the attention of cannabis lovers all around the Pacific Northwest.
This popular strain is every bit as refreshing and savory as the name suggests. Take a hit, and full smoke carries the sweet, sugary flavors across your taste buds, supercharging your senses just like regular lemonade. Flavors of sweet-sour lemon candy, with mildly earthy undertones, come paired with a sour earth aroma that is complemented by sharp lemon and subtle notes of fruity candy sweetness.
The flavor and aroma aren't the only great things about the Pink Lemonade strain, though. The buds have beautiful, jade-green buds that are covered with light orange hairs and a thick layer of frosty, pinkish crystal trichomes. These dense, spade-shaped nugs catch the light much like the way ice in a tall glass of Pink Lemonade catches the sun. Break one open, and you'll see purple and darker green, just like any other strain. This Pink Lemonade strain is special, though – It has golden-pink splotches inside. It's certainly one of kind, especially with that rose-gold coloration.
The Pink Lemonade strain is the perfect choice for passing around a group of friends as you laugh the day away. As the blue sky gives way to pink and purple, the shadows grow longer, and the day comes to an end…You're going to want to kick back and relax with some sweetly tart Pink Lemonade.
Effects of Pink Lemonade Strain
The high of the Kronik Cannabis Pink Lemonade Strain is every bit as impressive as its flavor, giving the user uplifting effects that are pretty much all cerebral. This is a bit surprising, considering it's an indica-dominant strain, but there is definitely an energetic rush that melts away into euphoria and creative focus.
If you need to get some work done, or want to do something creative, be sure to have a nice glass of Pink Lemonade by your side!
As your high builds, that energetic rush will subside. You're then gently lulled into a whimsical, introspective state full of daydreams and nostalgic thoughts. With these effects and the high 22.97% THC level, it's easy to see why the sugary-tart Pink Lemonade strain is in such high demand.
Pink Lemonade Strain Reviews
You already know Kronik Cannabis is a hugely popular strain, but check out what some of our customers have had to say about Pink Lemonade:
"This may be an indica, but it hits like a sativa. I was full of energy, like if I'd just downed a bunch of sugary pink lemonade. Needless to say, this one lives up to its name. I'm looking forward to buying more."
Kerry L.
"I'm not one for sweet strains, so I basically avoided this one after hearing how it has candy flavors and what-not. However, I am REALLY glad I took a chance and smoked some of the Pink Lemonade strain…and I was instantly a fan! It's absolutely delicious, and the sweetness factor is more in terms of a subtle sugary flavor. It's not explicitly sweet. I love this, and am coming back soon to stock up on one of those big bags of it!"
Ray P.
"The Pink Lemonade strain is beautiful. I kept stopping everyone because I wanted to take some time to look at how pretty it is. Minty-colored leaves, glistening trichomes, and beautiful orange tendrils – Pink Lemonade is STUNNING."
Julia D.
"It's pretty. It smells dank. It's delicious. It's potent. I love it."
Becca R.
As you can tell, our customers absolutely love the colorful sweetness that is the Pink Lemonade strain.
Price of Kronik Cannabis Pink Lemonade Strain
You've heard all about how great the Pink Lemonade strain is. Well, now it's your turn to try it.
Ready to kick back and relax with a tall glass of Pink Lemonade?
Our glass of lemonade is a bit more than just a quarter, but you'll be having silly conversations about aliens and memes in no time with this strain.
We've got the Kronik Cannabis Pink Lemonade strain available for:
$10
1g

$30
3.5g
$89
14g
Plus, we've always got great deals going on that you definitely don't want to miss out on! So, head on down to the shop on grab some Pink Lemonade for yourself.
*** Kronik Cannabis will be in the store for Vendor Day on 1/5 from 4pm to 7pm. ***
Have you had a nice glass of Kronik Cannabis' Pink Lemonade strain? Tell us what you thought about it down in the comments!
Disclaimer: Marijuana has intoxicating effects and may be habit-forming. Smoking is hazardous to your health. There may be health risks associated with consumption of Marijuana. Marijuana, in any form, should not be used by individuals that are pregnant or breastfeeding. Marijuana is intended for use only by adults 21 and older. Keep out of reach of children. Marijuana can impair concentration, coordination, and judgment. Do not operate a vehicle or machinery under the influence of this drug. This product may be unlawful outside of Washington State.