…as visions of sugar cones danced in their heads.
Need a powerful indica to help you relax after a long day?
Then you've got to hit try this Oleum Purple Punch Sugar Cone!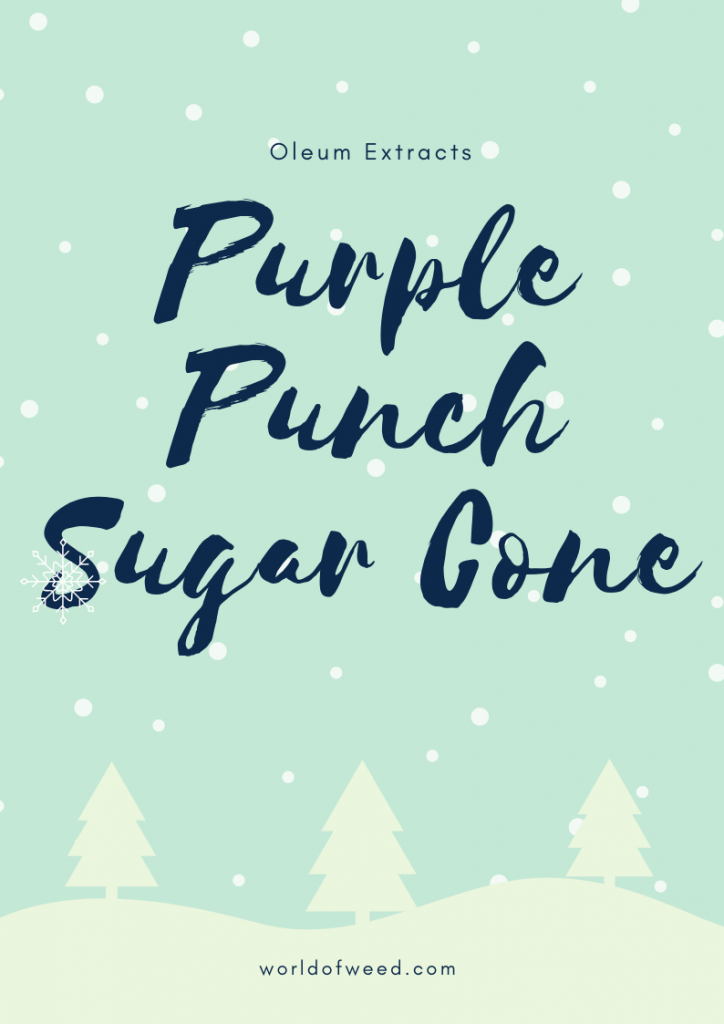 Oleum Purple Punch Sugar Cone –
THC 37% ; CBD 0.31%
Purple Punch is a heavy-hitting indica that comes from the two legends Granddaddy Purple and Larry OG. This potent joint smells and tastes like grape candy, blueberries, and grape Kool-Aid all rolled into one powerful cone. Definitely more of a dessert strain, this Oleum Sugar Cone is the perfect after-dinner smoke, sure to help you digest and unwind from a full day.
Oleum is an award-winning cannabis leader that only produces the most top-shelf products. They're known for having high-quality, high-potency cannabis without additives or any nasty flavorings. Just quality cannabis.
And their Purple Punch Sugar Cone is certainly no exception.
If you're looking for a delicious indica that offers deep body relaxation, long-lasting sedative effects, and an overall sense of calm and well-being, this Oleum Purple Punch Sugar Cone joint is exactly what you should be lighting up.
When rolled up into a joint, the aroma of the Purple Punch has a sweet-berry quality to it, with strong notes of grape candy and grape punch, complemented by a subtle minty bite. As sweet as the name suggests, the Oleum Punch Sugar Cone is the best dessert around!
Take a few hits off that potent sugar cone joint, and you'll immediately start to feel the relaxation effects start in your head and work their way down to your toes, wrapping you up in a warm, full-body indica sedation that will have you sinking deep down into the couch in no time at all. This sugar cone is sure to help you melt away the stress and tension of the day, but is a bit too heavy on the relaxation for socializing with friends or getting much done around the house.
Try the Oleum Purple Punch Sugar Cone for yourself for just $15 (1g)!
---
Disclaimer: Marijuana has intoxicating effects and may be habit-forming. Smoking is hazardous to your health. There may be health risks associated with consumption of Marijuana. Marijuana, in any form, should not be used by individuals that are pregnant or breastfeeding. Marijuana is intended for use only by adults 21 and older. Keep out of reach of children. Marijuana can impair concentration, coordination, and judgment. Do not operate a vehicle or machinery under the influence of this drug. This product may be unlawful outside of Washington State.