Oleum Extracts OG Purple Distillate Cartridge
Oleum Extracts is an award-winning cannabis leader that only offer products of the highest quality. They're known for having high-quality, high-potency oil cartridges that contain absolutely no additives. Their OG Purple distillate cartridge is certainly no exception.
The distillate concentrate is one of Oleum Extracts' most refined products. They begin by cold-filtering the oil to remove any unwanted cannabis plant material. Then, the THC, terpenes, and cannabinoids are evaporated in order to fully distill any impurities out of the final product. The terpenes in their distillates are 100% cannabis-derived and their products are completely free of additives.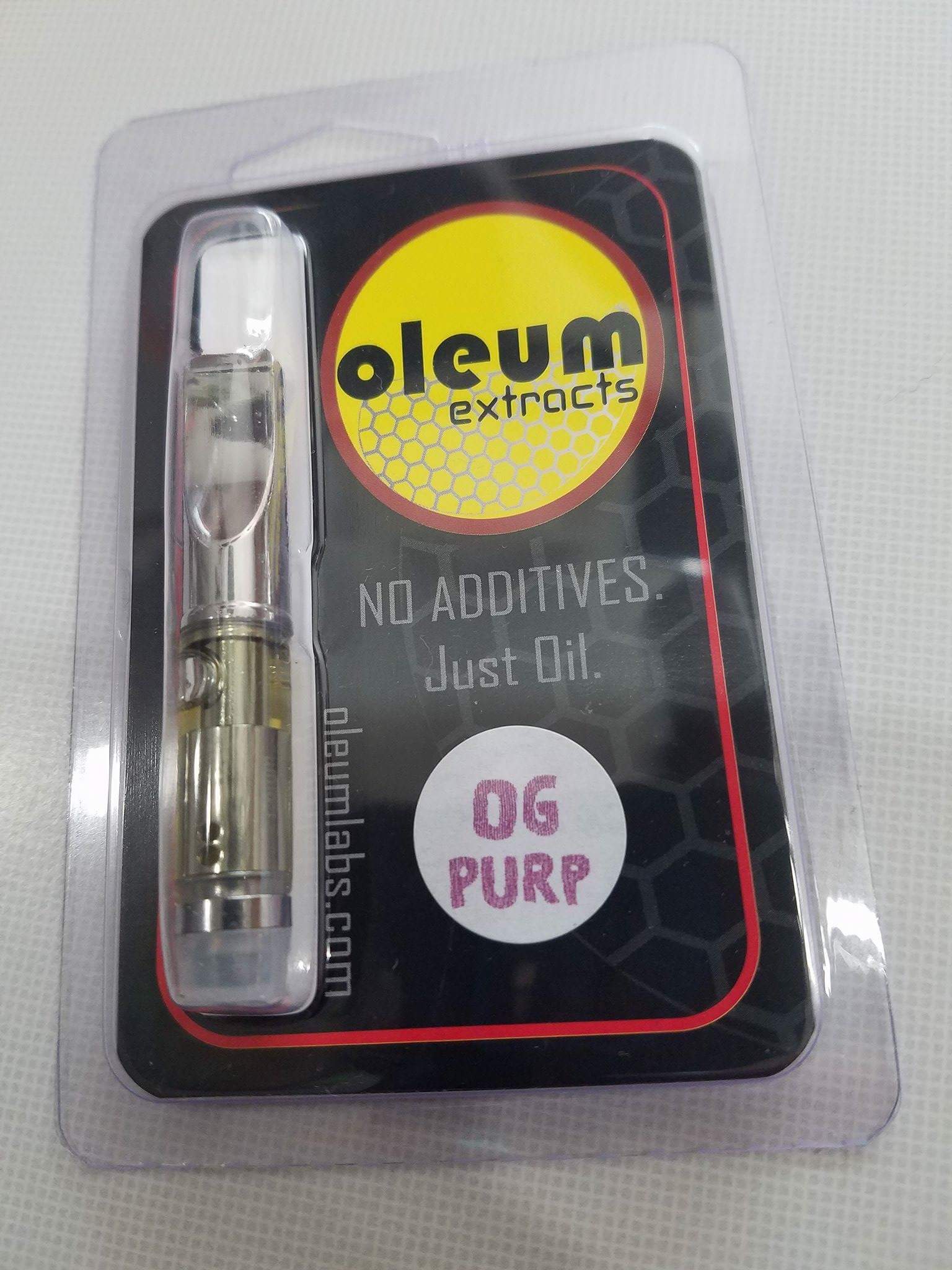 The OG Purple distillate is highly flavorful and highly potent. With a rich earthy flavor and spicy aftertaste, the vapor from this is absolutely delicious. Take just one hit of this hybrid, and you'll feel the effects almost immediately.
What are the effects of the Oleum Extracts OG Purple distillate?
OG Purple, commonly called "Purple OG" is a balanced hybrid (50% sativa, 50% indica) that was produced by a cross between Purple Kush x Cali OG Kush.
The OG Purple distillate is a stunning golden amber in color, thick in consistency, and rich in the aroma, feeling, and flavors of its original plant. This has a high with full-body effects that can definitely overwhelm a new marijuana smoker.
The high hits right away, sending a wave of euphoric serenity washing over you, elevating your mood. That happy high builds up to its peak, where it fades away into a strong relaxation that results in a tired couch-lock.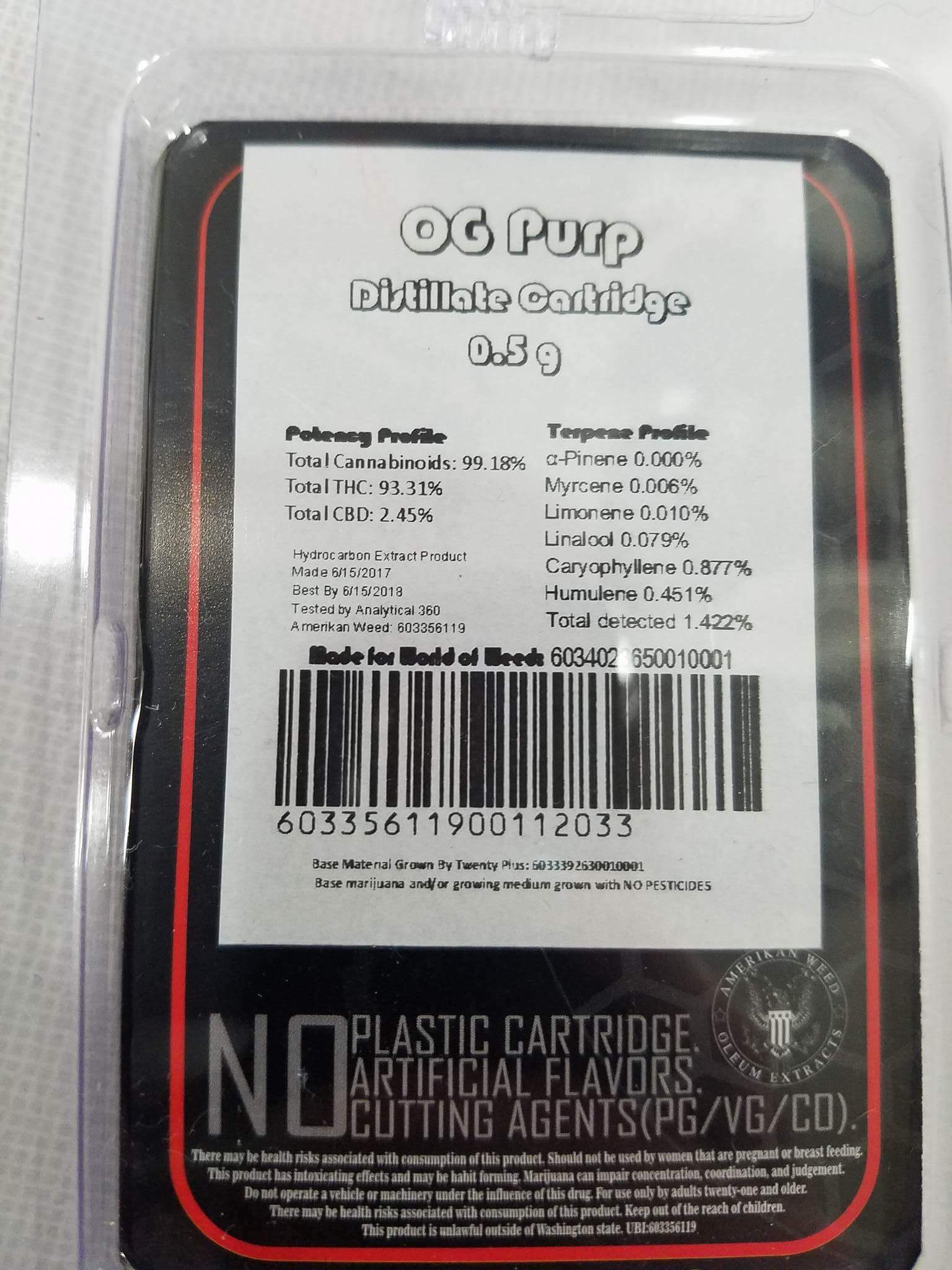 Pair these effects with a 93.1% THC level and 2.45% CBD level, and it's easy to see why it's great for those who are looking to relax, unwind, and just completely chill out after a long day at work.

How much does the Oleum Extracts OG Purple distillate cost?
We always offer great products for great prices, plus our daily deals. That's why we've got the Oleum Extracts OG Purple distillate cartridge available for just $45 for a 0.5 g cartridge.
What are some Oleum Extracts OG Purple distillate cartridge reviews?
This OG Purple distillate is a huge hit by recreational and medical marijuana users alike. With its high potency, the cartridge is good for an impressively long time, even when being shared with some good friends.
"The cartridge fits a variety of devices, which is great. It's got the full flavor that the original bud does, and the vapor is nice and smooth. That high is some serious business, too. I smoke all the time, but I was pretty stoned after just one pull of this." – Karen L.

"Full-body flavor. Pretty color with a delicious flavor. Definite head high, and that hits right away. It lasts a long time, too." – Matt A.

"It's got a great earthy-sweet flavor and a subtle aroma. The high is strong, and it only took about one or two hits before I was done. The high lasted about two hours, and made me pretty sleepy. I'm most definitely a fan of this one, and it's a fantastic price for how great it is! I'm getting more soon" – Lexi B.

"This is the strongest vapor I've ever inhaled. This one's really good!" – Devon R.

"Honestly, I can't believe this is only 45 bucks. It's super strong and tastes really, REALLY good." – Sarah W.
You've heard it from them, but now it's time for us to hear from you! Head on over to the store and try some for yourself.
Have you tried the Oleum Extracts OG Purple distillate cartridge? Share your experience in the comments below!
Disclaimer: Marijuana has intoxicating effects and may be habit-forming. Smoking is hazardous to your health. There may be health risks associated with consumption of Marijuana. Marijuana, in any form, should not be used by individuals that are pregnant or breastfeeding. Marijuana is intended for use only by adults 21 and older. Keep out of reach of children. Marijuana can impair concentration, coordination, and judgment. Do not operate a vehicle or machinery under the influence of this drug. This product may be unlawful outside of Washington State.