1…2…3…DABBY NEW YEAR!
It's nearly December, which means it's almost the end of 2018.
And almost New Year's Eve.
New Year's Eve is a time for reflecting on the past year, celebrating the wonderful moments and lasting memories you've created, and, of course, smoking out the end of the year with loved ones.
Pick up these dabs from Cannabis Northwest (CNW) to help ensure you ring in the new year the right away – – as stoned as possible.
See ya, 2018!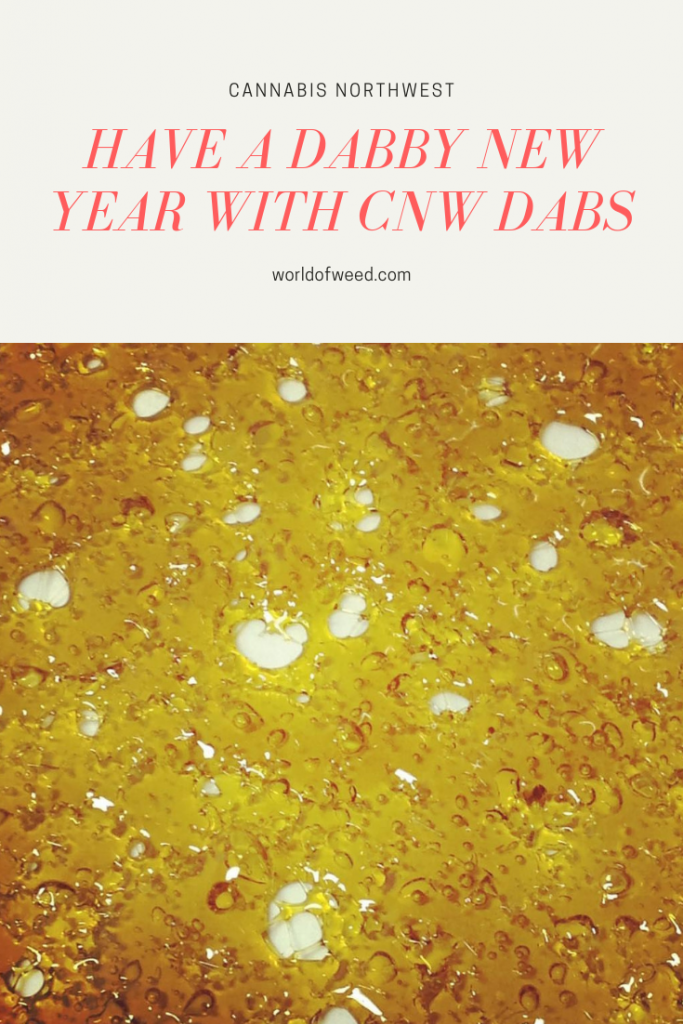 Fire CNW Dabs for the New Year
GG #1 BHO
$15 (1g) THC 86.53% ; CBD 0.72%
Gorilla Glue #1 (AKA GG #1) is a popular favorite among cannabis lovers, sought after for its intensely powerful and super sedating high. arthy and pungent in aroma, this strain tastes and smells like a freshly brewed mocha. As sweet as it sounds, there are strong sour notes that linger on the tongue long after you're done with your sesh.
With its high THC, it's clear the CNW GG #1 BHO has a powerful, long-lasting high. Take a dab, and you'll immediately get a euphoric sense of calm, with relaxing body effects that make this the perfect hybrid for unwinding and chilling out. A nicely balanced hybrid, this can be enjoyed any time of day.
Tre Star
$15 (1g) THC 78.03% ; CBD 0.18%
Tre Star is one of those strains that's hard to find, but it's one you absolutely have to try when you do. With its 78.03% THC, this pungently citrus shatter offers a warm full-body relaxation and uplifting, creative cerebral effects. Take note: The munchies are SERIOUS.
Tregor
$15 (1g) THC 76.53% ; CBD 0.44%
A true, powerful hybrid, this CNW Tregor shatte offers the perfect balance of cerebral and body effects. Take a dab, and you'll get a blissful calm and increased mental focus, but you'll be physically relaxed and without tension.
White Rhino
$15(1g) THC 68.24% ; CBD 0.38%
An indica dominant strain produced by crossing White Widow with a mystery indica, White Rhino is some intensely potent shatter that has a creeper high that will definitely sneak up on you. With this one, you'll want to take a couple of dabs back-to-back, because the effects do take a bit to hit you. But, once they do, you'll feel a zen-like euphoria wash over you, lifting your mood and melting the tension and stress from your body. Best for the evening, the CNW White Rhino shatter is likely to put you in da couch and make you tired. It's a great bedtime dab – – the perfect way to end 2018!
Which of these CNW dabs are you going to ring in the new year with?
Save time by using our

online menu

!
---
Disclaimer: Marijuana has intoxicating effects and may be habit-forming. Smoking is hazardous to your health. There may be health risks associated with consumption of Marijuana. Marijuana, in any form, should not be used by individuals that are pregnant or breastfeeding. Marijuana is intended for use only by adults 21 and older. Keep out of reach of children. Marijuana can impair concentration, coordination, and judgment. Do not operate a vehicle or machinery under the influence of this drug. This product may be unlawful outside of Washington State.