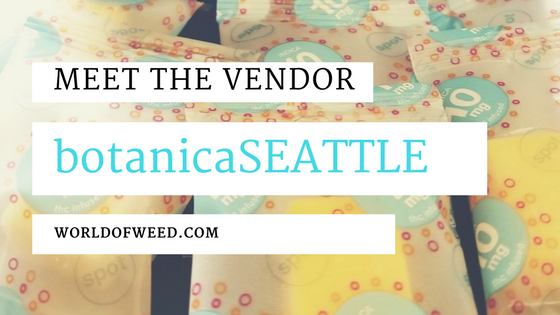 Earlier this week, we shared some delicious fruit chews from botanicaSEATTLE – – the producer of the popular cannabis brands SPOT, Proper Chocolates, Journeyman, BOND, and Mr. Moxey's Mints.
There are plenty of i-502 companies tucked away in the industrial district of SODO, but only botanicaSEATTLE is settled into an old steel foundry that houses the headquarters to their cannabis processing center. The building has been repurposed and improved, but the original function has preserved.
Since 2014, when the first sale for botanicaSEATTLE took place, they've had one clear mission: To create approachable, user-friendly cannabis edibles for those who have barely any knowledge of marijuana and for those who are cannabis newcomers.
The usual cannabis consumer tends to know what they want or don't want and, generally, there's no need for extra sales talk to persuade them to buy a product they're already planning to purchase.
However, be that as it may, botanicaSEATTLE understood there was a group of potential customers out there who are interested in cannabis, but don't know much about it. They're intimidated and have always seen the negative propaganda mainstream media cranks out.
The result? SPOT was born.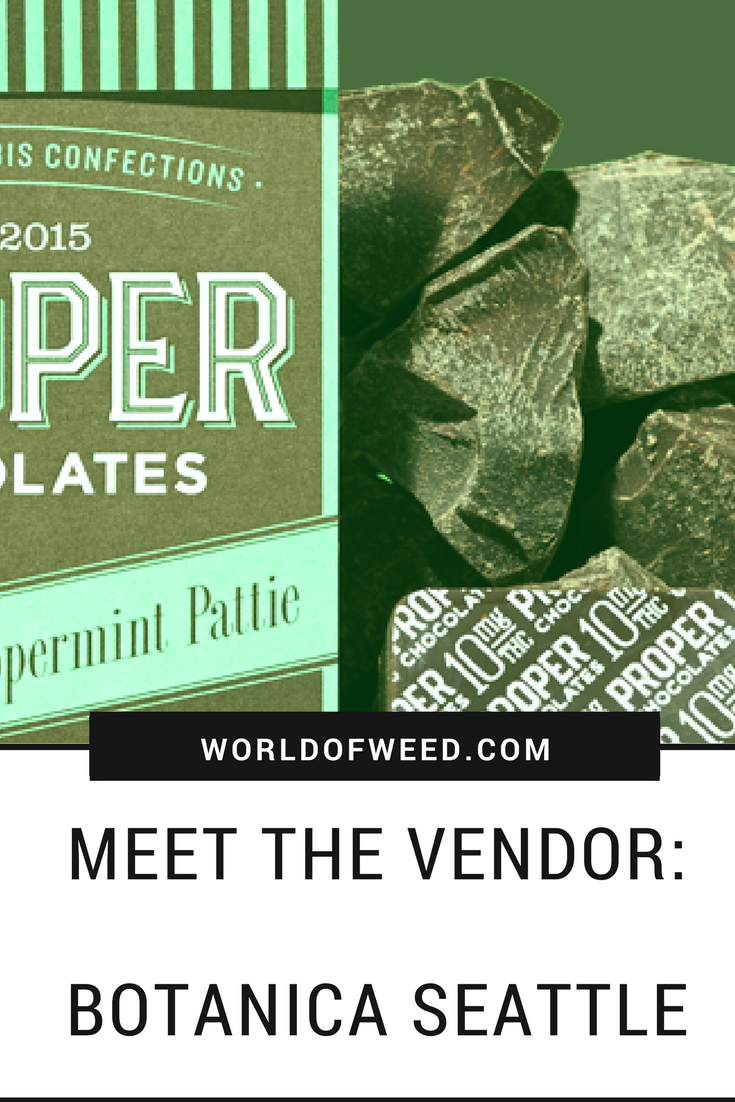 botanicaSEATTLE Brands
SPOT baked in Seattle was the first of the five botanicaSEATTLE brands to be brought into existence.
It paved the way for an edible niche that offers something for everyone. From edibles for complete cannabis newcomers to those for seasoned cannabis consumers, the botanicaSEATTLE brands has something that fits the needs and preferences of all types of cannabis enthusiasts.
Let's take a look at these five popular brands, with fans all across Washington:
01. SPOT baked in Seattle
With the SPOT brand, botanicaSeattle offers four different categories of precisely infused, consistent, and absolutely delicious cannabis edibles. Tailor your cannabis experience to your needs to better help determine the perfect SPOT product for you.
Sativa
Happy, energized
Hybrid
Balanced, focused
Indica
Calm, relaxed
CBD
Soothing, clear-minded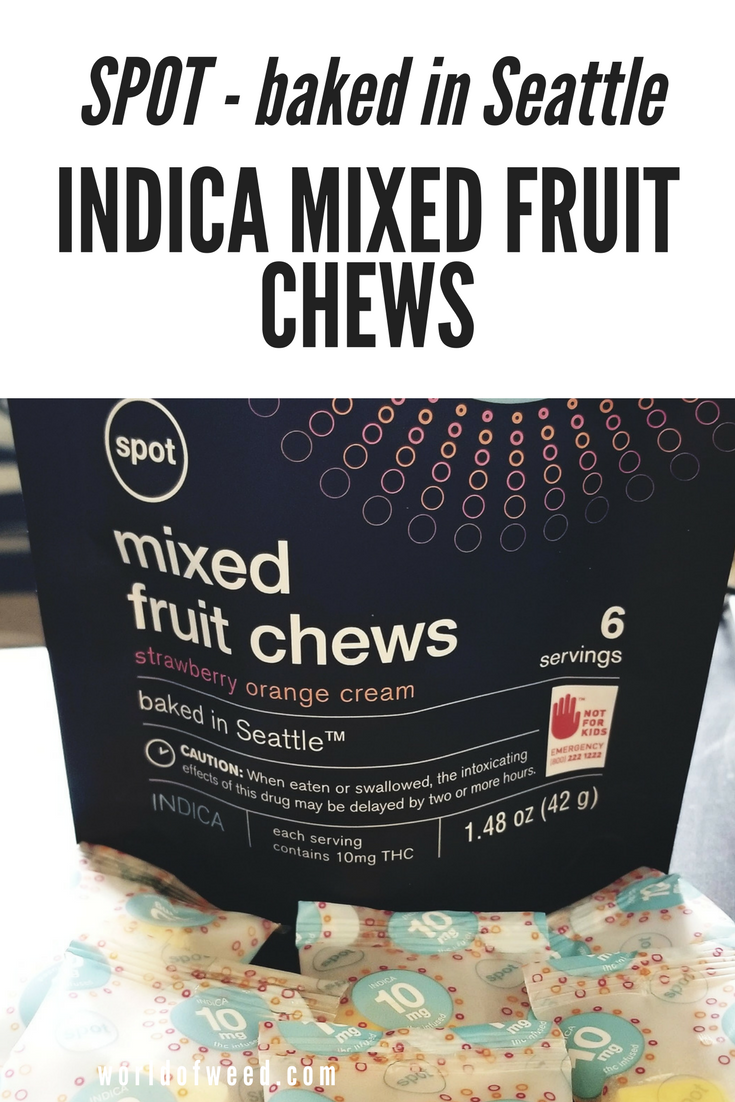 02. Proper Chocolates
Living up to its name, Proper Chocolates creates edibles that are designed to not only taste beyond amazing, but to also provide a consistent and price dose of THC.
This Proper Chocolates pattie is a proper 10mg serving, so it's not really the best option for beginners. The product is made from an alcohol-based extraction process, which helps them create products that are always safe, natural, and tested.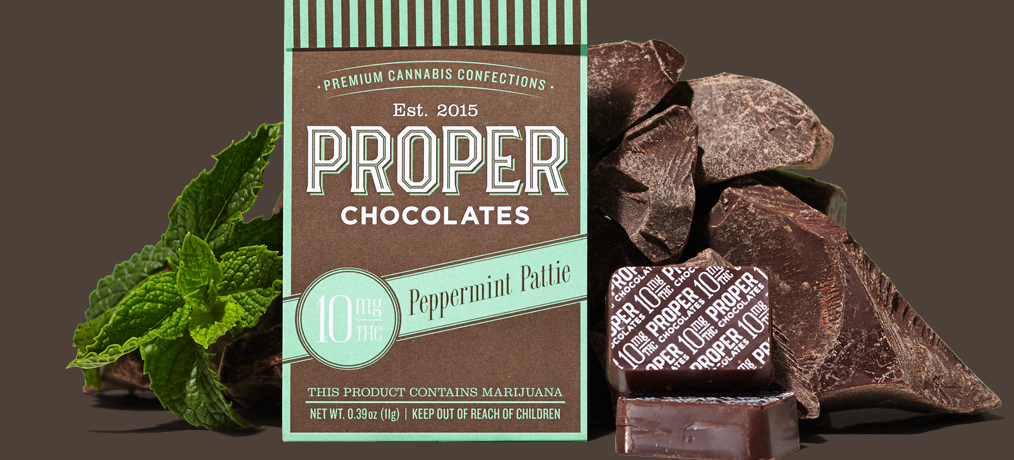 03. BOND
BOND is a gently infused cannabis oil. It's used as a topical, designed to enhance and accentuate female innate sexuality and improve her experience.
It's made from only the finest of organic liquid coconut oil and ultra-refined natural cannabis oil. Created with the highest care and in a safe, hygienic environment with multiple stages of quality control to guarantee accurate and consistent dosing during final formulation.
04. Mr. Moxey's Mints
Mr. Moxey's Mints improve your overall sense of well-being, in both body and mind. Crafted in small batches, each mint is specially formulated with herbal synergists as a means of elevating your experience.
All of Mr. Moxey's Mints are created with microdoses, enabling you to control exactly how much THC or CBD you are (or aren't) consuming. You can decide the right amount of cannabinoids for your system, creating homeostasis within your body. Delicious, portable, and discreet, each mint is infused with THC and CBD derived from cannabis sourced from partner farmers and grown without the use of pesticides.
Plus, true to the nature of the Northwest, Mr. Moxey's Mints are infused with cannabis that's 100% pesticide-free. All-natural and delicious, think of these mints as your own personal life coach – – elevating your body and mind for an improved sense of overall well-being.
05. Journeyman
These edibles are straight out of Seattle, and they're guaranteed to satisfy both your sweet tooth and your need to chill out and relax. The delectable cookies and sweets are made with i-502 compliant cannabis grown by several partner farms throughout Washington State.
All cannabis found within Journeyman edibles are grown entirely pesticide-free and without any complicated, odd environmental practices. Each farm is visited a few times throughout the year as a way to check the cannabis plants and make sure they're as healthy and high-quality as possible.
botanicaSEATTLE Products at World of Weed
We've got a whole bunch of different botanicaSEATTLE products at World of Weed.
SPOT
Dark Chocolate Hybrid (100mg) $30 for pack of 10
Dark Chocolate Hybrid (10mg) $5 for a single serving
Milk Chocolate Hybrid (100mg) $30 for pack of 10
Journeyman
Munchie Pack (100mg) $30 for pack of 10
(4 Snickerdoodle cookies, 3 Peanut Butter cookies, and 3 Trip Chocolate cookies)
Snickerdoodle Cookie (10mg) $5 for single serving
Triple Chocolate Cookie (10mg) $5 for single serving
BOND
BOND Trial Size Lube $12 for 14 mg bottle
(Maui Wowie Strain 16.8% CBD)
Come Meet botanicaSEATTLE!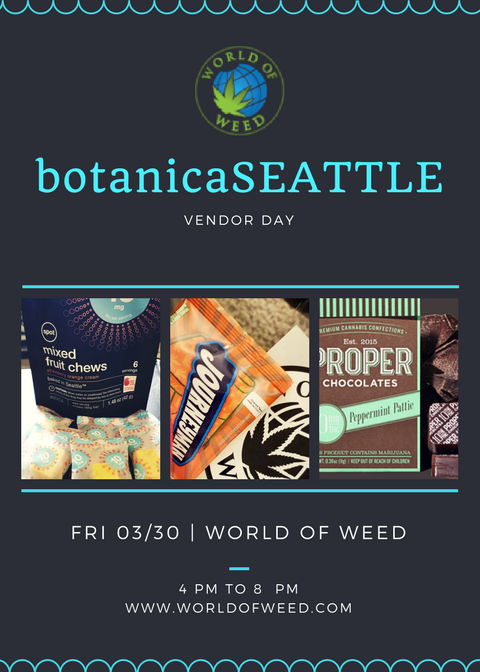 Come take advantage of some super dank deals and check out the great products from botanicaSEATTLE on Friday, 3/30 from 4 pm to 8 pm!!
---
---
What's your favorite botanicaSEATTLE product? Tell us all about it in the comments below!
---
Disclaimer: Marijuana has intoxicating effects and may be habit-forming. Smoking is hazardous to your health. There may be health risks associated with consumption of Marijuana. Marijuana, in any form, should not be used by individuals that are pregnant or breastfeeding. Marijuana is intended for use only by adults 21 and older. Keep out of reach of children. Marijuana can impair concentration, coordination, and judgment. Do not operate a vehicle or machinery under the influence of this drug. This product may be unlawful outside of Washington State.