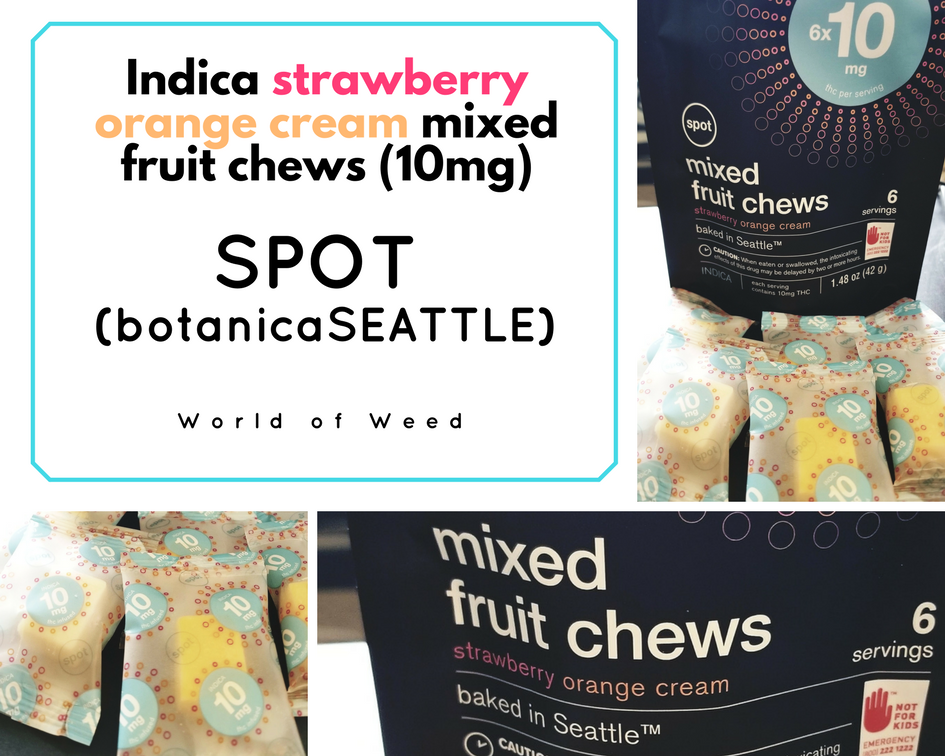 SPOT Indica Strawberry, Orange Cream Mixed Fruit Chews 10mg
If you've ever been inside of a Washington State recreational dispensary, you've more than likely seen SPOT edibles. Not only are they produced by the largest cannabis chocolatier and bakery in the entire state – botanicaSEATTLE.
Handmade in Seattle, these edibles are consistently mouth-wateringly delicious and effective, with packages including 5mg, 10mg, and a 10 mg CBD product.
All edibles from SPOT are produced from scratch, using natural ingredients and timeless recipes. With options of sativa, indica, hybrid, and CBD, SPOT's edibles has something for everyone.
As the largest producer of edibles in the state, SPOT is in practically all recreational dispensaries and pot shops throughout the state. Try them out; we bet they'll really hit the SPOT.
SPOTlight on Indica Mixed Fruit Chews Edibles
The indica SPOT edibles are the perfect option for relaxing and replacing the day's stress with content calm. Let go of all your worries, relieve the tension of the day, and just sink back into the couch. Or, melt in a deep night's sleep!
You had a hard day. Treat yourself. Take a break, put your feet up, and just S L O W everything down a pace or two.
With 10mg of THC, these SPOT mixed fruit chews are a great option for regular cannabis users, stoners, or just experienced smokers who are intimately familiar with the effects of cannabis and its consumption.
Customize Your Experience
SPOT offers a diverse range of premium cannabis-infused edibles with varying potency levels. These edibles come in indica, sativa, hybrid, and CBD options. This makes it easier for you to find the SPOT edibles that work best for you, your needs, and your preferences.
Handmade Deliciousness
Everything that comes out of SPOT is made from scratch, naturally and by hand. The expert chocolatiers and bakers work together to measure, mix, prepare, and package top-quality edibles every day in the botanicaSeattle bakery in Seattle.
SPOT offers a reliable, safe, enjoyable, and absolutely delicious experience that goes virtually unrivaled. Whether you're a new cannabis user, or you're more on the 'perma-baked' side of things, SPOT has something for everyone.
Let's take a look at one of their top products:
Indica Mixed Fruit Chews
Strawberry and Orange Cream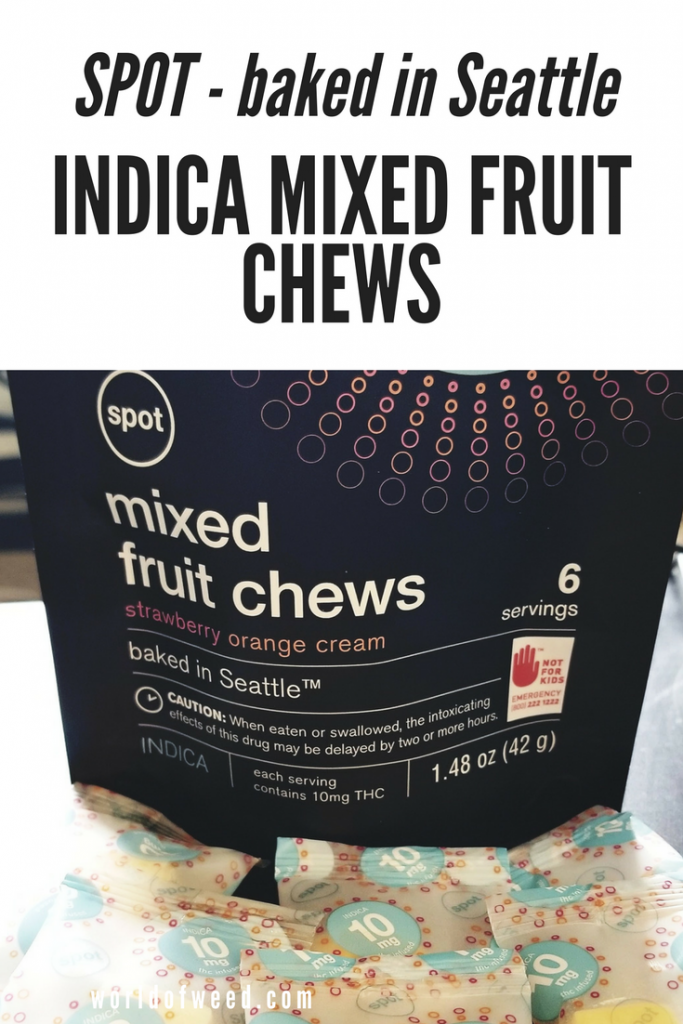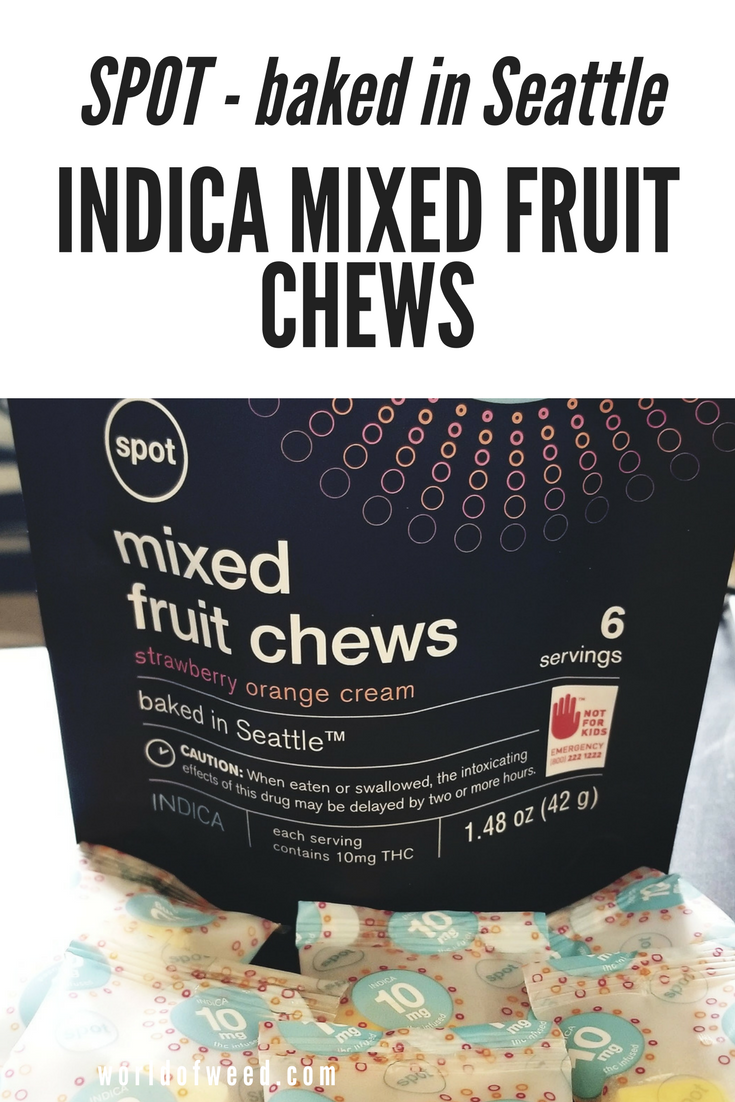 Everything that comes out of SPOT is made from scratch, naturally and by hand.
Details:
Just like all the other delicious SPOT products, these juicy fruit chews are made entirely from scratch, naturally, and by hand. These fruit chews are classic, hand-pulled taffies made with all-natural ingredients for delicious flavor and real butter for the smooth, soft texture they have.
Each Package Contains:
6 x 10mg servings (3 orange cream, 3 strawberry) per bag

This product is available in both indica and sativa

6 servings, all infused with Clean Green Certified CO2 cannabis extract

THC derived from Clean Green certified cannabis
Recommended Serving Size:
One SPOT indica mixed fruit chews contain 10mg of THC. It takes roughly 30 – 60 minutes before you start feeling the full effects. These full effects will last for around 2 -3 hours, so you have plenty of time to enjoy them!
Effects of SPOT Indica Mixed Fruit Chews:
The body high for the SPOT indica fruit chews creates a tingling in your face, upper back, and shoulders, which then gives way to an overall "chill out" vibe. It's not that you can't get off the couch; it's that you don't want to.
The head high brings on a relaxed calm, with spacy focus that seems to fluctuate. It's a good one for getting out of your head, as you'll find yourself coming back to the present in short bursts.
These are the perfect edibles for chilling out, or right before bed for a peaceful night's rest.
Customer Reviews of SPOT Indica Mixed Fruit Chews:
"These are absolutely delicious . . . and I definitely thought they were potent! I decided to rest my eyes, and then opened them about four hours later. Not a bad chill sesh!"
– Dave R.
"SO good! It's really hard to not just eat the whole bag in one go. Love them!"
– Rachel K.
"I've never been huge on edibles, but these absolutely changed my mind. SPOT fruit chews are AH-MAZING!"
– Jeff H.
Try SPOT Indica Strawberry Orange Cream Mixed Fruit Chews: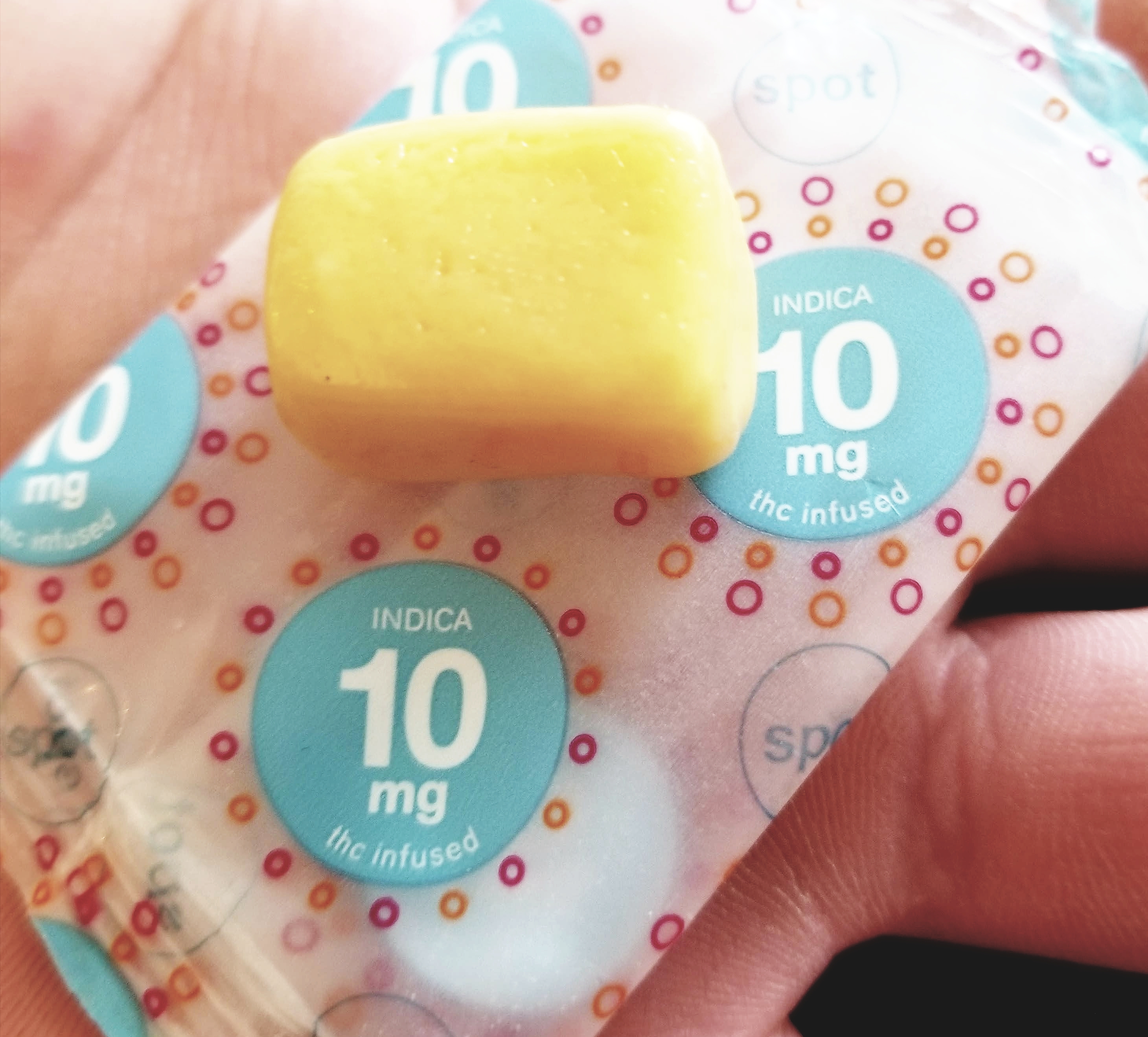 We've got these must-try SPOT Indica Strawberry, Orange Cream Mixed Fruit Chews:
6 x 10mg bag for $30.00
Your Turn . . .
That's all you need to plan your next trip to our pot shop. With these SPOT Indica Mixed Fruit Chews, you'll learn the power of full-flavor, juicy edibles, and draw calm and relaxation from these delicious fruit chews. For now, just kick back, relax, and chill out for as long as your heart desires.
Wowed Tacoma: The Official World of Weed Instagram
If you want to learn more about the latest products and deals we've got going on, we invite you to follow us on Instagram, which we created to help our customers find great products (like these SPOT Indica Mixed Fruit Chews) and make their cannabis shopping even easier.
---
Disclaimer: Marijuana has intoxicating effects and may be habit-forming. Smoking is hazardous to your health. There may be health risks associated with consumption of Marijuana. Marijuana, in any form, should not be used by individuals that are pregnant or breastfeeding. Marijuana is intended for use only by adults 21 and older. Keep out of reach of children. Marijuana can impair concentration, coordination, and judgment. Do not operate a vehicle or machinery under the influence of this drug. This product may be unlawful outside of Washington State.