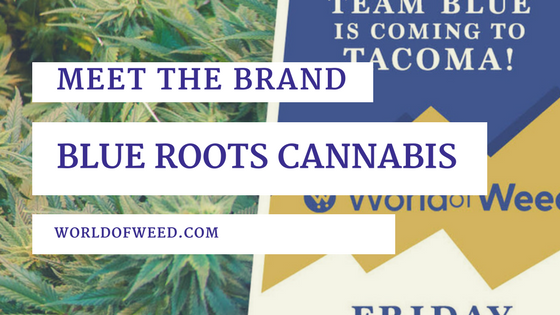 Pop quiz: Which of these do you want most?
Top-shelf marijuana products produced and processed safely from the highest quality flowers possible.

Consistency in quality + continuous development

Cannabis that wasn't lab-tested. Who cares, right?

Limited choice in products. Just flower, flower, and more flower.
If you chose the first two statements, you already know what high-quality cannabis is and you know top-shelf brands when you see them. You need some Blue Roots Cannabis in your life.

If you agreed with the second two, you need some education in choosing quality marijuana. You definitely need some Blue Roots Cannabis in your life.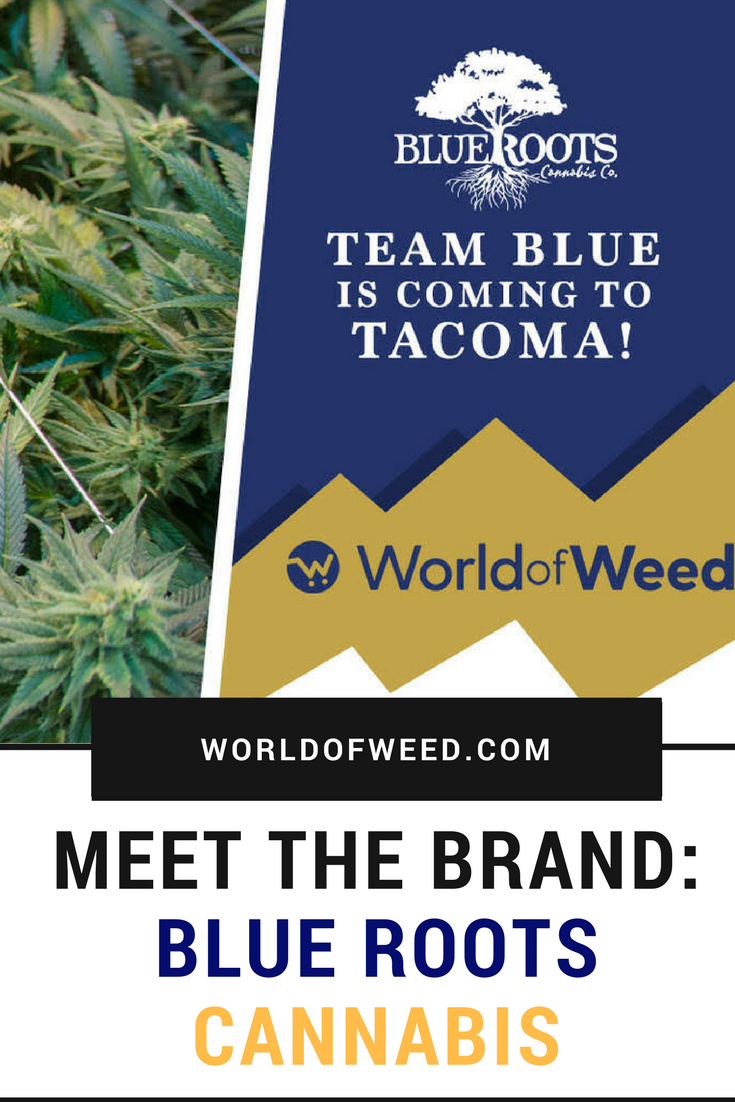 Blue Roots Cannabis : In-House Flower, Pre-Rolls, Concentrates, and Edibles
Treasure chests, giant pots, Leprechauns, rainbows – – You don't need any of those, but you will feel like you've struck gold.
Delicious, savory flower, amber-colored extracts, mouthwatering edibles, and knock-your-sock-off joints are all offered by Blue Roots Cannabis to set your tastebuds aflutter, get your mind taking flight, and give your body a spa-worthy relaxation.
Blue Roots Cannabis was founded back in 2014 for the sole purpose of bringing top-shelf marijuana products to their friends, family, and community. All of these products were processed and produced safely from the highest quality cannabis flowers available.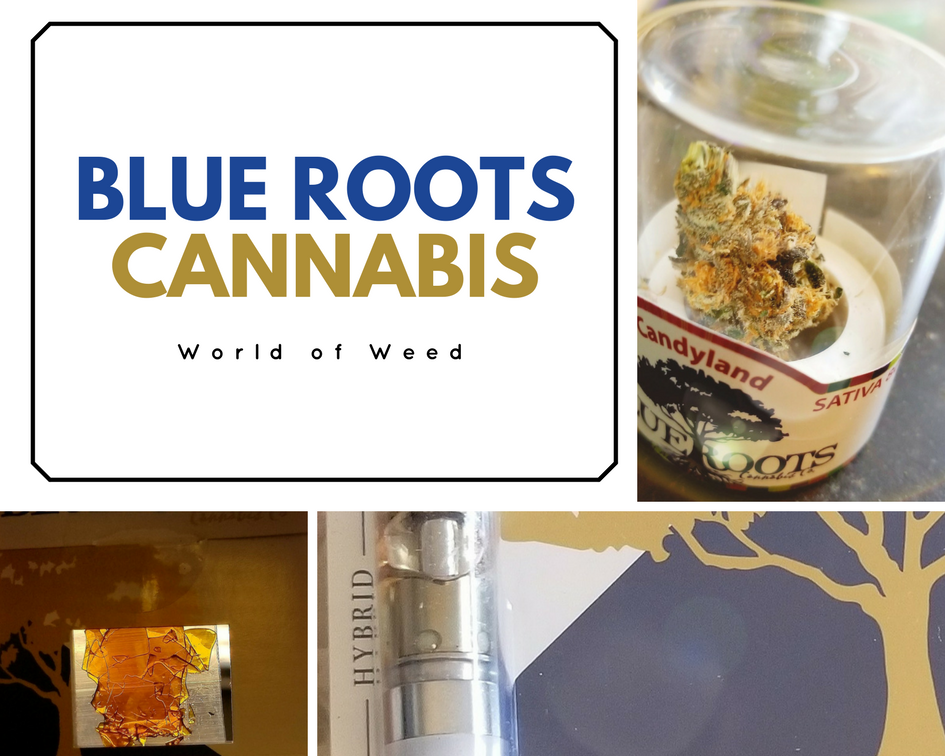 The Blue Roots Cannabis team achieves this by maintaining their vision toward quality and consistency, continuous development, and constant feedback from everyone from governing agencies to retailers, and from friends to customers.
This is why every single one of their products is quality-tested, all-natural, and as potent and delicious as they come.
Let's take a look at some of these top-shelf, high-quality marijuana products from Blue Roots Cannabis.
Blue Roots Cannabis Flower
All Blue Roots Cannabis marijuana strains have been hand-selected according to an intensive series of testing that is based around main quality factors such as:
✔ User / smoking experience
✔ Look / smell / taste
✔ Dominance of sativa or indica traits
✔ Variation of terpene profile
✔ Growth patterns
✔ THC content
✔ Customer feedback & request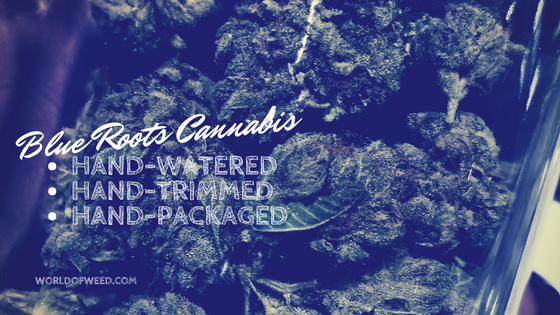 The new packing beautifully highlights the flower from all angles, magnifying the bud when looking down from the top of the glass jar.
As with all cannabis products, premium products like Blue Roots Cannabis products require proper cannabis storage.
It's best to keep light, humidity, and temperature at a minimum. Just give a light twist to the bottom lid of the jar to perforate the seal around the label, and get ready to enjoy premium, top-shelf cannabis flower that is unlike any bud you've ever tried.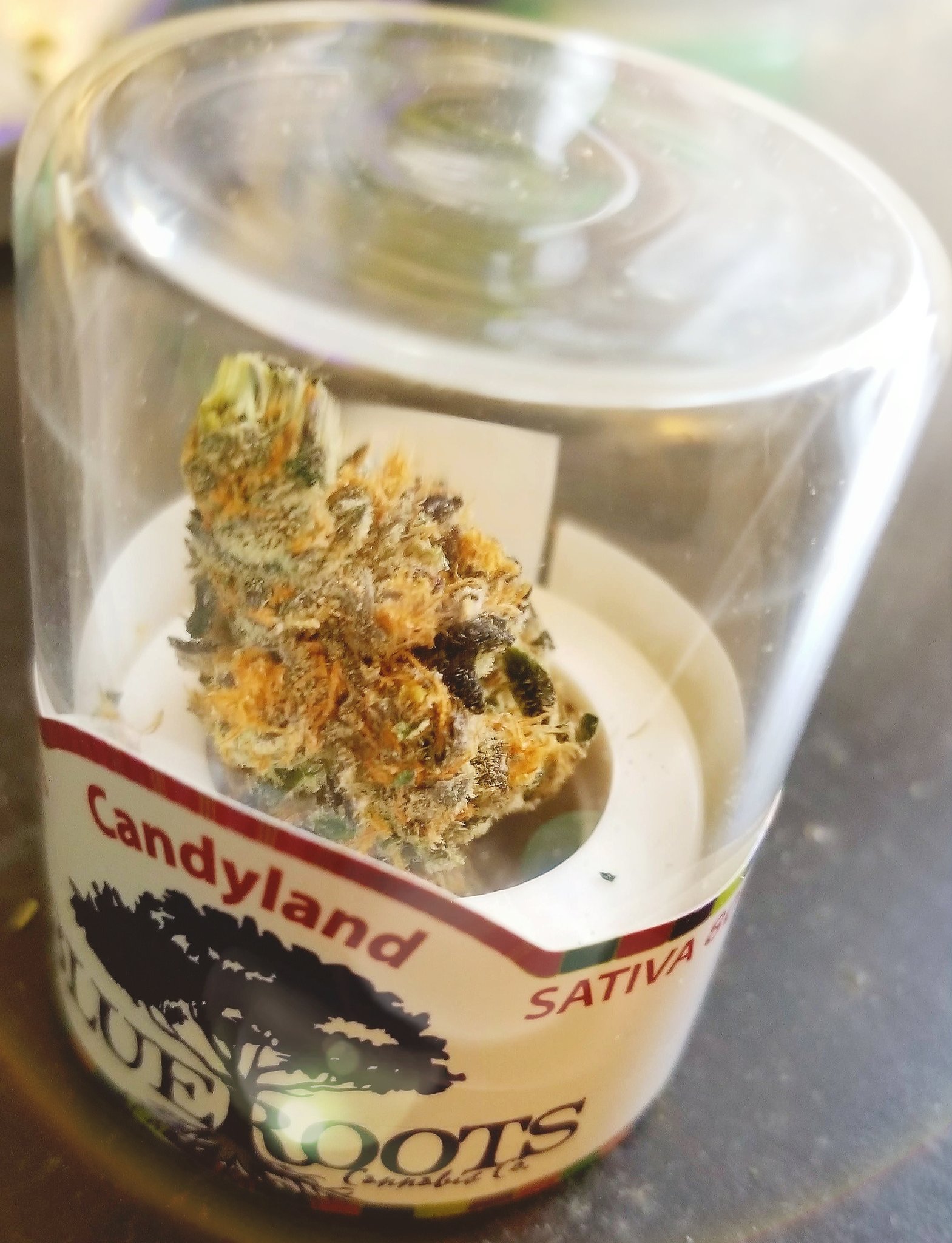 Some of the more popular Blue Roots Cannabis flower products include:
Blue Roots Cannabis Extracts
One extraction method is able to deliver a wide range of consistencies when it comes to final products. The method of extraction used, and the freshness of the input material, are the two primary variables that influence the quality of the concentrate output.
Other influential variables that determine output quality are temperature, purge time, and storage.
Shatter and crumble are produced with a butane/propane combination. Terpene-rich terpene sugar, live resin, terpene sugar wax, and terpene icing are all produced with propane.
One of the most popular Blue Roots Cannabis extracts is the Girl Scout Cookies Shatter.
Girl Scout Cookies Shatter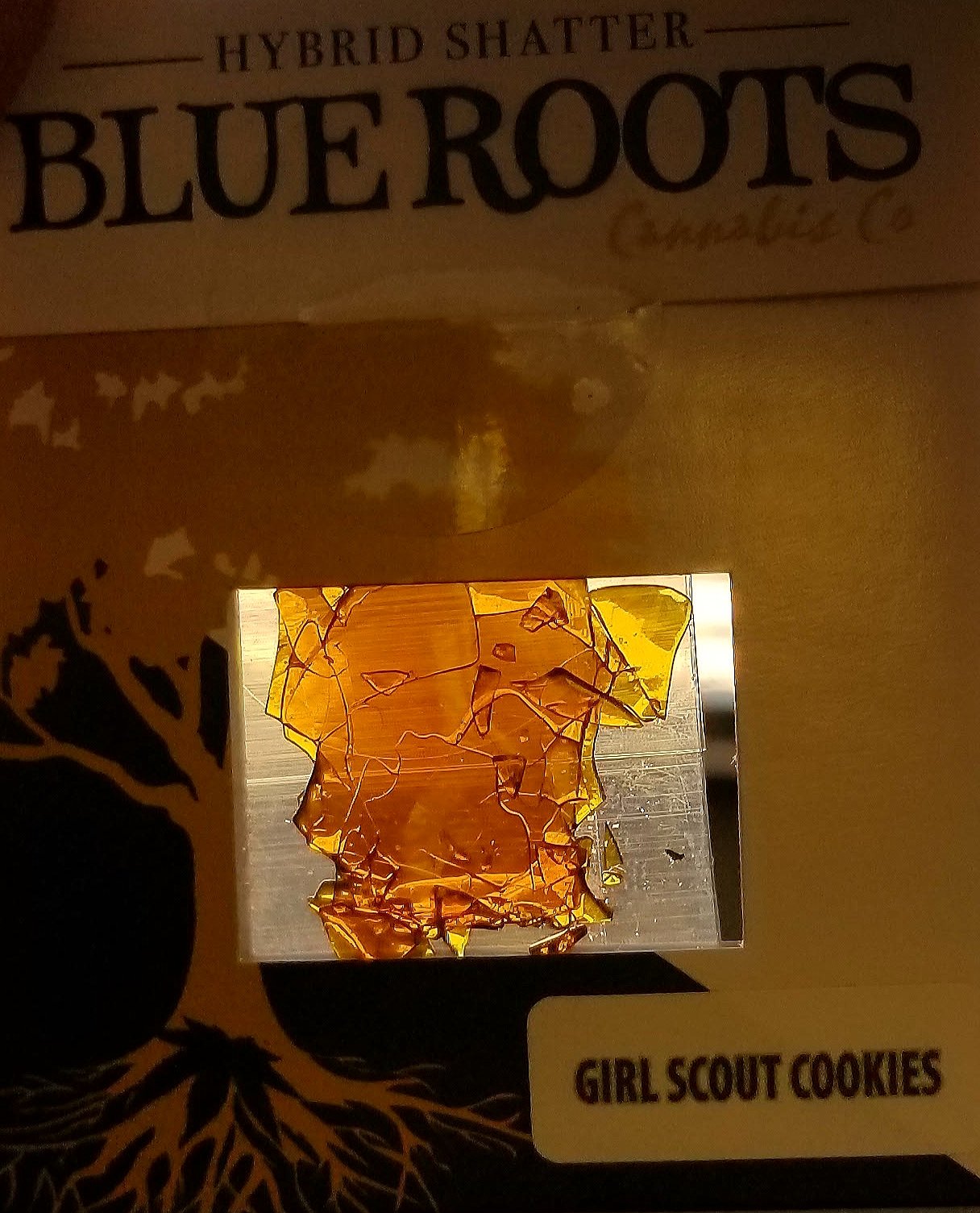 With its flawless, amber, glass transparency, shatter is known for being one of the best, purest, and cleanest type of extract.
Made from the extract of one of the popular strains of the past ten or so years, Girl Scout Cookies Shatter (GSC-S) is a well-balanced hybrid with prominent traits of both sativa and indica. This delicious shatter boasts levels 71.50% THC, offering a stratospheric cerebral high with a relaxing, couch-bound body high – – all while offering happy, euphoric, giddy, and creative highs all at the same time.
This well-balanced, sweet strain is one all levels of smokers are sure to enjoy.
Cookie Jar Hybrid Distillate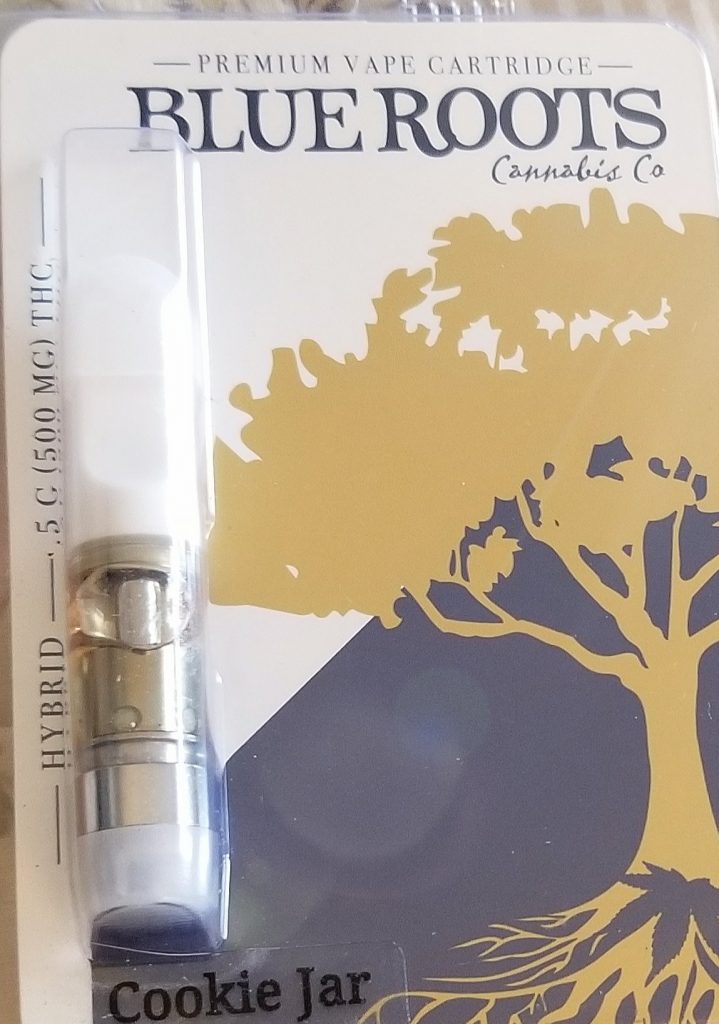 Distillates are the newest cannabis production trend for concentrates. But, with a high THC level of 85.97%, this Cookie Jar distillate is not for the newbie smoker.
Typically, cannabis concentrates isolate or separate cannabinoids such as THC and CBD in order to create a pure and refined final product that reaches higher than your average flower that usually only has a THC level of 15-25%.
The thing that really makes distillates stand out from other concentrates is the extraction process. Distillates use an extraction processed called "short path distillation" that isolates and refines molecules and contaminants to create a clean, almost clear concentrates.
Other extraction methods don't produce anywhere near the same purity level or wide array of uses as short path distillation. This is what makes it such a top-shelf concentrate.
Just take a few pulls on this Cookie Jar cartridge, and you'll immediately feel the serene combination of head-and-body high, making this perfect for relaxing after a long day.
Mentally, you'll get an uplifting buzz that keeps you perky throughout the day. Clean, pure, and high in THC, you've truly struck gold when you stick your hand in this distillate Cookie Jar.
Blue Roots Cannabis Edibles
All Blue Roots Cannabis edibles are produced with top-quality ingredients, and are hand-crafted by the Blue Roots exclusive chef at the Blue Roots in-house kitchen.
Blue Roots Cannabis holds all of their edibles, other products, and kitchen staff to the same high standards that go well beyond what the Liquor Cannabis Board, Department of Agriculture, and WA State Health Department all require.
All Blue Roots Cannabis products test well within a rigid THC mg/unit protocol – – something that can't be said for every cannabis producer out there.
Every single bite of any one of the Blue Roots Cannabis Edibles is savory, sweet, and decadent enough to feel like you're getting high while relaxing in the lap of luxury.
Just Look for the Blue and Gold
When it comes to quality of a wide variety (flower, concentrates, pre-rolls, and edibles), you'll be hard-pressed to find a cannabis producer that can keep up with the Blue Roots Cannabis impeccable standards.
Smoking Blue Roots Cannabis means smoking top-quality, premium cannabis.
Okay, maybe you really did strike gold!
Be sure to stop by the store on Fri, 3/2 for Blue Roots Cannabis Vendor Day from 4pm to 8pm!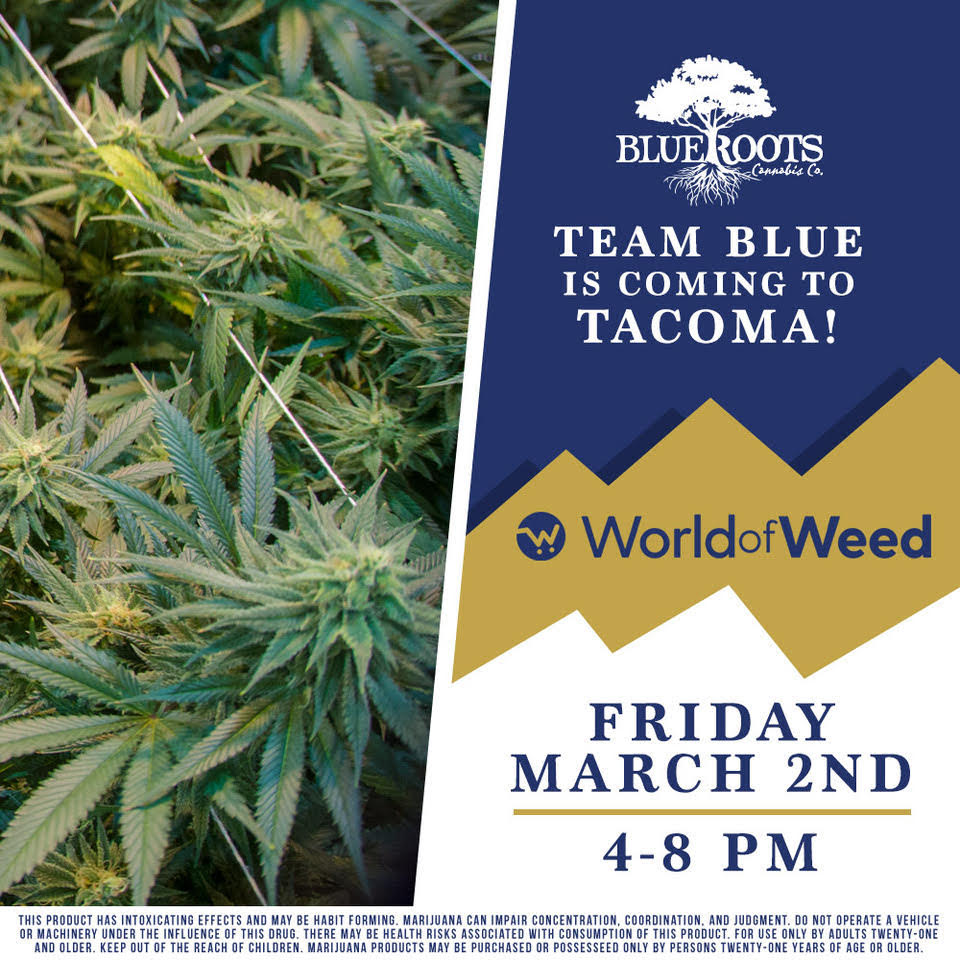 What's your favorite of the many Blue Roots Cannabis products? Let us know in the comments below.
Disclaimer: Marijuana has intoxicating effects and may be habit-forming. Smoking is hazardous to your health. There may be health risks associated with consumption of Marijuana. Marijuana, in any form, should not be used by individuals that are pregnant or breastfeeding. Marijuana is intended for use only by adults 21 and older. Keep out of reach of children. Marijuana can impair concentration, coordination, and judgment. Do not operate a vehicle or machinery under the influence of this drug. This product may be unlawful outside of Washington State.