Right behind the winter holidays, Thanksgiving is one of the biggest family holidays of the year – – and the one with the most food. There's nothing quite like that after-dinner, turkey-induced food coma that takes over, or knowing you will have plenty of delicious leftovers to eat when you get the munchies.
If the duty of hosting Thanksgiving has been passed to you this year, we know it can be pretty daunting and stressful. There are a lot of details that have to all be timed perfectly, plus ensuring there's plenty of food to go around.
If you're hosting a stoner Thanksgiving for the first time, don't stress. We've mapped it all out for you. Here you go: A foolproof stoner's guide to hosting Thanksgiving.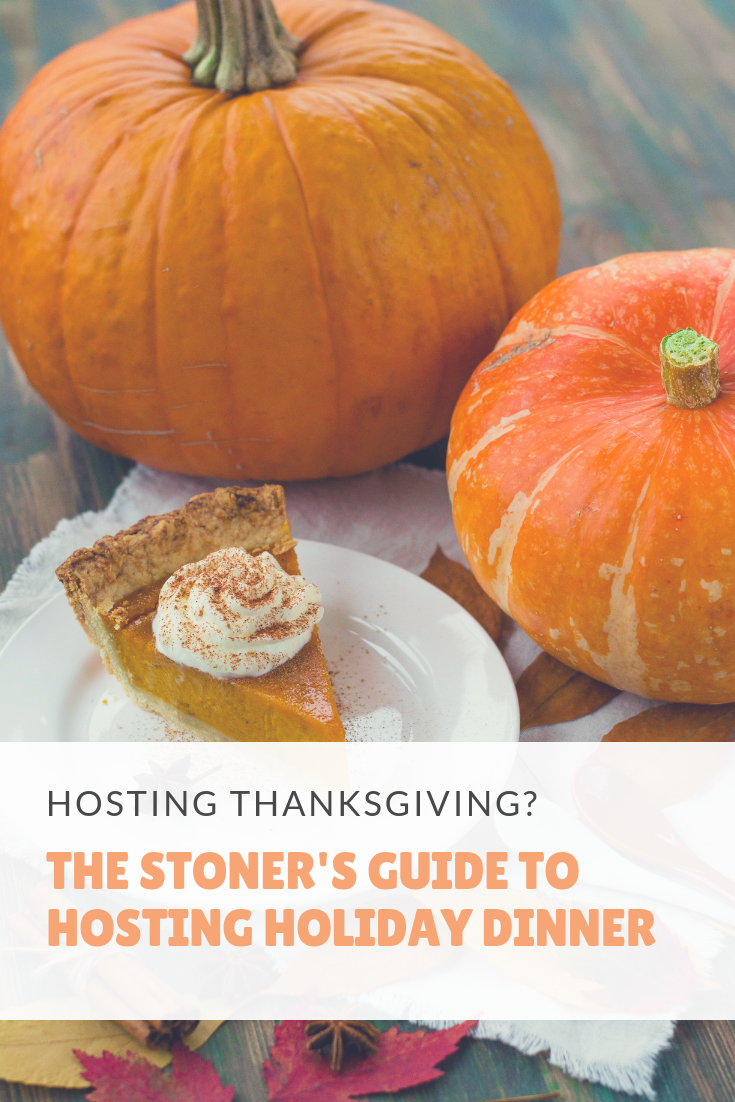 One Week Before Thanksgiving
Plan it out.
This is when you want to start planning out the most basic of the Thanksgiving details. Make lists of where you want your guests to sit, how many people are coming, where you want to set the dishes, and what type of food you'll be serving. If you've got more than eight people coming, or space is a bit of an issue, doing things buffet style is the best way to go.
Make the most of your space by using all of your sitting areas. This means splurging for some dinner trays or folding tables guests can use when sitting on couches or chairs not at the dining table.
Create the menu.
When you're putting together a stoner Thanksgiving menu, go for recipes that are simple and classic – like easy cannabis-infused turkey stuffing, or colorful cannabis-infused side dishes. It's great to have one unique menu item, such as a CBD cocktail, but don't go all-out making something that will take days of prep and a bunch of ingredients that will have you running around to different stores.
Once you've got your menu planned out, it's time to write the grocery lists. Divide up your shopping list into perishables, non-perishables, and cannabis to make your shopping (and putting things away) much easier.
Order the turkey.
The rule of thumb for turkey is three-quarters to a pound of turkey for each guest. This will also leave you with roughly a day or two of leftovers to devour when those munchies hit later on.
Buy the turkey as early as you possibly can, and then freeze it. Also remember: It takes 1 day of thawing per 4 pounds of turkey.
While you're at it, you may also want to think about picking up fully prepared h'ors doerves to give guests something to munch on until dinner is served. Plus, it saves you from having to cook more food!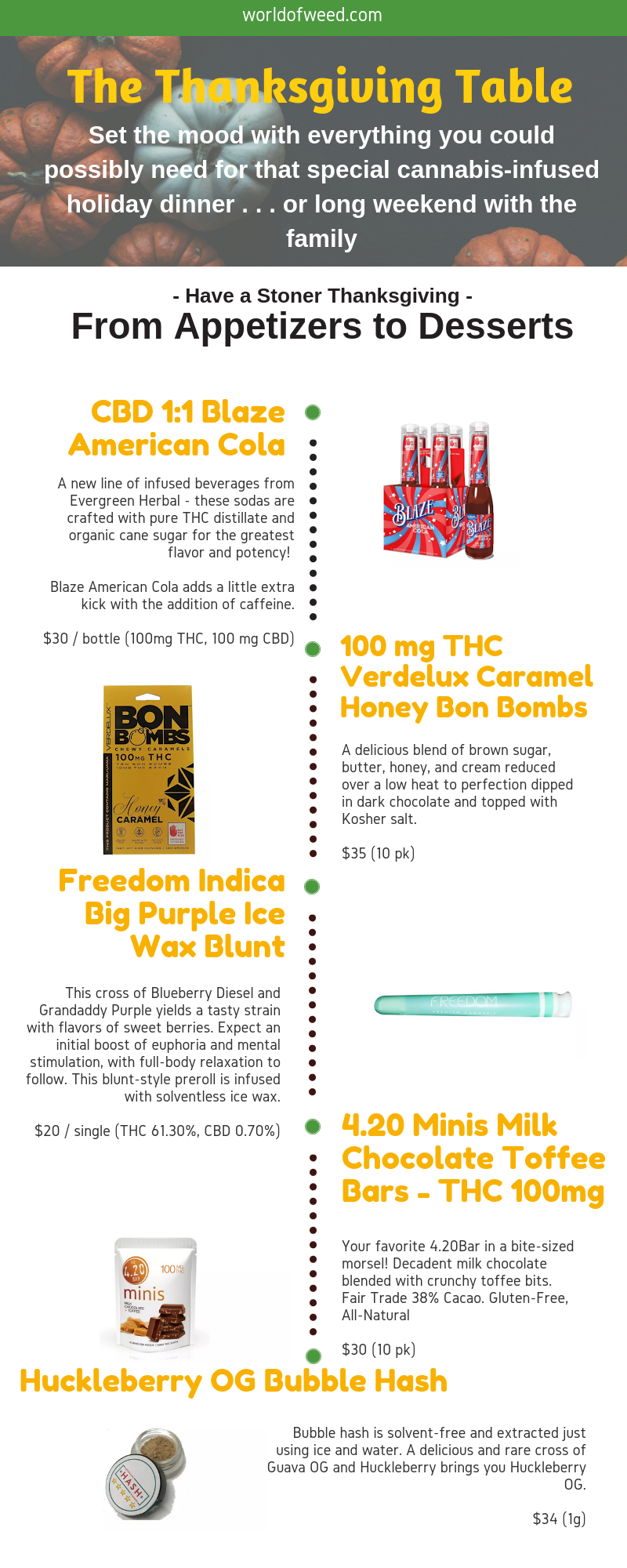 Confirm the guest list.
Double-check that you have an accurate count of who is coming, whether or not they have a Plus One, and that everyone knows this will be a stoner's Thanksgiving with cannabis-infused dishes. Make note of anyone's allergies or aversions to certain strains. You don't want anything to ruin your Thanksgiving!
It's not unreasonable to ask your guests to bring some green or a dish to share – -and some may even offer! If you do ask your guests to bring something, be very specific about what they should bring, so you know exactly what type of food is coming into your home and being served to other people. Send them a recipe! They'll appreciate having something to whip up and bring for the holiday.
The Week of Thanksgiving
Set the table early.
Doing this in advance will save you time and stress on the day of you hosting Thanksgiving, even if you do it just a few days before. Put out place cards if you're all going to be at one table, cutting down on the possibility for confusion and chaos.
Seat yourself closest to the kitchen, put any pets you have away during dinner (you don't want them eating any dropped cannabis-infused food!), and seat left-handed people at the corners to avoid elbow-bumping.
Do your shopping.
Take your grocery lists and head to the store (and your favorite dispensary!) to get the shopping done and out the way ahead of time. You don't want to have to be running out for last-minute items on the day of Thanksgiving. Talk about stressful!
Make things even easier by purchasing your desserts, having a guest bring them, or go through a local cannabis bakery.
Don't forget to make sure you have all of the cooking tools you need, as well. While you're at the grocery store, make sure you have a meat thermometer, casserole dishes, and enough plates and silverware for everyone.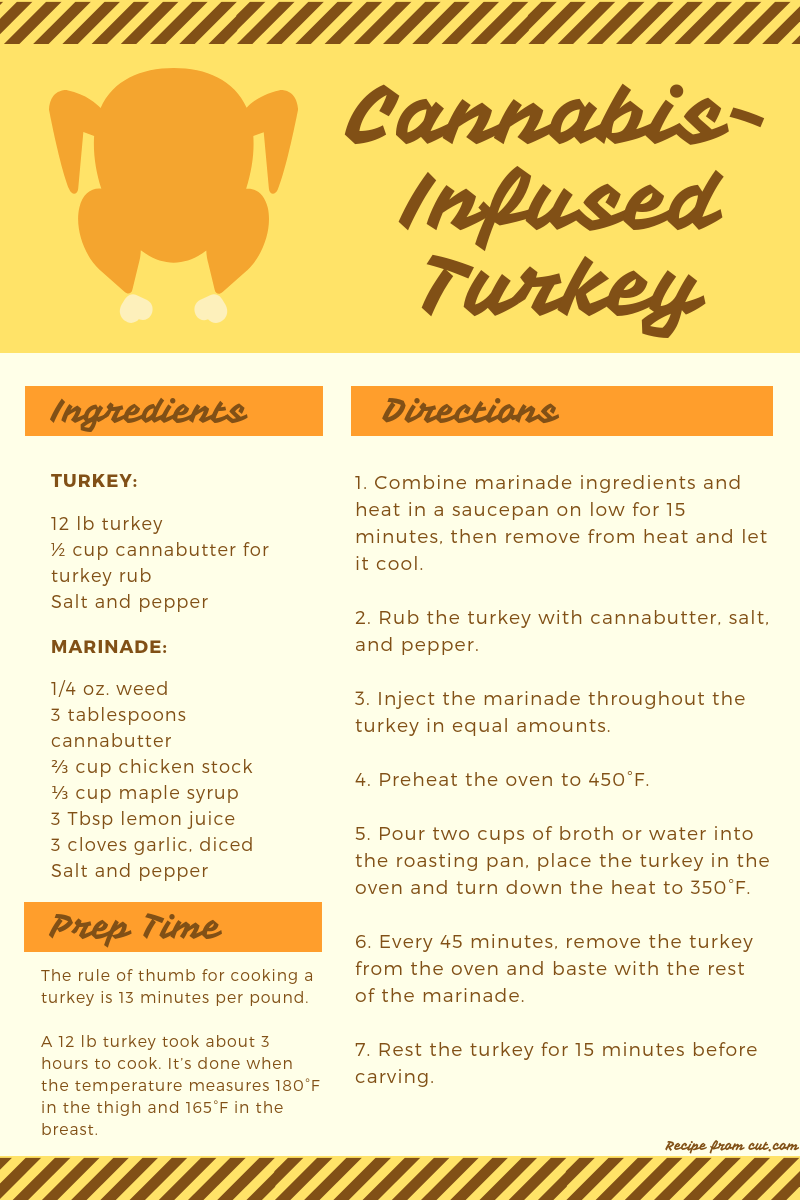 Start cooking things on Monday or Tuesday.
This is one of the biggest secrets to hosting Thanksgiving (especially a stoner's Thanksgiving with cannabis-infused dishes): Cook dishes ahead of time.
Gravy bases can be frozen until the day of Thanksgiving. Casseroles, veggies, and other sides can usually be cooked and then refrigerated for up to two days without losing quality or taste.
If a certain dish can't be cooked that far ahead without losing its dankness, like cannabis-infused mashed potatoes, you can at least get things prepped. For example, you can wash and peel the potatoes, and then put them in a covered bowl in the fridge until it's time to use them.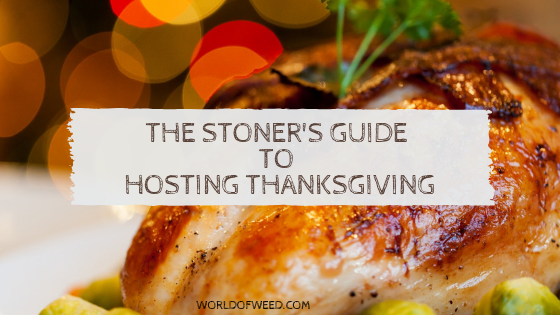 The Day of Thanksgiving
Wake and bake early.
On stoner Thanksgiving – especially when you're the one hosting Thanksgiving – there is no such thing as sleeping in or lounging in bed before getting up. You want to get up early, wake and bake with an energizing sativa, and get everything done up to an hour before your guests are expected.
And always plan on someone showing up early.
This means the table and / or buffer should be set, the drinks should be chilled and ready to drink, and the food should be done. Giving yourself that hour of cushion will save you a ton of stress, and gives you time to smoke while you're getting everything done.
You can use the microwave to keep dishes warm for around half-an-hour.. Gravy stays hot in a thermos, and soft dishes (like mashed potatoes and stuffings) can sit in an ice bucket, insulated cooler, or Crock-Pot until it's time for guests to show up.
Bake the perfect cannabis-infused turkey.
To check if your turkey is done, use the meat thermometer in the breast, thigh, and the stuffing. The thermometer should be in the center of both the breast and the stuffing, and in thickest part of the thigh without touching the bone.
Get your living room ready for an after-dinner smoke sesh.
People usually spend time digesting, talking, and relaxing after a big Thanksgiving dinner – – especially a stoner Thanksgiving!
Set up your living room to accommodate guests for a smoke sesh, with comfy chairs and cushions, glass pieces, ashtrays, and some fire weed.
Have fun!
Thanksgiving is all about being grateful for what you have – – like family, friends, and some of that top shelf cannabis. So, have fun hosting Thanksgiving, get super stoned with your loved ones, and take note of the funniest stories to tell at next year's stoner Thanksgiving dinner.
What's your best tip for hosting Thanksgiving? Share it with us down in the comments!
---
Disclaimer: Marijuana has intoxicating effects and may be habit-forming. Smoking is hazardous to your health. There may be health risks associated with consumption of Marijuana. Marijuana, in any form, should not be used by individuals that are pregnant or breastfeeding. Marijuana is intended for use only by adults 21 and older. Keep out of reach of children. Marijuana can impair concentration, coordination, and judgment. Do not operate a vehicle or machinery under the influence of this drug. This product may be unlawful outside of Washington State.