It's not easy to recap a year of dabbing, especially when your favorite Tacoma dispensary offers such a large selection of potent concentrates. This year, concentrates from brands like Blue Roots, Optimum Extracts, Regulator Xtracts, and Mind Bender remained popular, and stoners everywhere dabbed hundreds of concentrates from Washington cultivators and producers, with many standouts worth talking about. 

Clearly, this year brought many things to be excited about in the cannabis world. All of this enthusiasm culminates in our guide to the most potent concentrates of 2021.

The selections on this list speak to the epic diversity that can be found in the cannabis world, with an eye toward effects and price to make sure you're getting the most for your dollar.

At the number one spot sits a gram oil tanker of Passion Orange Guava distillate from Optimum Extracts that hits the trifecta of high potency, accessible price, and rich flavor. Many more gems await you, so read on to discover the most potent concentrates of 2021 to add to your stash before the new year starts. 

Defining Cannabis Concentrates
In a nutshell, cannabis concentrates are plant extracts containing extremely high amounts of cannabinoids, terpenes, flavonoids, and other cannabis compounds. Due to their abundance of cannabinoids, concentrates often reach THC levels of 60%+, with some concentrates (such as distillate), reaching into the 90% range.

This high cannabinoid level makes concentrates significantly more potent than flower. It's also why dabbing is so popular among cannabis enthusiasts who prefer highly potent products.

[Related: The World of Weed Guide to Dabbing]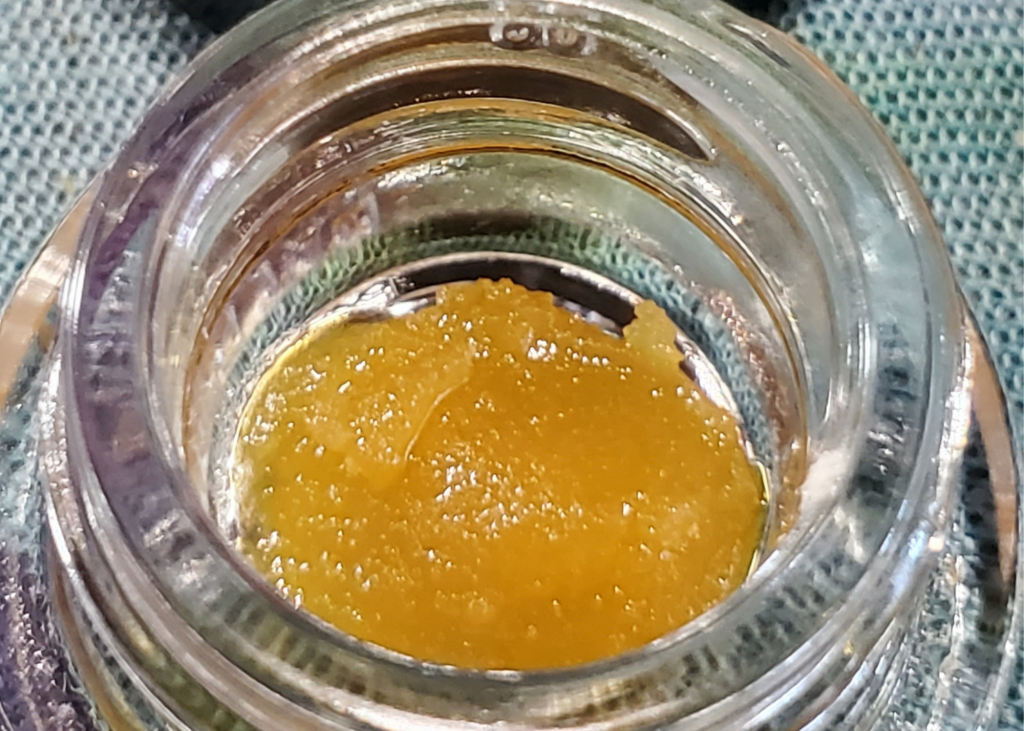 How Are Cannabis Concentrates Made?
There are two primary types of cannabis extraction methods used to produce concentrates: Solvent-based and solventless.

Solvent-based cannabis extraction utilizes solvents (usually ethanol, CO2, or butane) to strip the plant material of their resinous trichomes. These solvents are flushed through the plant material before being completely purged from the final product with high heat. When done correctly, this method produces a concentrate that only contains what was extracted from the cannabis plant, and contains no traces of solvent.

Solventless cannabis extraction does not use any type of solvent. Take rosin, for instance. Rosin is produced through a combination of heat and pressure. Hash and kief are produced by literally shaking and grinding the trichomes off the cannabis plant and collecting them.

The most health-conscious stoners tend to stick with solventless concentrates, as they are the only products that can be guaranteed to have no traces of solvents. Not even minute amounts. But, ultimately, the choice of concentrates is about personal preference.

Live vs. Cured Cannabis Concentrates
In your search for the most potent concentrates of 2021, you likely came across some concentrates labeled 'cured' and other concentrates labeled 'live.' Cured concentrates are made from cured plant material, whereas live concentrates are not.

Usually, cannabis flower is cured after harvest as a way of better preparing it to be smoked. The curing process removes the natural moisture from the cannabis buds in order to dry them out to a smokeable point. However, the downside to curing is that it also often removes some of the terpenes, thereby taking away some of the flavor. If you don't want to strain your wallet, cured concentrates are the way to go.

Live concentrates, in contrast, are produced using cannabis plant material that was frozen immediately after harvest. The material is thawed out prior to the extraction process but freezing the plant material right after harvesting skips over the curing process. This ensures the final product will contain as much of the plant's terpenes as possible. As a result of this, live cannabis concentrates are more flavorful, aromatic, and potent than cured concentrates. This premium experience comes at a higher price point than cured concentrates. 

Different Forms of Cannabis Concentrates
The most common forms of cannabis concentrates are:

Shatter: A thin and brittle concentrate that breaks into little shards when handled. Shatter usually tests in the 60%-80% THC range, depending on the quality of the original plant. Shatter provides decent flavor and potency.

Badder: Also called batter and budder, this cannabis concentrate is named after its texture, which is similar to butter. Badder is a thick, creamy, and waxy concentrate that can be either cured or live.

Rosin: Rosin is abundant in terpenes, making it a flavorful concentrate. It's produced using a solventless extraction process, as previously mentioned. It is a favorite among the wellness community of stoners.

Crumble: Crumble, AKA Honeycomb Wax, is a solid and waxy cannabis concentrate that is more difficult to handle than the others. It works well added to blunts or joints, though it can be dabbed.

Distillate: Distillate is a concentrated cannabis oil produced through a complicated distillation process that separates the THC away from the other cannabis compounds. Distillates are generally the most potent concentrates, with their THC levels reaching as high as 99%. However, distillate tends to be a bit light on terpenes, which means less flavor and less of an entourage effect. Distillate is typically found in vape cartridges.

Diamonds: Diamonds are highly sought after, and are a unique cannabis concentrate produced from the crystalline diamonds left behind after the terpene sauce has been removed. This type of cannabis concentrate typically has less flavor, but tends to be very potent.

Sauce: Sauce is a gooey, sappy cannabis concentrate named for its appearance. Sauce contains high levels of terpenes, making it one of the most flavorful forms of concentrates.

Live resin: Live resin is a cannabis concentrate with intense flavor and aroma. Produced from frozen and thawed flower, live resin generally reaches levels of 50%-70% THC.

Hash: Hash is little bricks or disks of collected trichomes. Hash can also be bubble hash, which is similar to kief in appearance, yet still has a hash texture and flavor.

Kief: Trichome crystals that have been removed from the cannabis plant and collected. Kief has a significantly lower THC content than the other forms of concentrates but is very easy to use. It's a great topping for bowls or to add to blunts and joints. 

[Related: Shatter, Wax, Rosin: What's the Difference?]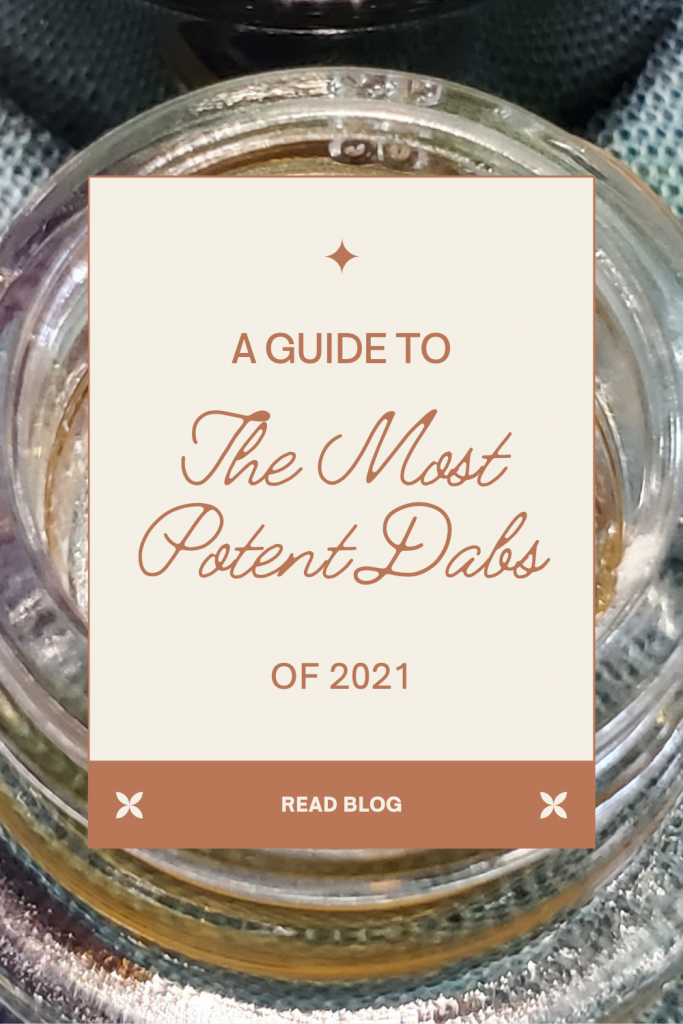 The Most Potent Concentrates of 2021
World of Weed's most potent concentrates of 2021, like show dogs, are revered for their power and their finesse. Potent, flavorful, and long-lasting, these concentrates are must-tries. 

The following are the most potent concentrates of 2021, listed in order of THC content.

[Related: How to Pick the Best Dabs]
1. Passion Orange Guava Oil Tanker
From Optimum Extracts, the purest distillate is joined with cannabis-derived terpenes for maximum potency, flavor, and effects. Orange, pineapple, guava, and fresh earth flavors mingle together in this invigorating, super satisfying strain.

Contains 91.57-91.67% THC.

2. Tropicana Florida Orange Distillate Syringe
Coming from Optimum Extracts, this is pure distillate combined with cannabis terpenes for maximum flavor, potency, and experience. This strain is a sativa dominant hybrid that offers a balanced sense of being, complete with uplifting and relaxing mental and physical effects. Expect euphoria and an overall sense of total satisfaction.

Contains 85.50-89.50% THC.

3. Snowball #2 Sugar
From Cedar Creek Cannabis, this highly potent sugar wax holds a gassy, creamy, and earthy terpene profile that is sure to entice any OG lover.

Contains 84.46-88.46% THC.

4. Sour Tangie Sugar Wax
From Mind Bender, this sativa dominant hybrid was created through the crossing of East Coast Sour Diesel and Tangie. This Sour Tangie brings the best of both parents together to create an ideal strain for a boost in energy and mood, as well as a euphoric uplift. Perfect for daytime use.

Contains 80.40-84.40% THC.

5. MAC Sugar
MAC, from Blue Roots Cannabis, is an Alien Cookies x Colombian x Starfighter cross. This sugar wax is one of the most potent concentrates of 2021, a potent and euphoric heavy-hitter with a sweet and spicy aroma. It smells of diesel and fresh earth, with just a hint of citrus. Expect a dank and pungent flavor every bit as intriguing as it sounds.

Contains 80.19-84.19% THC

6. Animal Cookies Sugar
This indica hybrid sugar wax from Black Cat Farms is a cross of Girl Scout Cookies x Fire OG. This is one of the most potent concentrates of 2021. It's a sweet hybrid that offers uplift and euphoria, sometimes even bringing on a case of the giggles. At the same time, it also provides full-body relaxation and an overall sense of blissful calm.

Contains 79.70-83.70% THC.

Choosing the Most Potent Concentrates of 2021
Cannabis is for (nearly) everyone. If you like more expensive, top-shelf concentrates, rad. If you just want some everyday, potent concentrates to have in your stash, great. If you don't want to dab anything under 70% THC, excellent. And if you're looking for a good deal, stupendous. There are so many concentrates in our market, and it can be difficult to find your match online or in the dispensary.

That's what we are here for. We can help you find the best concentrates for your preferences and needs. Because concentrates are not always about what you can afford. It's also about occasions and moods. Just because you can afford a $100 gram of rosin doesn't mean you are going to be buying that price point on the regular. Even if you are comfortable buying a weekly $60 gram of badder, you may not be spending that on grams for large seshes.

To make your search easier, we rounded up our most potent concentrates of 2021, selected to fit every budget. These are some of the concentrates that really raised eyebrows this year, but this is just the beginning. With a phone in hand, you can always check out our menu to see if anything strikes your fancy. 

---
Disclaimer: Marijuana has intoxicating effects and may be habit-forming. Smoking is hazardous to your health. There may be health risks associated with consumption of Marijuana. Marijuana, in any form, should not be used by individuals that are pregnant or breastfeeding. Marijuana is intended for use only by adults 21 and older. Keep out of reach of children. Marijuana can impair concentration, coordination, and judgment. Do not operate a vehicle or machinery under the influence of this drug. This product may be unlawful outside of Washington State.