Time to pop open a bottle of champagne and celebrate the start of summer!
A Mimosa cocktail is generally made from one part champagne and one part chilled orange juice. More often than not, in comes in a tall champagne flute during brunch, at weddings, in fancy hair salons, or as part of First-Class service on many passenger airlines, cruise ships, and railways.
This Mimosa is a bit different. We'll be serving this one with an extra special touch — THC.
Here, you'll find delicious, bubbly recipes that show you exactly why you need some Mimosa #26 for your next summer brunch with friends and family.
Mimosa #26 by Exotikz is the Perfect Addition to Your Brunch
Exotikz is the brainchild of the Jungle Boys, a group of Los Angeles-based cannabis growers who specialize in cultivating only the highest-quality cannabis. They accomplish all of that while sharing their expertise, passion, knowledge, and insight with the rest of the cannabis community – – and have been since 2006.
Today, Exotikz offers a refreshing strain:
Mimosa #26, a powerful hybrid cross of Clementine x Purple Punch.
Through this crossing, the Jungle Boys created a swirl of complex flavors that helped this strain earn its name. It's this layered profile that ultimately resulted in Mimosa becoming an award-winning strain that people just can't get enough of.
Fruity, citrus-y, sweet, and indulgent, the Mimosa #26 strain has a unique terpene profile that helped give rise to the strain's popularity throughout the Pacific Northwest. Even still, growers and consumers alike continue to constantly seek Mimosa #26 over others for its citrusy-sweet flavor and creative cerebral high.
Paired with the beautifully full and frosted nugs, it's hardly surprising Mimosa #26 by Exotikz has quickly become one of the most popular strains we carry here at World of Weed.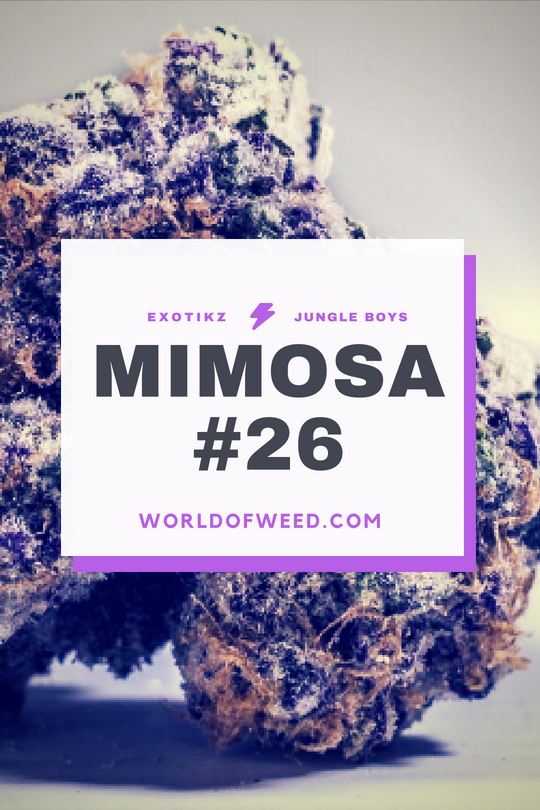 Appearance of Mimosa #26 by Exotikz
When you first take a look, Mimosa #26 by Exotikz has nugs that look like diamond-frosted, glittering eggs with deep sage, indigo, and yellow-orange tones that enclosed the bud in a rich mosaic of color. All of that was coated in a thick blanket of those glistening, fairy-like trichomes.
Boasting beautiful buds with fairy dust trichomes that shimmer rainbows when they catch the light, Mimosa #26 by Exotikz looks every bit as stunning as it smells — With a big, big thanks to the solid percentages of terpenes limonene and beta-caryophyllene the buds contain.
Aroma & Flavor – Mimosa #26 by Exotikz
As if Mimosa #26 wasn't already mind-blowing enough, its aroma and flavor profiles will be sure to pull at your sleeve. With strong notes of concord grape, oranges, and a more robust sweetness that reminds a lot of champagne, Mimosa #26 caresses the senses with a sweet, orange decadence that makes it a perfect any-time-of-day-smoke.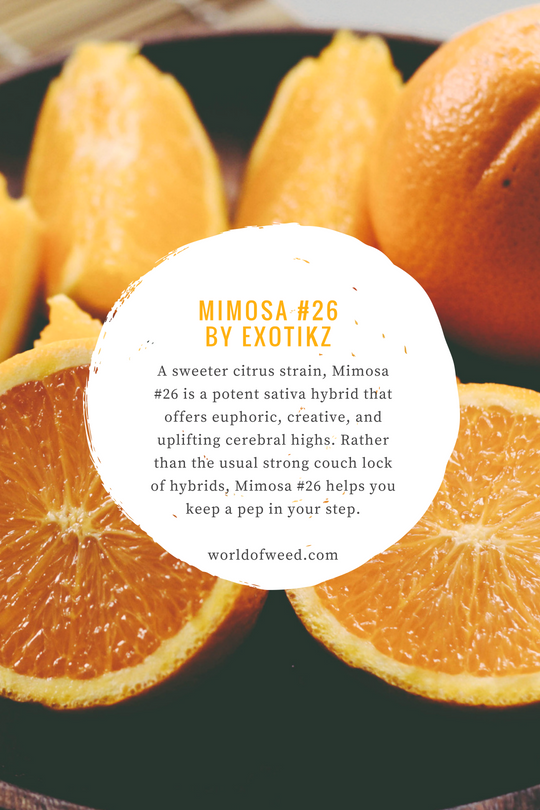 This strain's mouth-watering fragrance and ethereal appearance are already hard to ignore, but the flavors this strain holds are unlike any other.
Take a hit or two, and you'll immediately taste the terpenes, and fruity flavors of oranges, concord grapes, and subtle berry. All of that dances across your tongue as the flavors are carried by the soft, yet full-bodied smoke from each hit you take. You'll likely notice some super subtle banana after tastes that truly do complement the idea of the refreshing beverage for which this Mimosa #26 by Exotikz strain was named.
Effects of Mimosa #26 by Exotikz
The Mimosa #26 strain has juicy, fruity aroma, but that's not all that's alluring about this sativa hybrid.
Mimosa #26 has a powerful total THC level of 22.27%!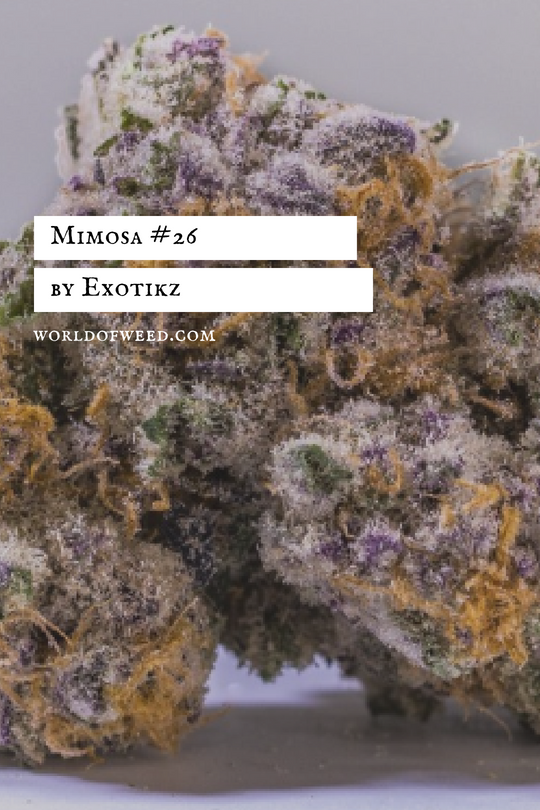 This strain has euphoric and creative cerebral effects that make Mimosa #26 a great strain for starting your day, or for beginners looking for an all-day smoke.
Many strains like Mimosa #26 are accompanied by a strong couch-lock and overall lethargy. This strain, however, is just stimulating and uplifting. The strain's blend of terpenes make this the perfect strain for a relaxed, creative, and euphoric high.
What Customers Say About Mimosa #26 by Exotikz
Don't just take our word for it:
Check out these Mimosa #26 strain reviews from some of our happy customers.
"It definitely put me in a good mood, and I could taste the mimosa flavor that I'm assuming it's named for. Totally reminds me of fancy brunch. I used my fanciest pipe for it!" – Karen R.
"Oh, that's a REALLY nice high. I got my creative side going, and spent a couple of hours in the zone and just painting away on this piece I've been stuck on. I highly recommend it for when you need a morale boost, or something to get your creative juices flowing. It's tasty, too, with true orange and champagne flavors in the smoke. I love this one, and I'm most certainly buying more." – Rachel L.
"New favorite. Hands down! New favorite, for sure! Opening the bag smelled like heaven, burning a bowl tasted like paradise, and the effects made me forget where I was going with that." – Sean N.
"Tastes like mimosas. Makes your body feel like a fancy brunch. Turns your mind into bubbly champagne. Overall, you're up. You're good. And you're refreshed. That's a damn good strain, right there. I'm going to be stocking up on that one for when my girls come over." – Jackie W.
Price of Mimosa #26 by Exotikz
Much like the beverage for which this strain is named, there really isn't a bad time to enjoy some Mimosa #26. However, if you enjoy too much of the beverage, you may need to adjust your day a bit.
Fortunately, you don't have to adjust anything for our prices. In fact, we've got Mimosa #26 by Exotikz for just:
$18 $55
(1g) (3.5g)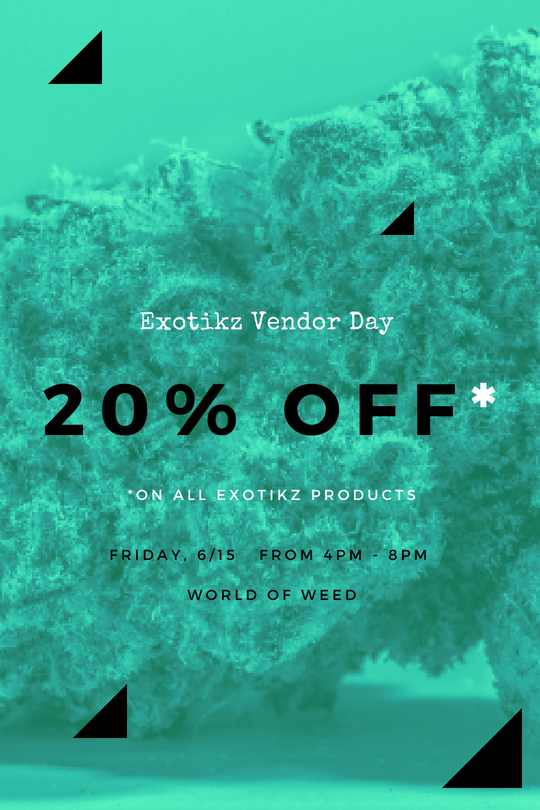 Add Decadence to Brunch With Mimosa #26 by Exotikz
As a strain, Mimosa #26 by Exotikz has a name that doesn't really do it justice. With its enticing, sunrise splash of orange citrus, this strain will have you looking up when your next Sunday brunch is happening.
It's been far too long.
Have you had Mimosa #26 by Exotikz?
Share your experience with us down in the comments.
---
Disclaimer: Marijuana has intoxicating effects and may be habit-forming. Smoking is hazardous to your health. There may be health risks associated with consumption of Marijuana. Marijuana, in any form, should not be used by individuals that are pregnant or breastfeeding. Marijuana is intended for use only by adults 21 and older. Keep out of reach of children. Marijuana can impair concentration, coordination, and judgment. Do not operate a vehicle or machinery under the influence of this drug. This product may be unlawful outside of Washington State