17 Creative Cannabis Gifts for Father's Day 2018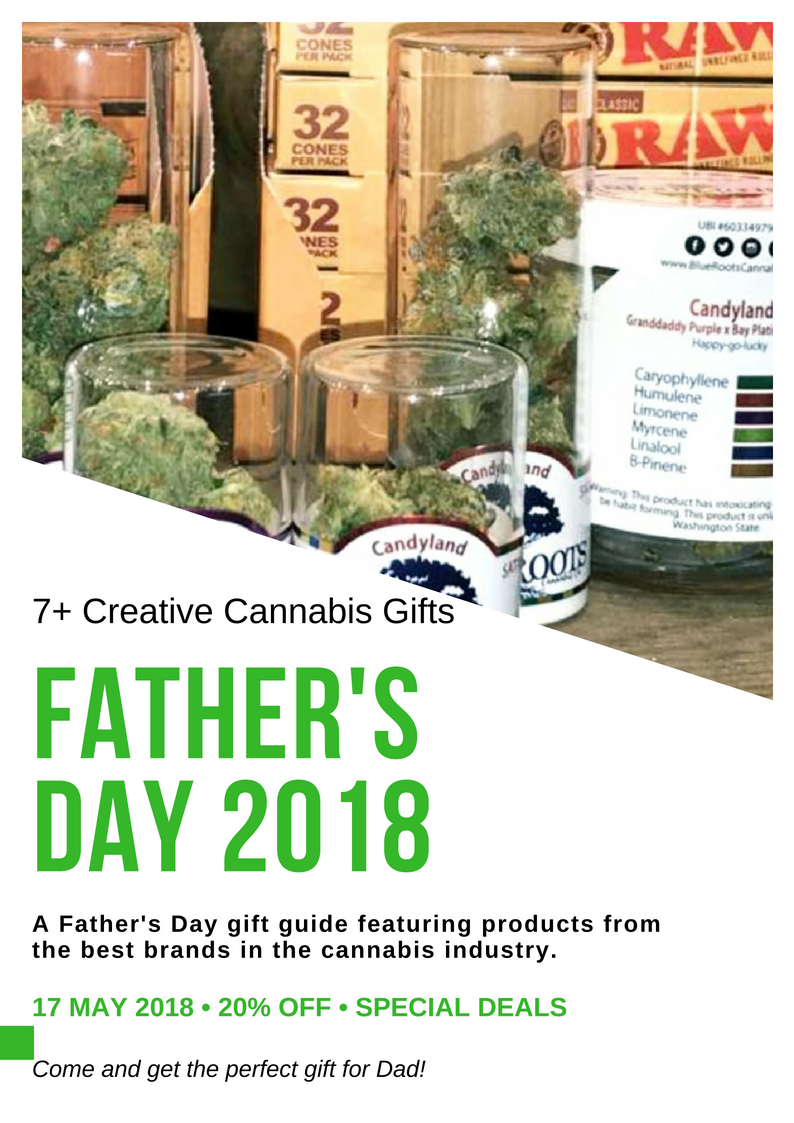 Your dad may have been the one who took you to your first sporting event, who introduced you to your favorite book, picked you up when it wasn't safe to ride with friends, and who taught you all sorts of valuable life advice and lessons.
Your dad probably gave you a whole lifetime worth of advice like that, and now we here at World of Weed have a little advice of our own.
Here it is:
It's time to ditch the typical Father's Day presents that everyone is always buying this time of year.
Instead, we've compiled a list of must-have, creative cannabis gifts for Father's Day 2018 to help you find the perfect present for a ganja-loving dad.
A Brief History of Father's Day
---
The modern celebration of Father's Day originated here in the U.S., and then continued to spread throughout the rest of the world.
Ms. Sonora Louise Smart Dodd, a daughter from Spokane, WA who absolutely loved her father, is the one who fought hard to ensure Father's Day become a holiday.
And that day is just around the corner – close enough that it's time to start shopping for just the right present. Father's Day falls on Sunday, June 17th this year, we'll help you find a present your dad is guaranteed to love.
---
Finding the Best Cannabis Gifts for Father's Day 2018
---
Budget:

No question about it, the budget can be one of the hardest parts of finding the best cannabis gifts for your dad. But, the good news is that showing your dad how much you appreciate him doesn't have to mean overdrafting your checking account. The thought truly is what matters, especially considering how thoughtful and great cannabis is. Just set realistic goals for yourself and stay within your budget, especially if your dad isn't the only one you're shopping for this Father's Day 2018.

Dad's Interests:

What type of things does your dad love? Is he into sativas? Consider getting him some top shelf flower. Does he like to work on the house a lot? He may very well enjoy a jar of CBD ointment for his aching joints and muscles. Is he into dabs? Well, a new dab rig may be exactly what the doctor ordered. Whatever it is, make sure you really take his interests into account as you shop. Trust us — It'll make it way easier to come up with the perfect gift.

Special:

Even if you read through this, and then went right out to buy some of these creative cannabis gifts for Father's Day, there is still plenty of time to personalize your dad's gift. Make it extra special by adding a personalized note, a unique gift bag, or an engraved item (such as a grinder). All of these ideas will ensure your gift makes your dad feel special, and will show you took the time to get him something

he

would like to receive.

Summer Highlight: Combine this present with a fun day out, giving your dad something even more special to remember this Father's Day 2018. Jot down ideas for the best stoner activities for summer, and then plan one your dad would really love. Bonus? It gives you and your dad a chance to spend quality time together, something that can be hard to get during the busy rest of the year.
Creative Cannabis Gifts For Father's Day 2018
---
Without a doubt, shopping for fathers can be quite tricky. But, fortunately, we're here to help.
We've rounded up some of the top-rated, most enjoyed, creative cannabis gifts for every type of dad on Father's Day.
Looking for something a little different this year? We've got you covered.
There's something for everyone here on this list: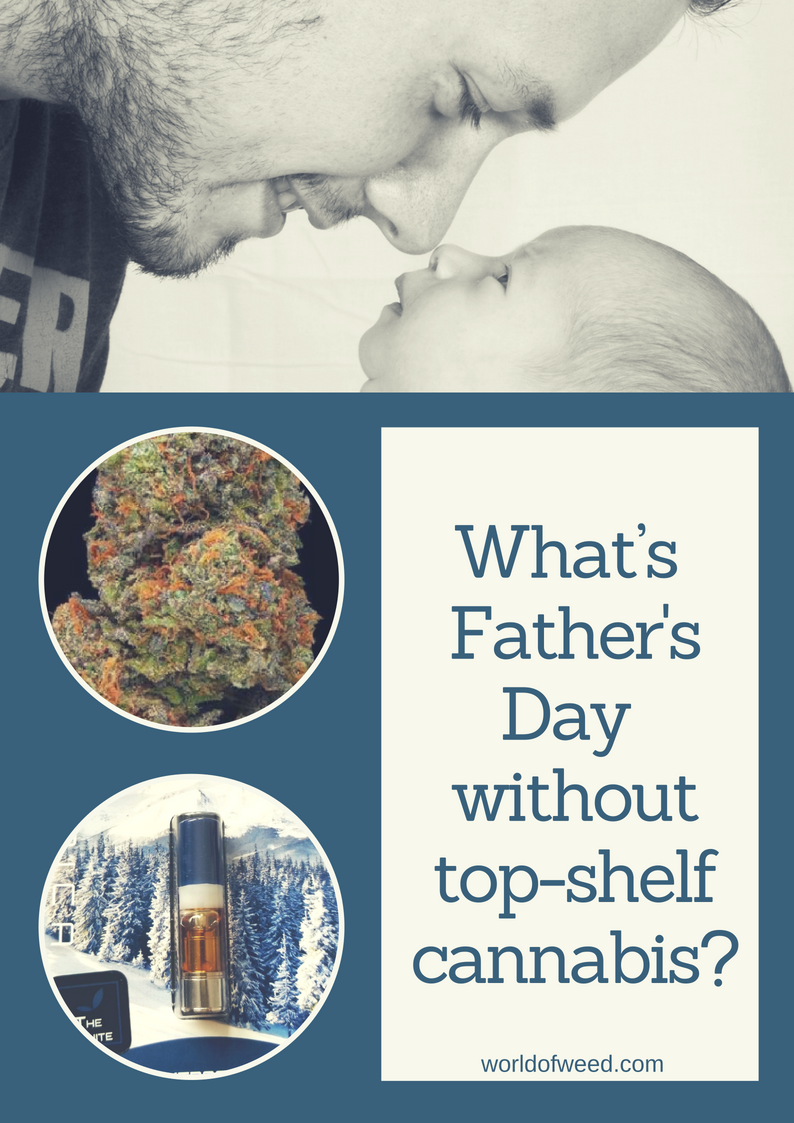 1. IndigoPro Vape Pen x Harmony Farms Cartridges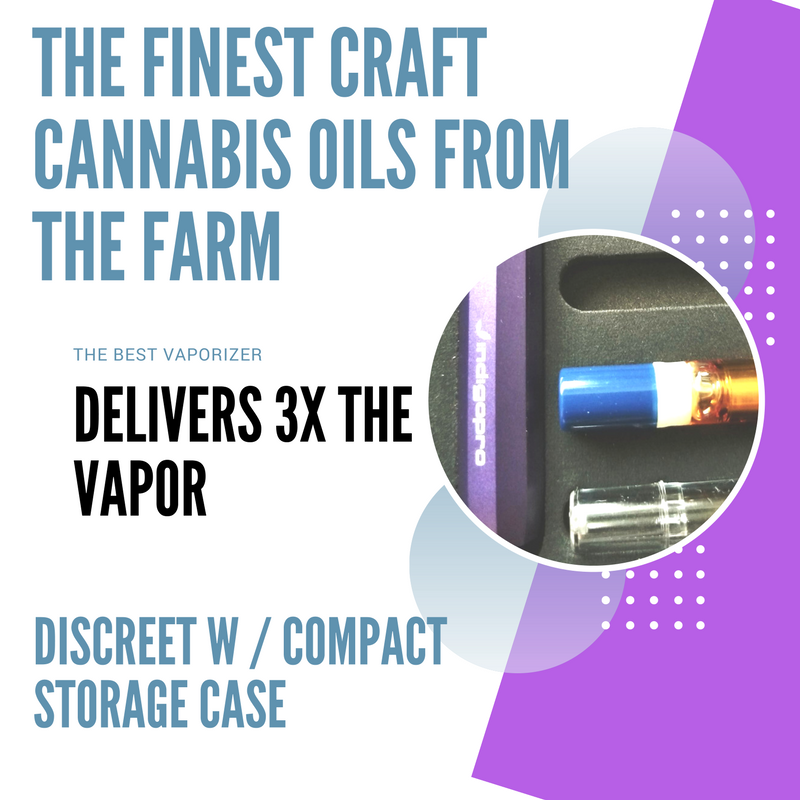 Upgrade your dad's cannabis experience by bringing him into the 21st century with an IndigoPro Advanced System Vape Pen, paired with Harmony Farms cartridges.
The Indigo Pro Vape Pen is super discreet and sophisticated, and comes with a sleek, black, zippered carrying case for easy on-the-go vaping. Harmony Farms cartridges are created using pure cannabis oil and strain-specific cannabis terpenes. For smooth, clean hits that provide a satisfying high, choose from a variety of strains like Northern Lights, Night Rider, Blue Dream, and Bubba Kush.
We've got the IndigoPro Vape Pen and the cartridges for $40 each. Guaranteed, your dad will feel pretty cool with this advanced vape system pen and vape cartridge pair in his pocket.
FATHER'S DAY DEALS: 10% off ALL oil cartridges – Check out some other popular favorites, like Blueberry Cheesecake by Optimum Extracts!
2. Hemp Beard Oil
Beards are definitely coming back in fashion for the most rugged, masculine of men. But, with all that ruggedness, a man's got to take proper care of his beard.
Show the special, bearded man in your life that he can look like a tough dude who makes a mean BBQ sauce, all without looking like he never washed that sauce out of his beard. All it takes is some high-quality hemp beard oil + a beard + a dad on Father's Day to make magic happen. Hemp magic!
Try putting together a basket of hemp body products with scents the man in your life will love. Even if you're not a fan of beards, it will be hard for him to not feel like a million bucks when he's got a hemp oil sheen to his beard.
3. A Beautiful Glass Piece
These sleek and original glass pieces are the perfect way to show a weed-loving dad how much you love him. After all, good kids don't let their parents smoke out of mediocre pipes or bongs. Your dad will go nuts for our various bongs and pipes.
Come pick up a little pipe to show him you care, or pull out all the stops with a giant bong. Whichever piece you choose, your cannabis enthusiast of a dad is sure to appreciate it.
FATHER'S DAY DEALS: 20% off ALL GLASS
4. Cannador
Is your dad a cannabis connoisseur? Well, Cannador makes for the perfect gift for a dad who truly loves some top-shelf cannabis. The cannabis humidor perfectly preserves all those precious terpenes with its unique design that was specifically created to provide airtight storage, humidity control, and preservation of both freshness and taste.
It gets better:
Dad can also sync the Cannador to a smartphone-capable app that allows the app to better measure relative humidity. If your dad's a serious cannabis enthusiast, he's guaranteed to love one of the best creative cannabis gifts for Father's Day!
5. Exotikz Premium Cannabis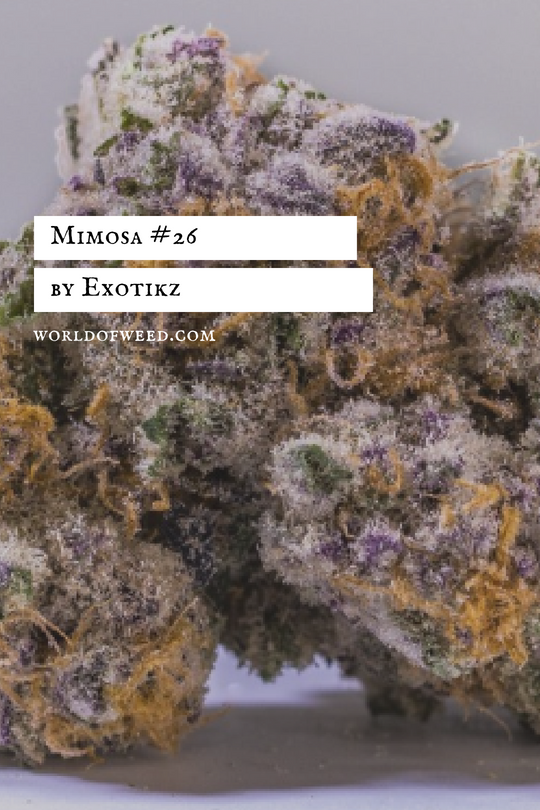 It doesn't get much more creative than the name 'Exotikz', that's for sure! Exotikz is the brainchild of Jungle Boys, a group of cannabis growers in Los Angeles. They specialize in cultivating high-quality, premium cannabis while sharing their knowledge and expert insight with the community for over a decade (since 2006).
Give your dad the gift of truly incredible cannabis, with plenty of strains to pick and choose from. No matter what your dad likes, we've got something just for him.
Exotikz cannabis products include:


Flower
OZ Kush

Sunset Sherbet

Wedding Cake
Pre-Rolls
Alyze (0.75 g)

Mimosa #26 (0.75 g)

Sunset Sherbet (0.75 g)

Wedding Cake (0.75 g)

White Fire 43 (0.75 g)
Concentrates
Sunset Sherbet Live Resin

Wedding Cake Live Resin

White Fire 43 Live Resin
That's a lot of options, ensuring you'll be able to find the perfect gift for Dad.
FATHER'S DAY DEALS:

→ 20% off Exotikz (flower, 1g – 7g)
→ $2 off Exotikz 0.75g joints (Reg. $10)
→ $10 off Exotikz concentrates (Reg. $60)
6. The Lighter Bro
Picture it:
A Swiss Army knife, but for weed! Without a doubt, this is the handiest tool around. Your dad is bound to love this little pocket gadget.
The LighterBro features a laser-engraved, 420 Stainless Steel lighter sleeve, a super sharp knife and scissors, a Micro Philips screwdriver / poker, and a bottle opener. Plus, it's got 100% riveted assembly and a keychain, so your dad will never have to worry about losing his lighter ever again!
7. The Bong That Never Breaks
That's right.
Never.
Your dad deserves the best bong money can buy, and a silicone bong from Eyce Molds is exactly that. Their pieces are all made from Platinum Cured Silicone, designed to be completely, 100% ergonomic. The Eyce pipes, bongs, and accessories are totally unique, making it one of the most creative cannabis gifts for Father's Day 2018!
Treat your dad to an unbreakable bong that's unlike anything he's ever smoked from before. In fact, with the Eyce warranties on their products, it's the only bong your dad will ever need!
FATHER'S DAY DEALS: We've got these great silicone beaker bongs for just $69!
BONUS: Big Buddy Butane Refillable TURBO Torch
Does your dad take dabs?
He's sure to thank you a million times over for this hardy, TURBO torch from Blazer. This torch has all the bells and whistles, and is the newest addition in Blazer's growing line of multi-use torches, all of which are specifically designed to accommodate both Professional and home use.
And, it's pretty much impossible to NOT feel like a professional with this insanely powerful 2500º F turbo flame that gives up to 60 minutes of continuous burn time! Plus, it's all put together in a light, portable design that provides endless dependability with each and every light.
If you're looking for creative cannabis gifts for Father's Day, this is an absolute must-have present for any ganja-loving dad.
BONUS #2: Evergreen Herbal Soda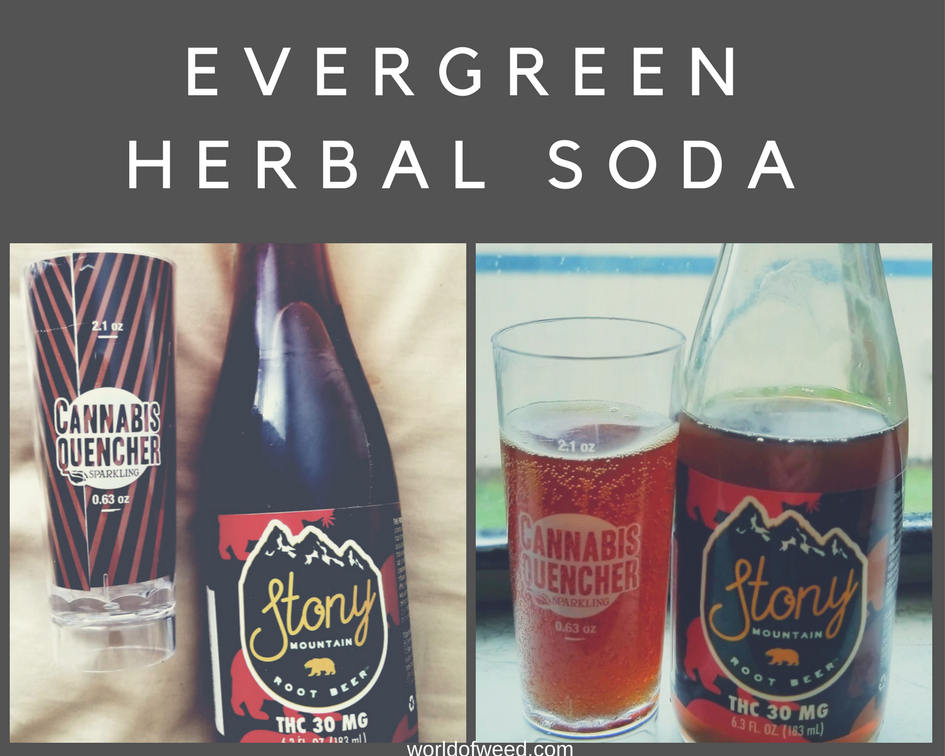 Standing next to a hot grill on Father's Day can make things a bit warm. Gift your dad a couple Evergreen Herbal sodas, and give him the best of both worlds – – delicious soda and premium cannabis.
Evergreen Herbal has all sorts of soda options available, from Root Beer to Lemonade, ensuring there is something for every dad on Father's Day.
Creative Cannabis Gifts for Father's Day 2018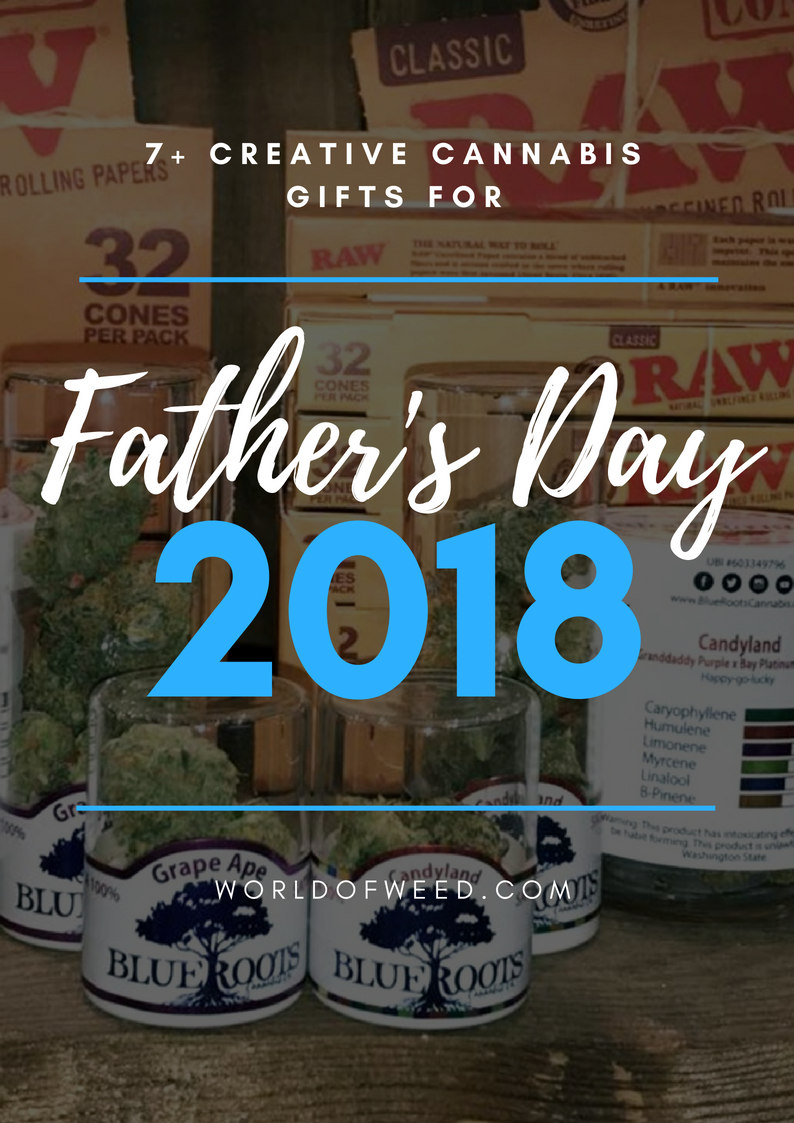 Do you smoke with your parents? Any fun plans for spending Father's Day 2018 with the dankest of dads?
Share your best cannabis Father's Day stories with us on social media or in the comments below.
---