The team over at Interra Oils have been leaders in the constantly changing cannabis market, combining their keen sense for business with their vast knowledge and experience in growing and strain development. They honed in on the strong need and demand for a natural, clean cannabis product, and have set out to produce the best products possible to help their customers.
Through extensive research the help of consulting scientists, Interra Oils has perfected the use of CO2 extraction to produce potent hash oil, bringing the highest quality and most natural product to the cannabis market.
Their process yields a premium hash oil that is sold all throughout the state of Washington, and completed the licensing process for the recreational market back in the early part of 2015.
Revolutionary Process
Interra Oils has a unique process that truly sets them apart from others in the industry. In order to produce high quality hash oil their customers have come to expect from them, they start the best flower and plant matter they can find. They have close relationships with their growers and have intimate knowledge and understanding of how the plants are grown, ensuring no chemical fertilizers or any harsh pesticides are used.
Once they've found the best plants, they extract their oil. Using their Supercritical CO2 (SC-CO2) extraction process brings their customers the safest and purest method of extraction. By using naturally occurring carbon dioxide, they do not introduce any outside agents. This means no harsh chemicals are used in their hash oil production process.
It is this unique process that gives Interra Oils products the great flavor, richness, and wide range of cannabinoids. It's tangible perfection.
All – Natural
The process is carried out with only food-grade quality products. If they aren't fit for human consumption, they don't come anywhere near Interra Oils' production. This rule even includes the cleaning solutions, lubrication, and grease for their machinery. All of their products are made with the safest, most natural ingredients and solutions, so their products are the best possible. In fact, all of their Finished Raw and CBD Rich Oils are packaged in glass and aluminum.
Interra Oils Products
If you've been using marijuana for even a short amount of time, you've undoubtedly come across an Interra Oils product at some point.
They make the legendary:
THUNDERSTICK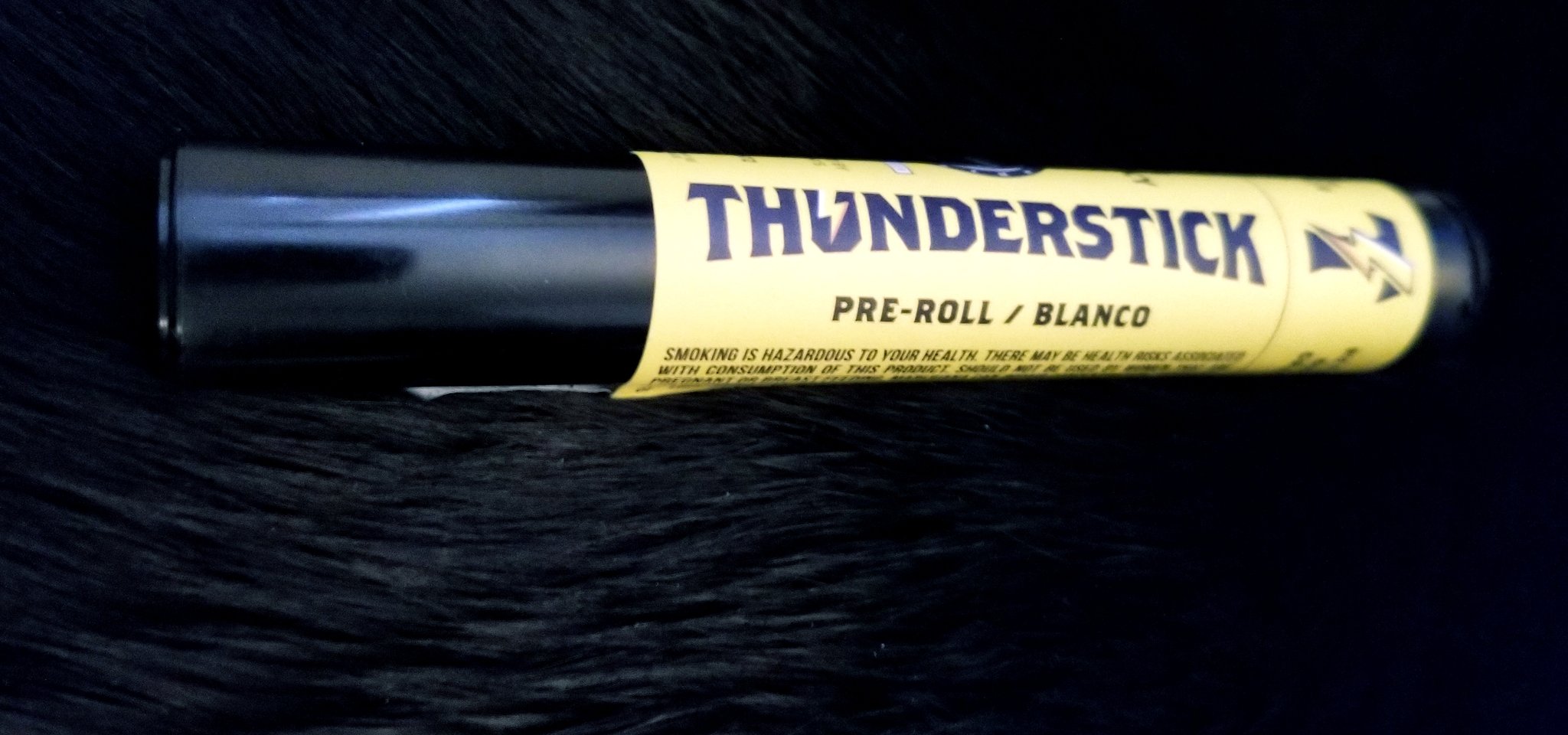 Yes, that's right. Interra Oils is responsible for the super potent Thunderstick. This joint, made up of non-strain-specific flower, distillate, and kief, is sure to get you out of your head for awhile. It's incredibly strong, and the munchies are just as huge!
PURE Upgrade
This is a high-quality atomizer that fits into vape pens and is pre-filled with naturally extracted, chemical-free oil. If you're a cannabis connoisseur who wants to be more on the subtle side of things, this one's perfect for you. They're a clean, highly efficient way to use Interra Oil hash products while being discrete and free of toxins.
Interra Ice
If you're looking for something strong, Interra Ice will keep you cool. This is an incredibly high concentration of cannabinoids that have been isolated through fractional distillation. This one's definitely more for the seasoned smokers out there.
Sticky Liquid
That unique, high-quality refined oil you loved in the PURE Upgrade atomizers now comes in a brand-new delivery system. This one has a superior design with its highly portable plunger. It's far more aesthetically pleasing than the usual medical syringes, and having a shorter tip means less product is wasted.
If you like dabs, you'll love the Sticky Liquid. It fits easily into the opening of virtually any atomizer, making it possible to use your own. It's also mostly activated, so it's perfect for making edibles or doing any other type of cannabis cooking. You can even get really creative and make your own custom creations!
KOF TRICONE
Known throughout the state of Washington as "the smoothest smoke on Earth", the KOF TRICONE is a cannabis gem. It brings together the best of all three worlds: Flower, sifted kief, and naturally refined oils. This unique, rich, and highly potent creation offers a superior smoke, one that has never come from filler, shake or trim, or any artificial flavors. It's just pure, rich smoke.
TINCTURES
If you're not into smoking or dabbing, Interra Oils has some tinctures for you. These are taken orally, and are quickly absorb right into your system. They vary in terms of the oils they offer, because they are standardized to meet a specified amount of CBD or THC, rather than for a specific strain. These tinctures aren't nearly as psychoactive, though they may have varying amounts of THC in them.
Come Meet Interra Oils!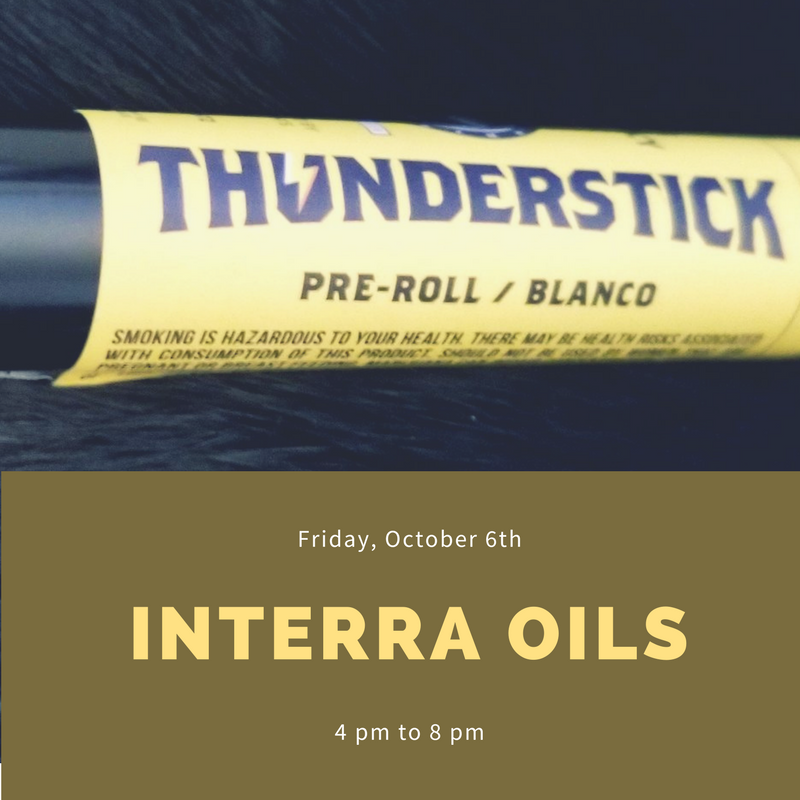 If you loved their Thunderstick, oils, and tinctures as much as we do (and we know you do!) come on down to the shop and let the Interra Oils team know!
They'll be in our store on Friday, October 6th, from 4 pm to 8 pm. So, be sure to stop by and say "Hi" and take advantage of our killer deals!
Disclaimer: Marijuana has intoxicating effects and may be habit-forming. Smoking is hazardous to your health. There may be health risks associated with consumption of Marijuana. Marijuana, in any form, should not be used by individuals that are pregnant or breastfeeding. Marijuana is intended for use only by adults 21 and older. Keep out of reach of children. Marijuana can impair concentration, coordination, and judgment. Do not operate a vehicle or machinery under the influence of this drug. This product may be unlawful outside of Washington State.