Ah, the season of the Irish. Most St. Patrick's Days, we cram as many fun activities into the day as possible. Parades. Sporting green. Corned beef and cabbage. Green beer. But, this year, things are different. Among the pandemic, many of us are having a low-key St. Patrick's Day at home. While that may sound boring, it's actually the perfect excuse to celebrate St. Patrick's Day the stoner way. 

Whether you're celebrating with your special someone, your friends, or just your dog, we're here to help you plan the ultimate at-home St. Patrick's Day celebration. Our best tip is to make the entire day as festive as possible. Wear that green and the zany accessories. Decorate your house. The more energy you put into the day, the more fun it will be. And, to cap off your holiday, make sure you stock up on something extra green — top-shelf cannabis.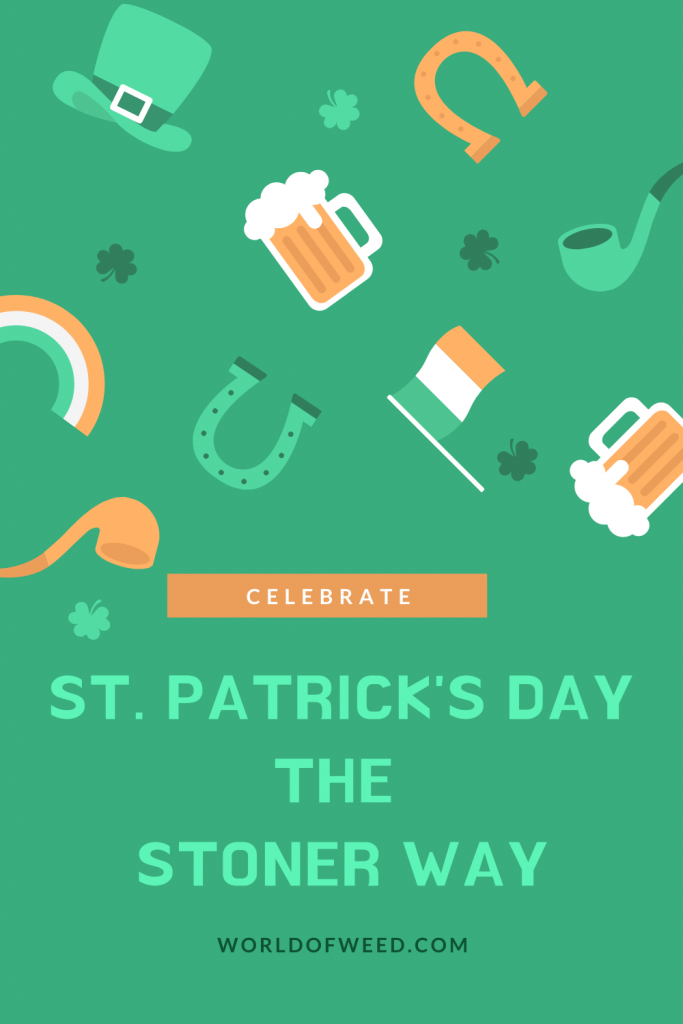 7 Ways to Celebrate St. Patrick's Day at Home
1. Play a Game
When is the last time you played a game that didn't involve a screen? This St. Patrick's Day, celebrate by playing some classic holiday games.

Ideas include:

Gold Hunt: Leprechauns are always on the search for their gold, so it's time to send your friends on a gold hunt of their own. Hide gold coins throughout the area. Divide your guests into two teams. Give each team a bucket or bag and send them on a hunt for as much gold as possible. Set a timer to make things go faster. When the time is up, have the two teams count how much gold they collected. The team with the most gold wins a dab.
Gold Coin Toss: This game will require some Leprechaun pots and gold coins, which can be found at the dollar store, or you can simply use bowls. Place the pots on the floor and then mark out a line a few feet away from the pots. Each player must stand behind the line and try to toss the gold coins into the pots. Take a dab each time you get a coin in.
2. Make a St. Patrick's Day Playlist
Spend some time putting together a St. Patrick's Day playlist on your favorite streaming service. Choose songs that spark thoughts of Ireland, green rolling hills, Leprechauns, and celebration. Then, pack a bowl, turn on the music, and blaze.

3. Read the Real History of Ireland
Pack a bowl, and spend some time reading about the real history of Ireland. There is far more to the holiday than just dancing and the guzzling of green beer! Learning about the history behind the day will give you a deeper understanding of what it is you are smoking about.

4. Eat a Traditional Irish Breakfast
Start your day on an Irish note by lighting up something green and then eating a traditional Irish Breakfast to celebrate St. Patrick's Day.

Traditionally, the most common ingredients for breakfast foods in Ireland are bacon rashers, pork sausages, fried or scrambled eggs, white or black pudding, and toast with fried tomato. Brown soda bread, hash browns, and baked beans are also often included.

There are so many options when it comes to meals with these ingredients. Let the green in your bowl inspire you to get creative — and festive!

5. Play Hookey
Take the whole day off from work and enjoy some festive celebration. Eat your traditional Irish breakfast in bed, watch an Irish movie, and smoke heavy on some of your favorite St. Patrick's Day strains. Plan a whole day of fun St. Patrick's Day activities.
6. Say "Erin go Bragh"
This is a Gaelic saying that translates to "Ireland Forever" in English. It's essentially a way of showing support and love for the country. You can also throw in some other Irish phrases during the day, such as saying "sláinte" to cheers when you take a dab or bong rip.
7. Pamper Yourself With the Magic of the Leprechauns
Pretend you're bathing in the magic of the Leprechauns by taking a bubble bath worthy of being in a fancy suite. Surround the tub with candles, sprinkle fake shamrocks in the water, use a green or gold sparkly bath bomb, and set your bong and favorite weed within arm's reach.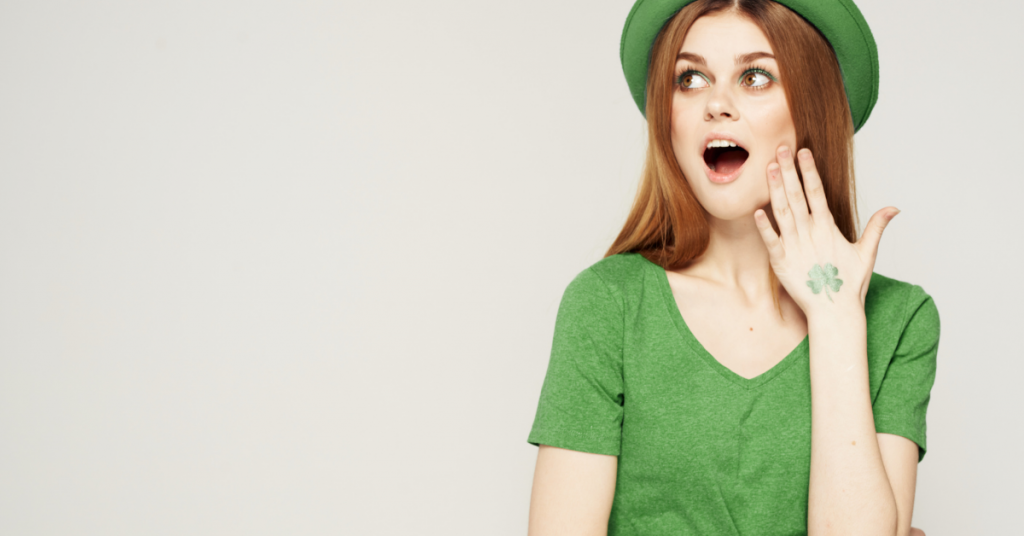 6 Best St. Patrick's Day 2021 Strains
When it comes to stocking up on something extra green to celebrate St. Patrick's Day 2021, it's time to turn to your favorite Tacoma dispensary. 

Check out these six best St. Patrick's Day strains:

1. Chocolate Marshmallows
When it comes to St. Patrick's Day, no strain list would be complete without something that reminds one of the precious chocolate coins. This rich and decadent hybrid offers delicious, sweet flavors and aromas mixed with plenty of euphoric and hazy, dreamy calm.

2. Golden Pineapple
Just as Leprechauns are on the hunt for their gold, so should you be on the hunt for some Golden Pineapple. This cross of Pineapple Kush and Golden Goat yields a strain with energetic, uplifting effects that are perfect for daytime St. Patrick's Day celebrations. Expect flavors of sweet, tropical fruit.

3. Blue Frost
Blue used to be the official color of Ireland. While green is now the national color, azure blue is still often found in symbols of the state and the island. Get super traditional with it this St. Patrick's Day and try some Blue Frost. Blue Frost is a cross between Blue Monster and Jack Frost. This hybrid strain provides positive vibes and a calm mindset.

4. White Linen Sugar Leaf
White is one of the colors on the Irish flag, and smoking some White Linen is a great way to celebrate St. Patrick's Day. This indica dominant hybrid is a cross of Wedding Cake #13 and Melonade. White Linen is a smooth, luxurious smoke, offering uplift that feels dreamy and satisfying. Overall, a perfect hangout smoke, or whenever the overall speed is set to chill.

5. Sunset Sherbet
Watching an Irish sunset may very well mean sharing the experience with magical beings, such as Leprechauns and Faeries. In Ireland, the sun only makes the most casual of appearances, so Irish sunsets seem extra brilliant. Catch the sun dripping gold over the horizon of the sparkling Atlantic Ocean, peeking out from behind ancient ruins. Take yourself there as you celebrate St. Patrick's day with some Sunset Sherbet. This carefree strain offers both physically relaxing and mentally stimulating effects, making it a perfect choice for daytime or evening use. 

6. Sugar Biscuit #3
In Ireland, what we Americans call a "cookie" would be called a "biscuit." Get your Irish on by smoking on some Sugar Biscuit #3 to celebrate St. Patrick's Day. If you are looking for the creamiest and sweetest cookies in the kingdom, grab some Sugar Biscuit #3, a delicious and hazy cross of Animal Cookies and Dosidos. So satisfying. So uplifting. So chill.

Celebrating St. Patrick's Day 2021
There are so many fun ways — and delicious strains — to help you celebrate St. Patrick's Day. Make sure to stock up on, wear, and decorate with plenty of green.

What are some ways you celebrate St. Patrick's Day? 
---
Disclaimer: Marijuana has intoxicating effects and may be habit-forming. Smoking is hazardous to your health. There may be health risks associated with consumption of Marijuana. Marijuana, in any form, should not be used by individuals that are pregnant or breastfeeding. Marijuana is intended for use only by adults 21 and older. Keep out of reach of children. Marijuana can impair concentration, coordination, and judgment. Do not operate a vehicle or machinery under the influence of this drug. This product may be unlawful outside of Washington State.